Jonathan Groff is gay and openly so. He came out in 2019 and has dated a few men since then, however, his sexuality has not stopped him from being friends with women. This explains his long-term super-close friendship with an American actress, singer, and author named Lea Michele.
Talk about an actor who is accomplished both on stage and in films and Jonathan Groff will surely come to mind. An undoubtedly talented thespian, Groff has demonstrated an incredible knack for acting. Since his career debut as a stage actor in 2002, he has taken part in many theatre productions and has starred in films that fetched him wide acclaim among lovers of the cinema.
A multi-talented man, Jonathan is also a singer who has won a Grammy award for his efforts. Apparently, Groff's talents have made him a very popular celebrity with so many fans and admirers around the world. Apart from his works as an entertainer, his sexuality has been a highly-discussed subject.
Is Jonathan Groff Gay or Straight?
Jonathan Groff is gay and this is, as a matter of fact, not a secret at all. The actor has openly made his sexual orientation a known fact in the past and has gone ahead to date men.
Groff has been an advocate of the LGBT community for quite a while and has won the admiration of many people because of that. In 2015, he got honored by Equality Pennsylvania with the Bayard Rustin Award for his undying efforts to make sure that the LGBT community becomes more accepted by the general public in the USA and beyond.
Before the actor officially made it known that he's sexually attracted to people of his gender, there were already some rumors suggesting that the actor might be gay. He eventually, publicly came out as gay during the National Equality March of October 2009 held in Washington. He has since gone on to throw his entire weight of support behind the LGBT community.
Relationship History and Who The Actor Is Dating
Since coming out as gay, Jonathan Groff is known to have dated a few men. In 2019, the same year he came out as gay, the actor was rumored to be dating Gavin Creel, an American actor who is also a musician. They were seen together a number of times and were especially fond of each other.
Whatever Jonathan Groff and Gavin Creel had did not last too long, because Groff soon started dating someone else. In 2010, the actor began a relationship with Zachary Quinto, another American actor who is a film producer. The pair dated from 2010 and eventually broke up in 2013 for reasons best known to them.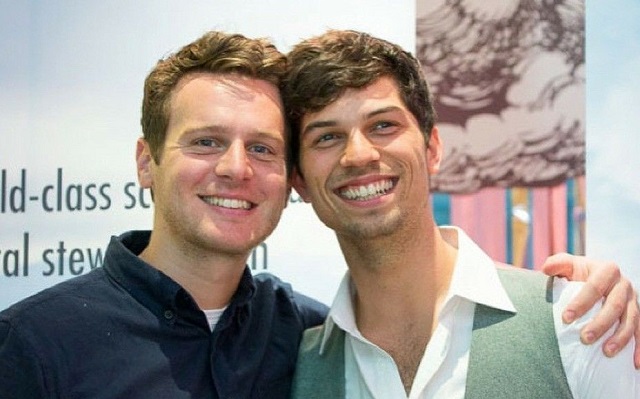 At the moment, Jonathan Groff is dating Corey Baker, a choreographer from New Zealand. According to reports, the pair started dating in 2018 after meeting each other at Christchurch International Musical Theatre Summer School where they were both teachers.
Jonathan Groff is gay but that has not stopped him from having special relationships with women. In fact, the actor has had a long-term friendship with Lea Michele, an American actress, singer, and author.
The Truth About Jonathan Groff and Lea Michele
Because of the special bond Jonathan Groff and Lea Michele share, many fans have sworn that the pair are lovers but what they share is actually just platonic.
As far as we can tell, the actor and Lea Michele first met in 2006, when they both featured in the Broadway production of Spring Awakening. They subsequently became fond of each other and became best friends. The two have remained best friends ever since.
Groff and Michele also worked together on other projects. They were both on the series Glee with Groff starring as Jesse St. James, the love interest of Michele's character, Rachel Berry.
Over the years, Jonathan and Lea have been able to sustain their friendship in a very special way. They admire each other and were so close that fans thought they would eventually become lovers. They were seen on red carpets, at dinners, on vacations, and even at sleepovers, clinging to each other.
Even when Lea Michele got married to her husband Zandy Reich on March 9, 2019, Jonathan Groff was there and even served as the bride's maid of honor. Apparently, what they share is a friendship that will never grow old.
If anything, the fact that he has been able to keep an unromantic relationship with a beauty like Lea, shows that he's truly, only sexually attracted to men.