Jon Bon Jovi is undoubtedly one of the most celebrated artists of our time. The singer-songwriter and record producer is popular for being the frontman of the rock band Bon Jovi, which he founded in 1983. His contributions and achievements as a part of the Grammy Award-winning group and as a solo act have earned him an induction into the Songwriters Hall of Fame and a place on Billboard Magazine's Power 100 list of the most powerful and influential people in the music business. Beyond his musical career, Jon is also an actor best known for his roles in films and television series like Moonlight and Valentino, U-571, and Ally McBeal.
Jovi's career has been a very successful one and his efforts have been rewarded with some of the most coveted awards in the entertainment business. But as much as he lives for entertainment, he doesn't take his wife and family life for granted. He has been married to his wife for over three decades and they are still happily married with no report of any marital issue. This is considered a big feat, given that Jon is a prominent figure in an industry that has become notorious for failed marriages and relationships. People have come to regard and admire the entertainer and his wife for personifying true love. While at that, they wonder the secret of their happy and enduring union.
Jon Bon Jovi Met His Wife Dorothea Hurley In 1980 When They Were In High School
Because of the status of the man she is married to, much of Dorothea Hurley's personal life, especially in terms of what she does for a living, has been relegated to the background. The focus has always been on Jovi's career or their family life as a couple. Dorothea is a New Jersey native born on the 29th of September 1962. The 60 years old, from what we gathered, has been doing karate since her teenage years. She won several junior championships and was once named the 4th best greenbelt karate master in the whole of the United States.
Some reports have it that she is a 4th-degree black belt and now an accomplished karate instructor in New Jersey. She is also actively involved in running JBJ Soul Kitchen, a chain of restaurants she owns with her husband. Dorothea and Jon had known each other since they were teenagers. They met at Sayreville War Memorial High School in Parlin, New Jersey. Jon had had his freshman and sophomore years at St. Joseph High School in Metuchen, also in New Jersey, before he transferred to Sayreville.
The story of how they met is an interesting one; it is said that they were having a test and Jon attempted to cheat by looking at her work. They soon became friends; Jon wanted more but couldn't do anything about that as Dorothea was dating one of his friends. The friend joined the service and according to the rock star, he gave him three weeks before he began dating Dorothea.
They Parted Ways In The Mid-'80s But Has Been Together Since They Reconciled
Jon Bon Jovi and Dorothea Hurley's love story has had its fair share of troubles, one of which resulted in their separation about four years after they began dating. The reason they parted ways is not clear, but some reports have suggested that it is related to Jon's career which had just made him a big deal. Nonetheless, it is certain that he dated Diane Lane for several months before he returned to Dorothea. How the rock star met the Unfaithful actress is not known but they began dating in 1985. A few months later, they parted ways for reasons that are not clear.
Rumors have it that the actress inspired the singer's 1986 hit song, You Give Love a Bad Name. Lane has insisted that this is not true but Rick Bozzett, the former tour manager of the rock star, suggested otherwise in his memoir titled Sex, Drugs and Bon Jovi. According to Rick Bozzett, Jon and Diane parted ways because she got entangled with Jon's bandmate, the lead guitarist, Richie Sambora. Bozzett related that Diane was young and wild as much as she loved to party. Jon became fond of her because of these reasons which ultimately became the reason for their unceremonious breakup after Jon caught her partying with Sambora.
In an interview with Rolling Stone, the rock star suggested that it took dating Lane for him to find himself and uncover what he wanted. He realized that he didn't want to live the life of a partygoer and decided to get back his high school sweetheart. He went looking for Dorothea in her mother's house and was able to convince her for them to resume dating. They got back together and have been inseparable ever since.
The Couple Eloped To Las Vegas In April 1989 
The high school sweethearts exchanged vows on April 29, 1989, in Las Vegas, Nevada: at the Graceland Wedding Chapel where many other celebrity weddings have taken place. Their wedding wasn't planned, in fact, they didn't know they would be getting married the day they got married. It was in April 1989 and Jon and his band was promoting their album, New Jersey, which had just been released.
The band was in Los Angeles for a three-night performance at The Forum. Jon recalled that he and Dorothea were staying at the St. James' Club, a hotel on the Sunset Strip when it struck him that they should get married. Although Dorothea told him he was out of his mind when he proposed an immediate marriage, she came around and they eloped to Las Vegas. In his words, they "didn't tell a soul" about it and only their "cab driver was the witness".
When the news about Jon Bon Jovi's marriage began to spread, the public, as well as their family members, were not happy about it. Jovi himself mentioned that his mother and music manager were both worried about its effect on his career. The rock star said it was as though the whole of America was against the impromptu wedding. It was a beautiful moment for him and Dorothea but people tried to ruin it; they tried to cheat us out of our beautiful moment, he told Mirror.
Be that as it may, the singer and his wife were committed to each other and it saw them through that moment and several decades to come. Having been married for over 30 years and happily so, the singer is convinced he made the right decision. In addition to his successful marriage, he has enjoyed an incredible career which proved everyone who believed he had ruined his career wrong.
The Secret of Their Enduring Union Boils Down To Love and Mutual Respect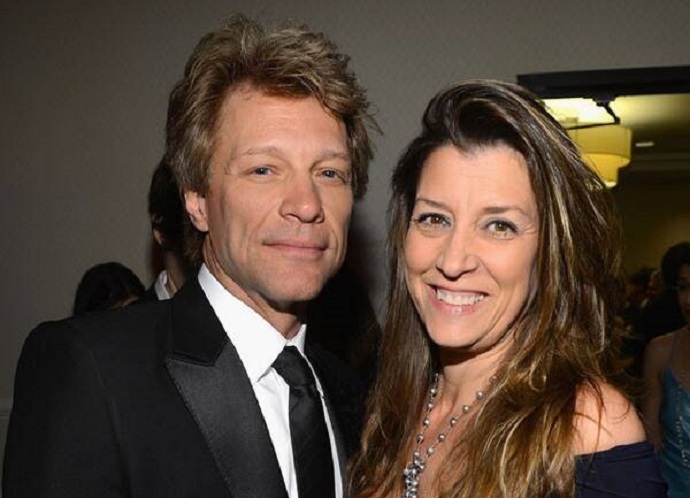 Not many celebrity marriages have been able to stand the test of time like that of Jon and his wife of over three decades, Dorothea Hurley. Speaking to People magazine, his wife Dorothea listed being able to grow equally and not in opposite directions as one of the secrets behind the success of their marriage. She, however, admitted that they have had their fair share of troubles as a couple but somehow have managed to make it work. Speaking further on how she has been able to strike a balance between their marriage and her husband's fame, Dorothea simply said they somehow saw it work. She also described her famous husband as a good family man whenever he is off the stage.
For Jon Bon Jovi, keeping his rock star personality away from the realities of his existence as a husband and a father has helped him stay grounded. He once admitted that he is not a saint and has fallen short of his responsibilities as a family man several times. Thankfully, his wife has been with him right from the onset and understands that missing birthdays and things of that sort are part of what comes with his career. Jon bragged about being committed and faithful to his wife, "I don't have a mistress… or another family across town. You're never going to read that story about me," he added. He has made it clear on several occasions that his devotion lies with his family. He sees his career as a good-paying job and has sworn to never let any attraction thereof take away the things that really matter from him.
In addition to the foregoing, the couple has mutual respect as much as they trust their good judgment to prioritize their family. Above other things, it is their genuine love that has kept them going through the decades. It is pretty obvious that Dorothea loves the rock star in the same measure he adores her. In one of his many interviews, the rock star described his wife as the glue that keeps everything he does together. According to him, she is also independent and confident which means she is neither needy nor possessive. Dorothea doesn't feel like she has been cast away in the shadows of her husband's fame and it has helped their union thrive in no small manner.
Jon Bon Jovi and Dorothea are Parents to Four Grown Kids
Jon Bon Jovi and his wife Dorothea are blessed with four children: a daughter named Stephanie Rose who was born on the 31st of May 1993 and three sons named Jesse James Louis, Jacob Hurley, and Romeo Jon; respectively, they were born in February 1995, May 2002, and March 2004. Despite his very busy career, Jon still dedicates lots of time to his family. While the couple was quite protective of their kids, they also strived to let them have a normal life. As anyone could tell, it wasn't the easiest task but thankfully, almost all of their kids are now adults.
Stephanie Bongiovi
Full Name: Stephanie Rose Bongiovi
Date of Birth: May 31, 1993
Age: 29 Years Old
College:

Hamilton College

and The New School
Occupation: Undetermined
Stephanie is the first child and only daughter of Jon and Dorothea. She was born four years into their marriage and inspired the song, I've Got the Girl. It is said that her father wrote it for her. When she was about 7 years old, she joined her father on stage to perform the song and sixteen years later, they recreated the moment in one of his tours.
In 2012, Jon and his family made headlines after Stephanie was hospitalized after overdosing on heroin. The then-teenager was found unresponsive in her dorm room at Hamilton College before an ambulance was called. A subsequent police search of the dorm found more heroin, marijuana, and other drugs, which led to her being arrested. Along with her companion, Ian Grant, she was charged with criminal possession of a controlled substance, however, those charges were later dropped.
She graduated from The New School with a bachelor's degree in Film, Cinema, and Video Studies. Thereafter, she interned with The Daily Show with Jon Stewart and then with Vice Media, LLC. It's hard to tell what she has been up to in recent times but reports have it that she is building a career as a model.
Jesse Bongiovi
Full Name: Jesse-James Louis Bongiovi
Date of Birth: February 19, 1995
Age: 28 Years Old
College: University of Notre Dame
Occupation: Wine Entrepreneur
The second child and first of Jon Bon Jovi and Dorothea's three sons, Jesse Bongiovi has opted for a career away from the entertainment industry. He was a student of Poly Prep, an independent co-educational school in Brooklyn, New York. Thereafter, he proceeded to the University of Notre Dame and obtained a Bachelor of Arts degree in political science and government. Jesse interned with Mogavero and Lee, worked as a sales representative with Slice, and then co-founded Hampton Water Wine Co. which he has been running since January 2018.
Jacob Bongiovi
Full Name: Jacob "Jake" Hurley Bongiovi
Date of Birth: May 7, 2002
Age: 21 Years Old
College: Undetermined
Occupation: Undetermined
The third child and second son of the rock star, Jake Bongiovi seems to have an interest in the entertainment industry. He describes himself as an actor on his Instagram page but he is probably yet to make his professional debut as there is no work he's known for. Apart from the fact that his father is one of the most famous rock stars in the world, Jake is also known as the boyfriend of the Stranger Things actress, Millie Bobby Brown.
Romeo Bongiovi
Full Name: Romeo Jon Bongiovi
Date of Birth: March 29, 2004
Age: 19 Years Old
College: Undetermined
Occupation: Undetermined
Romeo is the third son and last child of the family. He was born on the 29th of March 2004 and thus 19 years old. This is probably why much is yet to be learned about him. He would soon become an adult and hopefully, more insight would be gained about his life and what he hopes for in the future.
Jon Bon Jovi's Fact Sheet