For those of us who belong to the millennial generation, the name Johnny Crawford may not ring a bell. However, for those who grew up in the 50s, the actor was one of the most beloved screen stars of his era. Crawford first gained fame as one of the original musketeers on the Mickey Mouse Club. He subsequently went on to feature in numerous western movies and TV series in an illustrious career spanning six decades. Crawford has since retreated from the spotlight but his legacies remain evergreen. 
Family Background and Foray into Acting
John Ernest Crawford was born on the 26th of March 1946 in Los Angeles, California. He hails from a family of entertainers. His maternal grandfather Alfred Megerlin was a famed violinist while his father, Robert Lawrence Crawford, was an Emmy-nominated film editor.
Crawford's illustrious background also includes an actor older brother named Robert Lawrence Jr. Robert Jr. featured in over two dozen movies and TV series and received an Emmy nomination for Best Single Performance.
Johnny Crawford grew up in L.A. and started acting at the mere age of 11. He made his professional debut on Mickey Mouse Club in 1955, portraying one of the original musketeers.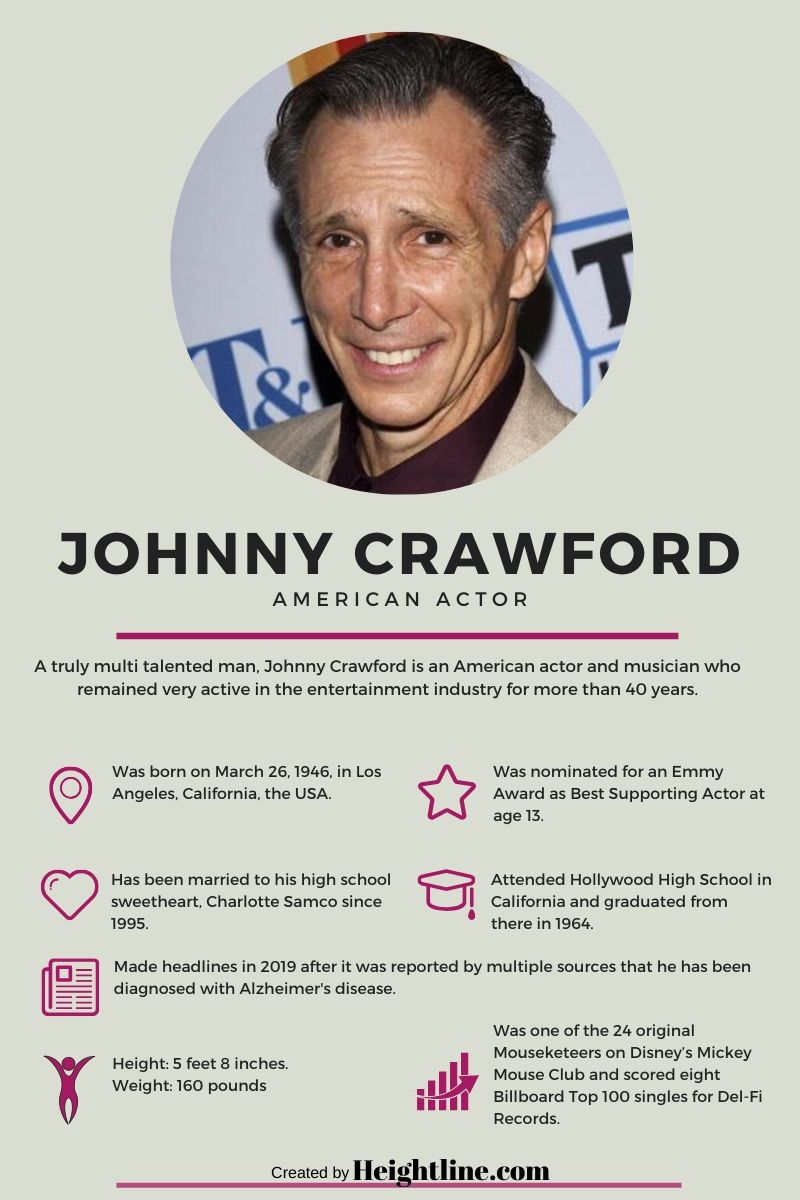 Johnny Crawford's Career Breakthrough
Following a successful one year stint on Mickey Mouse Club, Crawford scored acting gigs on other TV series such as The Lone Ranger, Little Boy Lost, and The Loretta Young Show. The Los Angeles native featured in as much as 50 productions within two years but was still unhappy. This was because he longed for steady work on a series so that he could have the same tutor on set. Crawford also wished to be part of a steady work family and his wishes finally came true when he landed a breakthrough role on The Rifleman.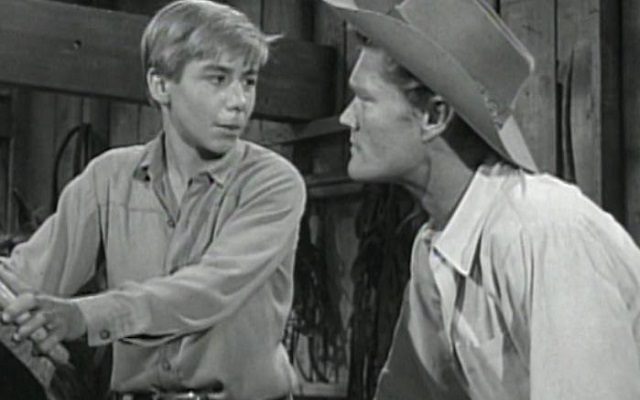 The Rifleman is an ABC series that ran from 1958 – 1963. The western series primarily revolved around Lucas McCain, a widowed war veteran-turned-rancher who uses his handy rifle to protect his Wild West town from troublemakers while raising his small son, Mark. The Rifleman featured the late Chuck Connors as McCain while Crawford portrayed his sensitive son, Mark. His excellent performance endeared him to millions of American teenagers. It also earned him an Emmy nomination for Best Supporting Actor. 
Following the successful conclusion of The Rifleman, Johnny Crawford went on to feature in several movies and TV series. They include India Paint, The Restless Ones, Eldorado, The Big Valley, Hawaii Five-O, and The Resurrection of Broncho Billy. His career however suffered a decline as he only scored minor roles in a few movies and TV series. This negative tide changed in the 80s as the actor featured in several productions such as William Tell, Macbeth, and The All-American Cowboy. 
The 90s saw a continuation of Crawford's good fortunes as he featured in productions such as The Thirteenth Floor, Rupert Peterson wants to be a Superhero, and The Gambler's Return: The Luck of the Draw. The L.A. native subsequently took a bow in 1999. Since retiring, Johnny Crawford has maintained a low profile. Nonetheless, he has occasionally come out of retirement to do what he loves best. His most recent outing is the 2019 film, Bill Tilghman and the Outlaws. 
What Happened to His Marriage?
While most movie stars endure chequered relationships and multiple divorces during their lifetime, that's not the case for Johnny Crawford. The Rifleman star has had a pretty much uneventful love life.
Crawford initially dated Debra Tate, sister of the infamous deceased actress, Sharon Tate, in the early 70s. As fate would have it, they split up after some time and moved on with their respective lives.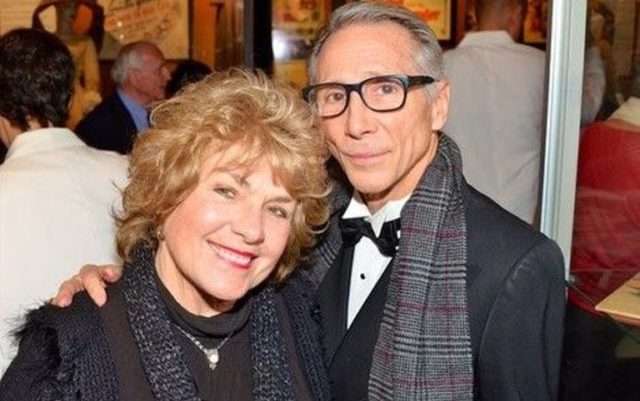 The actor subsequently reunited with his high school sweetheart named Charlotte Samco in 1990. They commenced a romance and tied the knot on the 14th day of February 1995. The couple's fairy-tale run lasted for seven years before they separated in 2002. Crawford and Samco, however, remain legally married as they are yet to formalize their divorce.
Does Johnny Crawford Have Alzheimer's Disease?
Yes, Crawford is presently battling with Alzheimer's disease. Even though his specific diagnosis has not been revealed, it is generally known that Alzheimer's is a progressive, incurable, condition that destroys memory and other important mental functions.
Since his diagnosis, several of Crawford's friends have rallied around to assist him. One of his peers, Paul Petersen, set up a GoFundMe page to raise money for the ailing actor. In his appeal, Petersen revealed that Crawford had been put in a care facility and that his wife, Charlotte, was in charge of his care.
He then asked for the public's help as the medical bills were quite steep. This plea resonated with fans as the page raised more than its goal of $45,000.