The TV show hosting arena has had a couple of names that cannot be forgotten in a hurry. The likes of James Lipton, Geoff Edwards, and Lee Philip took millions of Americans on a jolly ride throughout the decades they spent in front of the camera. This article turns the spotlight on another legend on the screens – Johnny Carson.
Johnny Carson was an American comedian and talk show host best known for hosting the Tonight Show Starring Johnny Carson for three decades (1962 – 1992). We show you more about his notable achievements and the family he left behind.  
Who Were Johnny Carson's Wife and Children?

At the time of his death in 2005, Johnny Carson was married to Alexis Maas. But make no mistakes, Maas wasn't his second or third wife. She was the fourth woman he exchanged vows with.
Carson married Jody Wolcott in 1948 when he was 23. Together, they had three sons; Richard, Charles, and Cory. (Richard died in an auto crash on June 21, 1991). After 15 years together, they both went their separate ways in 1963, due to issues relating to infidelity. 
On August 17 of the same year, Carson got married to Joanne Copeland. After 9 years together, they got divorced in 1972. They had no children. The court ruled that Copeland would receive $6,000 in divorce benefits monthly until she remarried or until Carson dies. She received this steadily until his death in 2005. She died ten years later at age 85.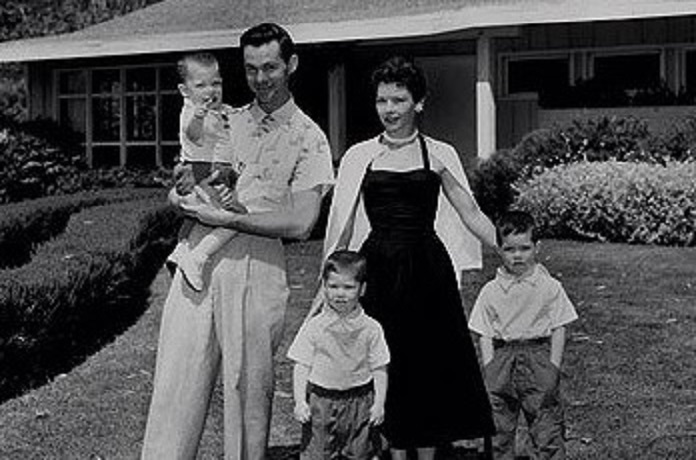 After his second divorce, Carson married Joanna Holland, however, the couple split in 1983 after Holland filed for divorce. She received a whopping $20 million in the settlement. After this, Carson stayed unmarried for two years until he married his fourth wife, Alexis Maas, on 20th June 1987. Despite negative reactions about their 26-year gap, the two remained together until his death.
Born in 1952, Alexis Maas formerly worked as a stockbroker until she met Johnny Carson. Over a decade after her husband's death, Maas hasn't been married. If anything, she reportedly sold much of her late husband's property and channeled the proceeds to his foundation.
How Much Was Johnny Carson Worth? 
At the time of his death, Johnny Carson was worth $300 million. Before leaving The Tonight Show in 1992, his annual income at the time was pegged at $25 million. At his death, Carson gave big to charitable causes, distributing over $200 million of his fortune to charity.
Who Exactly Was Johnny Carson? 
Johnny Carson was born (John William Carson) on October 23, 1925, in Corning, Iowa, the USA to parents Homer Lloyd and Ruth Elizabeth Carson. His father, Lloyd worked as a manager for a power company while his mother was a homemaker.
Carson spent the better part of his early life in various towns across the United States, depending on his father's work posting. He spent some parts of his childhood in Clarinda, Red Oak, and Avoca. When he was 8, the Carsons moved to Norfolk, Nebraska. It was there that he began to showcase the earliest signs of his entertainment talents.
As Carson admits in hindsight, he read a friend's book on magic when he was 12. He then purchased a magic kit of his own and started doing card tricks on his friends and family members.
Carson found it relatively easy navigating his passion earlier in life – thanks to the support of his family. He speaks of his mom being his earliest fan. When he clocked 14, she made him a cape for his first performance at the front of the local Kiwanis Club.
He would go on to perform in several country fairs and picnics. He later landed a part-time job selling Saturday Evening Post subscriptions for the Granada Theater where he was an usher.
In high school, he didn't pipe low on his pursuit but continued to sharpen his skills as a comedian and writer. He even wrote a column that was featured in the Norfolk High newspaper – but there was more to come.
Johnny Carson's Fact Card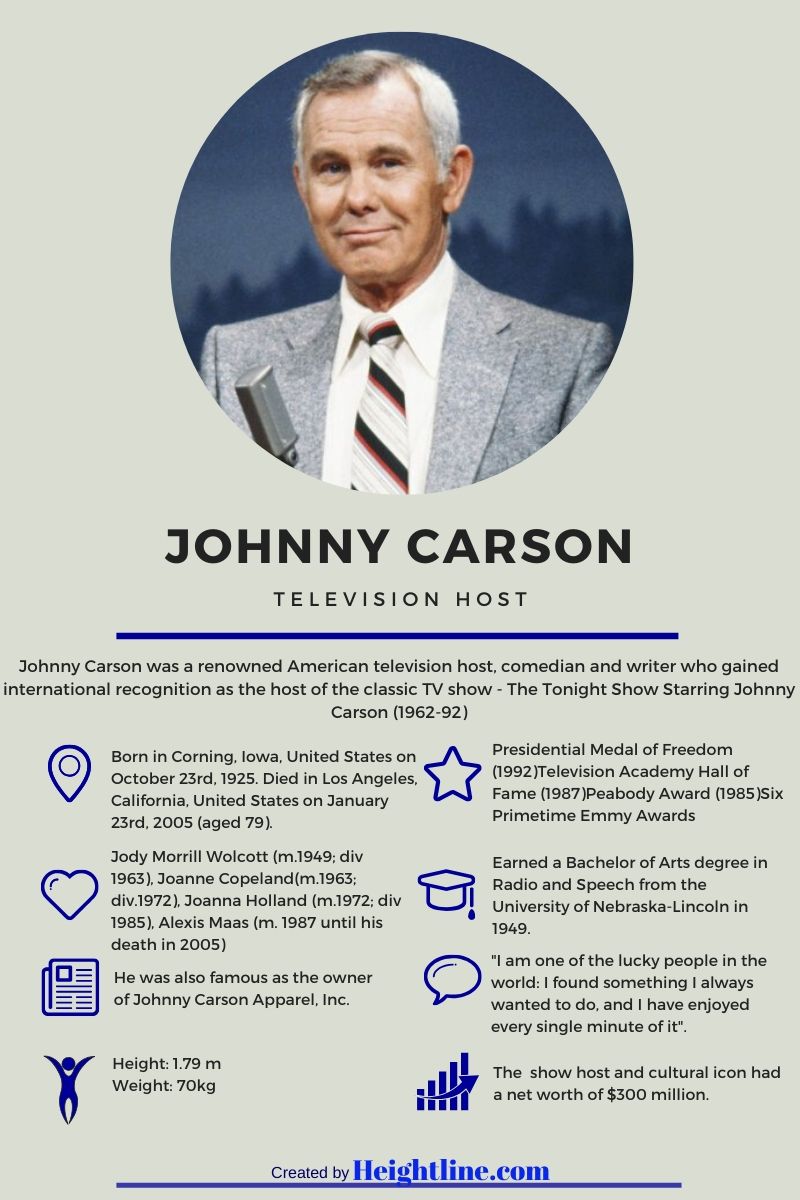 How He Started 
At age 18, Carson enrolled in the US Navy and after undergoing a V-12 Navy College Training Program at Millsaps College and Columbia University, he was deployed to the USS Pennsylvania – down in the Pacific.
Following his discharge, Carson proceeded to the University of Nebraska to study for a bachelor's degree in journalism. His goal at the time was to become a comedy writer. However, when that wouldn't work out, he switched to the radio. By 1949, he had graduated with a BA in radio and speech, minoring in physics.
His earliest gig was on with Lincoln's KFAB radio station, Eddie Sosby and the Radio Rangers, where he wrote comedy for a $1 weekly pay. The following year, Carson began his broadcasting career hosting the morning program The Squirrel's Nest on Omaha's WOW-TV. His job also saw him serving as a disc jockey on WOW radio.
But Carson's talents were beyond studios and disks – and he knew it. Soon enough, he branched out and began emceeing at social gatherings and local church dinners. These engagements turned awkward sometimes, especially when Carson stood face to face with some politicians and government officials he's made fun of over the radio.
His Rise To Prominence
Johnny Carson's big moment started to build up in 1951. That year, he had been recommended for the role of staff announcer at the Los Angeles-based TV station, KNXT-TV, operated by CBS. This paved way for his stellar performance on the Sunday afternoon broadcast titled Carson's Cellar. As his fame soared, he got an invitation from one of his greatest fans at the time, Red Skelton, to write scripts and be a supporting partner at Skelton's CBS-TV program. 
On a certain day, however, Skelton was knocked unconscious only minutes to his on-air appearance and couldn't perform. He then asked Carson had to replace him as the clown prince of the night and it turned out to be a huge opportunity for the young comedian. Carson's incredible performance would go on open doors for several other shows over the course of his career. Some of which include Earn Your Vacation, The Johnny Carson Show, and Who Do You Trust? (previously Do You Trust Your Wife?). Who Do You Trust? was Carson's first show where he played an interviewing role. His incredible sense of humor and wittiness on-camera made the show an overnight sensation across the United States at the time. Nevertheless, it was only a stepping stone to a much bigger career.
His Success on The Tonight Show
Johnny Carson's success on ABC's Who Do You Trust? spilled into other aspects of his career too. As such NBC extended him an invite to anchor The Tonight Show which was previously hosted by Steve Allen and later Jack Paar. The call came when Jack Paar stepped down in 1962. Although he initially turned down the offer, owing to his fear of sitting in an interview with celebrities for two whopping hours, he was eventually persuaded to take the role – especially because other ace TV hosts such as Bob Newhart, Groucho, Jackie Gleason, and Joey Bishop had earlier rejected the offer. Carson joined NBC in 1962 and ran the show for the next three decades.
Throughout this period, Johnny Carson paved the way for the emergence of several young talents and performers in the showbiz arena – musicians and comedians especially. Each comedian appearing on his show had to make Carson laugh to get invited to the guest chair. For those who succeeded, this was a great honor. Some comedians who made it through include Ellen DeGeneres, Jay Leno, David Letterman, Jerry Seinfeld, Drew Carey, Arsenio Hall, Howie Mandel, Jeff Foxworthy, David Brenner, Joan Rivers, Roseanne Barr, and Tim Allen. When he was giving his final broadcast on the show in 1992, over 50 million people reportedly viewed the program. Within that period, his immense efforts didn't go unnoticed. Carson is the recipient of several awards and recognition. Let's see some of them.
Walk of Fame – 1960

Peabody Award – 1967

Primetime Emmy Award for Special Classification of Outstanding Program and Individual Achievement – 1976

Hasty Pudding Theatricals' Man of the Year Award – 1977

Primetime Emmy Award for Special Classification of Outstanding Program Achievement – 1977

Primetime Emmy Award for Special Classification of Outstanding Program Achievement – 1978

Primetime Emmy Award for Outstanding Program Achievement (Special Class) – 1979

Governors Award – 1980

Peabody Award – 1986

America Comedy Award for Funniest Male Performer in a Tv Series – 1987

People's Choice Awards – 1987

Primetime Emmy Award for Outstanding Variety, Music Or Comedy Program (Series) – 1992

Television Critics Association's Career Achievement Award – 1993

The Kennedy Center Honors – 1993

BMI Film & TV Awards for Classic Contribution – 2005
He also has a star on the Hollywood Walk of Fame. After his demise, the Johnny Carson Award was instituted and its first recipient was David Letterman. The following year, the award was given to Don Rickles. Although no memorial service was held for him, according to his wishes, Carson's family continues to uphold his legacy to this day.