Jennifer Montana is the wife of American football Hall of Fame quarterback, Joe Montana. Jennifer and Joe have been together for 38 years and their union has been blessed with four kids. Much to the surprise of many, their marriage has stood the test of time as Joe had previously been in two failed marriages.
Joe spent most of his 16 seasons in the National Football League playing for the San Franciso 49ers. His career was phenomenal as he won the Super Bowl four times and became the first player to be named Super Bowl MVP three times.
Biography and Profile Summary of Jennifer Montana
Birth Name: Jennifer Sharon Wallace
Nationality: American
Place of Birth: Undetermined
Date of Birth: July 7, 1958
Age: 65 Years Old
Occupation: Former Model and Actress, Jewellery Designer
Husband: Joe Montana (1985 – Present)
Jennifer Montana's Children: Four (Elizabeth Montana, Alexandra Montana, Nate Montana, Nick Montana)
Height: 5 Feet 10 Inches (1.78 m)
Joe Montana's Wife Is 65 Years Old and of Caucasian Ancestry
Considering the years Joe Montana spent in the NFL and his remarkable accomplishments thereof, it is inevitable that details of his family background and early life are readily available to the public.
One wouldn't have to search hard to find that he was born to the family of Joseph Clifford Montana Sr. and Theresa Marie Montana in New Eagle, Pennsylvania. It is also no secret that he was brought up in the coal-mining town of Monongahela and that he started playing football as a kid with a nudge from his father.
All of such pieces of information are not known about his wife, Jennifer Montana. From where she was born to her family background, the kind of upbringing she had, who her parents are, and what have you, almost nothing is known about Jennifer Montana's background and early life.
We can only confirm that she is a 65 year old citizen of the United States as she was born on the 7th of July 1958. Though she is now known as Jennifer Montana, her birth name was Jennifer Sharon Wallace.
Her husband was a student of Ringgold High School located in Carroll Township, Washington County, Pennsylvania, after which he proceeded to the University of Notre Dame in South Bend, Indiana, where he played college football and graduated with a degree in business administration and marketing. The same can't be said about Jennifer Montana. She is probably college-educated but we can't confirm anything about that at the moment.
Jennifer Met Joe During a Shoot for a Schick Razor Commercial and They Got Married In February 1985
The love story between Joe and Jennifer Montana began in the early 80s. It is said that the two worked together on a Schick razor commercial. When Jennifer was told she would be working with Joe Montana, she didn't know he was a famous football star.
When she eventually met him, she was glad she would be working with someone as tall as her. Within the two days the commercial was shot, Jennifer grew fond of the NFL player, partly because he was shy.
As they worked closely on set, Joe realized that he liked Jennifer and shouldn't let his shyness get in the way of asking her out. They had dinner together the first day they met and it marked the beginning of their relationship.
About six months after they began dating, Joe was ready to take the relationship to the next phase. He proposed to Jennifer but didn't get any answer. She wasn't ready and had not even considered marriage.
The next time Joe proposed, he had a plane with a message that read "Jen, will you marry me" fly over them while they were out for dinner. She accepted his proposal and on the 24th of February 1985, they tied the knot.
Jennifer Montana's Marriage Has Been Blessed With Two Sons and Two Daughters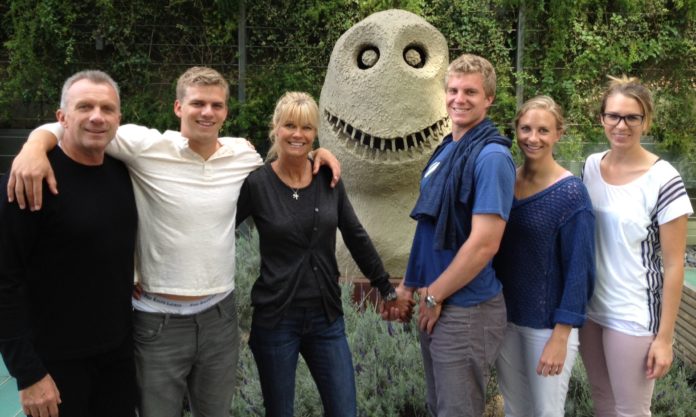 Jennifer Montana isn't the first wife of the former NFL player. Before her, Joe was married to high school sweetheart Kim Moses and Cass Castillo. None of these marriages produced any child for Joe. However, his marriage to Jennifer has seen the birth of two daughters and two sons.
The same year they got married, precisely on the 10th of October 1985, the couple welcomed their first child together, a daughter named Alexandra Whitney.
The following year, on the 20th of December, they welcomed their second daughter named Elizabeth Jean. Alexandra and Elizabeth are older sisters to Nathaniel "Nate" Joseph and Nicholas Alexander.
Nate is the third child and first son of the couple, he was born on the 3rd of October 1989. His younger brother Nick was born on the 28th of April 1992.
Nate and Nick played high school and college football. However, they didn't get to play professionally as they respectively went undrafted in 2013 and 2015.
Jennifer Montana Is a Former Model and Actress Known for Playing Miss Lisa In Adventures with Kanga Roddy
It would be mischievous to deny that being Joe Montana's wife isn't what brought Jennifer Montana to the limelight. While she was already an actress and model before Joe became a part of her life, much of her wasn't known to the public and, it was years after she got married to the NFL star that she got to play Miss Lisa which remains her most notable acting role. She played the character in at least 39 episodes of the children's television series, Adventures with Kanga Roddy, from 1998 – 2000.
Her exploits as a model are best known to her but back in 1999, she featured in the TV special of the famous American sports magazine, Sports Illustrated: Swimsuit '99.
After years of being away from the spotlight, Jennifer Montana appeared alongside her husband in the 2016 episodes of Hollywood Today Live and Hollywood Health Report. The following year, she was also seen in similar shows like Access Hollywood and Home & Family.
Jennifer Montana Now Mostly Works as an Interior and Jewelry Designer
What most people don't know about Joe Montana's wife is that she is an accomplished interior and jewelry designer; as well as an artist who specializes in ceramics and painting. This is what she has been doing all the years she was away from the limelight and she now has over 20 years of experience as a residential interior designer.
According to her, she has always been fascinated by creative expression right from when she was a kid and it is the foundation upon which she has built her Jennifer Montana Design brand.
Through the brand, she offers residential interior design services that yield an exquisite sense of home. The brand also covers the fine ceramic pieces she has been creating for over two decades, her abstract expressionism paintings, and handcrafted pieces of jewelry.
What is Jennifer Montana's Age?
Jennifer Montana is 65 years old. She was born on the 7th of July 1958.
What is Jennifer Montana's Net Worth?
Jennifer Montana's net worth is estimated to be around $10 million. This is a drop in the ocean when compared to her husband who has a net worth of $150 million.
How Many Kids Does Jennifer Montana Have?
Jennifer Montana has four children. Her marriage to Joe was first blessed with a daughter named Alexandra in 1985. A year later in 1986, they had another daughter named Elizabeth before welcoming sons Nathaniel in 1989 and Nicholas in 1992.