Joe Biden is an American politician and lawyer who became the 46th president of the United States of America in 2021. Prior to this role, he had held many political positions. Despite his political career, Biden still holds his family above all other things. It has, however, not been all rosy for the president as he has lost a few members of his family. There are, however, a good number of others who are still alive and are very close to him.
Joe Biden is a father of four children, Naomi, Beau, Hunter, and Ashley. The former vice president had his three eldest children (Hunter, Beau, and Naomi) with his late wife, Neilia Hunter (m. 1966–1972). He then had his youngest daughter, Ashley Biden, with his second wife, Jill after Neilia Hunter died. His family is even bigger when you account for his several grandchildren.
Below are all of Joe Biden's children and grandchildren.
Joe Biden Was First Married To Neilia Hunter Biden
Date Of Birth: 28 July 1942
Date Of Death: 18 December 1972
Occupation: Teacher
Place Of Birth: Skaneateles, New York, United States
In 1964, Joe Biden met Neilia Hunter while on vacation in the Bahamas, and they fell head over heels for each other despite the reservations of Neilia's parents. He got married to her on August 27, 1966, while he was still a law student. She worked as a teacher at the time of their marriage. The union was blessed with three children; Joseph R. Beau Biden III, Robert Hunter, and Naomi Christina.
In 1972, just a month after winning his first Senate race, Biden received a phone call informing him of the tragedy that struck his family. His wife Neilia, who was 30 years as of then, and their 13-month-old daughter Naomi, were hit and killed by a tractor-trailer as they drove in their car out from an intersection on their way to buy a Christmas tree. Biden's other children; Beau (3 years) and Hunter (2 years), were also in the car but survived the incident.
To keep up with his family and political duties, Joe Biden commuted from the family home in Wilmington, Delaware to Washington, a four hours trip, a routine he would keep up with for over 37 years. It wasn't easy on him as he suffered emotionally and psychologically after the accident, admitting to pent-up rage and anger towards God. Because of his dedication to his two surviving kids, political observers were convinced he wouldn't last long in the Senate but he knew how to strike a balance between work and family. Being someone who chooses family over everything, he instructed his aides to interrupt him in the Senate at any time if his sons called. In honor and remembrance of his wife and daughter, Joe Biden suspends work every December 18, for the anniversary of the accident.
Dr. Jill Tracy Biden Became Joe Biden's Second Wife Five Years After His First Wife's Death
Age: 72 years old
Date Of Birth: 3 June 1951
Occupation: Teacher and FLOTUS
Place Of Birth: Hammonton, New Jersey, United States
Though it took a long time for Joe Biden to heal, he still found a place in his heart to move on. He met Jill Tracy Jacobs on a blind date that was set up by his brother Frank Biden. She was previously married to Bill Stevenson from February 1970 to May 1975. On June 17, 1977, Joe tied the knot with her. He found himself going back to normal and stated that Jill rekindled his interest in life and politics once more. With Jill, Joe became a parent again as they welcomed a daughter named Ashley.
Having grown up in Pennsylvania, she bagged a degree from the University of Delaware, Westchester University, and Villanova University. Just like Joe Biden's first wife, Jill served as a high school English teacher and also taught disabled children at a psychiatric hospital for 13 years. In 1993, she became an instructor at Delaware Technical and Community College and has served as a professor at Northern Virginia Community College since 2009. Currently, she is the first FLOTUS that is still working as a full-time teacher.
Meet All Of Joe Biden's Children and Grandchildren
1. Joseph Robinette "Beau" Biden III
Date Of Birth: 3 February 1969
Date Of Death: 30 May 2015
Gender: Male
Occupation: Lawyer / Attorney General of Delaware
Place Of Birth: Wilmington, Delaware, United States
Joe's son Beau was the first child of the president with his late wife Neilia. He was a younger version of Joe Biden who followed his career path. He attended Archmere Academy, the same high school as the president. He then proceeded to enroll at both the University of Pennsylvania and Syracuse College Of Law. Beau joined the Delaware Army National Guard and rendered his services in the military in Iraq from 2008 to 2009. He was an American attorney and officer in the Army Judge Advocate General's Corps. In 2006, he rose to become the 44th Attorney General of Delaware till his demise in 2015.
In May 2010, Beau was admitted to Christiana Hospital in Newark, Delaware, after complaining of a headache, numbness, and paralysis; he was later transferred to Thomas Jefferson University Hospital. In August 2013, he was moved to the University of Texas MD Anderson Cancer Center in Houston and diagnosed with brain cancer. On May 20, 2015, he was admitted to Walter Reed National Military Medical Center in Bethesda, Maryland, because of a recurrence of brain cancer. He died there 10 days later, on May 30, 2015, at the age of 46. Joe Biden is seen to have a strong father-son relationship with Beau as he often talked about him during his campaign and other speeches. He also maintained a good relationship with the rest of the family members as they always spoke well about him.
Beau was buried at St. Joseph on the Brandywine Cemetry, Greenville, Delaware, the U.S on the 6th of June 2015. The funeral was attended by then-President Barack Obama and First Lady Michelle Obama, former President Bill Clinton, former Secretary of State and former First Lady Hillary Clinton, former US Army Chief of Staff General Ray Odierno, and Senate Majority Leader Mitch McConnell.
Beau Joe Biden III got married to Olivere Hallie in 2002 and served the best couple goals till his death in 2015. The duo made Joe Biden a grandparent as they had two children; Natalie and Robert Biden.
2. Robert Hunter Biden
Age: 53 years old
Date Of Birth: 4 February 1970
Gender: Male
Occupation: Lawyer And Painter
Place Of Birth: Wilmington, Delaware, United States
Robert Hunter Biden is the second son and child of President Joe Biden and his late wife Neilia. He was born on the 4th of February 1970 in Wilmington, Delaware, United States. He also attended Archmere Academy before proceeding to Georgetown University in 1992 to acquire a degree in History. In 1996, he graduated with a degree in law from Yale Law School. The second son of the president has diversified into various career paths like the banking sector, investment. He has worked as an attorney for a lobbyist firm, a public administrator, and a board of directors at Amtrak during the Bush administration. Between 2013 and 2014, he served in the U.S Navy. Currently, he works as a full-time painter.
Joe Biden is known to be extremely close to Hunter following his years of intense drug and alcohol addiction. According to Hunter's memoir, Beautiful Things, he expressed his father's sacrifices and love throughout his days of addiction. He wasn't able to take part in all his father's presidential campaigns due to his fight with drugs at the rehab as of then. He also stated in an interview how his father checked on him and his daughter every night before they went to bed.
Hunter met and got married to Kathleen Buhlen in 1993. They had three children; Naomi, Finnegan, and Maisy before their marriage hit the rock in 2015. Kathleen filed for divorce for reasons that her husband blew a fortune on drugs and sex with prostitutes. Hunter Biden's name was found among the hacked records of users on the extramarital affair site Ashley Madison. Though Hunter denied use of the site, Kathleen still went on with the divorce charges. After a bitter legal tussle, they decided to settle the custody and property disputes out of court, finalizing their divorce in April 2017.
However, while the divorce case was in court, it was revealed that Hunter Biden was dating his brother's grieving widow Hallie. After news of the relationship had gone public, Joe Biden and his wife Jill stated support of the relationship. Hunter and Hallie went the extra mile to keep their relationship out of the public eye. Their relationship got to a stop in 2019. The second son of the president would later have another child with Arkansas-based stripper Lunden Roberts. In May 2019, he got married to South African filmmaker Melissa Cohen. The duo welcomed a son in March 2020 whom he named Beau after his late brother.
3. Naomi Christina Biden
Date Of Birth: 8 November 1971
Date Of Death: 18 December 1972
Gender: Female
Place Of Birth: Wilmington, Delaware, United States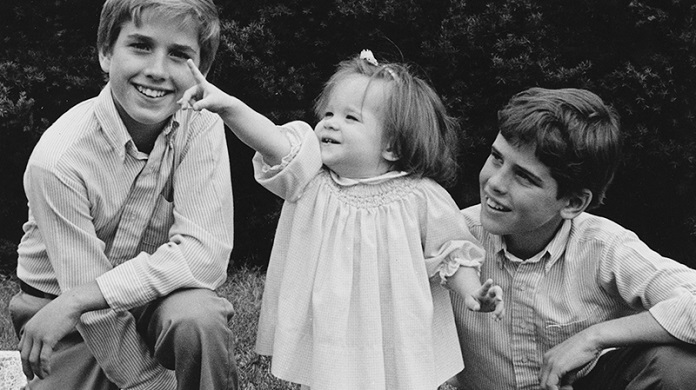 Naomi Christina Biden is the third child and first daughter born by Joe Biden and Neilia on 8 November 1971. She was just one year and one month old when tragedy struck and took the life of her and her mother. She is always remembered every 18 December by her father.
4. Ashley Blazer Biden
Age: 42 years old
Date Of Birth: 8 June 1981
Occupation: Social Worker, Activist, Philanthropist, Fashion Designer
Place Of Birth: Wilmington, Delaware, United States
Ashley Blazer Biden is the only child of Jill and Joe Biden. She was born on the 8th of June 1981 at Wilmington, Delaware, United States. The social worker is seen to have a close-knitted relationship with her father and speaks highly of him. She is one of Biden's children that was always spotted with her father throughout his political campaign. She has also been of huge support to his administration, pointing out areas that need to be touched for the well-being of mankind.
Just like her siblings and father, Ashley attended Archmere Academy before moving on to Tulane University where she bagged a degree in Cultural Anthropology. As an undergraduate, she worked as a social worker. She moved on to the University of Pennsylvania where she obtained a Master's degree in social work. She worked as the former executive director of the Deleware Centre for Justice, a non-profit advocacy group. Ashley also served as a social worker for the States Department Service for Children Youths and their families.
Currently, she is giving all her attention to her clothing line Livelihood Collection, a charitable clothing brand that she launched in 2017. She further described her clothing brand as all-inclusive, non-partisan, and empowering. 10% of the profits made from the clothing line is usually allocated to the Community Development Fund of communities that are in need.
Ashley met Howard Krein in 2010 through her late elder brother Beau. The duo got hitched in June 2012. Howard is a plastic surgeon at Thomas Jefferson University Hospital. There are no records of children by the couple yet.
Joe Biden Currently Has Seven Grandchildren
1. Naomi Biden
Age: 29 years old
Date Of Birth: 23 December 1993
Occupation: Lawyer, Social Media Influencer, Activist, Entrepreneur
Place Of Birth: New York, United States Of America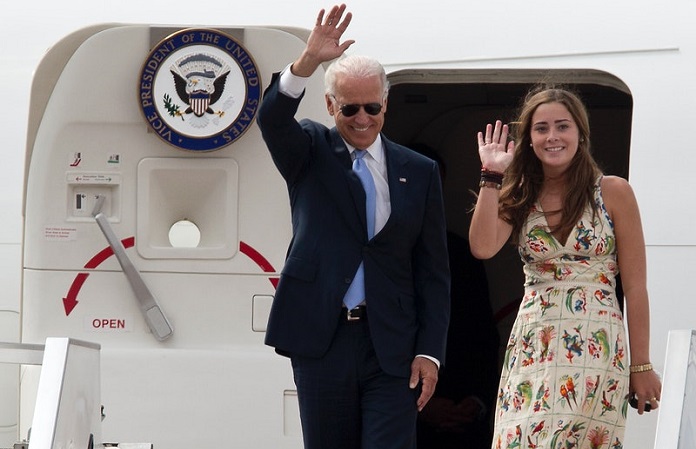 Naomi Biden is the first grandchild of Joe Biden. She was born by Hunter and Kathleen on 23 December 1993. She was named after her late aunt who died as an infant. She is one of the grandchildren who is mostly spotted with her grandfather during his campaign and is known to promote him through her social media handles. Naomi bagged a degree in International Relations from the University of Pennsylvania in 2016. Just like her other family members, she obtained a degree in law from Columbia Law School in 2020.
Naomi started working with Arnold and Porter, an international law firm in December 2020. She is known to host an online site MyCaresActBenefits.com together with her boyfriend Peter Neal. The website helps people check their CARES Act Benefit qualification, especially during the pandemic. She got engaged to her long-time boyfriend Peter Neal on the 4th of September 2021 and announced it on her social media handle.
2. Finnegan Biden
Age: 24 years old
Date Of Birth: 2000
Occupation: N/A
Place Of Birth: United States Of America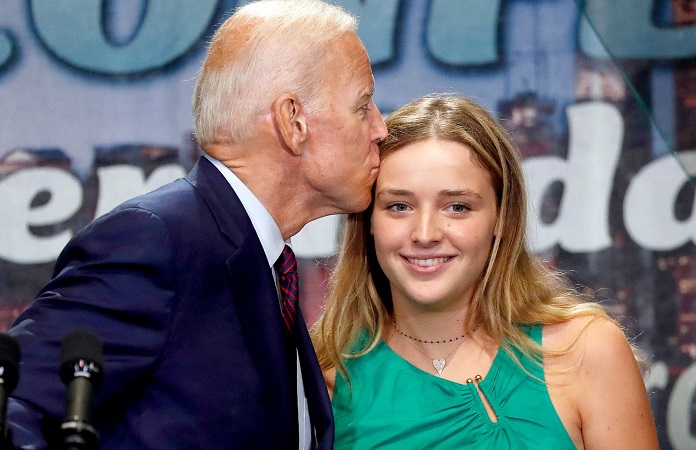 Finnegan Biden is the second child of Hunter and Kathleen and the second grandchild of Joe Biden born in 2000. She was named after her great grandmother, Joe Biden's mother. Just like her sister, Finnegan has also made political appearances with her grandfather and is known to campaign for him alongside her sisters and cousins. She is no different from her grandfather as she has been seen campaigning on her school campus for students' well-being. Though much information about her is unknown, she is known to be a student of the University Of Pennsylvania.
3. Maisy Biden
Age: 23 years old
Date Of Birth: 2001
Occupation: Student
Place Of Birth: United States Of America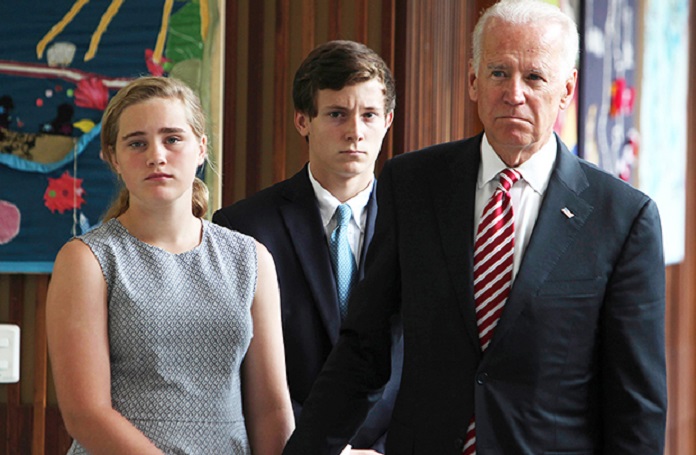 Maisy Biden is the third child and daughter of Hunter and Kathleen born in 2001. As the third grandchild and granddaughter, she is known to appear at some political appointments with her grandfather and has equally traveled with him to some countries. Though she lives a low-profile life, she is known to have attended Sidwell Friends School in Washington D.C and loves playing basketball.
4. Natalie Biden
Age: 19 years old
Date Of Birth: 4 August 2004
Occupation: N/A
Place Of Birth: Wilmington, Delaware, United States
Natalie Biden is the first child and daughter of Late Beau Biden and Hallie Biden. She is the fourth grandchild and granddaughter of Joe Biden. Natalie, just like her other cousins, has been spotted making political appearances with her grandfather. She is known to support Joe Biden's campaigns alongside her elder cousins. She is also active on TikTok with over 1.5 million followers despite her low-profile life.
5. Robert Hunter II
Age: 17 years old
Date Of Birth: 10 March 2006
Occupation: N/A
Place Of Birth: United States Of America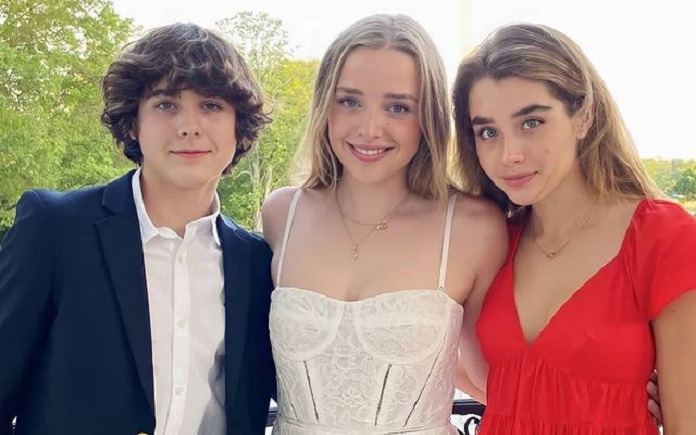 Robert Hunter II is the second child of Late Beau Biden and Hallie Biden. He is the fifth grandchild and first grandson of Joe Biden. He was named after his uncle Robert Hunter. Though he is famous for being a part of the First Family, he still maintains a low profile. He once appeared with his elder cousins and sister at the Democratic National Convention held in 2020. He is also known to be active on TikTok.
6. Navy Joan Roberts
Age: 5 years old
Date Of Birth: August 2018
Occupation: N/A
Place Of Birth: N/A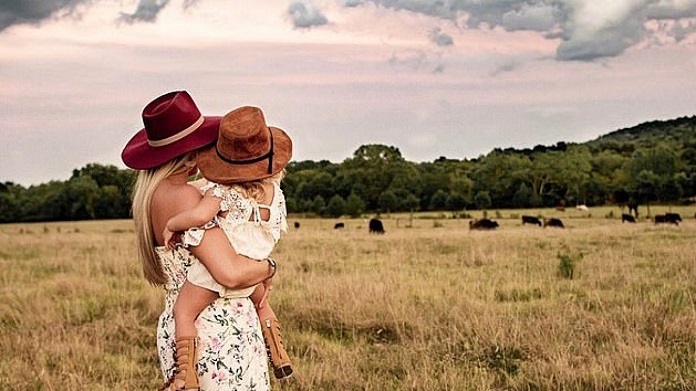 Navy Joan Roberts is the sixth grandchild born by Robert Hunter Biden and Lunden Roberts in 2018. Though much about the child is unknown, she is currently growing under the care of her mother in rural Arkansas.
7. Beau Biden
Age: 3 years old
Date Of Birth: 28 March 2020
Occupation: N/A
Place Of Birth: United States Of America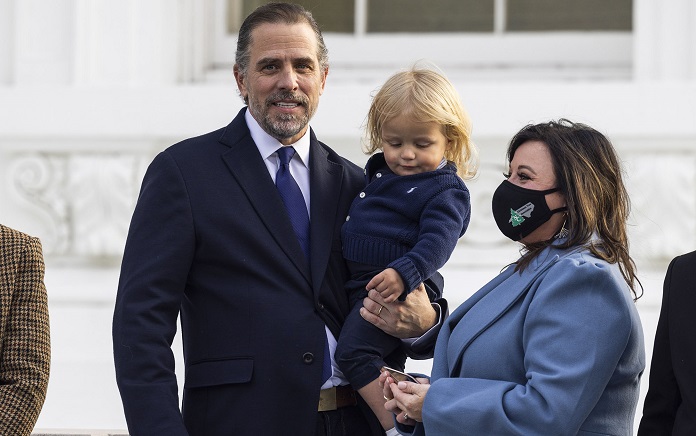 Beau Biden is the first child of Hunter and Melissa Cohen born on the 28th of March 2020. He is the seventh grandchild and second grandson of the U.S president. Beau was named after his late uncle Beau Joseph Biden who died in 2015 due to brain cancer. He made an appearance with the whole family at his grandfather's inauguration ceremony in 2021. He is currently growing under the care of his mother and father.