Jim Harbaugh's wife is Sarah Feuerborn Harbaugh but he was previously married to Miah Harbaugh from 1996 to 2006 and has a total of seven children. Jim Harbaugh's first marriage produced 3 children: 2 sons (Jay and James) and a daughter, Grace. He also has 4 children—2 sons (Jack and John) and 2 daughters (Addison and Katharine) from his current marriage to Sarah.
When you talk about those who got their names inscribed in the sand of time through hard work, commitment and dedication then you should be looking at University of Michigan's football head coach Jim Harbaugh who rose from the position of playing as a quarterback to serving as head coach of several teams including San Diego Toreros, The Stanford Cardinal, and National Football League's (NFL) San Francisco 49ers.
And as proof that Jim is good at what he does, both as a player and as a coach, he has taken home several awards including the AFC Player of the Year, NFL Champion, Pro Bowl and NFL coach of the year.
From the foregoing, a lot is already known about the coach's illustrious football career in the NFL. Coming over to his family, it is also known that he came from one where football is second nature to them. However, regarding his immediate family, a lot has not been reported and/or written. But below are some interesting facts we have learned about the coach's family.
Interesting Facts About Jim Harbaugh's Family
Jim Harbaugh was born to Jack Harbaugh (father) and Jacqueline M. Jackie (mother). He is the middle child of his parents 3 children. Jim has an older sibling named John and a younger sister named Joanie.
His brother John W. Harbaugh is currently the head coach of the Baltimore Ravens. The duo set a record as the first pair of brothers to serve as coaches in the NFL. Looking at their respective careers, their fans hope they will break or set new records in the history of the sport.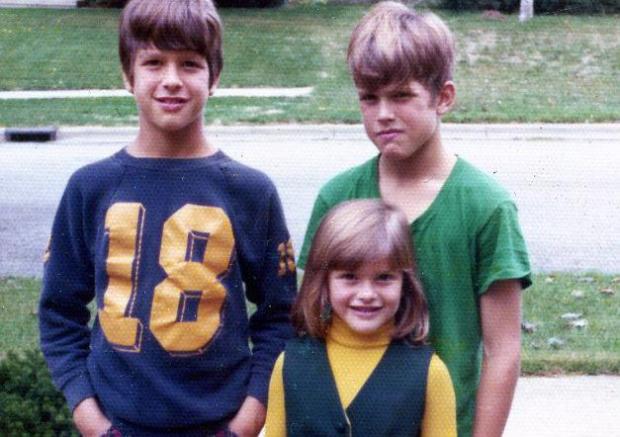 Away from that, Jim has gone on to have his own family, and as you would imagine, football will hardly ever seize to be a topic of discussion in the family. One of his sons is keeping alive the family's football tradition. More on that below.
Who Is Jim Harbaugh's Wife, Sarah Harbaugh?
What many people are unaware of is that the University of Michigan Wolverines' coach is currently married for the second time. He was first married to Miah Harbaugh in a union that lasted ten years (1996-2006).
In the same year he divorced his first wife, Jim met Sarah Harbaugh at the car park of a Chinese restaurant in Las Vegas and fell madly in love with the pretty Missouri born blonde. Two years down the lane and precisely on January 5th, 2008, they walked down the aisle and have remained together for over a decade.
Who Are Jim Harbaugh's Children and What Are They Up To?
Jim Harbaugh has 7 children from his 2 marriages. His first marriage to Miah Harbaugh produced 3 children: 2 sons (Jay and James) and a daughter Grace. He has 4 children—2 sons (Jack and John) and 2 daughters (Addison and Katharine) from his current marriage to Sarah Harbaugh.
His first son Jay (born 1986, long before Jim and Miah tied the knots in 1996) is living up to his family's legacy. The Oregon State University graduate is currently the running backs and assistant special teams coach at the University of Michigan while James is a Threatre major at Michigan.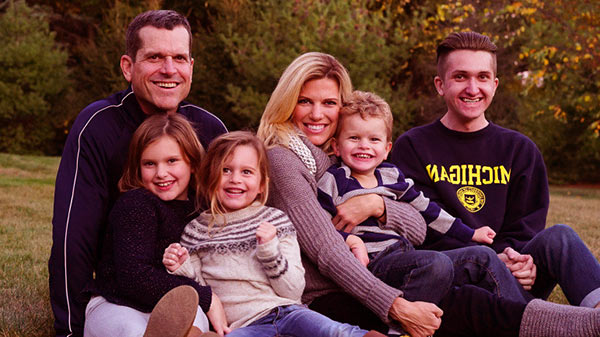 In an interview with Boston Globe's Steve Buckley and WEEI's Alex Reimer, James recalls his father's reaction when he opened up to him about being gay. According to him, his father told him to keep his head up, as long as he is doing what he feels is right in his mind and live his truth and everything will be okay.
It is not yet known what Grace and his other daughters (Addison and Katharine) and son (Jack) are up to at the moment. His youngest son John was born on January 11, 2017.
Take A Look At Jim Harbaugh 's Background
Growing up, Jim Harbaugh watched his father jack Harbaugh serve as a coach to several football teams including as an an an assistant football coach for Perrysburg High School, Perrysburg. This early exposure to football nurtured his love for the game so it's really isn't a surprise that he ended up playing football and eventually made a living out of the game.
As a result of Jack's job, the family moved around a lot as often as he found new jobs; this gave Jim the opportunity of playing with different teams depending on where his family resided at any time. He played in the junior league for Ann Arbor Packers and later Tappan Junior High before moving up to Pioneer High School. He later transferred to Palo Alto High School from where he would eventually graduate in 1982.
Jim began his college football career with the Michigan Wolverines where he had a reputation as a slick California passer. His major breakthrough actually came in the spring of 1983 that was after being benched for most of 1982. He completed 10 out of 15 passes for 116 yards much to coach Bo Schembechler's delight. He earned Michigan's all-time record holder for the most passing yards. He bagged a bachelor's degree in communications from the institution in 1986.
A Look Into His Football Career (As A Player And Coach)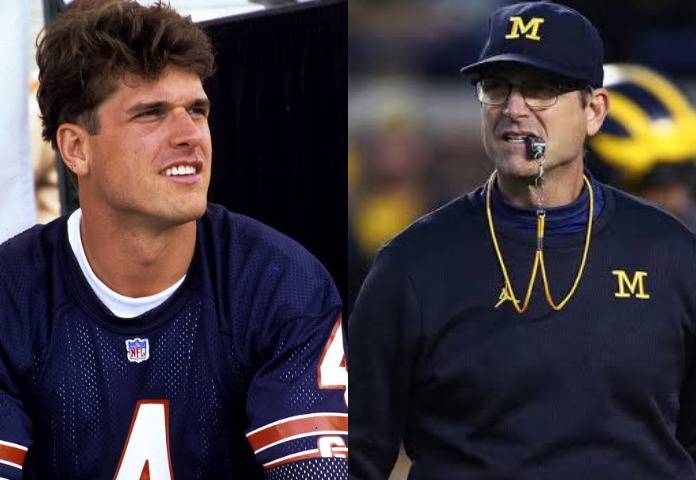 Jim Harbaugh began his NFL career in 1987 with the Chicago Bears. He was with the team for 7 seasons before he was traded to the Indianapolis Colts. Jim was with his new team from 1994 to 1997. From the Indianapolis Colts, he joined the Baltimore Ravens in 1998, later to San Diego Chargers in 1990, Jim stayed with the Detroit Lions prior to the 2001 season but was traded on the eve of the season's beginning. He finally ended his career with the Carolina Panthers in 2001 without playing any of the 6 games he dressed for.
The end of his football playing career marked the beginning of his coaching career as a quarterback coach for the Oakland Raiders in 2002. In preparation for this new phase of his career, he had been a National Collegiate Athletic Association (NCAA) certified unpaid assistant coach under his father Jack Harbaugh at Western Kentucky University (WKU) for  8 years in the NFL (1994-2001) preceding his retirement.
Jim Harbaugh coached the University of San Diego from 2004 to the 2006 season, Stanford University (2007–2010) followed by San Francisco 49ers (2011–2014) and currently the University of Michigan from 2015 to the present time.