Through sheer hard work, dedication and commitment to pursuing one's passion and making a career out of it, Jim Harbaugh rose from the position of a football quarterback to serve as head coach of NFL's San Francisco 49ers, San Diego Toreros and The Stanford Cardinal. He holds several awards as a testament to how good he was and still is which include AFC Player of the Year, NFL Champion, Pro Bowl and NFL coach of the year.
Find out more here about one of college football most favorite coaches and the highest earning coach at this level of the game.
Biography of Jim Harbaugh
Two days before Christmass, on the 23rd of December 1963, Jim Harbaugh was born in Toledo, Ohio, the United States of America as the son of Jack Harbaugh (father) and Jacqueline M. "Jackie" (née Cipiti). His father is half Irish and German while his mother is half-Sicilian and half-Polish. His father played football in his younger years and when Jim and his brother John were born, he was an assistant football coach at Perrysburg High School in Perrysburg
His father being an assistant coach meant that the family had to move around a lot as often as he found jobs. This meant that Harbaugh had to play in different teams depending on where they resided at any point in time. Jim played for Ann Arbor Packers and later Tappan Junior High in the junior league before moving up to Pioneer High School. He transferred to Palo Alto High School from where he graduated in 1982.
His college playing career was registered with Michigan Wolverines football team where he had a reputation as a slick California passer. He got ample playing time in the April 1983 spring games after being sidelined for much of 1982. He completed 10 out of 15 passes for 116 yards much to coach Bo Schembechler's delight.
He coasted through his college career achieving lots of milestones. He finished as Michigan's all-time record holder for the most passing yards – 5, 499 yards. He was second in passing attempts with a total of 620 passing attempts, 31 touchdowns, and 22 interceptions. He graduated in 1986 with a bachelors degree in communications from Michigan's College of Literature, Science and Arts.
Jim Harbaugh started playing in the National Football League (NFL) for the Chicago Bears in 1987. Just like in college, his professional career had a slow start as he didn't find regular playing time in his team, not until the 1989 season when he started getting more playing time.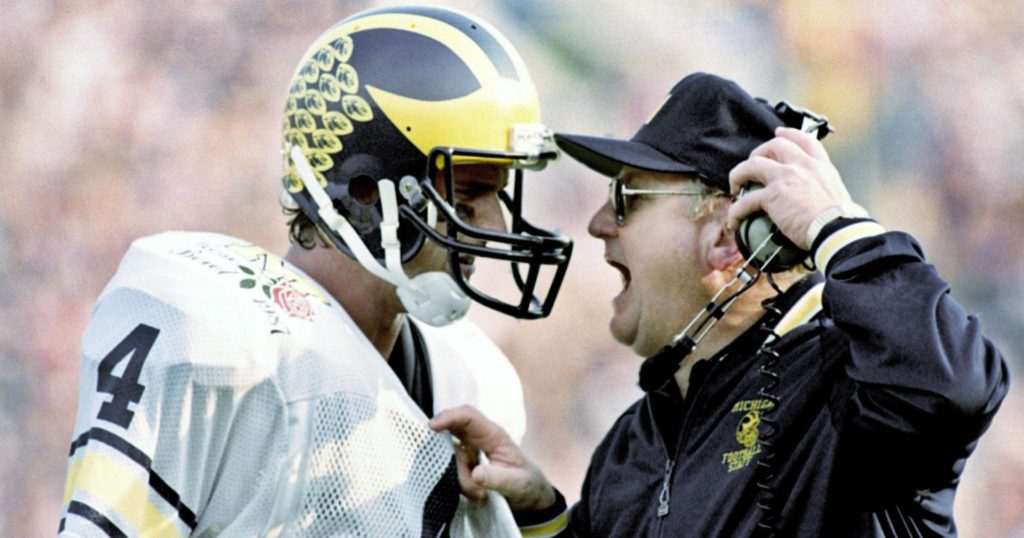 His presence on the pitch was continually felt well into the 90's despite the Bears performing poorly at the beginning of the 1990's. He joined the Indianapolis Colts in 1994 and played with them till 1997.
His career blossomed here considerably with better pass receptions, few neat interceptions and many touchdowns. From the Indianapolis Colts, he was traded to the Baltimore Ravens in 1998, later to San Diego Chargers in 1990, stayed with the Detroit Lions prior to the 2001 season but was traded on the eve of the season's beginning. He finally ended his career with the Carolina Panthers in 2001 without playing any of the six games he dressed for.
The end of his football playing career started with his coaching career as a quarterback coach for the Oakland Raiders in 2002. In preparation for this new phase of his career, he had been a National Collegiate Athletic Association (NCAA) certified unpaid assistant coach under his father Jack Harbaugh at Western Kentucky University (WKU) for the past eight years in the NFL (1994-2001) preceding his retirement.
Jim Harbaugh coached the University of San Diego from 2004 to the 2006 season, Stanford University (2007–2010) followed by San Francisco 49ers (2011–2014) and currently the University of Michigan from 2015 to the present time.
See Also: Kevin Love Wife, Girlfriend, Height, Body Measurements, Weight Loss
Jim Harbaugh's Salary
Jim's salary according to USA Today as per their 2017 NCAAF coaches salary list based on their respective current contracts puts Jim Harbaugh's salary at $7,004,000 annually.
Family – Wife, Children, Brothers
Jim is currently married for the second time. He was previously married to Sarah Harbaugh who bore him three children: Jay and James and a daughter Grace. Jim and Miah got divorced in 2006
He married Sarah Feuerborn Harbaugh in 2008 and the two now have four children together. Two daughters: Addison Katharine and two sons as well – Jack and the youngest, John was born on January 11, 2017
His only known brother is his elder brother John Harbaugh who is the head coach of the Baltimore Ravens. They made a record as the first pair of brothers to serve as coaches in the history of the NFL.