There are those who live their lives on a daily basis, going back and forth, smiling about a lot of things and even saying the right things but deep down the inner recesses of their minds, hearts, and lives, they are not having fun. It is a great feeling to be able to do what you love, and even look strikingly beautiful while you at it. A lot of positives can be drawn from those who pick a certain field of endeavor and take it head on, sweeping accolades and enjoying oneself in the process. Jillian Mele is definitely one of them.
Jillian Mele Bio/Wiki
Mele was born on September 17, 1982, in Philadelphia, Pennsylvania in the United States of America. Her parents are Roseanna Mele and Thomas Mele. She is the only daughter, having two male siblings.
Jillian went to La Salle University where she majored in Art and communication then went on to graduate with a degree in communication in 2005. She also ran other courses at other institutions, doing two years of communication at The University of Scranton. Upon graduation, she interned at Comcast Sports Net in Philadelphia.
After school, she landed her first job as an anchor for WAGM-TV, thus beginning her career as a journalist. Dare to say that her career has grown in leaps and bounds since those early stages. She has had a series of jobs at other networks, making her mark as she moved along.
Read Also: Megyn Kelly Salary, Net Worth, Husband, Children and Family
She has been a Correspondent on WIVT, co-host of evening news at Binghamton and joining NBC 10 as well. These great jobs would then help shape her when she did some really major work. At CSN, she went on to win Emmy Awards for the job she was doing with a show, Breakfast on Board.
FOX News Career
The progression of her broadcasting career so far has been interesting. When she started off, she had a strong emphasis on sports-related coverage, but she is also very versatile, as has been seen through her time as a local news anchor. She covered major news events, including destructive floods in June 2007, and played a special role as the traffic reporter during her time at NBC 10.
Jillian Mele joined Fox in 2017 and got her promotion just six months after joining the station. She currently anchors Fox & Friends, a show President Trump calls one of his favorites. She began as the news anchor of the show, making contributions to other segments on a daily basis. Mele co-hosts the show alongside Rob Schmitt.
The show has had a track record for conservative political analysis, often seen as having a bias towards the Republican Party and its policies. This hasn't gone down well with establishment Democrats and draws occasional criticism from more liberal outlets.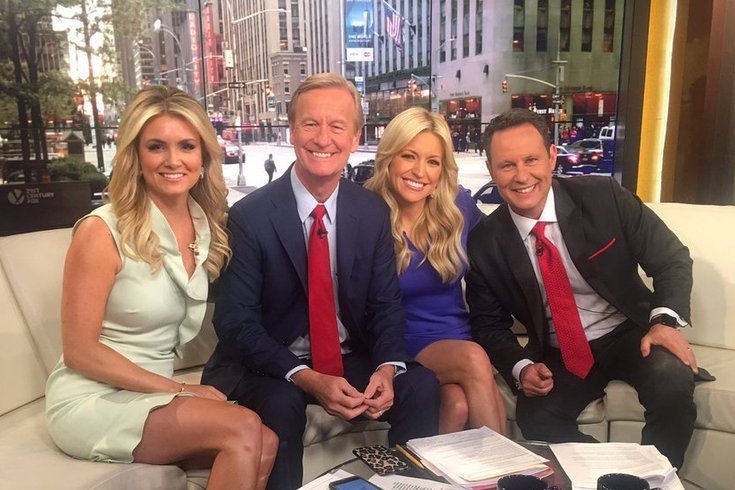 Back in May 2012, Fox was heavily criticized for airing a 4-minute video perceived to be attacking Former President Barrack Obama's record as President on the show. Top Fox Executives were quick to distance themselves from the clip saying the clip slipped through without the vetting of some of the senior producers.
It has been said in some quarters that President Trump's early morning tweets are heavily influenced by happenings on Fox and Friends which airs daily from 6 AM to 9 AM ET.
Married, Husband
So it is hard to actually believe that a blonde as gorgeous as Jillian Mele is not taken but it sure does seem that way. From her lifestyle, it is obvious she has made conscious decision to maintain a private life, out of the glare of the cameras.
There has not been much chatter as to who she might be hanging with, but on a Twitter post in recent times, she made reference to her man being from Boston.
Read Also: Bart Kwan – Bio, Net Worth, Age, Height, Transformation And Quick Facts
It could very well be a ploy with the sole aim of diverting media attention. Make of it what you wish.
Height, Measurements
So we have had long phrases that refer to the beauty of Jillian Mele but more so she has the height to back it up right away. She stands at an impressive height of 5 feet 8 inches tall, endowed with an hourglass figure. Her other measurements come in at; dress size at 6, shoe size at 7, bra size at 34C and weight that reaches 59 kg (129 pounds).