Jessica Beppler is a Brazilian model and social media personality. She is popularly known for her Instagram account where she has over a hundred thousand followers. Surprising right? Yes, she has so little followers for her alleged popularity. Well, that's because her account got hacked a while back and she currently handles a new account.
She used to have over 1.3 million followers on her previous Instagram account. The old account 'jessicabeppler' wasn't recovered and she switched to a new one 'bepplerofficial' where her fans are gradually moving to in a bid to keep up with her.
Jessica was born on 28th March 1995 in Brazil. Her birth sign is Aries and this, for many, accounts for the model's daring, proud, and egoistic traits. It is said that an Aries speaks with attitude and will not hesitate to give a piece of their mind. She is known for posting really randy and almost nude pictures on her Instagram account which makes a lot of persons ascribe her as an 'attention-seeker'.
As regards her educational qualification, the pretty model is rather reluctant to share information about it. This is the same with information about her family (her parents and siblings, if any). All that is known to the public about Jessica Beppler is mostly her photos and life on Instagram and other social media platforms. Well, this might be a good thing for her family considering the hateful replies she gets from her rude comments and retorts.
What Jessica Beppler Did To Become Popular On Instagram
The model became very popular on Instagram by frequently posting her almost nude pictures. This drew a lot of attention to her account and as expected, her fans and followers increased. Jessica has a lot of tattoos on her body which she readily shows off in her sexy photos. The most worn outfit for her photos is a pair of bikini, lingerie or underwear.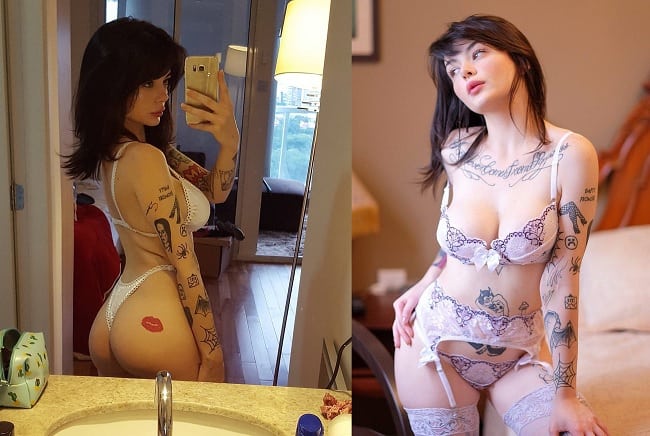 She is also known for her insulting comments and replies to people who do not find her attractive and say as much. This has earned the model the 'rude' title from a lot of persons but she doesn't seem to be bothered as she goes right on and calls them 'ugly' in return.
It is most likely that Jessica Beppler knowingly does all she is accused of so as to trend more on her social media platforms. Little wonder she is said to have a really bad attitude and behave unfavorably towards those who do not suck up to her. Jessica's Instagram bio reads 'Not nice', perhaps an agreement with the popular opinion people have of her.
The pretty social media personality also keeps her fans engaged on her wall by asking them questions from time to time. One of such posts was a picture of her with the caption 'how many surgical procedures do you see in this picture?' As expected, she got numerous replies with most people throwing shades at her. One of the most interesting replies was from a follower, Jonas Santiago. He said he "saw botox on her lips and forehead, a nose job, false eyelashes and some tattoos as well as a boob job and some 'bitchplastia'".
Apparently, the model's physical attributes have changed a great deal judging from the nature of comments that post garnered. Does this suffice to say this is one of the many things she has done to become popular on Instagram?
See Also: Who is Summerella? Age, All You Must Know About The Viner and Instagram Star
The Instagram celebrity has gotten a number of opportunities to advertise for different brands and products. Through this means, she rakes in some cash apart from whatever her modeling brings her way. Although her net worth is not yet made public, we can rightfully guess that she is one of those who has earned major bucks from the social media platform, Instagram. If we put into consideration her modeling gigs and other possible investments and earnings, her net worth will most likely be very large.
Jessica Beppler also has accounts on other social media platforms like Facebook, Twitter, YouTube, and 9gag. As expected, the model also posts photos of her lingerie-clad body on these accounts as well.