Jerry Lee Lewis made such an impact in America's rock and roll music industry during his heydays such that he was described as the first great wild man of rock and roll. Known to many by his nickname, "The Killer," Jerry is among the first set of musicians to delve into the rock and roll and rockabilly music. In addition to being a singer and songwriter, he is also an instrumentalist known for his outstanding piano skills, which established him among the best pianists of the final century of the 2nd millennium.
His music career has been dotted with numerous peak points as well as some low periods one of which was due to his marriage to his cousin Myra Gale Brown, who was just a child at the time they became husband and wife. For more information about the professional career of the music veteran and his scandalous marriages which faltered his rock and roll career, continue reading.
Jerry Lee Lewis at a Glance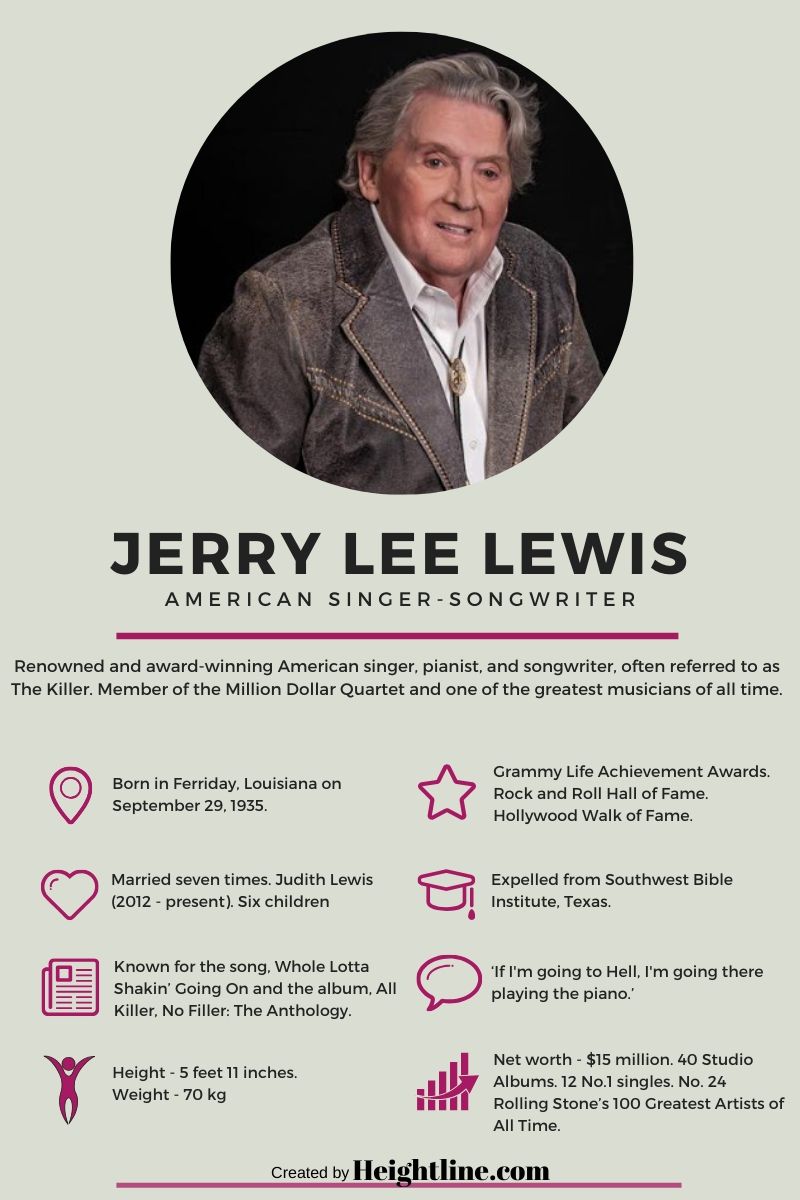 Jerry Lee Lewis' Spouses and Scandalous Marriages
Despite having a successful music career, the rock 'n' roll legend, Jerry Lee Lewis, has had it rough with his love life and the fact that he has been married 7 times proves this. The first time he got married was in February 1952 to Dorothy Barton, whose father was a preacher. However, their union could not survive beyond October 1953.
Surprisingly, Jerry moved on even before he was officially divorced from Barton as he tied the knot with his second wife, Jane Mitchum, in September 1953, 23 days before the annulment of his first marriage contract. Jane and Jerry stayed married for four years and later parted ways in October 1957. Their marriage produced 2 children—Jerry Lee Lewis Jr. (who was born in 1954 but lost his life in a car accident in 1973) and Ronnie Guy Lewis, born in 1956.
Moving on, the flamboyant piano player embarked on a marital journey with his 13-year-old cousin Myra Gale, which almost cost him his career in the 50s. They had two children together named Steve Allen Lewis, who died in 1962 in a swimming pool accident, and Phoebe Allen Lewis born in 1963. Just like his first two marriages, his union with his cousin ended after 13 years as Brown filed for divorce citing adultery and abuse, both physical and mental.
This paved way for Jaren Elizabeth Pate to have a share of the rockstar's life. They became husband and wife in October 1971 and had a daughter, Lori Lee Lewis, the following year but their relationship eventually went sour. However, weeks before their divorce was sealed in 1982, Pate drowned in a swimming pool at the home of her friend whom she was putting up with.
The following year, Lewis got married to his 5th wife, Shawn Stephens, who died 77 days later. Reports in the media at the time had it that Shawn's death might have resulted from the abuse she suffered in the hands of Lewis. However, these allegations were never proved and the star musician moved on with his life.
In April 1984, Jerry tied the knot with Kerrie McCarver and 25 years later, they went their separate ways. Before then, however, they had a child together – Jerry Lee Lewis III- born in 1987.
Who Is Jerry Lee Lewis' Wife Currently?
Seven years following his 6th divorce in 2005, the rock-'n'-roller remained single until he was ready to give marriage another try on March 9, 2012, when he exchanged marital vows with his caregiver, Judith Brown, in Natchez, Mississippi. Meanwhile, it might interest you to know that Judith is the ex-wife of Jerry's cousin, Rusty Brown (brother of the singer's third wife, Myra). The Great Balls of Fire singer is still very much married to Judith and thus far, there has not been any news of a possible divorce.
The Beginning Of Jerry Lee Lewis' Music Career 
Born sometime in 1935 in Ferriday, Louisiana, U.S., Lewis is the son of Elmo and Mamie Lewis, both farmers. His interest in music started with him playing piano alongside two of his cousins when he was a young boy and in a bid to support him, his poor parents decided to raise funds to buy him a piano by mortgaging their farm. Subsequently, Jerry Lee Lewis kicked off his career on the 19th of November 1949, performing for the first time in public at a car dealership in Ferriday together with a country and western band.
Being the son of Christian parents, Jerry's mother wanted him to sing only evangelical songs and in order to make this happen, she registered him in the Southwest Bible Institute, Waxahachie, Texas. However, the musician had it in mind to tow the opposite path and as a result, he chose to do the 'unthinkable' during a church assembly by playing a boogie-woogie rendition of "My God Is Real". As the institution had zero tolerance for 'worldly' music, it resulted in Jerry being expelled.
Thereafter, he returned home and began performing at clubs both within and outside Ferriday and Natchez, Mississippi. With this, the young entertainer became part of the rapidly growing new rock and roll sound and eventually recorded his first demo in 1954. The following year, he journeyed to Nashville and there, he performed in clubs and made an attempt to draw the attention of people to his music by seeking an opportunity to perform at the Grand Ole Opry but sadly, he was turned down. Undeterred, Jerry Lee Lewis continued to pursue his dreams and in November 1956, he went for an audition at Sun Records in Memphis, Tennessee, and emerged successfully.
Jerry's Career Growth And His Disastrous Fall
Following his successful audition for the independent record label, Sun Records, Jerry Lee Lewis started recording as a solo artist under Sun and also as a studio musician for other artists signed to the label. He recorded his first works in 1956, including "Crazy Arms", which was a huge commercial success.
However, the musician remained not so popular among international audiences until 1957 when he was shot into global fame with the hit "Whole Lotta Shakin' Goin' On". This was followed by the release of other hit singles such as "Great Balls of Fire", "Breathless" and "High School Confidential". During this time, Jerry Lee Lewis also got popular as a result of the outstanding piano stunts he often displayed on stage.
Unfortunately, Lewis rosy career path got littered with thorns in May 1958 following a news report which revealed that he had married his first cousin, Myra Gale Brown, who was just 13. In the wake of the scandal, the talented pianist who was 22-year-old at the time the said marriage was contracted, was trailed by criticism from both stakeholders and the public in general.
Consequently, his career received the worst hit as he was forced to cancel his tour that year after only three concerts. Not only that, his success in the charts became history, he lost his fans and went from performing at concerts for $10,000 per night to performing at small clubs for $250. In no time, the popularity of the young star who was the rave of the moment, eroded.
His Big Comeback To The Music Scene
Despite the setback in his career, Lewis continued making music and recorded very little chart success in the early 1960s with a few songs, including a cover of "What'd I Say" by Ray Charles. The singer eventually made a switch from rock and roll to country music, a decision which helped him reclaim and retain his position at the top of the industry all through the late 1960s and 1970s. During this period, he released hit songs such as "Another Place, Another Time" and maintained his position at the top of the country-western charts regularly.
With his continued successes throughout the 70s, Jerry Lee Lewis brought his rock and roll past back to life by recording a cover of a number of songs. The 21st century has seen him touring the world and even at his age, he has not stopped releasing new albums. In 2006, he released an album titled Last Man Standing, which sold more than one million copies globally, making it his best selling to date. He followed this up in 2010 with the release of Mean Old Man, which has also been one of his most commercially successful works.
In his more than seventy years of being active in the entertainment industry, 30 of Jerry's songs has made it to the top ten on the Billboard Country and Western Chart while a number of others, including "Me and Bobby McGee", "To Make Love Sweeter for You", "Would You Take Another Chance on Me", and "There Must Be More to Love Than This" made it to N. 1 on the Billboard Country. He also has many gold records in both rock and roll and country music.
Thanks to his amazing talent, Jerry Lee Lweis is a winner of a number of Grammy awards, one of which is a Lifetime Achievement Award. In view of his contributions to rock and roll being one the pioneers of the genre, the singer/songwriter was inducted into the Rock and Roll Hall of Fame in 1986 and has also been recognized by the Rockabilly Hall of Fame. He was also part of the first set of people admitted into the Memphis Music Hall of Fame. Up till now, Jerry Lee Lewis still performs in concerts and keeps getting more popular and bagging more recognition for his works.
Is Jerry Lee Lewis Dead Or Alive?
Reports that the rockability singer had died at the age of 81 emerged in August 2017. This turned out to be a case of confused identity as the information went public after it was reported that comedian Jerry Lewis had passed on. Due to the similarity of their names and the fact that they were both counterparts in the industry, many mistook the comic legend to be Lewis the singer. However, it was eventually confirmed that the singer was very much alive and well.
On the 6th of January 2020, similar speculation cropped up again and spread quickly after a Facebook page named 'R.I.P. Jerry Lee Lewis' received almost a million likes. The 'About' section of the page revealed that the singer passed on at about 11 a.m. ET on the said date and requested that people expressed their sympathy and condolences by leaving comments and liking the page, a directive which many of the legend's fans gladly obeyed.
Nevertheless, while some people believed that the post was true, some others believed it was just another death hoax. According to those in the latter group, the death of a singer like Jerry Lee Lewis is not a piece of information that will not be carried by major American news networks. A day after the news emerged, Jerry's representatives confirmed that The Killer is alive, adding that the rumor makes him one among the many celebrities that have been victimized by the false death news. The singer's rep. also urged people to quit believing what they see on the internet.