Jeremy Sisto is an American actor, producer, and writer. He is best known for his role as Billy Chenowith in the HBO hit drama series Six Feet Under. The highly successful HBO series ran from 2001 to 2005 and was nominated for the SAG Awards for Outstanding Performance by an Ensemble in a Drama Series all through its 5 seasons, winning the award for 2002 and 2003.
Jeremy Sisto is also widely recognised for his role as NYPD detective Cyrus Lupo on NBC's crime drama series Law and Order. He joined the main cast of the hit series Law and Order from the 18th season to the 20th and final season. He starred in 3 seasons of the ABC sitcom Suburgatory which ran from 2011 to 2014. He played the lead character George Altman which earned him a Critics Choice TV Award nomination for Best Actor in a Comedy Series.
Throughout his long-running career, Jeremy Sisto has been very consistent. He has starred in several movies such as Clueless (1995), Thirteen (2003), Waitress (2007) and also voiced a character in the 2017 animated adventure-comedy, Ferdinand. He also has a number of credits as a writer and producer.
See Also: Michaela Conlin Married, Partner, Husband, Body Measurements
Bio
Born Jeremy Merton Sisto on October 6, 1974, in Northern California, his mother Reedy Gibbs was an actress while his father Richard Sisto was a musician and a teacher. Just like Jeremy Sisto's mother, his sister Meadow Sisto is also an actress. Sisto's parents got divorced when he was younger. His father remarried while his mother raised him and his sister.
His early education was at Hayfield Montessori School in Louisville, Kentucky. At age 7, Sisto's mum relocated with her kids to Chicago where he attended Francis W. Parker School. While in high school, he worked at a few theatres in town. He was still a teenager when he landed his first movie role in the 1991 drama film Grand Canyon. Upon graduation from high school, Jeremy Sisto proceeded to The University of California, Los Angeles (UCLA). His acting career took off fulltime after he graduated from college.
Professional Acting Career
Jeremy Sisto starred in the 1995 cult classic Clueless. His first lead role in a big movie was in the 1999 biblical historical film Jesus, in which he played the titular role. He equally portrayed the titular role in the 2003 miniseries, Julius Caesar.
The years 2001 to 2005 marked a high point in Jeremy Sisto's career as he featured in the highly successful series Six Feet Under. In 2002, the sensational actor was nominated for the Los Angeles Drama Critics Circle Award for his featured performance on the play Take Me Out.
He launched his own production company Dima Entertainment in April 2003. Prior to that, Sisto had held the job of a producer on the 1998 movie Taken, however, the movie remained unreleased. He made a comeback to the stage in 2006 when he was featured in the Broadway adaptation of the play Festen at the Music Box Theatre. That same year, he had a role in the drama series Kidnapped.
In 2007, Jeremy Sisto featured on the comedy-drama film Waitress. The year 2008 ushered in yet another high point in Sisto's career as joined the cast of Law and Order in 2008 and stayed on till its season finale in 2010. He also voiced the role of Batman in the animated superhero film Justice League: The New Frontier.
From 2011 to 2014, the talented actor starred in the ABC sitcom Suburgatory for which he received high critical acclaim. He was nominated for the 2013 Critics' Choice Television Award for Best Actor in a Comedy Series. Jeremy Sisto worked as a co-producer and co-writer on the 2014 Indie comedy Break Point, in which he played a lead role.
2015 was a pretty busy year for Sisto as he featured in quite a number productions. The multitalented actor featured in A&E's drama series The Returned which premiered in March 2015 but got cancelled just after one season. He also lent his voice to the character Talon in the animated film Batman v/s Robin and also featured in the horror thriller film Hangman (2015).
Sisto currently plays the role of Fredy Green in the crime drama series Ice which was first released in 2016 and renewed for a second season.
Jeremy Sisto's Net Worth
For one who began his acting career at a very young age, Jeremy Sisto has come a long way. His Hollywood career spans over 2 decades with numerous movies and TV productions to his credit. The actor and producer currently has a net worth of $6 million. For one who has remained steady in a highly dynamic Hollywood industry, Jeremy Sisto's net worth is even expected to get higher in the near future.
Family, Wife and Kids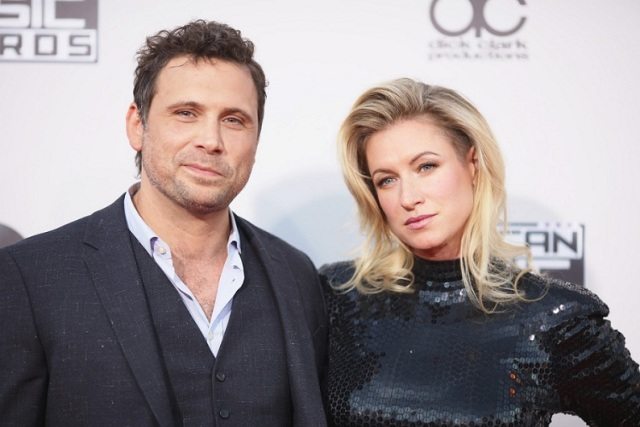 Jeremy Sisto is currently married to former model Addie Lane. The couple got married on October 13, 2009, in a casual ceremony at the New York City Hall. Sisto and Addie Lane have 2 children together, a son and a daughter.
Prior to their wedding, the couple welcomed their first child, a daughter named Charlie-Ballerina Sisto on June 23, 2009. They also welcomed their second child, a son named Bastian Kick Sisto on March 9, 2012, in Los Angeles.
Jeremy Sisto's marriage to Addie Lane happens to be his 2nd marriage. As it turns out, the actor was previously married. On August 30, 1993, Sisto, then aged 18, contracted a marriage with actress Marisa Ryan who was also 18 at that time. However, the marriage between the two 18-year olds didn't last. They separated just 2 days after the marriage and the marriage was eventually annulled on June 20, 2002.
See Also: Ryan Eggold Married, Wife, Dating, Girlfriend, Height, Body Measurements
Quick Facts about Jeremy Sisto
He was named Jeremy Merton Sisto after the late Trappist monk Thomas Merton.
Like his musician dad, Jeremy Sisto also has a talent for singing. He played in a few rock bands in his 20s.
In 1997, Jeremy Sisto was considered for the career-defining role of Jack Dawson in the Oscar-winning film Titanic. As expected, Sisto has some regrets about not getting the role, however, he was thrilled by the final output.
Sisto and his wife were accompanied to their honeymoon by both their mothers. What a crowd! Well, their first child was already 6 months old when they tied the knot so the couple brought their moms along so they could help take care of the baby.
Jeremy Sisto spends his spare time either playing his guitar or the game of Bocce a.k.a. Italian Bowling.