Jeremy Hill is a football player who plays in the National Football League (NFL) for the New England Patriots as a running back. He began his NFL career in 2014 after he was selected by the Cincinnati Bengals in the year's NFL Draft. In his first season in the league, Hill made the PFWA All-Rookie Team of the year while in 2015, he was named the NFL rushing touchdowns leader.
Who Is Jeremy Hill?
Jeremy Hill was born on October 20, 1992, in Baton Rouge, Louisiana. He was brought up by his highly disciplined mother, Lisa Hill who is into the real estate business and his father Cornell Hill. He has a sister Amber, and a brother Cornell II.
A very athletic individual, Hill played football, baseball, and track when he was a student at Redemptorist High School. While there, he became an All-American running back. He later went to Louisiana State University where he played for two seasons before he entered the NFL Draft of 2014 and was selected with the 55th overall pick by the Cincinnati Bengals.
The Bengals soon offered him a 4-year deal worth $3.71 million with $1.64 million guaranteed. By the end of his rookie season, he had already recorded 222 carries for 1,124 rushing yards and 9 rushing touchdowns. More so, he became the first rookie of the team since Corey Dillon in 1997 to top 1,000 yards rushing.
He continued playing for the team until 2018 when he was given a one-year deal by the New England Patriots worth $1.5 million. Thanks to his preseason performance, he was named the team's third running back after Rex Burkhead and James White.
Unfortunately for him, he has been ruled out for the year after he was diagnosed with a torn ACL in Week 1 game against the Houston Texans. This means that it was without him that the team made it to the Super Bowl LIII to slug it out against the Los Angeles Rams.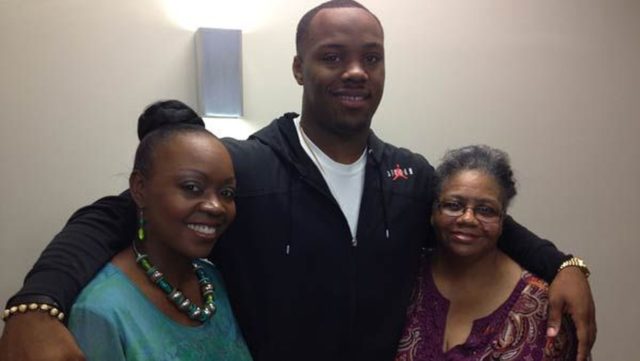 Height & Weight
Just as Jeremy Hill has always been an athletic kid, so also has he been a large kid with a good height and great body build. He stands at 6 ft 1 in (1.85 m) and has a weight of 230 lb (104 kg).
Other Facts About The NFL Player
1. His has crossed paths with the law several times
When he was in LSU, Hill almost found himself out of the team and out of school following reports by the Baton Rouge police department that when he was a 6-foot-1, 220-pound high school senior, Hill pressured a girl of only 14 to perform oral sex on him. Fortunately for him, the head coach of LSU, Les Miles decided to put his fate in the hands of his teammates who voted for him to be given another chance.
His rough history with the law continued when he was charged with misdemeanour battery, something to which he pleaded guilty. As revealed by a video that captured the crime, Jeremy Hill attacked a defenceless man in front of a bar and laughed over it and then he gave a friend a high-five. He got to avoid prison time for both deeds.
2. He missed a season while at LSU
Following his case of sexual assault of a 14-year old girl, Hill missed a season when he signed to LSU while the legal process continued. At the end of it, he was given 2-year probation and then he continued with his education.
3. His very supportive family
Through all the issues he has had, Hill has enjoyed the support of his family, especially his mother. It is thanks to this that he has now grown more mature than he was in his much younger days.
Keeping her eyes on him, his mother made him return a car be purchased before he was drafted, insisting there was no buying of a car for him until after signing a contract.
See Also: Dwayne Allen Biography, Age, Height, Weight, Siblings, Net Worth
While there is no denying the fact that Jeremy Hill is a great player, he has also had his troubles with injuries. Nonetheless, he has, thus far, come a good way. That said, his net worth is still not known but he has already earned close to $5 million in his career.
According to his latest contract with the Patriots which is for a year and valued at $1.5 million, his salary is placed at a million dollars while his signing bonus is $150,000.