Jeffrey Dean Morgan is an American actor best known for his roles on several American hit shows. He played the recurring role of John Winchester in the hit fantasy horror television series, Supernatural. He also played Denny Duquette on Grey's Anatomy; his character was the love interest for Izzy Stevens (Katherine Heigl's character).
Jeffrey was also, the comedian on Watchmen, a 2009 superhero film. When Watchmen came out it was a modest success, however, in recent years, it has developed something of a cult following. Watchmen was directed by Zack Snyder who also directed Justice League, 300, Sucker Punch, Man Of Steel and Batman v Superman: Dawn of Justice.
On The Good Wife, he played Jason Crouse, an investigator introduced in the seventh season. Initially, Alicia (the lead character) hired Jason for work but as the season progressed, the character became a love interest for her.
In 2016, the actor joined the cast of The Walking Dead as the villainous Negan.
Jeffrey Dean Morgan Bio – Age 
Jeffrey Dean Morgan was born on the 22nd of April, 1966 to Richard Dean Morgan and Sandy Thomas in Seattle, Washington. He attended Ben Franklin Elementary School for his primary education and went on to study at the Rose Hill Junior High and then Lake Washington High School. In high school, he played basketball and football, he was even the captain of the basketball team.
He later attended Skagit Valley College, a two-year community college, where he also played Basketball before a sports injury stopped him.
His Family – Wife, Son and Daughter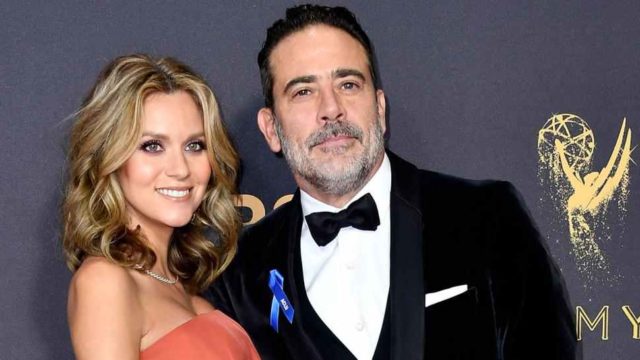 In May 1992, Jeffrey Dean Morgan got married to Anya Longwell, an American actress, in Las Vegas. They were married for over a decade till they got divorced in 2003. Four years later, Jeffrey dated and got engaged to Mary-Louise Parker, his co-star on Weeds. However, they called their engagement off in April 2008.
A year later, he began dating Hilarie Burton. Hilarie gave birth to the couple's son, Augustus 'Gus' Morgan on the 10th of March 2010. Four years later, the two got married. On the 16th of February, 2018, their daughter, George Virginia Morgan, was born.
Jeffrey, his wife and children are settled in Rhinebeck, New York.
Height, Weight & Body Measurements
Jeffrey Dean Morgan has an impressive physique for his age. He currently weighs 83 kgs (183 lbs), the perfect size for his 6'2" (188 cm) height. His body measurements are 41-13-34.
Besides working out to keep in shape, the actor also follows a low carb, high protein diet to stay in shape. Staying in shape must be easy for the actor since a huge percentage of his roles require him to be in good shape.
Read Also: Jeff Goldblum Wife, Son, Height, Net Worth, Ethnicity, Is He Gay?
Jeffrey's Net Worth & Career
Jeffrey Dean Morgan has racked up a total net worth of $8 million. This amount can be attributed to his years in the industry which he has spent building an illustrious career.
His career started with the 1991 film Uncaged. Since then he has appeared in over 25 feature films including Dillinger and Capone, Road Kill, Dead & Breakfast, Chasing Ghosts, Something More, P.s. I Love You, The Accidental Husband, The Loses, Jonah Hex, Texas Killing Fields, Red Dawn, Heist, Rampage and Batman Vs Superman: Dawn Of Justice.
Despite his impressive movie count, he is more known for his work on television. Apart from Supernatural, Grey's Anatomy and Weeds, he also appeared on JAG, ER, Angel, CSI: Crime Scene Investigation, Walker Texas Ranger, Sliders, The O.C, and Monk.
He starred in The Resident, a 2011 British thriller which also starred Hilary Swank and also appeared in the 2008 drama, Days of Wrath.
Jeffrey Dean Morgan appeared in the movie Taking Woodstock and also, the movie adaptation of The Losers opposite Chris Evans, Zoe Saldana and Idris Elba.
You will find him in the thriller Texas Killing Fields opposite Sam Worthington, Jessica Chastain and Chloë Grace Moretz. In the movie, he played a homicide detective who investigates the disappearance of a young woman and the murder of a girl.
Perhaps one of his most acclaimed roles was in the television series Magic City. Magic City was set in the 1950s and followed the mob life in Miami. The series followed Ike Evans (who was played by Jeffrey Dean Morgan), the owner of the Miramar Playa – the most glamorous hotel in Miami – and his association with Ben Diamond, Miami's biggest mob boss.
He also appeared in The Possession, Desierto, The Secret Life of Marilyn Monroe and as the owner of the Cake House in Shameless.