Age/Date of Birth:

56 years old (22 April 1966)
Height:

6 feet, 1 inch (1.85 m)
Ethnicity/Race:

White
Nationality:
American
Wife or Girlfriend:
Hilarie Burton (m. 2019), Anya Longwell (m. 1992–2003)
Parents:
Father: Richard Dean Morgan
Mother: Sandy Thomas.
Net Worth:
$10 million
Known for his equanimity and attractive personality, Jeffrey Dean Morgan is an American actor who has won wide admiration for his work on television. Considered to be a veteran in the movie business, Morgan kickstarted his career in 1991 and has remained active in the industry, appearing in more than 70 movies and TV series. Apparently, Jeffrey Dean Morgan's popularity has drawn a lot of attention and fans have increasingly become curious about his personal life. He is one-half of a celebrity couple, having married another ace actress Hilarie Burton his long-term partner in 2019. The couple have been together for over 10 years and have long begun a family together.
Jeffrey Met Hilarie Through His Supernatural Co-star Jensen Ackles
It is 2009 and Jensen Ackles, Jeffrey's co-star on the hit show Supernatural thinks up an idea of a double date. While he has his wife Danneel Ackles for the date, he decides to set up his friend Jeffrey with One Tree Hill alum Hilarie Burton who also happens to be his wife's friend. As Ackles would reveal to the Huffington Post years later, in 2015, the date night which was at an Irish pub in Los Angeles was fun-filled. The TV star also said they all ended up back at his place drinking shots of tequila. He added that Jeffrey was able to convince Burton to change her original plans of embarking on a trip to Paris to instead join him in Albuquerque, New Mexico where he was shooting The Resident.
Jeffrey and Burton made their relationship official in 2010 when they attended the premiere of The Losers together.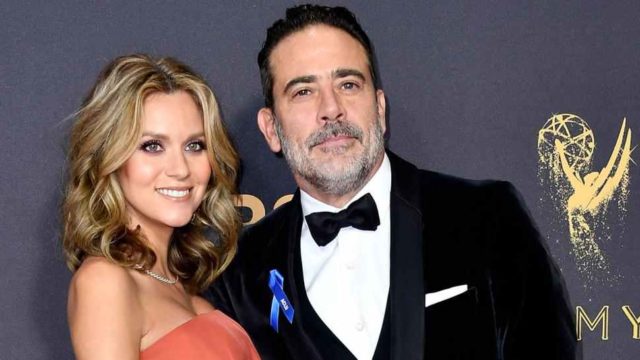 Throughout the period they dated, Burton and Jeffrey kept details of their love life private until much later. In an interview with People Magazine in 2020, Hilarie Burton spoke of the time she met Jeffrey, saying that she liked him from the get-go. She explained how Jeffrey was so confident and how she found his confidence attractive, intoxicating, and a delight. She added that being with someone who knew exactly what he wanted has allowed her to grow. Burton revealed more about meeting Jeffrey in her memoir, The Rural Dairies which she published in 2020.
Jeffrey and Burton Got Married In 2019
Theirs was a whirlwind romance, from the first time they met, the couple hit things off and it was not long before they began referring to each other as husband and wife on social media, this led fans to believe that they had secretly tied the knot in 2014, but this was not the case. Jeffrey and Burton only officially got married on October 5th, 2019.
Hilarie Burton took to her Instagram page to reveal the news in a lengthy post where she debunked claims made by several publications that they had been married sometime in 2014 or 2015 as well as false reports that claimed that she was previously married. In her post, the actress revealed that their wedding was a private one attended by close family and friends. Burton told People that though she was already living as husband and wife with Jeffrey, she did not give marriage much thought until Jeffrey stimulated her to it by painting an image in her mind of how that day would look like with their son as Jeffrey's best man.
The Couple Live On A Farm In Upstate New York
Farmer x 2. pic.twitter.com/YWlJ8pEZ43

— Jeffrey Dean Morgan (@JDMorgan) April 4, 2020
Jeffrey Dean Morgan and his wife Hilarie Burton are living their lives the old-fashioned way. After things got solid between them, the couple ditched the hustle and bustle of Hollywood for a more quaint lifestyle in the town of Rhinebeck in Dutchess County, New York.
On their farm which they named Mischief Farm, the couple raise chickens, ducks, donkeys, cows, alpaca, and an emu. They each take turns in looking after the animals. They also own two pet dogs named Bandito and Ma.
Burton told People how her family and friends were shocked that she decided to move with Jeffrey to live on a farm as she has always been the cautious one, she explained that the decision is one that she has not regretted as she has since lived with Jeffrey easily much to her surprise.
In Rhinebeck, the couple also own a candy store called Samuel's Sweet Shop. They co-own the property with actor Paul Rudd and his wife.
Jeffrey and Hilarie Are Parents To Two Kids, Augustus Morgan and George Virginia Morgan
Morgan and Burton have two kids together; a boy and girl who were both born before the couple officially got married. Burton was pregnant with their son, Augustus Morgan fondly called Gus months after she began dating Jeffrey. She gave birth to him on the 10th of March 2010 right after which the couple relocated to upstate New York. The couple frequently shared fun photos of their kids on their farm.
They did not have another child until February 2018. The couple had hinted that they were expecting a second baby at the 2017 Emmy Awards. The child, a girl born on the 16th of February was named George Virginia Morgan. In celebrating the child's birth, Burton took to her Instagram page in a lengthy post to reveal that she had suffered multiple miscarriages before baby number 2 arrived.
They Have Both Had Roles On The Same TV Shows
Both Jeffrey Dean and his wife Hilarie Burton are accomplished at their acting careers. They have featured in a handful of shows together, some at different times and others together. They've had roles at different times on the hit medical drama Grey's Anatomy. Jeffrey was the first to book a part on the show in 2006, he played the recurring role of Denny Duquette, a dying heart transplant patient, the role was fresh off his role on Supernatural. In 2013, years later after they have met, Burton booked the role of Dr. Lauren Boswell on Grey's Anatomy, her character appeared in three episodes.
2016 was the first time the actors appeared together on the same project – Hally Berry's Extant. Jeffrey's career took a huge leap when he began playing Negan in the horror drama series The Walking Dead in 2016. In late 2020, Hilarie took to social media to reveal that she got a role to play Lucille, the late wife of Morgan's character, Negan.
Been pretty hard to keep this a secret. 💕
But I love working with @JDMorgan . I love watching him become #Negan and take on that swagger. And I love the @TheWalkingDead family. They've been a part of our family for ages and I'm so grateful for their kindness. Xoxo #hereslucille https://t.co/9tRh7NB8WY

— Hilarie Burton Morgan (@HilarieBurton) November 3, 2020
Together the couple host their own show, Friday Night in with the Morgans which premiered on AMC in 2020.
Hilarie Burton is Jeffrey's Second Wife
Before Jeffrey Dean Morgan met and married Hilarie Burton, he was once married to another woman. His first marriage was to Anya Longwell who is also an American actress. The couple got married on May 30, 1992, in Las Vegas. They remained married for more than 10 years until 2003 when they eventually ended the union.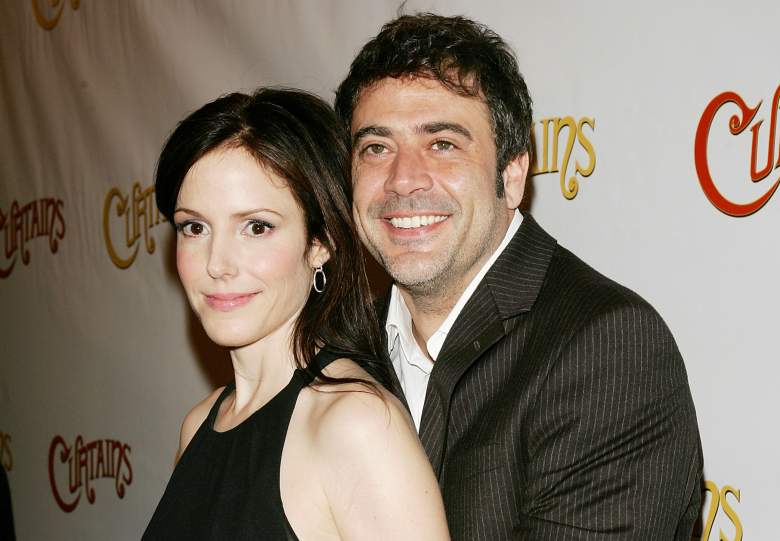 After splitting from Anya Longwell, Morgan went on to date another actress called Mary-Louise Parker, who was his co-star on Weeds, a dark comedy-drama television series. The couple took things seriously and even got engaged in 2007. However, their romance eventually did not work out as they ended their engagement in April 2008. It was after breaking up with Mary-Louise Parker that Jeffrey Dean Morgan met Hilarie Burton.
In addition to his two kids with Hilarie Burton, Jeffrey Dean Morgan has another child with one of his exes, Sherrie Rose. Jeffrey found out about the boy around the same time he began dating Burton. Rose revealed the child's paternity in 2009 in an interview with Us Weekly. She also added that Jeffrey was excited and wants to be a part of the boy's life. It was revealed at the time that he was 4 years old.
Profile Summary
First Name:
Jeffrey
Last Name:
Morgan
Also Known As:

Dean
Sex/Gender:

Male
Profession:

Actor
Famous For:
'Supernatural', Grey's Anatomy (2006–2009)
Colleges/Universities Attended:

Skagit Valley College
Educational Qualifications:

N/A
Religion:

Christianity
Birthday & Zodiac

Age/Date of Birth:

56 years old (22 April 1966)
Zodiac Sign:
Taurus
Birth Place:

Seattle, Washington, United States
Nationality:
American
Ethnicity/Race:

White
Country of Residence:

United States of America (USA)
Physical Attributes

Height:

6 feet, 1 inch (1.85 m)
Weight:

59 kg (130 lbs)
Eye Colour:

Hazel
Hair Color:

Brown
Other Body Measurements:

N/A
Relationships

Marital Status:

Married
Spouse/Partner:

Hilarie Burton (m. 2019),
Previously married Anya Longwell (m. 1992–2003)
Family and Relatives

Father:

Richard Dean Morgan
Mother:
Sandy Thomas.
Children:

Augustus Morgan
George Virginia Morgan
Siblings:
N/A
Other Relatives:

N/A
Net Worth
Estimated Net Worth:

$10 million
Salary:
N/A
Source of Wealth:

Acting Career