The "Bush" name is popular not only in the United States of America but in the world at large. And, Jeb Bush is famous for several reasons ranging from being a former governor of the U.S. state, Florida to having a father and a brother who were once leaders of the greatest country on earth.
While Jeb is the second oldest son of the 41st President of the United States, George Herbert Walker Bush, he is also a younger brother to the 43rd President of the country, George Walker Bush. How cool is that?
Anyway, it wouldn't be fair to totally attribute Jeb's popularity to his father and brother, the man attracted most of the attention he's getting from his own personal deeds. Albeit, it isn't out of place for anyone to point out that the widespread admiration of the two former presidents helped him a great deal in achieving the things which have made him the man he is today.
Nonetheless, dad and bro could do little for Jeb when he decided to become who they once were. Sometimes in June 2015, Jeb Bush officially started his campaign to become president like his relatives. This was after he first announced on Facebook that he will be running for the office. With the backings of the ex-presidents, it was thought that the man would have a smooth ride. This didn't happen; if anything, it was as though Americans were fatigued by the Bush name. Jeb suffered a disappointing outing which ultimately forced him to abandon his Presidential campaign and to endorse Ted Cruz for the Republican nomination.
We know how the story ended, Donald Trump trumped Ted like he did Hillary Clinton and respectively, became the Republican presidential nominee and the 45th president of the United States.
Jeb Bush Bio – A Look at His Political History
Mr Bush was born on the 11th day of February 1953 as John Ellis Bush, the second son and child of George and Barbara Bush; in Midland, Texas. Jeb was welcomed after seven years his brother George was birthed. After him, his parents had other kids. Two boys and a girl they respectively named Neil, Marvin and Dorothy.
Before Jeb became a politician, he was and still is a businessman. It is known that he worked with the Texas Commerce Bank before he ventured into real estate. Among other things, he worked with a mobile phone company and played an active role in a shoe company. Most, if not all of his business endeavours yielded good profit.
Jeb's political career started with his dad's campaign to become president. Serving as the Florida Commerce Secretary, Jeb resigned from the position to help his father in his political campaign. He took part in the campaigns that saw his father become the president of the United States in 1989.
Several years later (in 1994) he made up his mind to become more active in politic. This saw him run to become the governor of Florida. Though his first attempt wasn't successful, he eventually became a Republican governor for the U.S. state. He started serving as governor in 1999 and was re-elected in 2002 which extended his stay in the office to 2007. While he was serving as the 43rd governor of Florida, his older brother was also serving as the 43rd president of the United States.
In mid-2015, Jeb expressed his intent to become president. He got his father's and brother's support but couldn't get enough support from the public. He had no option but to back down and endorse Ted Cruz.
See Also: Sean Spicer Wiki, Bio, Wife, Children, Height, Family, Salary, Net Worth
Wife, Sons, Daughter and Family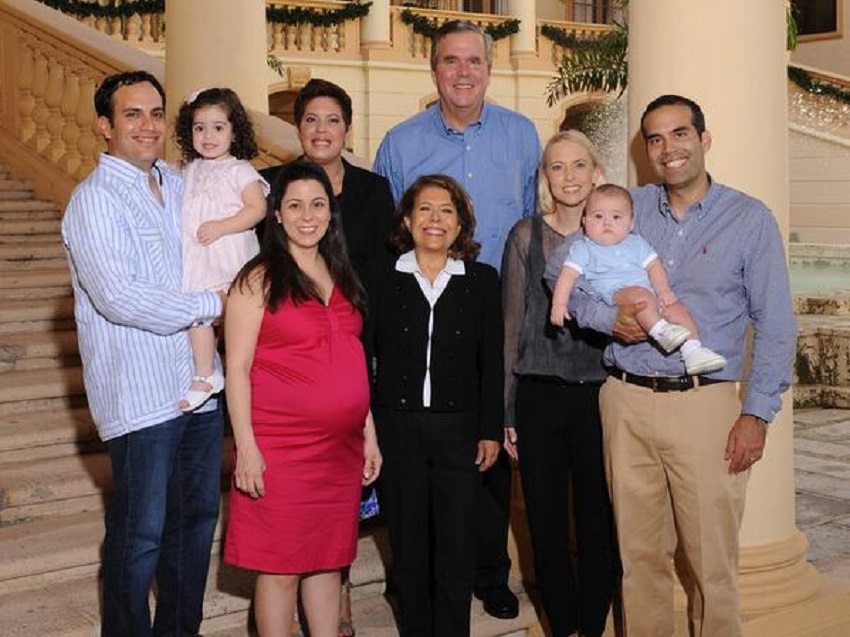 Jeb's family has grown, making him and his wife, Columba Garnica Gallo grandparents. He married Columba in 1974. A few years later, in 1976, they welcomed their first child, a son they named George Prescott. The next year (1977), the couple had their only daughter, Noelle Lucila. The family later welcomed another member, a son and a brother named Jeb Bush Jr.
Jeb's daughter was once jailed for going against a court order for drug treatment. She had drug abuse issues.
The politician's grandchildren include Prescott Walker, John Williams, Georgia Helena Walker and Vivian Alexandra Columba. While Prescott and John came from Jeb's first son, Georgia and Vivian came from Jeb Jr.
Jeb Bush Height, Quick Facts
1. Jeb Bush is 1.91 m tall;
2. He was born on February 11, 1953;
3 Jeb has four siblings, three brothers and a sister;
4. His father was the 41st President of the United States, and his older brother, the 43rd.
5. Jeb was the 43rd governor of Florida, the first Republican governor to win re-election in the state;
6. He met his wife Columba while he was serving as an English teacher in Mexico;
7. They got married in 1974 and gave birth to three children, two sons and a daughter.
8. Jeb's daughter was once sentenced to 3 days behind bars;
9. He abandoned Anglicanism for Roman Catholicism;
10. Jeb is fluent in Spanish.