The "Bush" name is popular, not only in the United States of America but in the world at large for the political might that it wields. It is in that political sphere that Jeb Bush has gained fame and risen to various offices, including serving as the 43rd Governor of Florida.
The second oldest son of the 41st President of the United States, George Herbert Walker Bush, as well as the younger brother to the 43rd President of the country, George Walker Bush, the political life of Jeb has received its fair share of attention from the media which was further heightened by his failed bid to occupy the White House in the 2015 U.S. Presidential elections.
With that said, his family life, most especially as regards his wife and kids, are the things about him that has remained pretty much hidden. Here is a look at his family members.
Who Is Jeb Bush's Wife Columba Bush?
The only thing that is probably more balanced than the political life of Jeb Bush is his family life, thanks to his wife of close to five decades now, Columba Bush.
Columba Bush was birthed Columba Garnica de Gallo in 1966, in León, Guanajuato, Mexico, into the family of José María Garnica Rodríguez and Josefina Gallo Esquivel. When she was three years old, her father abandoned the family and so, Columba was raised since from that point by her mother.
How Did Jeb Bush Meet His Wife?
In 1970 when Jeb was a teenager of 17 and teaching English, his path crossed with that of a shy high school girl of 16, Columba Garnica Gallo. The two instantly fell in love and according to Bush, everything about him changed almost instantly; his life became more organized from that point.
The two dated for the next four years before finally deciding to become man and wife in 1974. Their wedding ceremony held on the University of Texas campus at the Catholic student center. Interestingly, Columba could still not speak English at the time and so, the ceremony was conducted in Spanish.
The shocking thing about the pair is that for four years after the 6-foot-3 Jeb dated his 5 feet tall lover, she did not meet his father until a few months to the wedding.
Jeb Bush and his wife have not only remained close since they got married, but Columba has always remained very supportive of him even though she is not very much involved in politics. She is more involved in philanthropy and promotion of the arts.
Meet Jeb Bush's Sons and Daughter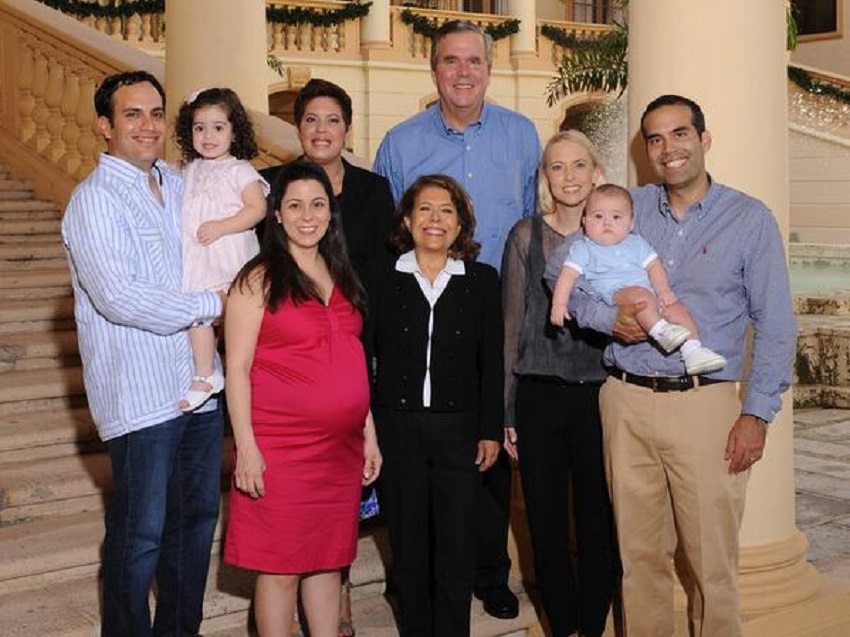 Together with his wife, Jeb does not only have children but also grandchildren. Two years after the duo got married, they were blessed with their first child, George P. Bush who was then followed a year later by a daughter; Noelle Lucila. Jeb Bush Jr. became the last child to join the family in 1983.
George Prescott Bush
George Prescott Bush is the grandson of President George H.W. Bush, and the son of former Florida Governor Jeb Bush as well as the nephew of President George W. Bush.
Bush is a native of Texas, born in Houston on April 24, 1976. He received his undergraduate degree from Rice University, Houston Texas. After his graduation, he briefly taught history to at-risk students before earning a Juris Doctorate at The University of Texas School of Law
Unsurprisingly, George Prescott Bush is among other things, a politician known to have held the office of the Commissioner of the Texas General Land Office. More so, he is a former Naval officer, as well as a corporate lawyer. From all indications, he has no plans of slowing down in politics.
The younger Bush is married to Amanda L. Williams and together, they are blessed with two kids; John Williams Bush and Prescott Bush. George and Amanda met in Law school. He lives in Austin with his wife, Amanda, and their two sons.
Noelle Bush
Jeb's daughter Noelle Bush, on the other hand, seemed to be the one who is slightly different from the rest. In 2002 when her father was governor and her uncle was president, she got involved with the law after she was arrested for faking prescriptions after she tried to purchase anti-anxiety drug Xanax from Tallahassee pharmacy. Later in that year, she would find herself spending time in jail for going against a court order for drug treatment.
Noelle would go on to struggle with drug abuse for a while, but she later came out top of it. A graduate of the Tallahassee Community College and then Florida State University where she obtained a degree in leisure and recreation, Noelle disappeared from the public radar and is now said to work in one of her father's businesses.
Jeb Bush Jr.
Jeb Bush Jr. is also not too far from the family or its businesses. Jebby, as he is better known, is said to be working with Jeb Bush & Associates, LLC as a Managing Partner, as well as Bush Realty, LLC, as the president.
From all indications, John Ellis Bush Jr. (Jeb) also has a great political future ahead of him if he decides to also follow the family traditions.
He got married in 2010 to Sandra al-Gudady and they are blessed with a daughter Georgia H.W. Bush in 2011 and then Vivian Alexandra Columba who was born in 2014.