Jay Ryan and Dianna Fuemana have been in a committed relationship since 2003 but there's no confirmation that they are officially married, though she has been called his wife on many occasions. New Zealander Dianna Fuemana is an accomplished screenwriter, director, and actor who has been the heartthrob of Jay Ryan for the past 19 years.
If you cannot readily recall who Jay Ryan is, you should at least be familiar with the hunk that played Vincent Keller (The Beast) in the hit American TV series, Beauty and the Beast. Ryan is also from New Zealand and has made quite a name for himself in the Australian movie industry and beyond. The Auckland native began to receive public attention for his work after his performance in the popular Australian TV show Neighbors, where he played a character named Jack Scully.
This was the series that brought him to the limelight in 2002. Since then, the 42-year-old actor has gone on to feature in several other TV shows and movies, including Xena: Warrior Princess, Young Hercules, Sea Patrol, and the popular Canadian series, Mary Kills People. He has also continuously found new ways to appeal to more and more people with every additional movie role he plays.
Is Jay Ryan Married To His Longtime Girlfriend, Dianna Fuemana?
Jay's connection to Dianna is one aspect of his life that attracts curiosity from the public. There have been countless speculations about the exact status of the relationship he and Dianna have, and the intensity of those rumors has only increased over the years. To be fair, Jay does fuel some of the confusion surrounding his love life.
The Sea Patrol actor has on more than one occasion referred to Dianna as his wife in his interviews and this has driven bloggers crazy as there is no actual proof that the couple has ever tied the nuptial knot. Various accounts have suggested, however, that they are only in a civil relationship but this does not rule out the fact that there might have been a secret wedding at some point.
Either way, they appear to be very happy and content with each other and that is all that should truly matter.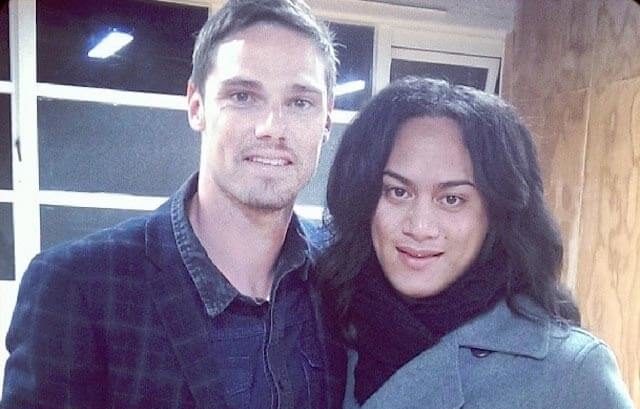 How Did Dianna Fuemana and Jay Ryan Meet?
Dianna and Jay have been in a serious relationship since 2003. That's almost two decades of being together. They met backstage at the Auckland Theatre Company production of A Street Car Named Desire. No, it wasn't love at first sight, but they became fast friends and even attended the Logie Awards together in 2003.
At that time, Dianna was a single mother of two kids and probably didn't want to rush into anything serious. The two, however, discovered that they understood each other's art. They began to collaborate on stage plays and realized that they complemented each other perfectly. It was around this time that they decided they were good for each other and decided to take things to the next level. The next level has lasted for 18 years and they are still going strong.
Dianna Has Two Children From a Previous Marriage
Earlier on, we told you that Dianne had two children when she was very young and she would tell you it was no easy feat juggling two kids, a husband, and school duties at the same time. Her first child, Solomon, was born in 1989 and is 33 years old now. Her first daughter, Reid, who was born four years after her brother, is 29 years old as she was born in 1993.
Dianne's youngest child is Eve Bunyan, whom she had with Jay. She was named after her daddy who was formerly 'Jay Bunyan' a name he changed because his career required it. The celebrity baby was born in Canada in the year 2013 just after Ryan had begun filming for Beauty and the Beast.
According to the actor, Eve's conception was unexpected as he had no plans of becoming a father. However, he emphasized that her arrival made him realize how important having a family was. The little girl is currently -1 years old and lives with her parents in Canada.
The Australian-Born Lady Is Of Niuean Samoan Descent
Dianna Fuemana was born sometime in 1973 in New Zealand to Togavale and Falemalama Fuemana. Her mother is an American-Samoan while her father was a musician from the island of Niue. She grew up as the youngest among her six other siblings and they identified proudly with their Niuean and Samoan roots.
Her family was quite large and they had a closely-knit extended family primarily as a result of her parents' cultural orientations. Dianna's parents, who were artists, were also very dramatic people and so it is not surprising that Dianna was introduced to the world of acting at an early age.
She particularly loved to feature in the plays organized by her church when she was little and was fond of playing the part of Satan. This was her first experience being a performer and this encouraged her to seriously consider acting as a possible career choice.
As a teenager, Dianne began to take short drama courses organized by instructors, Cath Cardiff and Jay Laga'aia. She was also addicted to popular '80s soap operas and would stay up all night watching them. Among her favorite shows were The Young and Restless and Dynasty, and their imprints can be found all over her work.
When she was 14, Dianna had to stop watching television because she had to go to college. She attended Henderson High school in Auckland but left at 16 to get married and start a family. After two children, she went back to school and obtained a diploma in Drama and a postgraduate diploma in Management from the University of Auckland. She also studied drama at the University of Auckland and graduated with a Master of Performing Arts in 2005.
Dianna Fuemana Achieved Moderate Success As A Screenwriter
Due to her many family obligations as a mother and wife, Dianna didn't begin her professional career until her late 20s. Her debut solo play is called 'Mapaki,' which means 'broken' in Niuean, and it was written by her in the year 1999. The play tells the story of a Niuean girl who falls in love with an outsider. This work put her on the map as a Neo-age writer who used her artistic platform to showcase her heritage from the perspective of a New Zealander.
For her work 'Mapaki', Dianna won the Pacific Innovation and Excellence Award at the New Zealand Pasifika Arts Award in 2008. She also earned a nomination for the Chapman Tripp Theatre Awards in the categories of Best Upcoming Actress of the Year and Outstanding New Writer. Dianne has performed that play in various parts of the U.S. whenever she goes on tour with her theatre crew.
Her second play was called 'Jingle Bells', and it was quickly followed up with 'The Packer', – a collaborative effort between her and her partner Jay- which later became a huge stage hit for which they went on tour throughout Australia and beyond. She also performed the play at the Edinburgh Fringe Festival.
Dianna joined the Pangea World Theatre in Minneapolis in the mid-2000s. She served as an art adviser for the Auckland City Council from 2003 to 2006. She also worked as a guest writer at the Tahiti writers' festival in 2005. Her experience in writing has enabled her to sit on many screenwriters' panels.
Later on, she landed a temporary job with Killer Films, a movie production company based in New York City, and secured a U.S. screenwriting internship scholarship. She completed the training in 2012. This marked a slight change in her trajectory as she began to focus more on writing for television.
Her first movie was named Commission. As a director, her movie credits comprise the short films, Sunday Fun Day (2017) and Vai (2019). It's very obvious that Dianna has done very well for herself despite all odds. She has risen out of obscurity to become a decorated playwright and screenwriter.