Rosie Alice Huntington-Whiteley is the long-term partner of Jason Statham, the English actor. They've been in a relationship since 2010 before they announced their engagement in 2016. Rosie is an English actress, model, designer, and businesswoman. She is best known for her work as Victoria's Secrets lingerie model and for her work with Burberry, a British luxury fashion house.
She has appeared in five Victoria's Secret fashion shows and even became a Victoria's Secret Angel in November 2009. Rosie has also appeared on the cover of international fashion magazines like Vogue, GQ, Elle, and Harper's Bazaar among others, and was once named as one of the world's highest-paid models.
Rosie Huntington-Whiteley is also known for her acting role as Carly Spencer in the third installment of the Transformers series: Transformers: Dark of the Moon (2011) as well as for her role as The Splendid Angharad in Mad Max: Fury Road (2015).
Outside the modeling industry, some might know Rosie for her long-term relationship with Jason Statham. Rosie is not just a beautiful face, the top model is also a businessman and a mother. She seems to have mastered the art of juggling her career, her love life, and motherhood together. Curious as to how she does that? Let's have a look at who this 21st-century success is.
Summary of Rosie Huntington-Whiteley's Bio
Full Name: Rosie Alice Huntington-Whiteley
Nickname: Rose
Gender: Female
Date of Birth: 18 April 1987
Place of Birth: Plymouth, United Kingdom
Rosie Huntington-Whiteley's Age: 36 years old
Ethnicity: Mixed (English/Jewish)
Nationality: British
Zodiac Sign: Aries
Education: Tavistock College, Tavistock, Devon, England
Profession: Model, Actress, Fashion Designer, Businesswoman
Sexual Orientation: Straight
Marital Status: Engaged
Rosie Huntington-Whiteley's Fiance: Jason Statham
Rosie Huntington-Whiteley's Child: Jack Oscar Statham
Rosie Huntington-Whiteley's Parents: Charles Andrew and Fiona Huntington-Whiteley
Siblings: Florence Huntington-Whiteley, Toby Huntington-Whiteley
Rosie Huntington-Whiteley's Height in Inches: 5 feet 9 inches
Rosie Huntington-Whiteley's Height in Centimetres: 175 cm
Rosie Huntington-Whiteley's Weight: 54 kg (119 lbs)
Body Measurements in Inches: 34-25-35 inches
Body Measurements in Centimeters: 86-64-89 Centimetres
Hair Colour: Light Brown
Eye Colour: Blue
Distinct Feature: Full Lips
Rosie Huntington-Whiteley's Net Worth: $30 million
Famous For: Being a Victoria's Secret model and a fashion icon
Rosie Huntington-Whiteley's Instagram: @rosiehw
Twitter: @RosieHW
Facebook: Rosie Huntington-Whiteley
YouTube: Rosie Huntington-Whiteley
Business Website: roseinc.com
Rosie Huntington-Whiteley Is A British Woman Born In 1987 Into An Aristocratic Family
The 36 years old 5 feet 9 inches (175 cm) tall Rosie Alice Huntington-Whiteley was born on April 18, 1987, at Freedom Fields Hospital in Plymouth, Devon, England.
She is the eldest of three children born to Nigel's son Charles Andrew Huntington-Whiteley, a chartered surveyor, and his wife Fiona (née Jackson), a fitness instructor. She has two younger siblings: Toby Huntington-Whiteley and Florence Huntington-Whiteley.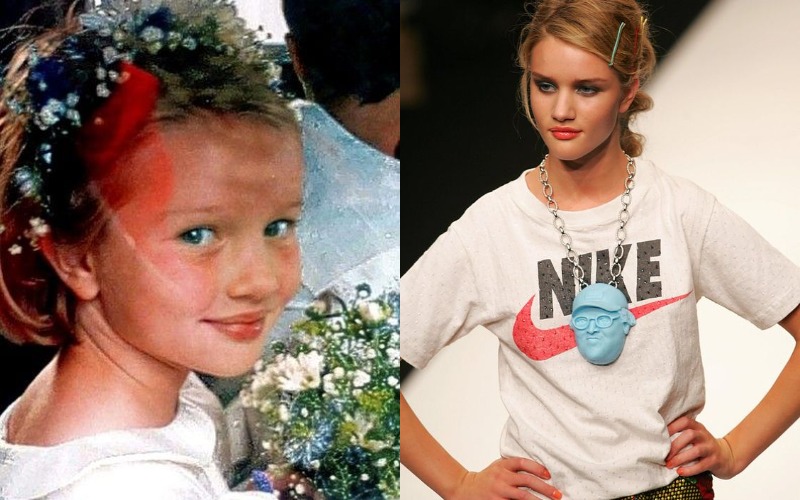 Rosie's lineage is quite an interesting one as she is connected to the British aristocracy, as well as to two generations of Jewish ancestry. Rosie's great-great-grandfather was the 1st Baronet of Grimley, Sir Herbert Huntington-Whiteley, a former Conservative MP for Ashton-under-Lyne. Sir Herbert Huntington-Whiteley had two sons, Maurice and Eric.
Maurice, who was a captain in the Royal Navy, married Margaret Baldwin, the daughter of former Prime Minister Stanley Baldwin. The couple had three sons; Herbert, Hugo, and John. John, Rosie's granduncle, is married to Queen Victoria's great-great-granddaughter, Victoria, which somewhat connects Rosie to royalty.
Rosie's Jewish heritage comes from the other son of Sir Herbert Huntington-Whiteley; Eric Arthur Huntington-Whiteley JP, who married Enid Etta Cohn. Enid Etta Cohn, Rosie's great-grandmother, was from a family of Polish Jews who emigrated to England in the 1870s.
Eric and Enid Etta Cohn's son Nigel Charles Huntington-Whiteley, Rosie's grandfather, just like Rosie's great grandfather, also married from a Jewish family. His wife Gillian Margaret Franks, Rosie's paternal grandmother, is also from a Jewish family. She is the daughter of Jacob Franks, a prominent Sussex surgeon.
She Began Showing Her Interest in Modelling as a Teenager
Rosie first went to St Rumon's Church of England Infant School and later on to St Peter's CoE Junior School before finally completing her education at Tavistock College. While going through school, she was teased and bullied for having a double-barrelled name, small breasts, and full lips.
This however did not stop her from gaining a sort of popularity as well. As if her peers foresaw her future, she was voted Girl Most Likely to Become a Supermodel when she was only 13-years old.
In like manner, from an early age, Rosie used to go through the pages of fashion magazines like Vogue and had a keen interest in fashion. So while Rosie was a good student at school, she also spent all her pocket money on clothes and make-up. In one of her YouTube Videos, she recalled her mom telling her at age 14 or 15 that the only thing she cared about was hair, clothes, make-up, and boys.
Living on a farm out in the countryside meant that Rosie's childhood and teenage years were relatively sheltered and quiet. She however loved the outdoors and also loved horse riding. According to Rosie, until she was 15 she was horse-obsessed. Nonetheless, her quiet and 'uneventful' life on the farm no doubt informed her decision to go to Tavistock College; to spread her wings.
Rosie Huntington-Whiteley Has Worked with Top Modeling Brands Including Victoria's Secret 
In 2003, Rosie Huntington-Whiteley was discovered by Profile Model Management at the age of 16. She was still studying at Tavistock College at the time. Her first job was a Levi's commercial. After finishing her GCSEs, she then moved to London to get some modeling experience.
She subsequently moved to New York at 18 to cement her place in the modeling industry. Her debut was in September 2004 on the New York catwalk alongside Naomi Campbell. She was also photographed by Bruce Weber for Abercrombie & Fitch.
Rosie was signed to the American lingerie brand Victoria's Secret in early 2006, where she walked in the brand's fashion show held in Los Angeles. She however remained relatively unknown outside the modeling industry, until two years later, when she was cast by chief creative director Christopher Bailey as the new face of Burberry, appearing in its autumn/winter campaign, shot by Mario Testino, Princess Diana's favorite photographer.
As her popularity grew, she was featured on the cover of the British Vogue magazine in November 2008 alongside two other models. In 2009, she modeled for Godiva and Miss Sixty and in 2010, she officially became one of the 'Victoria's Secret Angels' and modeled for the Victoria's Secret Fashion Show held in New York City.
She Has Also Done Adverts For Brands Like Abercrombie & Fitch, Ralph Lauren, Tommy Hilfiger, Etc
Rosie has appeared in many advertisement campaigns of top brands like Levi's, Abercrombie & Fitch, Karen Miller, Bloomingdale's, Ralph Lauren, DKNY, Agent Provocateur, Dolce & Gabbana, Leon Max, Sportsmax, Marks & Spencer, Macy's, Tommy Hilfiger, Clinique, Thomas Wylde, and BCBG.
Rosie has also walked the runways for Givenchy, Oscar De La Renta, Valentino, Michael Kors, Roberto Cavalli, Balmain, Louis Vuitton, DSquared2, Badgley Mischka, Blumarine, Marchesa, Vivienne Tam, Versace, Vera Wang, Betsey Johnson, Alberta Ferretti, Prada, Giles Deacon, and Moschino.
Fashion photographer John Rankin Waddell even published a book which was entirely devoted to her called Ten Times Rosie. And in 2010, she posed nude for the Pirelli Calendar, which was photographed by Terry Richardson.
Rosie Huntington-Whiteley was named 2009 Model of the Year by Elle and also received Elle's 2012 Top Style Icon Award. Maxim voted her #1 on its 2011 Maxim's Hot 100 list. Rosie has made solo appearances on the cover of British Vogue, Elle, and GQ magazines'. She is also the face of the Australian cosmetics brand ModelCo.
Rosie Pursues Other Career Interests Aside From Modeling
Acting Career
Rosie Huntington-Whiteley made her acting debut in 2009 in a short film where she played a woman whose boyfriend forgets Valentine's Day. She later made her feature film debut as Carly Spencer, Sam Witwicky's new love interest in the third installment of the Transformers series: Transformers: Dark of the Moon (2011).
Rosie had impressed the film's director, Michael Bay when they worked together on Victoria's Secret commercial, so he decided to cast her for the role. The movie also featured Shia LaBeouf, Josh Duhamel, John Turturro, Tyrese Gibson, Patrick Dempsey, and Kevin Dunn and was a huge success commercially, earning more than $1 billion worldwide.  It was even nominated for the Oscars in three different categories.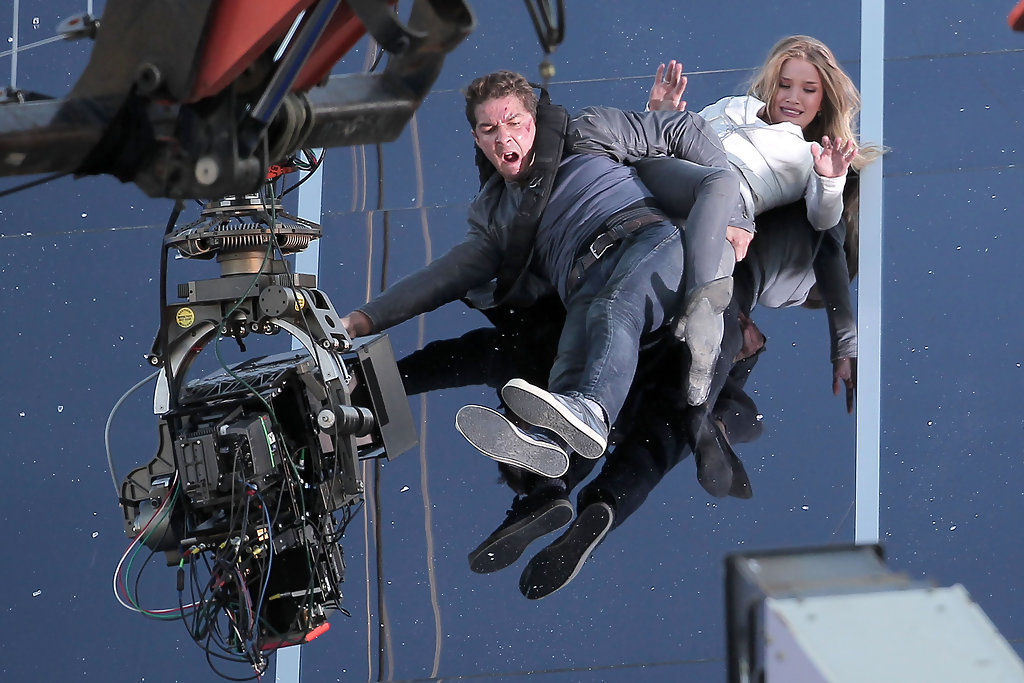 Rosie Huntington-Whiteley next appeared in the 2015 blockbuster, Mad Max: Fury Road as The Splendid Angharad. The movie which was co-written, directed, and co-produced by George Miller was commercially successful too, earning nearly $380 million. Rosie was nominated for a 'Gold Derby Award' along with the rest of the cast for their performance.
Fashion Designer
It had always been Rosie's dream to become a designer. In an interview with Vogue, she said; "I always wanted to go to fashion college. I got diverted. I got swept away to model and I thought: 'Well, it will at least give me some experience within the industry and I'll hopefully get to work with different designers from all over the world,' which is what I managed to do."
Rosie was talking about her lingerie line, which she worked on in collaboration with Marks & Spencer. The Rosie for Autograph collection included French knickers, lingerie sets, swimsuits, and kimono-style robes. Later on, she also collaborated with M&S and launched her first fragrance in the market.
Entrepreneurship
Rose Inc. was launched in May 2018 and is Rosie Huntington-Whiteley's own beauty brand. It started off as a beauty editorial page dishing out content on makeup, product reviews, and interviews.
Rose Inc. has since introduced its makeup and skincare line. Her products are both vegan and cruelty-free. According to Rosie, this was not only what she craved from her beauty products but something her audience was really asking.
Huntington-Whiteley is one smart businesswoman. She knew early on that she needed some form of security that didn't just depend on her appearance, thus her decision to explore and try new things. Banking on knowledge gains in the fashion industry as a model, her business ventures have been widely successful so far. Throughout her career, she has so far received several awards like;
Elle Style Award
Model of the Year in 2009
Harper Bazaar Women of the Year Award for Model of the Year
Businesswoman of the Year' in 2014 and 2016
Named as one of the world's highest-paid models by Forbes magazine in 2016, 2017, and 2018
Rosie's Net Worth is $30 Million
Rosie Huntington-Whiteley's net worth of $30 million. Given her status as a top model and her collaborations and business ventures, this is not surprising. However, this can't be compared to her fiance's net worth. Jason Statham's net worth is at $90 million, three times more than that of Rosie.
Rosie Huntington-Whiteley's Relationship with Jason Statham
Before Jason Statham, Rosie Huntington-Whiteley dated Tyrone Wood, the son of Rolling Stone guitarist Ronnie from August 2007 until October 2009. They met in Barcelona in June 2007.
Rosie then briefly dated French actor Oliver Martinez for a few months before calling it quits. The pair met in November 2009 but the relationship ended in March 2010. As of now, Rosie Huntington-Whiteley is engaged to the action star Jason Statham.
There are two different accounts as to how Rosie Huntington-Whiteley and Jason Statham met. The popular version is that the two met while Rosie was working on her first film, Transformers: Dark of the Moon. Jason then invited her to attend the Coachella film festival as his date and as they say, the rest is history.
However, another source claimed that Rosie and Jason first met at a party in London in 2009. Rosie recalled their meeting saying: "it was instant chemistry." Whichever is the real story, what is certain was that the couple started dating in 2010 secretly. After almost 6 months, the couple began to live together and to go out openly together.
The 20 Years Age Difference Between Jason Statham and Rosie Huntington-Whiteley isn't a Barrier to Their Love Life
Jason Statham, who was born in 1967, is 20 years older than Rosie Huntington-Whiteley. This of course didn't stop them from starting a relationship and as for Rosie, she couldn't care less about their age gap. For her, age is nothing but a number, and the fact that the couple has been together since 2016 proves this.
Regarding their marriage, Rosie Huntington-Whiteley and Jason Statham are not yet married, but they are engaged. In January 2016, the paparazzi spotted a diamond engagement ring on Rosie's finger at her red carpet appearance at the Golden Globes. The couple later confirmed that they were engaged and by autumn Rosie was pregnant with their first child.
The couple, who have been engaged since 2016, is yet to tie the knot and this has kept fans and critics alike wondering as to when they will finally sign the dotted lines. Rosie, in an interview, dismissed the worries of fans saying that '…the time will come.' Right now the couple is focused on work and spending quality time with their son Jack. Marriage isn't a huge priority for them and the couple appears quite happy with their current arrangement. We can only wish them more happiness and success.
Rosie Huntington-Whiteley and Jason Statham sold their £14 million Malibu mansion and relocated to Chelsea, London in 2019. The couple's purchase of their current £7.5 million property and move to London was in order to be closer to home and to their families and UK friends. Rosie has always stated during the years that she does get homesick from time to time. The couple, who are both from the UK, has spent quite a lot of time in the United States.
Jason Statham is as Successful as Rosie Huntington-Whiteley
If you are a movie lover, you must definitely know who Jason Statham is. He is an English actor best known for action-thriller films. Jason Statham didn't start his acting career until he was 32 years old. Before then, he was on the British national diving team and he sold fake Cartier watches and perfume on the streets. In the '90s, he was invited to be a part of a Tommy Hilfiger advertising campaign.
Later on, Guy Ritchie offered him a role in Lock, Stock, and Two Smoking Barrels which became successful, launching Jason's acting career. He has starred in many successful films such as The Transporter trilogy (2002–2008), The Italian Job (2003), Crank (2006), War (2007), The Bank Job (2008), The Mechanic (2011), Spy (2015), Mechanic: Resurrection (2016), The Expendables (2010–2014) and the Fast & Furious franchise.
He Has Been with Many Notable Ladies Before Rosie
Long before he had his wife to be, the star was linked to more than a couple of ladies and there were some pretty long relationships in there too. Statham was with the likes of Courtney Cox, Kelly Brook, Sophie Monk, Alex Zosman, etc.
Now, Jason is with Rosie Huntington-Whiteley, the two met in 2010 and though there may have been a breakup or two along the way, they finally made it to fiancee status. All we can do is impatiently wait for more news on their 'secret' nuptials.
How Many Children Does Rosie Huntington-Whiteley Have with Jason Statham?
Rosie Huntington-Whiteley has a son with Jason Statham and is currently pregnant with their second child. Their son Jack Oscar Statham was born in June 2017 and is 6 years old now.
The couple is notoriously private about their relationship as well as their family life, however, Rosie does share a picture or tenor Jack from time to time. Commenting on Jack, Rosie says that he looks very much like her when she was young but has Jason's eye color.
In August, Rosie posted several selfies on Instagram showing off her growing baby bump. The model announced her second pregnancy with Jason with the following caption: "Taaa daahhh!! #round2."