Jason Simpson is the son of O. J. Simpson, an American former NFL running back, broadcaster, and actor. Jason is O.J.'s child from his first marriage to Marguerite Whitley. He was born on 21 April 1970 and is now 53 years old.
Jason and his siblings have been in the spotlight ever since they were born. It got even worse when OJ made headlines in 1994 when he was tried and acquitted for the murders of his former wife, Nicole Brown Simpson, and her friend Ron Goldman. Jason and his siblings were often pictured by their father's side when he was being tried for the crime. Find out what happened to him and much more below.
Jason Simpson's Biography Summary
Full Name: Jason Simpson
Gender: Male
Date of Birth: 21 April 1970
Jason Simpson's Age: 53 years old
Ethnicity: Africa-American
Nationality: American
Zodiac Sign: Taurus
Sexual Orientation: Straight
Religion: Christianity
Jason Simpson's Parents: O. J. Simpson and Marguerite Whitley
Siblings: Justin Ryan Simpson, Arnelle Simpson, Sydney Brooke Simpson, Aaren Simpson
Jason Simpson's Height in Inches: 6 feet 1 inch
Jason Simpson's Height in Centimetres: 185 cm
Jason Simpson's Weight: 95 kg
Jason Simpson's Net Worth: $2 million
Who Is Jason Simpson?
Jason Simpson was born on the 21st of April 1970. The exact town where he was born is not certain but we know that he was born in the USA. Jason Simpson was born into an interesting family. His father is the renowned former NFL running back, broadcaster, and actor O. J. Simpson, while his mother is Marguerite Whitley.
Jason was the second child and first son of the couple. However, his parents later divorced after it was discovered that O.J. Simpson was having an affair with a woman whom he later made his wife. For the record, O.J. had a shining career in his heydays as an NFL player, strutting his stuff for big teams like the Buffalo Bills and San Francisco 49ers during his active years, which spanned from 1969 to 1979.
Aside from his career attainments which made him popular, O. J. Simpson was shoved into the spotlight for the wrong reasons after his second wife, Nicole Brown Simpson, and her friend, Ron Goldman were murdered in cold blood on June 12, 1994. The former NFL player was tried for both murders, albeit he was later acquitted.
Jason Simpson's Fact Sheet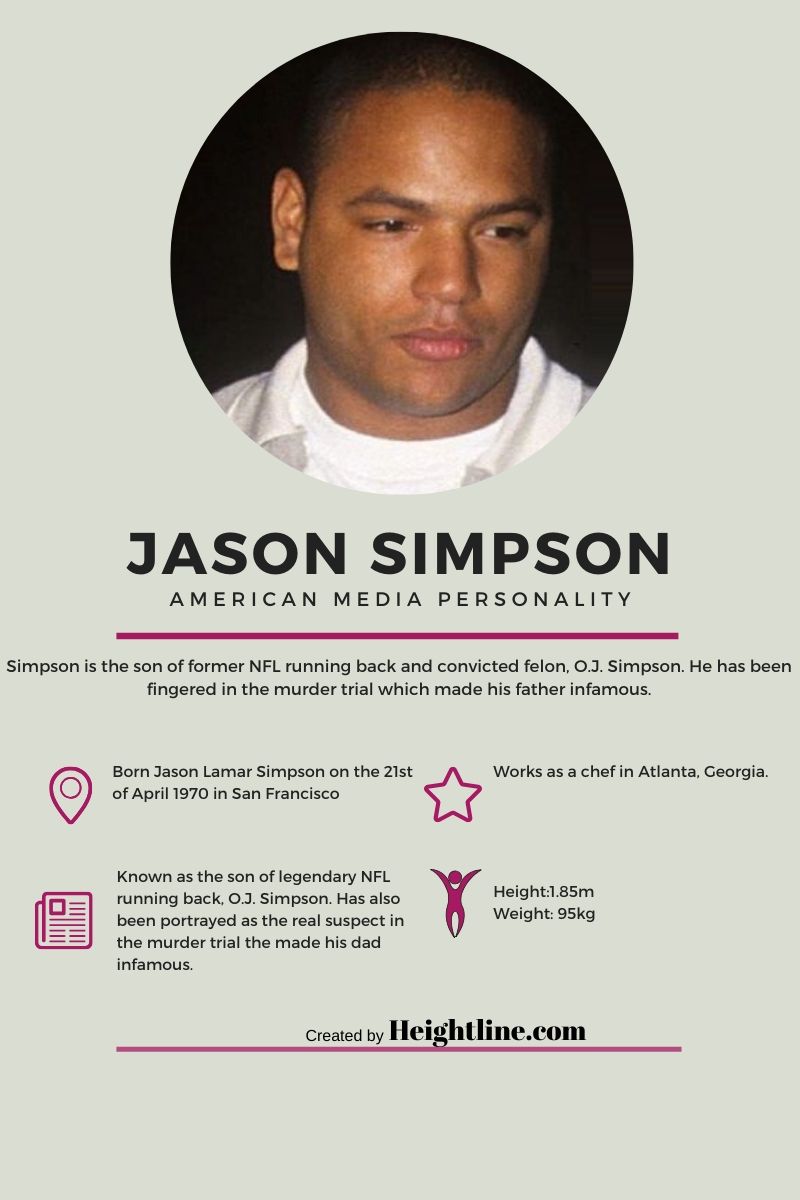 How He Became a Media Favorite
Even though it seemed that the ugly events that followed the alleged murders had been swept under the carpet, trouble reared its head again in 2012 when a private investigator William C. Dear dug up interesting facts that got the world talking. His investigation claimed that Jason Simpson may be the real culprit in the murder of Nicole Brown Simpson and Ron Goldman. Dear made the claims in his book 'O.J. Is Innocent And I Can Prove It,' where he listed facts to back his claim.
His claim was mostly based on the scrutiny of the suspects, his findings during his visits to the crime scene, as well as places that have links to the case and every other detail he gathered from all the interviews he carried out after the murder. After garnering evidence and ruling out alibis from those involved, Dear concluded that it was Jason Simpson, not his father, who should be tried for the murders.
According to his research, Jason killed the victims in a fit of rage, after which his father entered the scene. His findings also revealed that Jason suffered from violent outbursts and had issues with rage disorder. A diary he also discovered during the investigation indicates that Jason might have the propensity to hurt people who hurt his loved ones. Dear's claims gained traction overnight, turning Jason Simpson into a media sensation.
The fact that Dear has a record of conducting a similar investigation successfully gave more credence to his allegations. He did it on the murder of an Ohio man named Dean Milo. Through his meticulous investigative ventures, Dear has sent not less than eleven people to jail, including his brother.
Despite the incriminating findings which include a private diary and some ugly skeletons from the past, Jason Simpson didn't face any trial for the alleged murders.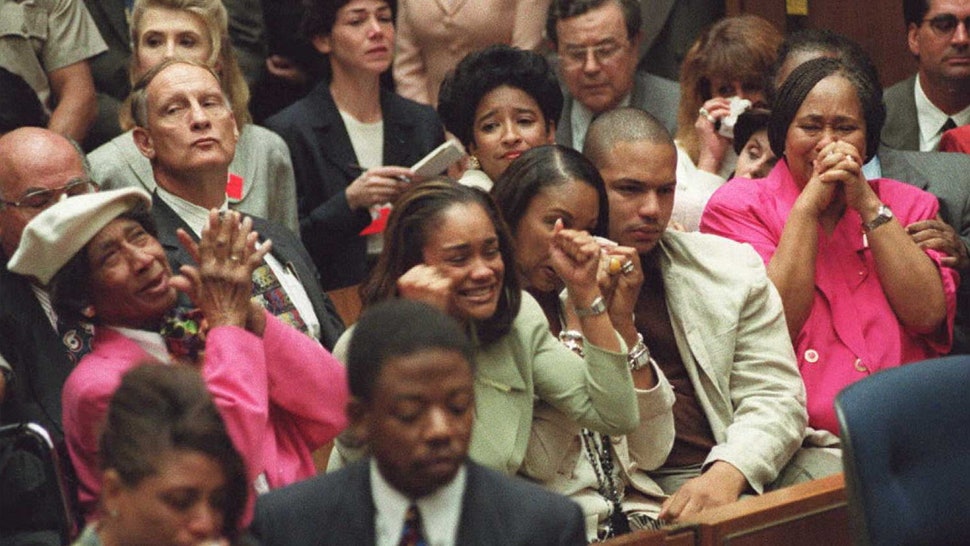 Where Is Jason Simpson Now?
Having escaped any formal trial for the murders of his father's second wife and her friend, Jason Simpson has done a good job staying off the radar, while living a secluded life in Atlanta. Nothing is known about his current line of work and even though he is nearing his 50s, Jason seems to be single and has no kids.
He, however, came into the limelight in 2016 following the coverage of the internationally publicized murder case on the television mini-series, The People v. O.J. Simpson: American Crime Story. That notwithstanding, Jason along with his siblings and half-siblings – Sydney Brooke Simpson, Arnelle Simpson, Justin Ryan Simpson, and Aaren Simpson have chosen to avoid any form of media attention since the murder case put their family on the spotlight.