Jason Kelce plays the center for NFL's Philadelphia Eagles. He was drafted by the team in the 6th round of the 2011 NFL Draft. Before his NFL career, he played college football at Cincinnati and received the Honorable Mention All-America title and was named second-team All-Big East.
He also played football back in his days at Cleveland Heights High School and was named  All-Lake Erie-Lake League twice. Kelce is also a two time Philadelphia Eagles Pro-Bowler,  a Super Bowl champion, and a 2017 First Team All-Pro.
Brief Bio
Kelce was born in Cleveland Heights, Ohio, on the 5th day of November 1987 to Ed and Donna Kelce. His father is a sales rep in a steel company and his mom works in a bank. Jason attended Cleveland Heights High School, where began playing American football.
He played both the running back position and as a linebacker. He was twice named All-Lake Erie-Lake League. While in High school, Kelce also played baritone saxophone in the school's Symphonic and Jazz Bands. After high school, he would play college football at Cincinnati.
Jason Kelce began his college career playing the fullback position before switching over to the defensive line at the end of his redshirting period. He was instrumental in the Bearcats' victory over Southern Mississippi in the PapaJohns.com Bowl. In 2009, he earned the second-team All-Big East honors after recording 13 games starts at left guard.
During his senior season in 2010, he started a total of 38 out of 47-games of his last college career season as a center. He recorded 26 at left and 12 at center and was named Honorable Mention All-America and a second-team All-Big East.
NFL Career
Despite not meeting up to the "true NFL size" requirement Jason Kelce was projected to be a 4th to 5th round pick and at the 2011 NFL Draft, the Philadelphia Eagles selected him in the 6th round as 191st overall. But he was not able to make the deal official until the NFL lockout was lifted.
He started his rookie season on a good note so that by the end of the season, he was named the starter of the season and became the first rookie in the history of the Eagles to start all sixteen games at center. Although he suffered from a partially torn MCL and ACL towards the end of the 2012 season that kept him away from the field of play for the rest of the season, Kelce was named the starting center for the second time in a row.
His 2013 season was equally, a tremendous outing as he started all sixteen games. He helped the team reach the playoffs, reached a team-record of 442 points with 6,676 yards. He was graded the best center in the NFL that season by Pro Football Focus (PFF)  and was honored with the Ed Block Courage Award.
In February 2014, he signed a six-year contract extension with the Eagles. The contract was worth $37.5 million, including $13 million as guaranteed money. He missed four games that season because he had to undergo a surgery for a sports hernia. In spite of missing time, he was still selected for the 2015 Pro Bowl, which was his first.
In 2015, the Pro Football Focus ranked him the 7th center in the NFL after he started all sixteen games that season. He was also named to his second Pro Bowl. Having started all sixteen games again in 2017, Kelce was selected a First-team All-Pro and was rated the highest offensive lineman by PFF.
He also won the PFF Run Blocker of the Year award and the Super Bowl LII with the Eagles.
Also Read About: Allen Hurns Bio, Height, Weight, Body Measurements, Family
Is Jason Kelce Married? – His Wife, Girlfriend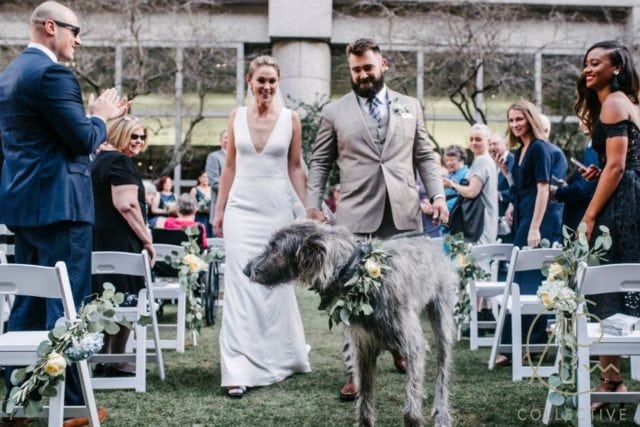 After declaring himself the King of Philadelphia after the Eagles' victory at Super Bowl LII in back February 2017, King Jason Kelce decided to walk down the aisle with his queen in April 2018.
He tied the knots with his longtime girlfriend Kylie McDevitt at the Logan Hotel in Center City on April 14, 2018.
Who Is His Brother? 
Jason Kelce has a younger brother named Travis Kelce, who is also an NFL player. Travis plays the tight end position with Kansas City Chiefs. He began playing basketball in high school and like his older brother, he played college football at Cincinnati before he was selected by the Kansas City Chiefs in the 3rd round of the 2013 NFL Draft.
His Height And Weight
The Philadelphian king stands at a height of 6 ft 3 in (1.91 m), weighing 295 lb (134 kg). His other body stats are not known.