Jason Chaffetz is an American Politician with the Republican Party and a contributor to Fox News who served as the United States Representative for Utah's 3rd congressional district (2009-2017). Chaffetz has also served as the chairman of the U.S. House Committee on Oversight and Government Reform for two years (2015-2017). Widely known as a strong supporter of the presidency of Donald J. Trump, Jason Chaffetz came to prominence in 2015 for his extensive investigation into the Hillary Clinton's email controversy.
Besides being a vocal critic of the Barack Obama administration like most Trump supporters, Chaffetz is critical of Planned Parenthood as well, he left the House of Representatives on June 30, 2017, to work with Fox News as a contributor, and here, you will learn more about his career, resignation and family life.
Jason Chaffetz Biography
Jason E. Chaffetz was born on March 26, 1967, in Los Gatos, California and raised, along with his brother Ale in the states of Arizona and Colorado. His Jewish father, John A. Chaffetz was a businessman and his mother, Margaret A. Wood operates a photography business. Chaffetz has an elder half-brother named John Dukakis, from his father's first wife Kitty Dukakis.
Growing up in the city, he attended high school both in California and Colorado, notably, the Middle Park High School in Granby and was granted an athletic scholarship to attend Brigham Young University. While in college, he played as the starting placekicker on the school's football team for over two seasons where he made 16 of 25 field goal attempts and 89 of 94 point-after attempts.
He graduated from the BYU College of Fine Arts and Communications with a B.A. in communications in 1989 and distinguished himself in sports with a record for the most extra points attempted in a game, most consecutive extra points and most extra points made in a game.
Political Career
Jason Chaffetz worked for in public relation for a multi-level marketing company called Nu Skin International for about for up to ten years before joining politics.
He joined the Republican Party after meeting the former U.S. president, Ronald Reagan in 1990. His attempt to become an agent in the United States Secret Service was unsuccessful and in 2004, he acted as the campaign manager for Utah gubernatorial candidate Jon Huntsman.
After Huntsman won and assumed office in January 2005, Chaffetz became the chief of staff, at the time at which he a corporate communications and marketing company called Utah Inc. He was also appointed to the position as a trustee for Utah Valley State College and served in other public services such as the chairman for the Utah National Guard and was a member of the Highland  City planning commision.
Jason Chaffetz ran and won the position of the U.S. House of Representative for Utah. He officially joined the race for the Republican nomination in the 3rd District on October 1, 2007, against six-term Chris Cannon. 
Chaffetz won the nomination by 59 percent over Cannon's 40 percent and would have been elected without a primary had he tallied 60% of the delegates. This, in turn, would have ruined his opponent's political career. In what is termed an upset victory, Chaffetz defeated Cannon by a vote of 60% to 40%, on June 24, 2008, considering that the latter was endorsed by top government officials, including George W. Bush, state's two U.S. Senators and nearly all of the state Republican establishment.
During the face-off with Democrat Party and Constitution Party candidates in the 2008 general election, Chaffetz won with 66 percent vote. One of his remarkable campaign mantras was the statement that he would be sleeping on a cot in his office, rather than renting a Washington, D.C., apartment. He said he's trying to live the example that it doesn't take big dollars to reach a target.
From 2010 to 2016, he won all re-elections to a second, third, fourth and fifth term, with 72, 72, 76 and 74 percents votes respectively against Democratic nominees. Chaffetz also served as the chairman of the United States House Committee on Oversight and Government Reform from 2014 to 2017.
Why Did He Resign?
Jason Chaffetz's resignation didn't seem to spur out of any particular political reasons. But speculations point to discontent aimed at him by protesters for not probing President Trump, followed by multiple death threats via messages.
He took to his social media handle to announce he would not seek reelections or run for any political office in 2018. His retirement from the House of Reps. came on June 30, 2017, 6 months into his two-year term in office after "prayerful consideration."
Meanwhile, Jason had a month leave of absence from Congress following a doctors recommendation for an immediate surgery to avert the risk of infection from orthopedic hardware installed in his foot due to a past ladder-related injury.
Besides working with Fox News as a contributor, it was announced that Jason Chaffetz would be visiting the Institute of Politics (IOP) as a fall fellow.
See Also: Christopher Lloyd Bio, Spouse, Net Worth, Dead Or Alive, Here Are Facts
Net Worth
As of 2012, Jason's estimated net worth was $788, 506. With a 2018 estimated net worth of $3 million, Chaffetz is living comfortably. His house is reportedly worth about a million bucks. Other reports show he had up to $3008, 000 in 2015. It was recorded that members of Congress are paid $174, 000 per year, plus $2,500 per month as housing allowance that defrays housing accommodations in Washington, which is one of the most expensive places to live in the U.S.
As for his paycheck from Fox News, Chaffetz hinted that it was attractive enough that he wouldn't need a housing allowance.
Family Life, Wife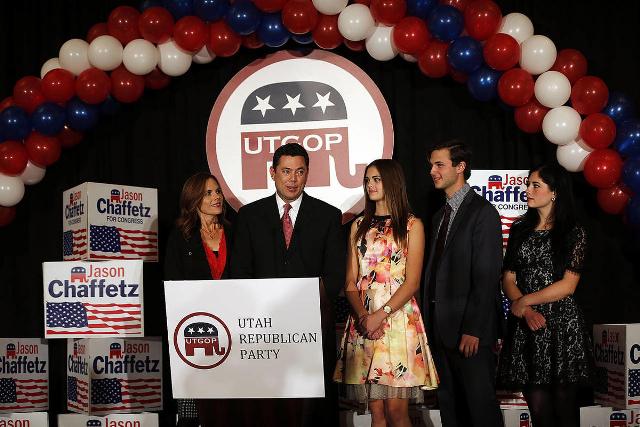 Chaffetz and his wife Julie Johnson got married in February 1991 after they met at a Wedding in Arizona while he was a senior and she, a junior at Brigham Young University.
The family is living together in Alpine, northeastern edge of Utah County, with their three kids: Max Chaffetz, Ellis Chaffetz, and Kate Chaffetz.