Jake T Austin has been in front of the big screen since before he was 10 years old. The New York native possesses a career portfolio that will definitely make any one of his contemporaries envious. The actor has contributed his talent to everything from films to television series and animated movies.
Jake's most popular role so far in his career was when he appeared as Max Russo in the ultra-successful Disney Channel series Wizards of Waverly Place with stars like David Henrie and Selena Gomez. He was also the voice of Diego on Go, Diego, Go!, a Nickelodeon animated series. His talent has seen him nominated over five times for the Young Artist Award. Jake has also been on talk shows like Late Show With David Letterman and Dancing with the Stars.
Jake T Austin's Bio and Career
The New Yorker was born Jake Austin Szymanski on December 3, 1994, to Joe Szymanski and Giny Rodriquez Toranzo. Jake's heritage is extremely multi-ethnic. While his father is of Polish, Irish, and English descent, his mother has Argentine, Spanish and Puerto Rican heritage, the last of which Jake embraces the most. The actor has a sibling, a younger sister, Ava.
After appearing in commercials in 2002, he was on The Late Show with David Letterman playing the role of a character named Kid 1698 in a comedy sketch. The next year his first major role came in the animated series Go, Diego, Go!, where he voiced the character Diego for three seasons. He also lent his voice to other animated movies such as The Ant Bully, and Everyone's Hero.
In 2006, Jake was in the live-action film The Perfect Game as Angel Macias., however, due to financial constraints in post-production, the movie was released more than three years after shooting. Austin's first Walt Disney role came in 2007 when he acted as Chris in Disney's Johnny Kapahala: Back on Board. He followed this up with another Disney collaboration and his most popular work yet – Wizards of Waverly Place – where he played Max Russo, the youngest child in a family of Wizards in the television series.
Jake has also reprised the role in a few other Disney spin-offs of the movie such as Wizards on Deck crossover episode which merged two other popular Disney franchises, Hannah Montana and The Suite Life on Deck. In 2009, the success of the movie inspired a made for television film Wizards of Waverly Place: The Movie. It was a huge success only ranking behind High School Musical 2 in terms of viewing numbers.
In the same year, he starred as Bruce, an orphan dog-hoarder in the movie Hotel for Dogs. He continued to gain recognition within the industry and was named in Latina magazines 25 Brightest Latino Stars Under 25 in 2010. Jake T Austin also made his foray into the niche of screenwriting by penning and selling his first screenplay Kings of Suburbia.
Again in 2011, he voiced the character of Fernando in the animated film Rio, reprising the voicing role in the sequel Rio 2. In 2012, he made a guest role appearance in Drop Dead Diva as Samuel Foreman, a teenage multi-millionaire. In the same year, he was Rob Fisher in an episode of NBC's Law & Order: Special Victims Unit.
For his next major role, he teamed up with ABC in 2013, playing the role of Jesus Foster in the family drama series The Fosters. He appeared in 41 episodes before leaving the show at the end of the second season.
His other works since then have included the voicing of Jaime Reyes in the DC Comics animated film Justice League vs. Teen Titans. He reprised the role in 2017's animated film Teen Titans: The Judas Contract and two episodes of the series Justice League Action. Jake was also the voice of Alex in Columbia Pictures' The Emoji Movie in 2017.
In 2016, the then-12 year old was on the reality dance competition Dancing with the Stars where he was paired with Jenna Johnson, a professional dancer. They were the first to be eliminated from the competition.
See Also: Who Is Shane West? Does He Have A Wife or Girlfriend? Age, Net Worth
Jake T Austin: Who is his Girlfriend?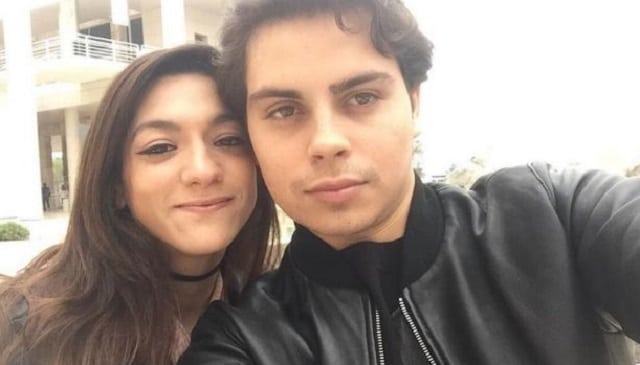 Austin's love story, though not conventional by any stretch, is the wish of fangirls all over the world. In 2016, the Wizards of Waverly Place actor revealed in an interview with Huffington Post that he is dating a girl named Danielle Ceasar. Way back in 2009, Danielle was just another fan who was clearly obsessed with the actor, however, she took her idolizing of him to another level. She tweeted about him frequently for five years. They finally met in 2012 at a signing in Planet Hollywood, New York City.
One thing led to the other and now, the duo is enjoying a fairytale romance with each other. Jake and Danielle are clearly crazy for each other and fans hope they remain that way for years to come.
Why did Jake T Austin leave The Fosters?
Jake joined the cast of The Fosters in 2013, however, he rode with them until the end of the season finale of the second season. He revealed in a statement how honored he was to have been part of the show. But why did he leave at all?
After making his shocking announcement on Twitter that he was leaving the series, he spent some time answering fan's questions on Twitter. The actor's explanations basically boiled down to two major reasons. He revealed that he had been informed that he was going to appear in only three episodes of the third season and would not be able to work on any other project for the duration of the season's shoot.