Jacqueline Toboni is an American actress known for portraying the character of Trubel in NBC's television series titled Grimm from 2014 to 2017.
You may remember the character of Trubel from the American horror-fantasy show, Grimm because a performance like that is not one you forget quickly. It is also interesting to know that the actress who played the role, Jacqueline Toboni, had no prior professional acting experience as that was her very first role – one that ended up lasting for three years.
In the subsequent years, the actress got numerous offers but her general outlook and some of the roles she has taken up after Grimm tend to make people speculate about her sexual identity in real life. This is one of the reasons why this article has been put together, to let you know what you didn't know about Jacqueline Toboni and her sexual identity. Have you been right or wrong about her all along? Find out here.
Summary of Jacqueline Toboni's Biography
Full name: Jacqueline Rose Driscoll Toboni
Gender: Female
Date of birth: February 18, 1992
Place of Birth: San Francisco, California, United States
Jacqueline Toboni 's Age: 31 Years Old

Ethnicity: White
Nationality: American
Zodiac Sign: Aquarius
Sexual Orientation: Lesbian
Marital Status: Engaged
Partner: Kassandra Clementi (2019–present)
Siblings: 4 Siblings, including Gianna Toboni
Education: St. Ignatius College Preparatory, San Francisco, University of Michigan, Williamstown Theatre Festival, the Movement Theatre Studio in New York, and the Royal Academy of Dramatic Art in London.
Occupation: Actress
Jacqueline Toboni 's Height in Inches:  69 inches
Jacqueline Toboni 's Height in Centimetres: 175cm
Jacqueline Toboni 's Weight:56 kg 
Body Type: Slim
Eye Color: Dark Brown
Hair Color: Dark Brown
Famous for: Playing the role of Trubel in Grimm from 2014 to 2017.
Jacqueline Toboni 's Instagram: jtoboni
Twitter: Jacqueline Toboni
Facebook: Jacqueline Toboni
Jacqueline Toboni at a Glance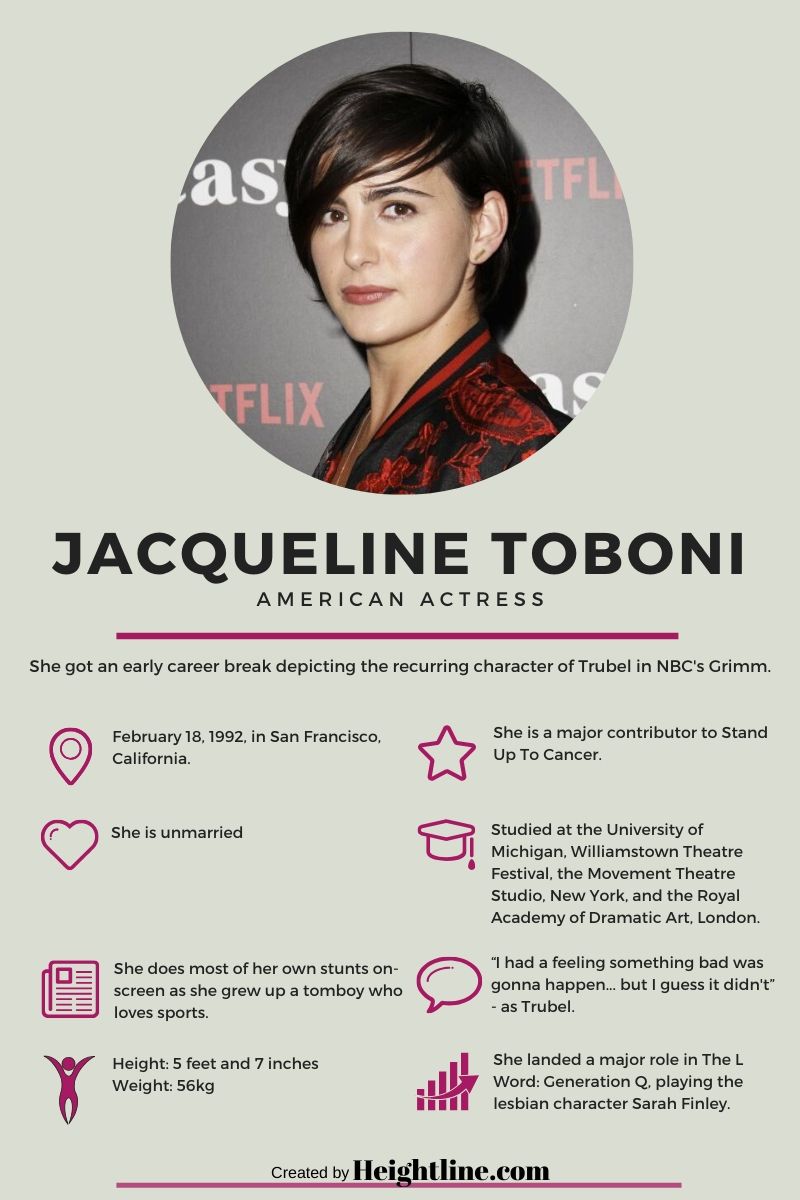 Jacqueline Toboni's Background
Born and raised in San Francisco, California, Jacqueline Toboni attended St. Ignatius College Preparatory in the city and graduated from there in 2010. Between her four siblings and their parents, Toboni comes from a more than average family in terms of size, so she has been surrounded by her family since she was a child.
Even now, she is not the only Toboni in the entertainment industry. One of her siblings, Gianna Toboni, a VICE media producer was in fact, recognized by Forbes in 2016 as one of the 30 most influential people under 30 in the media.
She Landed her Breakthrough Role the Same Year she Debuted as an Actress 
Grimm opened the door of fame for Jacqueline Toboni and this made it easier for her to get other roles both in film and television even while she was still appearing on the show.
In 2015 the actress appeared in Jill Takes LA playing the main role of Jacqueline Chobani. That same year, she also showcased her boyish side in Major Crimes as Officer Leanne Tracy.  The next year, she was cast to play the recurring role of Jo—a lesbian in a relationship in the Netflix critically acclaimed comedy-drama series Easy.
The actress also got a spot in the TV show Hell's Kitchen where she appeared as herself in the episode Aerial Maneuvers. More recently, Toboni was cast to take up a main role on The L Word: Generation Q, a sequel series of the decade-old, The L Word.
The Truth About Jacqueline Toboni's Sexual Identity
Some of the roles Jacqueline has played since she began her professional career have made people wonder about her sexuality. One of these roles includes that of a religious lesbian named Sarah Finley who is trying to come to terms with her sexuality in The L Word: Generation Q.
The actress has also revealed that people often look at her as a girl who enjoys watching football on Sundays, but contrary to popular opinion, she is not much of a football fan, on any day of the week.
Jacqueline's tomboyish outlook and the aforementioned roles coupled with her athletic build and short haircut preference continued to make her sexual identity a subject of online gossip for a long time. A good number of movie lovers believed that she sexually identifies with women rather than men and they have likened her to a lesbian.
Amidst all the speculations, the actress chose not to clear the air. However, in January 2020, the actress revealed in an article by The Cut that she was taken. The publication went on to disclose that Toboni had a girlfriend with whom she shared a rescue mutt named Finn.
It further stated that the couple "don't technically live together, but they basically live together." Unfortunately, Jacqueline refused to tell how long she had been with her partner, though U-Haul jokes were made, and she described herself as "wifed up."
The Actress is in a Relationship With Kassandra Clementi
Jacqueline Toboni is currently dating Australian actress Kassandra Clementi, who began acting professionally in 2009. Before then, she dreamed of becoming a veterinary doctor as a child. However, after taking acting classes as a teenager, she changed her mind, deciding to pursue an acting career instead upon completion of her high school education.
Although she has appeared in several onscreen works, Kassandra is best known for her role as Maddy Osborne in the soap opera Home and Away. She portrayed the character for more than three years before leaving in May 2016 and moving to Los Angeles to continue with her acting career.
Before her involvement with Jacqueline, Kassandra dated Dr. Chris Brown, an Australian veterinarian and TV personality, from 2014 to 2015. Within the time they were an item, the duo made sure to keep their relationship away from social media and declined to speak about it in the media.
Subsequently, Kassandra started dating Jacqueline, but, it is still unclear when they became an item. However, they started sharing pictures together on social media, Instagram precisely, in July 2019.
The Duo got Engaged in 2021
In August, Kassandra announced via Instagram that she had gotten engaged to Jacqueline. Confirming the news, The L Word star shared several pictures from their romantic holiday in Italy on her Instagram account. See them below:
The same-sex couple mostly kept a low profile after their engagement but were eventually seen in public for the first time since then on December 31, 2021, when they went out for dinner in Sydney.
Meanwhile, just like Kassandra, it is possible that Jacqueline has dated men in the past. Before Kassandra, it was rumored that she was romantically involved with one Rayan Conor at some point in 2012 but nothing was confirmed and the rumor died out eventually. She also made a post on Twitter about an ex-boyfriend of hers sometime in 2017.