It takes grit, gut, talent, and sheer will to make it to the top 10 rankings of any professional sport. As of November 20, 2017, Jack Sock could boast of having accomplished this feat with his career-high ranking as world No.8 in professional tennis.
A former junior US Open Champion, Sock's mastery of singles play has seen him bag the 2017 Paris Masters title and a semi-final place at the 2017 ATP Finals. This is not to say that he is not skilled at playing doubles events. In 2014, Jack Sock clinched the Wimbledon Grand Slam Championship with his teammate Vasek Pospisil, pushing both men into the top 10 rankings of the ATP doubles ranking. He also won the US Open mixed doubles title, playing alongside Melanie Oudin.
Jack Sock's Bio
Jack was born in Lincoln, Nebraska on September 24, 1992. He moved to Kansas with his mother and elder brother, Eric when he was 12 years old. Here, Jack and Eric trained at the Mike Wolf Tennis Academy.
While in high school at Blue Valley North High School, he clinched four straight state championships, ending his high school career with an undefeated record of 80-0. He also paired with his brother in his sophomore year to win the team state championship. He won two more after Eric graduated. Jack Sock continued his playing career at the University of Nebraska.
See Also: Alexander Zverev Girlfriend, Brother, Height, Age, Weight, Body Stats
He started his professional career in 2009, playing in the Futures where he bagged his first senior title in the same year. Sock competed in the 2010 US Open, rounding up the season at the 878th spot in the world. He also competed in the 2011 US Open and lost in the second round to Andy Roddick who was his idol growing up. Jack ended 2011, ranking No.370 in doubles and No.381 in singles.
The next year, Sock made it to the quarterfinals of the 2012 BB&T Atlanta Open, where he lost to John Isner. Jack went on to win the 2012 Tiburon Challenger but lost in the finals of the Champaign-Urbana Challenger. These achievements saw his world ranking rise to 150 for the first time in his career.
In 2013, although he had a slow start, he went on to clinch his second title at Challenger level, effectively breaking into the top 100. His participation in the US Open saw him end the season with a world ranking of 86.
In 2014, Jack Sock played in the Heineken Open, where he secured a memorable victory against world No.12 Tommy Hass in straight sets. In the same year, he won his first Wimbledon title in the men's doubles category after teaming up with Vasek Pospisil.
He ended the year with a hip injury and had to undergo surgery in December 2014 that kept him out for the beginning of the 2015 season.
He made his return at the 2015 BNP Paribas Open, securing victory in his first three games before eventually losing out to veteran Roger Federer in the fourth round. However, in the doubles category, he paired up again with Pospisil and together, they bagged their first title at Masters level.
After securing the 2015 US Men's Clay Court Championship, he recorded notable victories against the likes of Grigor Dimitrov on his way to becoming the youngest American since 1993 to go as far as the quarterfinals in the French Open. He lost to Rafael Nadal in the fourth round. He ended the year sitting at the No.25 spot in the world rankings.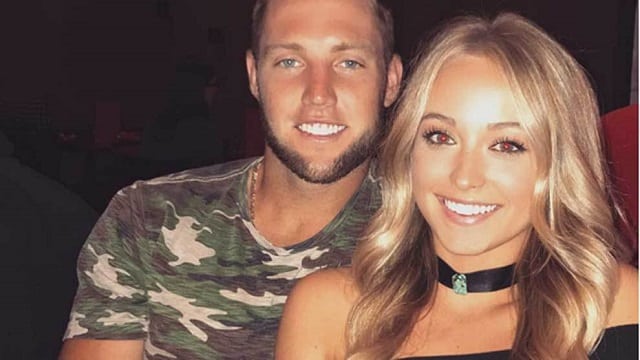 Jack Sock paired up with Serena Williams and subsequently Victoria Duval at the 2016 Hopman Cup. The tennis professional made it to his third ATP Finals, at the Auckland Open, but sadly had to retire at the final due to illness. He also reached another final in Houston during the clay-court season but failed to defend his title again due to an injury he sustained in the final set.
Sock participated in all the tennis competitions in Rio de Janeiro at the 2016 Olympics. He earned a bronze in doubles and a gold medal in mixed doubles. After his turnout at the Shanghai Masters, he ended the year as the highest-ranked American for the first time in his career.
Jack Sock won his second straight Auckland Open title in 2017 by beating Portuguese professional player João Sousa. This win pushed Sock into the top 20 for the first time in his career. After participating in the Davis Cup for the United States, he bagged his second title of 2017 against Milos Raonic in the Delray Beach Open. He also recorded victories against the likes of Kei Nishikori, making it his first victory against a name in the top 5.
Jack also bagged the biggest title of his career yet – the Paris Masters. This made him the first American to win it since Andre Agassi in 1999, and the first American to win a Masters tournament since Andy Roddick's Miami Masters win in 2010. He ended 2017 in the top 10 of the world rankings.
Due to his hectic 2017 season, Jack Sock had a shorter off-season and this showed in his abysmal turnouts in 2018. He couldn't defend his Auckland Open title as he crashed out in the first round of the competition. Jack also had a poor performance at the 2018 Delray Beach Open, losing his title as he crashed out in the second round. He did win the doubles title with Jackson Withrow, however. The BNP Paribas Open also saw him pair up with John Isner to clinch his second doubles title of the season.
Jack Sock's Brother, Girlfriend; Is He Gay?
As stated earlier, Jack Sock has an elder brother, Eric Sock. Eric was born on September 22, 1990. Jack and Eric teamed up frequently to participate in doubles competitions from their high school days through to their professional careers.
Eric and Jack played together at the 2017 BB&T Atlanta Open in the doubles category.
Sometime in January 2015, Eric escaped death by a whisker after he was diagnosed with Lemierre's syndrome and put under life support for eight days. Eric's family and some of the doctors initially thought he just had a sore throat but upon further tests, they sent him to the emergency room. Some of the doctors later revealed to Eric that he would likely have been dead the next day had he not reported to the hospital.
Nothing is known about Jack Sock's relationships before 2013. However, one thing is for sure – the star tennis player is not gay.
See Also: Jessica Korda Bio, Height, Weight, Age, Sister, Married, Net Worth
In 2013, Jack Sock started dating Sloane Stephens, the tennis player who made waves and headlines when she beat Women's tennis legend Serena Williams at the relatively tender age of 19. Their time together, with the help of some interviews granted by Sloane, revealed that she wore the pants in the relationship and that Jack let her have almost anything she wanted.
Moving on from Sloane, Jack Sock started dating Michala Burns who is also a tennis player. She played during her high school days at Concordia Lutheran High School where she clinched the doubles championship in 2014. She also played in her freshman year in 2017. Since then, Michala has been seen at Jack's side almost all the time, travelling with him around the world for his competitions and cheering him on.
Jack Sock's Net Worth
The athlete has participated in many tennis events and has won a number of titles in both singles and doubles competitions to earn himself a pretty competition prize money of over $8 million. Different online sources put his net worth at $3.3 million.
Jack Sock's Height and Body Measurements
Sock is definitely one of the tallest players in the world of professional tennis. He stands at a towering height of 1.9 m (6 feet 3 inches) and maintains an impressively light weight of 84 kg (185 lbs).