Jack Ma founded Alibaba Group in June 1999 together with his wife Cathy Zhang aka Zhang Ying, and a group of friends. The Chinese business mogul is not only the wealthiest individual in his country but also one of the richest persons in the world. With a net worth of $42.3 billion, Jack Ma is the fourth-wealthiest person in China (after Zhong Shanshan, Ma Huateng and Zhang Yiming)
Additionally, Ma is revered as one of the most likable business personalities there is. In an era where many of his peers are perceived as sleazy sharks, he has managed to endear himself to many around the world. This is not just because of his humanitarian gestures but also his humble and fun-loving personality which would have you feeling that he is just some other regular dude around.
Growing up in the city of Hangzhou
Jack Ma (birth name- Ma Yun) was born on the 10th of September 1964 in the city of Hangzhou, Zhejiang Province, eastern China. His father's name is Ma Laifa while his mother's name is Cui Wencai. The business magnate also has an elder brother and a younger sister. Ma grew up in Hangzhou, and as a child, regularly interacted with tourists. He thus learned to speak the English language and subsequently aspired to become an English teacher. In order to achieve this noble ambition, Ma applied to the local teachers' college in his city but was turned down twice.
He, however, got lucky on his third attempt and was admitted in the year 1984. The courageous young man spent the next four years soaking up all he could, about the language he cherished, and subsequently received his degree in 1988. On leaving college, Jack Ma applied to about 30 jobs (including fast food joints and the local police department) but was rejected. He eventually found work as a teacher at the Electrical and Engineering Institute located in Hangzhou. Ma would stay in this role for about six years despite the fact that the pay wasn't attractive.
His First Foray into the Internet Business
In the year 1995, Ma visited the city of Seattle, United States, on an official capacity. During the visit, he observed that the internet was really thriving in America and that many companies were taking advantage of it to enhance their business. The perceptive Ma also noticed that his beloved country was lagging behind and he took it as an opportunity to do something impactful. On concluding his trip, Ma quickly made his way back to mainland China and recruited the help of his wife as well as his colleague, computer teacher – He Yibing.
Together, they created a set of webpages, known as China Pages, aimed at promoting Chinese companies to the international community. Ma's initiative endured a difficult start as they found it difficult landing their first client. He and his partners however preserved and eventually convinced a friend, Maggie Zhou, to do business with them. Zhou worked at a four-star hotel in Hangzhou and Ma convinced her bosses to give his webpage a free trial. They would then have to pay him if they landed any clients through his site.
Zhou's manager agreed to this plan and Ma went on to feature the hotel on his website. For the first three months, the listing failed to generate any interest. Things, however, turned for the better in the fourth month when an international women's conference was scheduled to take place in Beijing. The conference featured several American participants and many of them took to the internet to search for a suitable hotel for lodging. The only hotel that turned up in their search was Zhou's hotel and the women ended up patronizing them, thus fetching Ma his first paycheck.
Founding the Giant brand known as Alibaba
Following his initial taste of success with China Pages, Ma was recruited by a government internet company. He spent roughly two years with them before deciding to strike out on his own in 1999. He joined hands with 17 other colleagues and they founded Alibaba in April 1999.
Alibaba is an online marketplace where Chinese companies can showcase/sell their goods to the world in exchange for a small membership fee. Ma singlehandedly picked the name Alibaba and this is due to its global appeal. According to the former English teacher, people from all corners of the world are familiar with the classic Middle-Eastern tale, which inspired the name, and can also spell it easily.
Ma started Alibaba with an initial seed money of just $60,000. The company however made great strides in its first few years of operations and soon attracted substantial investments including a whopping $1 billion investment from Yahoo in 2005. Thanks to these investments, Alibaba steadily grew to become one of the largest e-retailers in the world. By the year 2014, it raised $21.8 billion on the NYSE, the largest initial public offering ever.
Since this amazing feat, Ma and Alibaba have not looked back. The company has grown to become the largest e-retailer in the world with its sales surpassing that of Walmart, Amazon and eBay combined. Alibaba now serves about 730 million active consumers in China and another 130 million overseas. The company also employs more than 101, 000 employers and is presently valued at over $420 billion.
The Other Divisions of Alibaba
Asides e-commerce, Alibaba has also made inroads into the logistics, artificial intelligence, and even the entertainment world. The company now has several subsidiaries including Taobao Marketplace and Taobao Mall. This is an online shopping site that facilitates consumer-to-consumer sales. It ranks amongst the 10th most visited website in the world and boasts of more transaction volumes than all the U.S. e-commerce sites combined.
Another veritable arm of Alibaba is Cainiao (China Smart Logistics Network). This is a logistics company that delivers packages all throughout China. It has a valuation of 100 billion yuan ($14.3 billion). Alibaba also owns also Alipay; a digital third-party payment platform with no transaction fees. Alipay boasts of more than 300 million users and controls half of China's online payment market.
Another thriving division of Ma's business empire is Alibaba Cloud Intelligence. The company provides various cloud computing services to online businesses on a pay-as-you-go basis. Some of such services are Object Storage (OOS), Kubernetes, Big Data and Data Base. Finally, Alibaba has also made inroads into the entertainment industry with Alibaba Pictures Group and AliMusic. Alibaba Pictures Group has invested in several Chinese productions as well as a few Hollywood blockbusters including Star Trek Beyond, Mission Impossible: Rogue Nation and Teenage Mutant Ninja Turtles: Out of the Shadows. AliMusic, on the other hand, boasts of several music streaming apps.
Jack Ma Net Worth: How much has Jack Ma earned from his Business Empire?
According to reliable sources estimates, Jack Ma has a fortune estimated at $42.3 billion. This makes him one of the richest individuals in the Peoples Republic of China. It also makes him the 32nd richest person in the entire world according to the Bloomberg index. A major source of Ma's fortune is his earnings from the hugely successful business empire that he co-founded.
Asides that, the erstwhile English teacher has also made lucrative personal investments through the private equity firm that he co-founded known as Yunfeng Capital. Yunfeng supports investment opportunities in areas such as the internet, technology, healthcare, media and entertainment, financial services, logistics, and consumer services.
In August 2017, Yunfeng purchased the Asian unit of US-based insurer, MassMutual, in a deal worth $1.7 billion. The deal positively impacted Yunfeng as its stock witnessed a double-digit jump in value. Ma and his other co-founders were of course richly rewarded from that spike.
What Does Jack Ma Spend his Money On?
Ma is not given to living an extravagant and outlandish lifestyle but rather enjoys his wealth in an understated manner. The one thing that the business magnate, however, spends lavishly on is real estate and public parties. Ma is the owner of several mouth-watering properties including a $191 million mansion in Hong Kong and a $23 million apartment in New York.
The Alibaba co-founder also owns three vineyards in Bordeaux, France. They are the 80-hectare Château de Sours, the 64-hectare Château Perenne, and the 50-hectare Château Guerry. Château de Sours features a magnificent historic country house while Château Perenne boasts of extensive grounds. Château Perenne also produces 500,000 bottles of red and white wine per annum while Château Guerry produces about 84,000 bottles of red wine per annum.
Ma also spends his fortune on throwing epic parties for his employees. Alibaba organizes an annual wedding ceremony for newly married employees each year. The company also celebrates its anniversary each year with Ma turning up in a big way. In the year 2009, he donned a blond wig and rock outfit, while in 2013, he turned up as a regular pop star.
For the company's 18th anniversary soiree in 2017, Ma was outfitted in a Michael Jackson apparel. He also danced to several of MJ's hit songs alongside many backup dancers. Ma's antics have fetched him praise from several quarters with many advising other 'stiff' tech entrepreneurs to borrow a leaf from him.
Finally, The Alibaba co-founder also loves to travel in style. He and three other Chinese business magnates co-own a Gulfstream 550 private jet. The sleek aircraft features twin BMW/Rolls Royce engines and can accommodate 19 passengers. Other facilities include full lavatory with shower, conference/dining room, multiple work stations, and a crew rest area.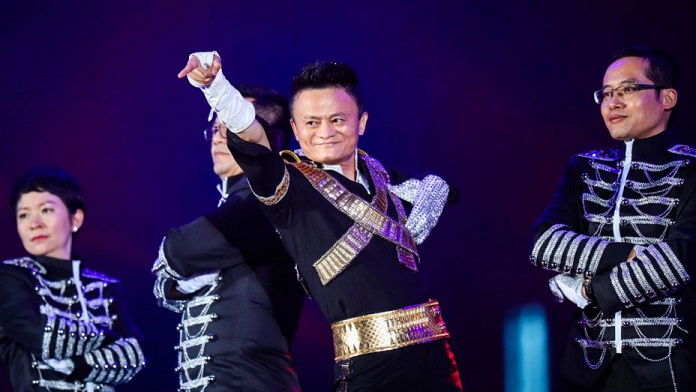 His Generous Giving Spirit
Apart from his exploits in the business and technology world, Jack Ma has also made a name through his philanthropic gestures. The Alibaba co-founder has donated huge sums of monies to victims of several natural disasters including the 2008 earthquake in Sichuan, China, as well as the 2015 earthquake in Nepal. He also made a $14 million donation to aid the fight against the deadly coronavirus in his native China in January 2020.
Asides these donations, Ma also supports environmental conservation and education. The erstwhile teacher believes that there is a need for holistic educational reforms; moving away from the rigid exam-based system to a system that emphasizes content, agency, and self-knowledge. Ma believes that society should invest more in early childhood education, where kids are still learning skills and values, rather than university where values are already set.
The business magnate also advocates that teachers should get more respect, robust support, increased pay and welfare packages as well as periodic leadership training. Finally, Ma advocates the need to find a new test of knowledge rather than exams. According to him, most students only focus on passing exams, and getting good jobs, without internalizing what they are taught. It, therefore, means that many companies, including his, have to retrain graduates in order for them to be able to do their job well.
Some of his Controversial Stance
Ma has managed to maintain a spotless reputation unlike most of his peers. There are no unsavory allegations against him, and he has not been fingered in any criminal investigation. The Alibaba co-founder has however courted controversy with some of his past remarks.
For instance, in April 2019, Ma came under fire for supporting 996, the backbreaking working-hours schedule which is common in China's tech and internet industry. 996 means that workers work from 9am-to-9pm (12 hours) each day, six days a week. In an internal speech to Alibaba staff, Ma described 996 as a huge blessing/opportunity that many companies and employers cannot boast of. In his own words, he queried the workers thus "If you do not do 996 when you are young, when will you? Do you think that never having to work 996 in your life is an honor to boast about? If you don't put out more time and energy than others, how can you achieve the success you want? ".
These comments led to an online backlash with many criticizing Ma for forgetting the importance of work-life balance. Many also pointed out that such an intense work schedule could lead to burnout and even hospitalization in the intensive care unit. Given this widespread public dissatisfaction, Ma had no choice but to attempt a clarification of his comments. In a post on his Weibo account, the business magnate agreed that 996 is inhumane, unhealthy, unsustainable as well as illegal. He also described companies who foist such policies on their workers as foolish and doomed to fail. Ma, however, urged young people to remember that there is no pain without gain. The way he sees it; if you are doing a job that you truly love, then working 996 will not be an issue.
Ma also sparked controversy in May 2019 thanks to his comments during his company's annual mass-wedding ceremony for staff. During the ceremony, which featured about 102 couples, Ma urged them to adopt the 669 system in their personal life meaning that they should endeavor to have sex six times in six days. He further went ahead to admonish them to have kids as that was the true essence of marriage.
These comments equally drew ire online with some criticizing him for making a lewd joke publicly. Others wondered how people who worked the 996 system would have the extra energy needed for the 669 system in the bedroom. Alibaba was forced to release a statement defending its chairman. They maintained that he was only offering the newlyweds some light-hearted advice and had not meant to offend anybody.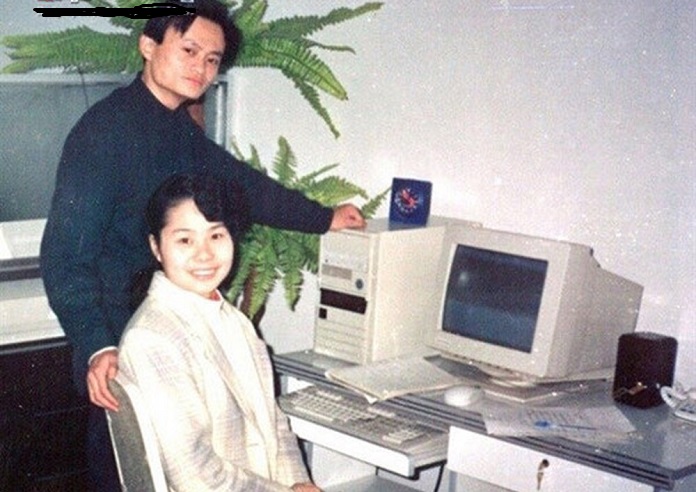 Jack Ma is a Consumate Family Man and a Doting Husband To Wife Cathy Zhang aka Zhang Ying, Meet Her
If you are dreaming of marrying Ma, and perhaps getting your hands on some of his stupendous wealth, then I will advise you to pause such dreams as he is already spoken for. The Alibaba co-founder is happily married to fellow Chinese national, Cathy Zhang. Ma first met Zhang while they were both students of the Hangzhou Teachers Institute. They commenced a relationship when they were still in school and tied the knot in 1988, the same year that they graduated.
Zhang stuck by her husband's side all throughout his days as an impoverished teacher. She also invested her own time, effort and resources in seeing that his ventures took off and today, they are better off for it. The couple is now living the good life and has three children. They include a son named Ma Yuankun and a daughter named Ma Yuanbao. Yuankun also goes by the name Jerry and is an alumnus of the University of California Berkeley.
His Litany of Awards and Achievements
As can be expected, Ma has received numerous awards over the years. Some of them are in recognition of his entrepreneurial strides while some are in acknowledgment of his charitable endeavors.
They include the most powerful businessperson in Asia in 2015 and one of 100 people who have made outstanding contributions to China's economic transformation in the past four decades. Ma has also received honorary PHDs from several institutions including the Hong Kong University of Science and Technology, De La Salle University, Philippines and Tel Aviv University Israel.
Additionally, in October 2019, Ma received the Malcolm S. Forbes Lifetime Achievement Award. The gong was presented to him in recognition of his commitment to small businesses as well as the impact that Alibaba has made since its establishment. During the ceremony, Forbes described Ma as one of the most influential figures of our time as well as one of the greatest liberators in world history.
Stepping Away from his Legacy
Jack Ma officially stepped down as the chairman of Alibaba on the 10th of September 2019. In his resignation letter, the business mogul stated that his proudest achievement was the fact that he had groomed younger and more talented persons to take over and continue the journey. Ma's resignation has led to several speculations with many claiming that he stepped down as a result of tensions with China's communist party. This school of thought posited that the ruling party had grown wary of his rising power and influence, and could have gone to the extent of arresting or investigating him had he not retired.
Ma has however denied these insinuations and has maintained that he knows nothing about politics or government and as such, nobody can push him out. We may never know the real reason why Ma stepped down but one thing that is for sure is that we have not seen the last of him. In his own words "I still have lots of dreams to pursue. Those who know me know that I do not like to sit idle. I also want to return to education which excites me with so much blessing because this is what I love to do. The world is big and I am still young, so I want to try new things ….. because what if new dreams can be realized?"
These new dreams that Ma is referring to are his charitable endeavors in the areas of promoting education, women empowerment, and environmental conservation. The business magnate previously disclosed that he wants to emulate the footsteps of Bill Gates; the Microsoft founder who has dedicated much of his life and wealth to charity. Asides philanthropy, Ma will also continue to play an advisory role at Alibaba. The former chairman retains a 6.22% share of the company. He also belongs to Alibaba Partnership, a group of 36 people that determine the board of directors of the company.
Nurturing The Next Generation of African Entrepreneurs
Another exciting new adventure for Ma is his mission to groom the next wave of African entrepreneurs. The Alibaba co-founder was motivated to embark on this agenda as a result of the passion, confidence, and energy exhibited by the young people on the continent Africa. Ma was also attracted by the several parallels between China, as it once was, and present-day Africa. According to the business mogul, the continent is beset with real-life problems and as such, most young entrepreneurs are not focused on making a quick buck but are driven to provide solutions to real-world problems such as water, infrastructure, farming, health, and education.
To this end, Ma instituted the $1 million African Netpreneur Prize which aims at identifying and spotlighting African entrepreneur heroes. The grant received about 10,000 entries from 50 countries. These numbers were finally whittled down to about 10 contestants who got a chance to pitch their ideas to Ma himself during a four-hour show in Ghana in December 2019. Some of the top contestants included an online platform for selling healthy foods; an African-inspired fashion brand and a company that makes shoes from used tires. The winner was ultimately LifeBank, a company that delivers blood to hospitals for mothers with postpartum hemorrhage.