Most of the finest Hollywood stars are often debated to be either gay or straight. Actors like Jack Falahee with uncommon looks are also said to be coy about their sexuality. Most celebrities, however, prefer to keep their sexual stance a secret for some personal reasons. For Jack Falahee, his gay character as Connor Walsh in the ABC legal drama How to Get Away with Murder helped to raise questions about his sexuality. Here's what Jack Falahee had to say about this.
Biography, Ethnicity and Age
Jack was born on February 20, 1989, as Jack Ryan Falahee to a father who is a doctor and a mother who is a speech pathologist. Falahee is of Irish-Italian ethnicity but was born in the city of Ann Arbor, Michigan. As a young child, he developed an interest in acting and gained the full support of his parents who enroled him in an acting school known as Huron High School after which he moved to New York University school of arts from where he graduated with BFA in Drama. After that, he moved over to the International Theater Workshop in Amsterdam where he perfected his skills as an actor.
Whilst at the University, Falahee engaged himself in a number of shows including Love's Labour's Lost and A Midsummer Night's Dream. His TV debut, however, was in 2013, in the comedy-drama series, The Carrie Diaries after which he landed more TV roles like in Escape from Polygamy, Ironside, Twisted and most recently, Mercy Street. He has also featured in such films as Sunburn, Campus Life, Blood and Circumstance and Cardboard Boxer, among others. His major rise to fame was in 2014 when he was cast in the ABC legal drama series How to Get Away with Murder. Today, alongside his big shot in the movie industry, the young actor has a net worth of $2 million with an annual earning of about $400,000.
Is Jack Falahee Gay?
The Hollywood actor has always avoided talks about his sexuality because, according to him, he prefers people paying more attention to his career than his personal life. His silence on the matter, alongside his gay role in the highly rated 2014 drama series How to Get Away with Murder, further complicated the debate between the LGBTQ+ and those with a straight sexual orientation. Falahee, however, broke the long silence and practically put to an end the controversy when he posted on his Twitter page that he is not gay.
In his 2016 twitter post, the young handsome actor revealed how many of his friends mistake him to be gay. He said while he is not quick to talk about his romantic life in the press for some unexpected reasons, he would prefer not to be seen or addressed as gay. He also mentioned that although he is straight, he is more committed than ever to support the fight for equality in his community.
Is Jack Falahee Dating? – Girlfriend
Having denied being gay despite his series of hot and steamy gay scenes, Jack Falahee has remained quiet about his love life. Not only is he considered gay, he is rumoured to be bisexual as well, following his trending relationship with co-star Aja Naomi King.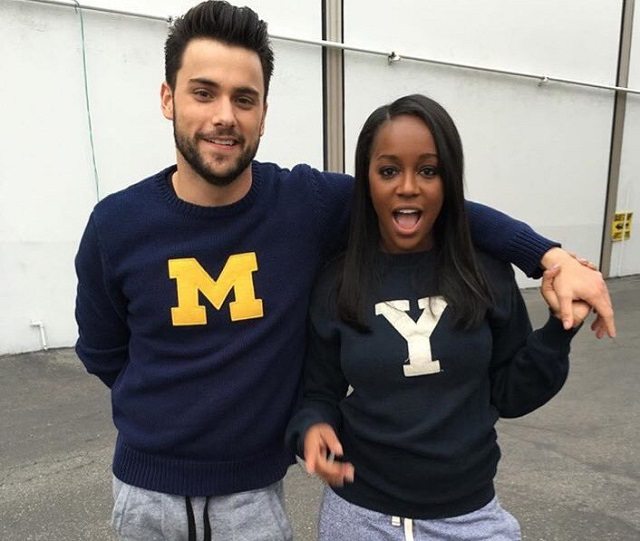 The couple does not only share pictures of each other on the social media, they are also often seen sharing good times together. But as the two are yet to publicly confirm their relationship, it is safer to see them as best of friends especially as Ms Ajah is still known for her romantic relationship with Alfred Enoch, her boyfriend and co-star in the How to Get Away with Murder series.
See Also: Is Mark Ballas Married or Gay? Who Is His Wife or Girlfriend?
Height and Body measurement
Jack is no doubt a very hot-looking young actor with an amazing height of 5 feet 10 inches and a body weight of 76 Kg. His chest measurement is 42 Inches while his bicep and waist are 15 and 34, respectively.
Quick Facts about Jack Falahee
Full Name: Jack Ryan Falahee
Birth Date: February 20, 1989
Horoscope: Pisces
Birth Place: Ann Arbor, Michigan, USA
Ethnicity: Mixed (Irish, German, Swiss, English, Italian)
Schools Attended: Huron High School, Newyork university Tisch School of Arts
Height: 5 feet 10 inches (1.78m)
Salary: $400,000
Net Worth: $2 million
Nationality: American
Sexual Orientation: Straight
Relationship Status: Single
Spouse or Girlfriend: Aja Naomi King
Weight: 76 Kg
Hair Color: Black
Eye Color: Dark Brown