Taylor Eileen Smith is not Ryan Upchurch's wife, as they are not married. She is also not his girlfriend. Although the duo dated in the past and even got engaged, they did not get married as their relationship subtly went downhill.
Taylor Eileen Smith gained recognition for her relationship with Ryan Upchurch, an American rapper, singer-songwriter, and comedian whose relationship history has been a hot topic for discussion. Their lovey-dovey relationship lasted just a few months and was near marriage but ended before time. Keep reading to learn more about Taylor Eileen Smith and Ryan Upchurch's relationship.
Who is Ryan Upchurch's Wife?
Ryan Upchurch does not have a wife, nor has he been married to anyone in the past, be it male or female. Meanwhile, he has been involved in some relationships that were close to marriage, but they ended before the date of the wedding. The rapper was previously engaged to Taylor Eileen Smith, but they did not push through to their wedding day, as they broke up before the fixed date.
Meanwhile, there are no records of when Ryan Upchurch met Taylor Eileen Smith, but they started dating in 2020. At that time, their love was seen as genuine, as the rapper treated Taylor's daughter, whom she had in her previous relationships, as his. Their love began to progress as they shared their fun-filled moments in pictures and videos on their social media handles. With time, Ryan popped the big question to his bae on July 10, 2020.
The overjoyed couple also took to their social media to show off their engagement as well as the engagement ring. In no distant time, the wedding preparations began, and it was set to take place around September 2020; however, their love hit the rock before the day. Meanwhile, neither Ryan Upchurch nor Taylor Eileen Smith revealed that they had split or the reason for their split, as they were still addressed as lovers.
Around October 2020, she advertised a wedding gown for a friend for sale, and the curious public asked why she wouldn't buy it for herself. In response, she stated that she already had it known to the public that she was no longer together with Ryan Upchurch. After their split, they both moved on as Ryan dated and got engaged while Taylor found love again.
Why Did Taylor Eileen Smith and Upchurch Separate?
There are no credible details on why Taylor Eileen Smith and Ryan Upchurch separated. In what seemed like a cold war, Taylor and Upchurch gradually started dimming their relationship light, from occasionally posting each other's pictures to not posting at all. With time, they started deleting pictures of each other from their various Instagram accounts and eventually unfollowed each other on social media.
Ryan went on to delete all the romantic posts he had made her in the past and all his pictures that she and her daughter featured in. Their fans were caught up in the middle, as there were no official statements to confirm their speculations. The estranged couple went tight-lipped about discussing what transpired between them until February 2021, when Taylor's best friend, Haylee Dickerson, uploaded their pictures on Instagram.
Haylee Dickerson took to her Instagram to share a picture of herself, which featured Taylor in it, and gave the photo credit to Upchurch. The photo caption shed a ray of hope and optimism among fans, saying that they could just be together, trying to avoid the spotlight. On February 14, 2021, fans looked forward to some loved-up pictures from the couple and some highlights of their day, but unfortunately, they got none. Instead, Upchurch only posted pictures of himself and his guys, while Taylor shared a video of her daughter Rae, whom she took ice skating.
Taylor went on to plead with the public not to ask if she and Ryan were still together, stating that the post was about her daughter. To their fans' amazement, in March 2021, Taylor Eileen Smith announced her relationship with Clayton Pettry. Meanwhile, Ryan already moved on and dated his colleague, Katie Noel, in 2021 and broke up with her shortly before moving on to other relationships.
Ryan Upchurch's Relationship History
From Ryan Upchurch's dating and relationship records, it can be understood that the country music singer usually sets his eyes on a short-term commitment. However, factors that he has never cared to share with his followers often stand in his way. Here is an overview of his dating history:
Brianna Vanvleet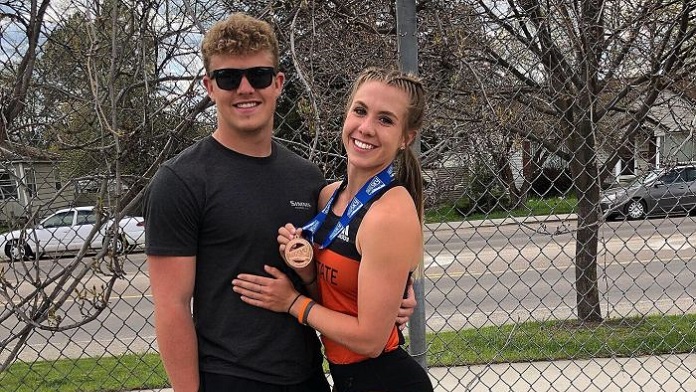 In 2015, Ryan Upchurch and Brianna VanVleet's relationship came to light. Ryan is the type of lover who cannot bottle up his affections and feelings or manage to keep them away from the eyes of the media. He took to his Facebook page to express his love for Brianna and how he envisages a future with her, and he went on to confess his desire for them to have kids.
Their love grew strong, leading to their engagement in 2016. However, before they could officially tie the knot, the relationship came to an abrupt end without mentioning the reason for their split.
Katie Noel 
After breaking up with Taylor Eileen Smith, Ryan Upchurch fell back on his colleague in the entertainment industry for some emotional healing. He dated Katie Noel, with whom he has had music collaborations in the past. Their relationship was quite short, as they started and ended in 2021, even before the relationship could have formed.
Bethani Culp
Ryan Upchurch found love again in 2022 and started dating his long-term friend, Bethani Culp. Their relationship went public after Bethani shared a picture of an engagement ring and captioned it, "I get to marry my best friend," with love emojis. Fans had a little challenge identifying whether the best friend in the context was Upchurch. The public's curiosity was quenched when the rapper started posting and writing love and appreciation posts, just like he did with others.
Not long after they had kicked off their relationship, they called it quits in 2022, which was evidenced in the rapper's video titled Sadly, Ryan Upchurch: Officially Single Again. Tired of Being Stabbed in The Back. Meanwhile, there was no official statement on the reason that they decided to call it quits.
FAQ
Who Is Ryan Upchurch Currently Married To?
Ryan Upchurch is not currently married to anyone. Although he was involved in relationships that almost led to marriage, he is currently single and is enjoying his single lifestyle. He is focused on his music career and giving it his all to make it top-notch. However, till he gets involved in another relationship or eventually gets married, our hands remain crossed.
Who Is Ryan Upchurch's Wife?
Ryan Upchurch does not have a wife at the moment. Although the rapper has been previously engaged to two women in the past, none of them made it to the exchange of vows.