Susan Rice and Condoleezza Rice are not related to each other, despite sharing the same last name and having similar professional backgrounds in foreign policy and national security
Despite their similar-sounding last names, Condoleezza Rice and Susan Rice are not in any way related to each other. In fact, both ladies hold on to vastly different political ideologies and this has shaped their career trajectories. It has also made an impact in their public office service history which has seen them hold different positions under different administrations.
These two personalities do share some similarities though. Asides from their common ethnic heritage, both women have been able to record incredible achievements and reach heights that most people can only dream of. They have also made history in the respective offices that they have held and the sky remains their limit. Perhaps, we may yet see one of them shatter that highest glass ceiling in the United States.
Both Susan Rice and Condoleezza Rice Hail From a Family of Academics and are Equally High Flying Scholars
Susan Rice and Condoleezza Rice may not be related but they share several similarities and one of them is the notable backgrounds that they both hail from, which undoubtedly helped them blaze a trail in their studies. For instance, Susan Rice's mother, Lois Rice, is a famed education policymaker while her late father, Emmett J. Rice, was a professor of economics at Cornell University. He went on to serve as a governor of the federal reserve. Such a privileged background saw Susan Rice attend several private schools where she excelled.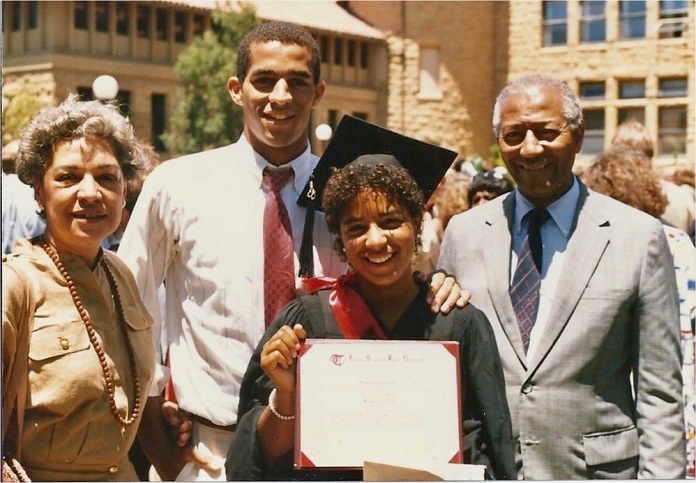 Susan then went on to attend prestigious universities such as Stanford and New College, Oxford, on equally-prestigious scholarships such as the Truman Scholarship and the Rhodes scholarship. The young lady's academic sojourn saw her earn a Master's and Ph.D. in philosophy.
On Condoleezza Rice's part, her father John was a Presbyterian minister and high school guidance counselor who later became the dean of student affairs at Stillman College in Alabama. Her mother, Angelena, was a high school science, music, and oratory teacher.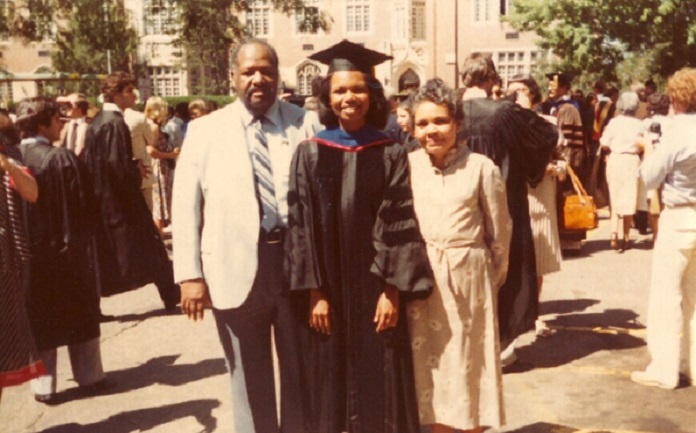 The young Condoleezza was quite talented at playing the piano and even taught of pursuing it professionally. An international politics course, however, sparked her interest in that field and she went on to obtain a bachelor's degree, master's, and Ph.D. in political science, attending the University of Denver and the University of Notre Dame.
Condoleezza Rice Served as National Security Advisor and Secretary of State under the George W. Bush Administration
Prior to going into public service, Condoleezza Rice spent years as a professor of political science at Stanford University. She also worked for corporations such as Chevron, Transamerica Corporation, and Hewlett-Packard. Her first taste of public service came in 1986 when she was appointed as a special assistant to the director of the Joint Chiefs of Staff. From there, she served in the George H.W. Bush administration as a director and then-senior director of Soviet and East European affairs in the National Security Council.
Condoleezza Rice would hold other positions under the H.W. Bush administration, so when the junior Bush came on in 2000, she was appointed the National Security Advisor.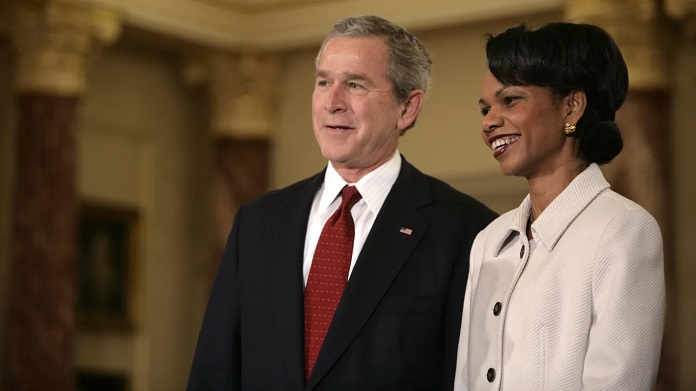 Condoleezza was the very first woman to hold that position and made more history in 2005 when she was appointed Secretary of State. That appointment saw her become just the second woman to hold that position and the first African-American woman to achieve such a feat.
Susan Rice Held the Positions of U.S. Ambassador to the U.N. and National Security Advisor Under the Obama Administration
While Condoleezza Rice built her initial reputation with her expertise in Soviet affairs, Susan Rice did something similar with regard to African affairs. She was thus appointed the senior director of African affairs and then assistant secretary of state for Africa affairs in the National Security Council under the Clinton administration. The eight-year interlude of the Bush administration, where Condoleezza played a prominent part, saw Susan return to the private sector and think thank activities.
By the time the Democrats gained control of the White House again in 2008, Susan returned to serve her country. She served as the U.S. ambassador to the United Nations from 2009 to 2013. She was then subsequently appointed the U.S. National Security Advisor from 2013 to 2017.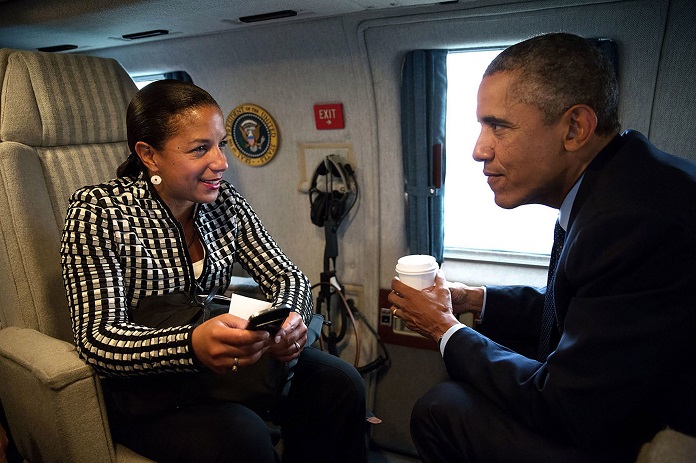 The democratic hold over the White House would once more be interrupted by the four years of the Trump administration but the 2020 victory of Joe Biden has seen Susan Rice return to the corridors of power once more. She now serves as the Biden administration's head of the domestic policy council. It is a much low profile role than what she has held but it is hoped that she would turbo-charge the department.
Both Susan Rice and Condoleezza Rice Have Been Touted as Potential Vice-Presidential Picks
Kamala Harris has made history as the first woman to hold the second-highest office in the U.S. but it could have easily been either Condoleezza Rice or Susan Rice doing so. Condoleezza was asked in 2012 to be the vice-presidential pick for the Republican candidate, Mitt Romney, but she turned it down, stating that she prefers policy to politics. Condoleezza has stuck to her guns for years now and repeated the same sentiments when the Trump team reached out to her in 2016.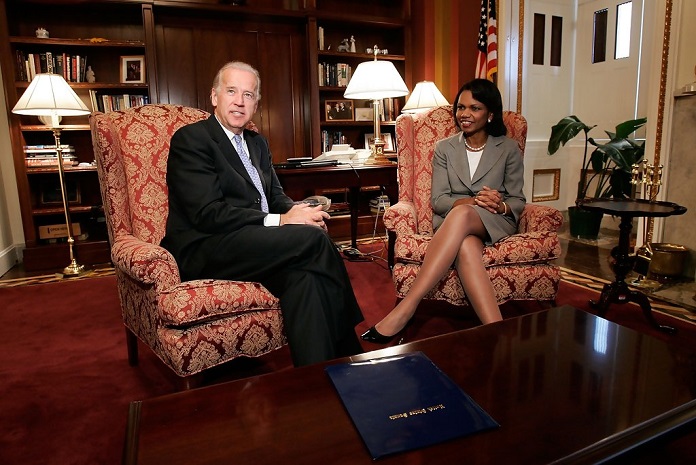 In 2020, some people also held Condoleezza Rice out as an ideal VP for the democratic candidate, Joe Biden, but the fact that she has remained resolute in her decision meant that the Biden team did not bother persuading her so much. On her own part, Susan Rice was also named as one of the potential VP picks for Biden in the run-up to the 2020 election. Bookmakers even favored her above Harris but she failed to make the mark thanks to her "baggage".
Susan Rice was the U.S. ambassador to the U.N during the 2012 attack on the U.S. embassy in Benghazi which saw ambassador J. Christopher Stevens and three other U.S. citizens killed. She initially described the attacks as spontaneous rather than planned and when the opposite became true, Republicans pilloried her for it. In fact, some Republicans hoped that Biden would choose her as a running mate so that they could resurrect her past comments.
Susan Rice is Married with Two Children while Condoleezza Rice Has Never Been Married and Has No Kids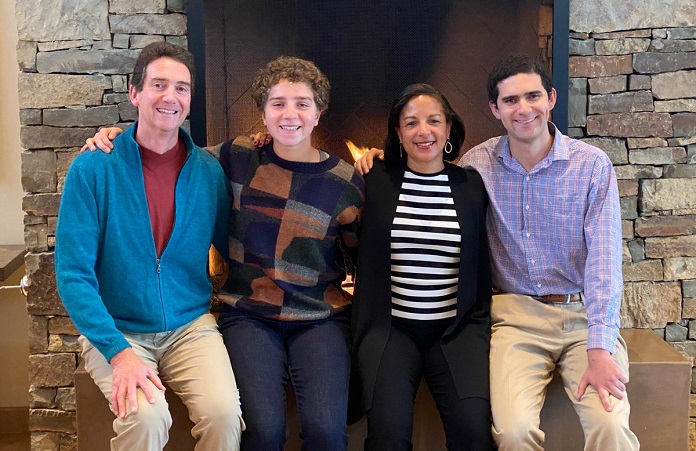 Both Susan Rice and Condoleezza Rice share several similarities in their careers but it is quite different when it comes to their personal life. Susan Rice has been married to a former news producer named Ian Officer Cameron for nearly three decades. Their marriage has produced two kids, including a son named John-David Rice-Cameron who is noted for his conservative politics. John attends his mother's alma mater, Stanford, and leads a movement to make sure that Republican voices are not shut out on American college campuses.
Condoleezza Rice, on her own part, has no child who will make her blush with their opposite political leanings. The former secretary of state jealously guards her personal life but it is known that she dated former NFL pro, Richard Upchurch, in the 70s. They even got engaged but never made it down the aisle as Condoleezza knew the relationship wasn't going to work. That was nearly four decades ago and since that time, the former Secretary of State has not been in any confirmed romance with anybody.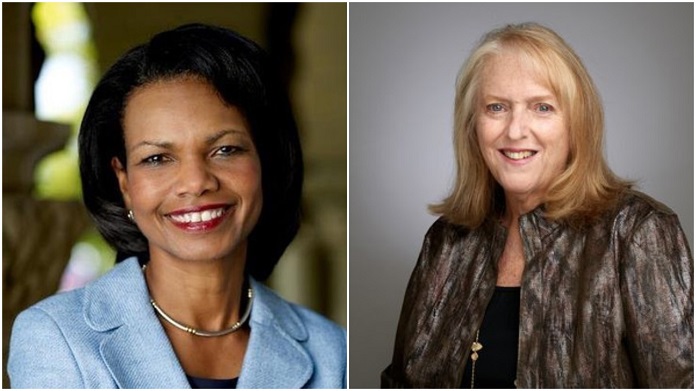 There have, however, been some speculations that she may have been in a same-sex relationship with her close friend, Randy Bean. Bean is a documentary maker who works for Stanford and it was discovered that she and Rice owned a home together and also shared a line of credit from 2003 to 2017. This raised suspicions that they were dating but Bean has stated that they only bought a home together to help her out after medical bills drained her financially.
Quick Comparison of the Two Personalities 
| | | |
| --- | --- | --- |
| | Condoleeza Rice | Susan Rice  |
| Full Name | Condoleezza Rice | Susan Elizabeth Rice |
| Age | 69 | 59 |
| Height | 5 feet 7 ¾ inches (1.72m) | 5 feet 4 inches (1.62m) |
| Net Worth | $12 million | $40 million |
| Spouse | None | Ian Officer Cameron |
| Children | None | Two |
| Educational Institutions Attended | The University of Denver, University of Notre Dame | New College, Oxford, and Stanford University. |
| Major Office Held | National Security Adviser (2001 – 2005), Secretary of State (2005 – 2009) | U.S. Ambassador to the United Nations (2009 – 2013), National Security Advisor (2013 – 2017). |
| Honors Received | 2003 John Heinz Award for greatest public service by an elected or appointed official, 2010 National Defense Award from the U.S. Airforce Academy | 2000 Samuel Nelson Drew Memorial Award and 2017 Commander of the Legion of Honour from the French Republic. |