Nikki Glaser is not married and does not have a husband or boyfriend at this time. The American stand-up comedian, podcast host, actress, radio, and television host is currently single but was involved in an off-again, on-again relationship with Chris Convy.
Nikki Glaser's marital status has so far been a point of concern for a lot of fans. Looking at her life as one of the top comedians, one would think that her marital life is as successful as her career. However, it is one that practically depicts the saying, 'never judge a book by its cover.' Read on as we unveil everything you need to know about the standup comedian's relationship life.
Who is Nikki Glaser's Husband?
The standup comedian is currently not married to anyone, as her marital status is still listed as single on her profile. She is quite very open about her marital status, which she most times comments about in her shows. Meanwhile, because of her personality and her influence in the entertainment industry, a lot of fans are hanging up with the expectation of seeing her in a working relationship.
However, this appears to be in a way beyond her control, as she has been in one that appears to be an off-and-on relationship. Nikki has never been married to anyone in the past. However, she has been spotted in relationships with different men.
Nikki Glaser has Been in Several Relationships
The FBoy Island host has been in several failed relationships, which were mostly with people that have made it into stardom. She has been spotted in a romantic relationship with more than four different men. Here is a look into some of her past relationships and the men to whom she has been linked.
Pete Lee is the Standup Comedian's First Love
Pete Lee and Nikki Glaser actually have a long history together and first met when they were both fresh on the scene. They allegedly fell in love when Glaser was 20 years old. They first met while Nikki was performing a guest set, and Pete happened to be a featured artist. They became closer as they spent the whole weekend together and quickly became friends.
It is interesting to note that Pete was dating someone in New York at the same time. They intended for her to move to New York and for them to live together after he splits up with his girlfriend. Sadly, Pete sided with his girlfriend rather than Nikki, and their romance quickly faded. The incident caused them to not speak for more than ten years.
Nikki Also Had a Relationship With Mike Recine
Nikki allegedly began dating comedian Mike Recine in 2010 while they were both in Atlantic City. Glaser thought it would only happen once, but Mike had other plans. On the You Up with Nikki Glaser podcast, he discussed how he even desired to wed her. Sadly, Nikki wasn't interested in him, and the following day she took a flight to St. Louis.
The Actress Started Dating Dan Soder in 2016
Dan Soder, born June 24, 1983, is an American actor and comedian who was born in Hartford, CT, USA. The actor became famous for his role in Trainwreck (2015). He was once spotted in a short relationship with Nikki Glaser in 2016, which ended in the same year. They broke up, and Dan moved on with another actress, Hannah Berner.
Nikki once invited Hannah to one of her podcasts, where they talked about their relationship with Dan. She confessed to being jealous of Hannah after it turned out that she was Dan's new alternative immediately after they ended.
She was Linked to Fellow Radio Personality Bobby Bones
In the 27th season of Dancing with the Stars, Nikki made out with radio show host Bobby Bones while she was competing. After getting intimate with Bobby in secret for a year, Glaser herself revealed the big truth. On the Howard Stern Show, she revealed her behind-the-scenes romance for the first time. Additionally, she revealed how each star who takes part in the show gets close to one another.
Why Do People Believe Nikki Glaser is Married to Chris Convy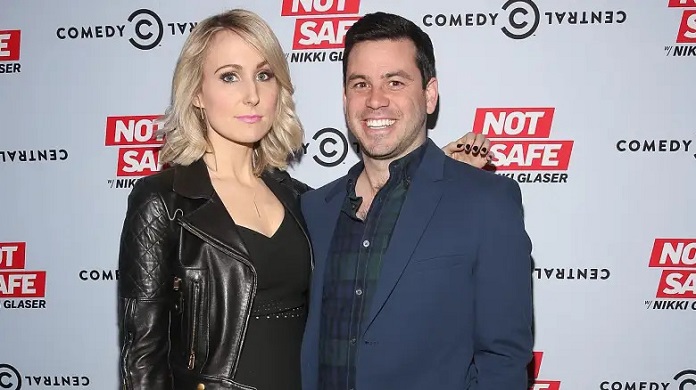 The speculation about Nikki being married to Chris Convy was based on her long relationship with the TV producer. Rumors about Nikki being in a relationship with the TV producer started spreading in 2013. After they were shown together at the Not Safe with Nikki Glaser premiere party in February 2016, the rumors became intense.
Later, in August of that same year, while in an interview with The Washington Post, the comedian confirmed that Chris was her boyfriend. When the interviewer inquired as to how she felt about sex after filming the television program Not Safe, she said that nothing really gets her shocked anymore. She further stated that she could be open about her sex life and relationships anywhere and at any time.
The Actress Broke Up With Her Boyfriend in 2016
The romance that existed between Nikki and Chris reportedly almost came to an end in late 2016. She spoke with Buffalo News during a sit-down interview about her breakup. Nikki made it abundantly evident in the interview that she and her partner had broken up. Despite the fact that she omitted names, it can be presumed that she was referring to Chris.
They ended their relationship at about the same time as her show, Not Safe, was canceled. When discussing it, she stated that she was prepared to let go of the show just as she was also ready to let go of her boyfriend. According to her, she stated that most relationships don't last, likewise most TV shows, even though it gets to hurt.
Nikki Reestablishes a Relationship with Chris Convy, Her Former Boyfriend
Although Nikki and Chris's intimate connection didn't work out the whole time, by the time the shooting of Welcome Home Nikki Glaser began in 2019, they were back together. During the pandemic, Chris made the same decision as the actress and returned to St. Louis. Nikki and Chris admitted they were not just friends in the second episode of the E! series, which began on May 2, and stated that they weren't exclusively dating.
Nikki said that she planned to continue using dating apps and wished Chris would do the same. She admitted that during their relationship, she betrayed Chris's trust and posed as someone she believed he would adore at the beginning. They believe that before they could be boyfriend and girlfriend once more, they both decided that they needed to regain trust.
Nikki continued by saying that she would leave St. Louis and move back to Los Angeles if Chris was unable to provide her with the stability she required.