Josh Groban has no wife as he is not married. However, he is currently dating Schuyler Helford, an upcoming actress, writer, and producer.
Most people know Josh Groban as one of the most popular musicians in the United States of America. Many people also know that the You Raise Me Up crooner is equally a talented actor and has appeared in several movies, TV series, as well as some highly-acclaimed theatrical productions.
His increasing popularity over the years, as well as his devilishly handsome looks, have made many curious about who the actor is romancing, and Groban has not disappointed, his name has been linked to some of the most beautiful women in the entertainment industry, while some were mere rumours lacking solid proof, others were confirmed by both parties involved.
Is Josh Groban Married?
Josh Groban is not married, at least not yet. Even though he is not married, it will be noted that, the musician has enjoyed not only a thriving showbiz career but also fascinating love life. The curly-haired crooner has dated a bevy of talented and beautiful ladies over the years.
However, none of his romantic relationships has led to the altar just yet, not in the past and not as of this writing. It does appear that Groban might not be far from that day when he says I do to the woman of his dreams; this is judging by the longevity of his most recent relationship.
Who Is Josh Groban's Girlfriend?
Name: Schuyler Helford
Dating Timeline: 2017 – Present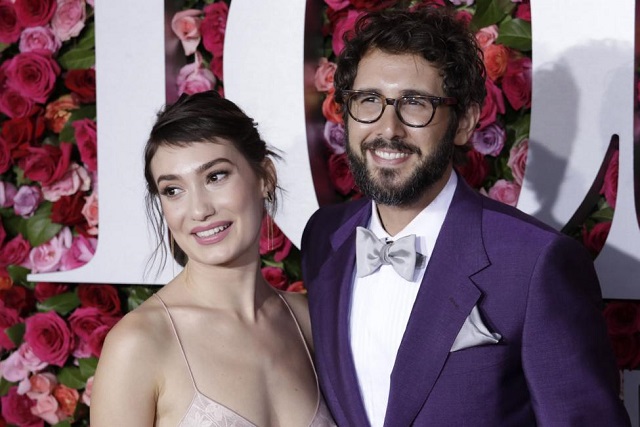 As of this writing, the Tony-nominated actor is in a relationship with Schuyler Helford. Helford is a budding actress, writer, and producer. She was born on the 10th of March 1991 in Los Angeles.
While Schuyler's name may not immediately ring a bell to many, her father's does, he is the famous Bruce Helford an accomplished Hollywood producer and writer who is known for shows such as The Drew Carey Show, Kevin Can Wait, Anger Management, George Lopez, Family Ties, and Nikki.
He was also part of the production team for the revival of the acclaimed series Roseanne, the revival was later shelved as a result of controversies among the producers and actress Roseanne Barr. Bruce Helford would instead go on to create a spin-off of the show which was titled The Connors and premiered in 2018.
Schuyler also had artistic genes to draw from her mother, she is Jan Corey an artist who owns a famed art gallery called Corey Helford Gallery. Their family includes a brother named Aven who is an alumnus of the prestigious Parsons School of Design and followed in his mother's footsteps to become an artist.
Schuyler's family can be rightly described as a closely-knit one, her father took a hiatus for a few years just to spend more time with her and her brother as they were soon due to leave for college, he returned in 2012 after they were off to college.
Groban's girlfriend Schuyler has followed in the footsteps of her father. Before joining Hollywood, Schuyler Helford honed her skills at several institutions including the British-American Drama Academy, London, and Bard College in New York. Schuyler attended Qingdao University in China where she studied Mandarin. She also attended Windward School in Los Angeles.
Her acting resume includes the role of Sateen in Anger Management which her father contributed to as well as Chloe in The Middle. She played the lead in the short horror film Haunt.
Like her dad, Groban's girlfriend seems to be more focused on working behind the scene. She has created no less than two award-winning web-based series Indoorsy and #Cybriety. The former is about 3 agoraphobics who in a bid to live better lives decide to start a day spa in their apartment. #Cybriety follows the lives of two Millennials enamored by technology, they later attempted to live their lives without the perks of technology.
Schuyler Helford has also written two sketch comedies for the 2017 CBS Diversity Showcase, they are; Two Crucified Dudes and Security Check.
How Did Groban Meet His Girlfriend, Schuyler Helford?
It is no secret that Groban and Helford commenced their relationship in 2017, however, since they made their debut red carpet appearance at the 2018 Tony Awards ceremony where Groban served as one of the hosts, they have been tight-lipped about further details regarding their romance.
Fans have been curious to know more about their love story but neither has given this away. However, it is highly likely that their work in Hollywood could have brought them together.
Though they both run Instagram accounts, they rarely post photos of each other and mostly keep their posts about their individual works.
Regardless of this, the pair have remained strong ever since and have been spotted on casual outings in Los Angeles. They have also continued to appear at formal events together.
A Look at Josh Groban's Ex-girlfriends
Josh Groban and Kat Dennings
Dating Timeline: 2014 – 2016
How They Met: Through Dennings' co-star Beth Behr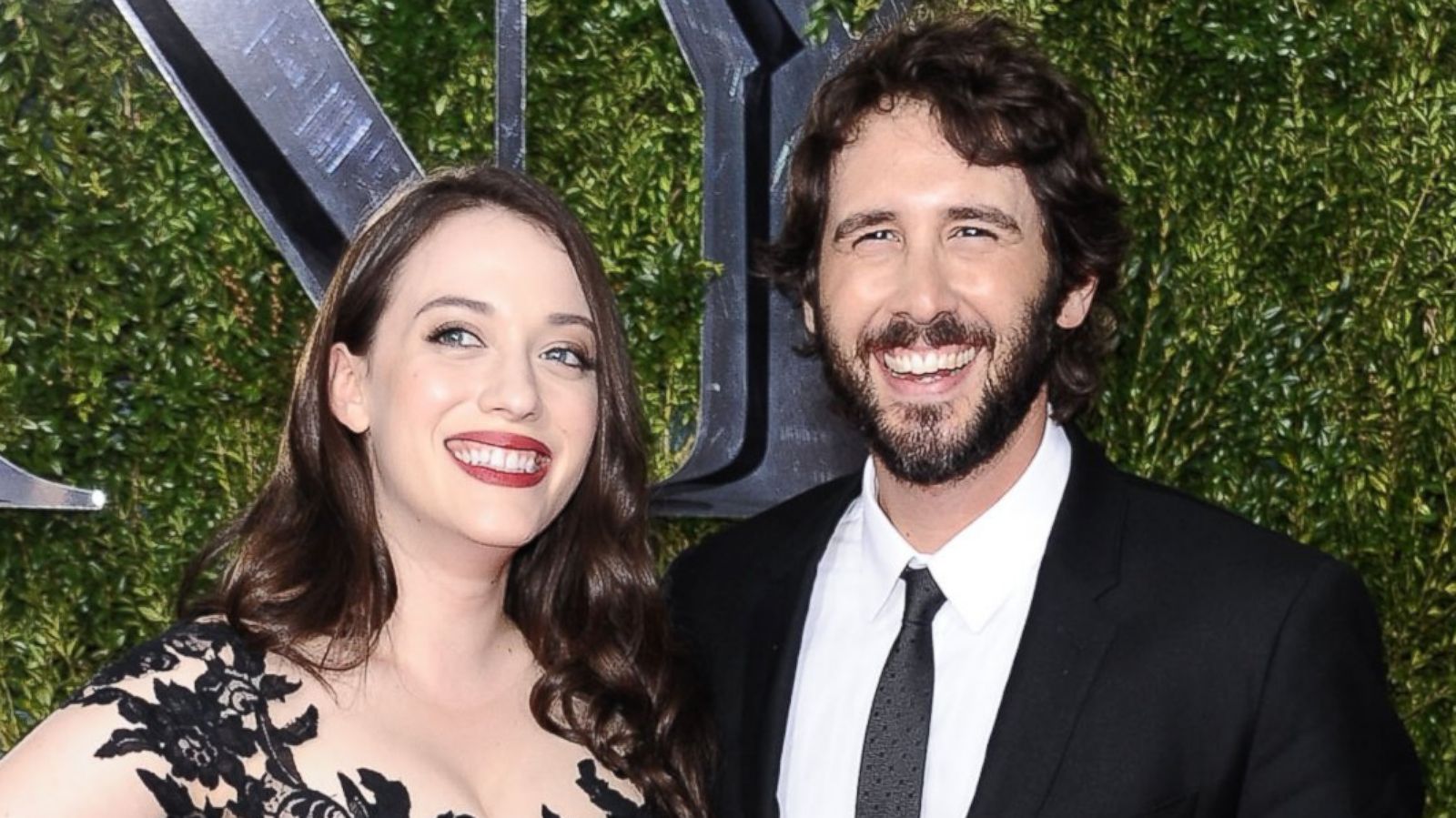 After several rumored relationships and flings, Josh Groban commenced a confirmed romance with Two Broke Girls actress and Broadway star, Kat Dennings, in October 2014. The couple was first introduced by Dennings' Two Broke Girls co-star, Beth Behr. On discovering that they shared a mutual appreciation for nerdy and geeky things, they hit it off immediately.
Their relationship lasted for about two years and during this time, the couple gushed about each other at any given opportunity. Groban described his girlfriend as a brilliant and funny person while the actress described him as a musical genius. The relationship between the pair sadly came to an end in July 2016. A source close to the couple disclosed that the breakup was a mutual decision.
Josh Groban and January Jones
Dating Timeline: 2003  – 2006
Reason For Split: Mutual/Amicable Decision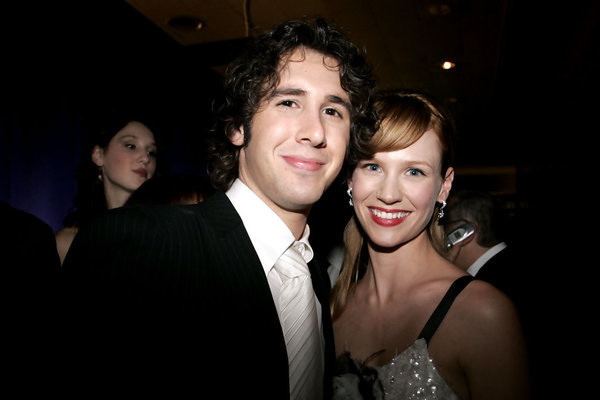 Jones is an accomplished model/actress, who has appeared in several movies and TV series but is most popular for her role as Betty Draper on the AMC series, Mad Men. Groban and Jones commenced their relationship in August 2003. They did not attempt to hide their relationship and often attended public events together.
The loved-up couple later called it quits in June 2006 and their breakup was an amicable one, as they remained good friends.
Following his split from Jones, Josh Groban took some time off from the dating game to focus on his burgeoning career. The singer, however, made a reappearance on the dating scene three years later in 2010.
During this period, Groban was romantically linked with several ladies including award-winning singer, Katy Perry, model/actress, April Bowlby and American actress, Selma Blair. These relationships were never confirmed by the parties involved and may have well been a case of just two friends hanging out.
FAQs 
Who Is Josh Groban's Wife?
Josh Groban is not married, at least not yet. However, he is currently in a relationship with Schuyler Helford, a budding actress, writer, and producer. She is the daughter of the famous Bruce Helford, an accomplished Hollywood producer and writer who is known for shows such as The Drew Carey Show, Kevin Can Wait, Anger Management, George Lopez, Family Ties, and Nikki.
Is Josh Groban Gay?
Josh Groban is not gay. In a 2015 interview with ETonline contributor Chris Azzopardi for PrideSource, he addressed rumors about his sexuality saying, "Honestly, if I were gay, I would have had no problem saying it from day one. … People have speculated, have wanted to speculate — whatever, fine. I'm not gay, but if I were, I don't view it as a bad thing."