Hollywood actress and producer Frances McDormand got married to filmmaker Joel Coen in 1984. Since then, they have remained together through thick and thin, helping each other become bigger and better in their career, and setting an example to younger Hollywood couples of what a marriage should look like.
In 2015, Frances McDormand became the 15th actress to achieve the dauntless feat of winning the Triple Crown of Acting, a term used to describe actors and actresses who have been able to win the prestigious Primetime Emmy Award, Academy Award, and Tony Award.
Her role in the 2020 drama film, Nomadland, won her a third Academy Award for Best Actress. As she was one of the producers of the film, she also received an Academy Award for Best Picture. With that, she made history as the first person to win the Oscars as a performer and producer for the same film.
She also became the second actress in history to win Best Actress thrice. These achievements speak volumes of the career of the widely acclaimed actress who has also enjoyed a successful marriage.
As you would easily find, the veteran actress has been married to Joel Coen for a few years shy of four decades. This is a remarkable feat for someone who has had a busy career in an industry known to presumably have the highest divorce rate in the world.
Frances' marriage to Joel has sustained for many years, yet there have not been any reports of marital problems. The marriage of over three and half decades continues to thrive and many have come to admire the couple for showing that one does not have to sacrifice having a happy marriage for a successful career.
Key Takeaways
Frances McDormand and Joel Coen have been happily married for almost four decades.
They met in a 1983 audition, began dating, and got married the following year.
Frances has featured in multiple films directed by her husband and his brother.
The couple struggle with fertility for many years and eventually settled for adoption.
They adopted their only child named Pedro McDormand Coen from Paraguay in 1995.
Pedro has embraced a career in showbiz as an actor and fashionista.
Frances McDormand's Husband, Joel Coen, Is Also An Accomplished Figure In The Movie Industry 
The veteran actress is married to a popular American filmmaker. Joel Coen, alongside his brother, Ethan Coen, is an award-winning veteran filmmaker. The duo popularly known as the Coen brothers are well known for their unique blend of genres in their filmmaking.
Joel and his brother have written, directed, edited, and produced many popular projects since 1984 when they embraced the career path. Notable among their works include Barton Fink, Miller's Crossing, Fargo, No Country for Old Men, Inside Llewyn Davis, True Grit, and of course, The Ballad of Buster Scruggs released in 2018.
Their works have won them numerous coveted awards, including at least fourteen nominations for Academy Awards out of which they have won four thus far: Best Adapted Screenplay, Best Director, and Best Picture for No Country For Old Men (2008) and Best Original Screenplay for Fargo (1997).
While Joel is also a bit of an actor with three credits to his name, he has thrived more as a filmmaker. His movies have grossed over $1.5 billion at the box office and his wife has featured in many of his works.
He co-owns a film production company located in New York City called Mike Zoss Productions with his brother. From what we gathered, the brothers named the company after a pharmacy they frequented to hang out while they were growing up in St. Louise Park, Minnesota.
In all, Joel Coen is as accomplished as his wife and the two are regarded as a power couple. Because of this, it is not hard to see why many have been curious about how the two met; when they began dating, and how they have managed to keep their marriage going for so many years despite their demanding career engagements.
Frances McDormand and Joel Coen Met In a 1983 Audition 
The Frances McDormand and Joe Coen love story is really interesting for several reasons, beginning with how they met. McDormand first met Joel Coen in 1983 during an audition for the film titled Blood Simple. The film upon its release in 1984, became McDormand's debut film feature and the Coen brothers' first film production.
When she had her first audition for the role of Abby in the neo-noir crime film, Joel and his brother asked her to come back for another audition. Frances rejected this, stating that she promised a fellow she was dating to watch his debut in a soap opera.
Many years later, Joel would disclose that Frances' refusal to attend a callback audition was part of the reason they hired her for the role. Acknowledging that they were quite desperate and losing hope of finding the right actress for the role, Joel explained that the reason Frances gave for refusing a second audition was guileless and exactly the attributes they wanted for the Abby character.
Joel Became Frances McDormand's Husband 1984
The hot romance between the two was kindled by their individual love for literature. The talented actress claimed in an interview that the widely acclaimed filmmaker seduced her with literature. This happened right after she landed the Abby role in Blood Simple.
Frances loves reading but only brought one book along for the shooting of the movie in Austin, Texas. During a conversation, she randomly asked the filmmaker what book he would recommend, only for Joel to bring her a box of several books authored by James M. Cain and Raymond Chandler.
Frances became so fond of Joel thereafter that she invited him over to discuss the books which marked the beginning of a relationship they probably never imagined would endure for many years to come. They decided to make the relationship a lifetime union barely a year into it and got married sometime in 1984.
However, it was not Ceon's first marriage as he had been married in the past. There were reports that the choice to conceal the identity of the woman in question was solely that of the woman. The Coen brothers' memoir which was published in 2006 titled 'The Coen Brothers: Interviews' spoke of Joel Coen's first marriage. The book revealed that the marriage was very brief and that it was dissolved in 1976.
Is Frances McDormand Still Married to Joel Coen?
Many marriages in Hollywood have been plagued by rumors of separation and it is not hard to see why this is so, the industry is one in which marriages are often destined to fail. However, contrary to the popular belief, Frances McDormand and Joel Coen are still married.
To the best of our knowledge, it has never been reported or rumored that the two are having problems in their marriage.
They currently live together in New York City and sometimes wander off to their lovely home in Bolinas, California to cool off. They have also attracted a lot of admiration from fans and remain one of the A-list celebrity marriages in the United States of America that have enjoyed more than three decades of marital bliss.
Working Together and Having Autonomous Careers Are Some of The Secrets to Their Enduring Union
Hollywood has always been known for its high rate of failed relationships. As such, people often admire couples in the industry who have been able to sustain their marriages for many years. As one of these couples, Frances McDormand and Joel Coen are often confronted with questions about the secrets to their happy marriage.
In one of such instance, the actress expressed that the fact they work together has been helpful. As stated earlier, Frances has featured in multiple films produced by her husband, from Blood Simple to Fargo, Raising Arizona, The Man Who Wasn't There, and more.
In an interview with NYT Magazine, the actress expressed that it has been fun having a lover she could work with, "…I can actually love and live…", she excitedly added. In another instance, the Burn After Reading actress detailed that while they work together and enjoy doing so, they both have an autonomous career that gives them a sense of personal identity. It also means they have unique experiences to share.
Buttressing on that, Joel Coen related that their relationship has also not been bedeviled by jealousy as they both understand how the industry works. For Frances, the years they have spent raising their son is as well an exciting part of their union as it deepened their commitment to each other.
The Couple Adopted Their Only Child From Paraguay In 1995
Like every other married couple Frances McDormand and Joel Coen have faced some challenges in their marriage. Prominent amongst them was their struggle with fertility. Although the actress hardly talks about this, she once shared that she had always wanted to be a mother.
According to the actress, they tried getting pregnant but "nature didn't come through" so they eventually decided to adopt a child after about eleven years into their marriage. The couple hinted at the decision in the final scene of Fargo where the husband of the character she played (Marge) says "two more months" as he rubs the stomach of his pregnant wife.
It is said that Joel wrote the lines as they were two months away from adopting their son, Pedro McDormand Coen. Reports have it that Pedro was adopted when he was six months old. He is now an adult and works as a personal fitness trainer. Like his parents, he has also embraced a career in entertainment.
Pedro debuted as an actor in 2018, playing a character named Brock in a short film titled Myles Raven. The following year, he was seen as Lorea Guard in Triple Frontier, an action-adventure film directed by J. C. Chandor. Apart from being a fitness trainer and an actor, it has been reported in some quarters that he works in PR and is as well pursuing a career in fashion.
He remains the only child of his parents as they never adopted again or had any child together. For many, it is not surprising that Frances and Ceon opted for adoption. The actress was also adopted when she was a kid by a nurse married to a Disciples of Christ pastor.
Named Cynthia Ann Smith at birth, her adoptive parents changed her name to Frances Louise McDormand. In one of her many interviews, Frances stated that every adopted person would have to deal with a feeling of abandonment at some point and that Pedro will deal with it in his own way. Nonetheless, she has relentlessly loved and protected him.
Frances' Happy Marriage and Supportive Husband Helped Her Create a Balance Between Her Career and Family Life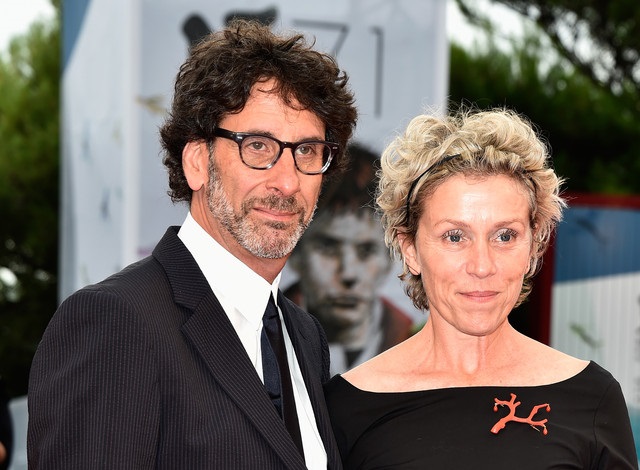 On the career front, their marriage has brought a lot of improvements in their pursuits as they have achieved more film collaborations together. It is definitely true that Coen and McDormand have developed a special kind of working relationship over the years which enables them to work well together.
It was even reported at one time that the veteran filmmaker considered his wife first whenever he drafted female roles. In addition to the foregoing, it is pretty obvious that Frances McDormand is very much in love with Joel Coen as much as he adores her. They are also very supportive of each other.
For instance, Frances initially rejected the Mildred Hayes role in the 2017 movie, Three Billboards Outside Ebbing, Missouri. Although she was "very flattered" the character was written for her, the actress was worried she was not suitable for the role but Joel encouraged her to take it. It eventually earned her a second Academy Award for Best Actress amongst other coveted awards.
McDormand would agree that the fact she has a happy marriage and a supportive husband with whom she works in the same industry has helped her in no small manner to create a balance between her career and family life.
When was Frances McDormand and Joel Coen's wedding?
Frances McDormand and Joel Coen wedded sometime in 1984. While it was Frances first marriage, it was Joel's second as he was married to a woman whose identity has remained hidden (They divorced in 1976).
Who Is Frances McDormand's husband
Frances McDormand's husband, Joel Coen, is a filmmaker known alongside his brother Ethan Cohen as the Coen brothers. The 68-year-old moviemaker was born on November 29, 1954, in St. Louis Park, Minnesota, U.S.
How Old is Frances McDormand compared to her husband, Joel Coen?
The actress/producer was born on June 23, 1957 and is currently 65 years old while her husband, Joel, is 68 years old as he was born on November 29, 1954. This makes Frances 3 years older than her husband.
Does Frances McDormand have children with her husband, Joel Coen?
Due to infertility, Frances and Joel were unable to have their own biological children. However, they are parents to a son named Pedro McDormand Coen who they adopted at the age of six months after about eleven years into their marriage.