In 2015, Frances McDormand became the 15th actress to achieve the dauntless feat of winning the Triple Crown of Acting, a term used to describe actors and actresses who have won the prestigious Primetime Emmy Award, Academy Award and Tony Award. This achievement speaks volumes of the career of the widely acclaimed actress.
It is also interesting to know that the veteran actress has been married to the popular American filmmaker Joel Coen for more than two decades now. There have been several rumors making the rounds regarding the actress's marriage to Coen. It is, however, no surprise that the rumors are spreading as the entertainment industry is one in which marriages are presumably destined to fail. Has the marriage of over two decades ended or is it still on the brink of breaking up? Let us put to bed these rumors by letting you in on the actual story.
How Did Frances McDormand And Joel Coen Meet?
The two-time recipient of the prestigious Academy Award married the love of her life, Joel Coen, in 1984. Joel Coen alongside his brother, Ethan Coen, is also an award-winning veteran filmmaker. The duo popularly known as the Coen brothers are well known for their unique blend of movie styles and genres in their filmmaking. Notable among their works include Barton Fink, Miller's Crossing, Fargo, No Country for Old Men, Inside Llewyn Davis, True Grit, and of course, The Ballad of Buster Scruggs released in 2018.
McDormand first met Joel Coen in 1983 during an audition for the film titled Blood Simple. The film upon its release in 1984 became McDormand's debut film feature and the Coen brothers' first film production. The hot romance between the two film stars was kindled by their individual love for literature. The talented actress claimed in an interview that the widely acclaimed filmmaker seduced her using literature.
They started what would later become a lifetime union when Frances McDormand decided to marry Coen. However, this was not her first marriage neither was it Ceon's first as both of them have been married in the past. Although the multiple-award-winning actress revealed in an interview that the wedding band given to her by Coen was the very same one he had given to his previous wife, the identity of the filmmaker's first wife remains largely unknown till date. There were reports that the choice to conceal the identity of the woman in question was solely that of the woman. The Coen brothers' memoir which was published in 2006 titled 'The Coen Brothers: Interviews' spoke of Joel Coen's first marriage. The book revealed that the marriage was very brief and that it was dissolved in 1976.
About eleven years into their marriage, Frances and Ceon opted for adoption and Pedro McDormand Coen was adopted in 1995 at a tender age of 6 months. Pedro who is currently 24 years old works as a personal fitness trainer. He remains the only child of his parents as they never adopted again or had any more children together.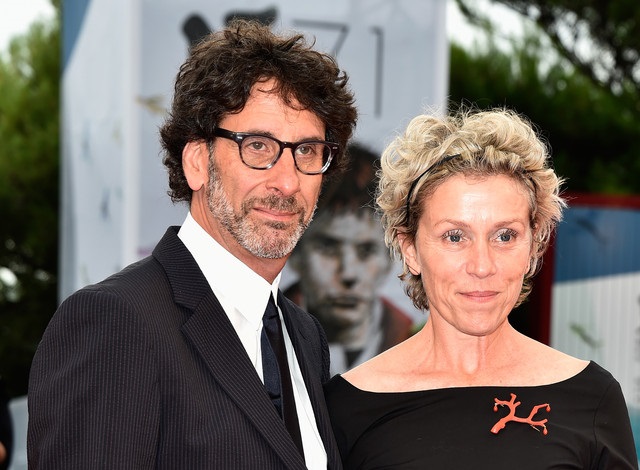 On the career front, their marriage has brought a lot of improvements in their pursuits as they have achieved more film collaborations together. It is definitely true that Coen and McDormand have developed a special kind of working relationship over the years which enables them to work well together. It was even reported at one time that the veteran filmmaker considered his wife first whenever he drafted female roles. Notable amongst the films by the Coen brothers that McDormand has featured include Raising Arizona, Hail, Caesar!, Burn After Reading and The Man Who Wasn't There.
Is She Still Married to Joel Coen?
It is not out of place for fans to think the worst for their favorite celebrity couple's marital life as many of these marriages do not stand the test of time. However, contrary to the popular belief, Frances McDormand is still very much married to Joel Coen. They currently live together in New York City and sometimes wander off to their lovely home in Bolinas, California to cool off. They have also attracted a lot of admiration from fans and they remain one of the hot budding A-list celebrity marriages in the United States of America that have enjoyed more than three decades of marital bliss.