Eriq La Salle is not married and does not have a wife. He also does not also have a partner, to the best of public knowledge. The award-winning actor has jealously guarded his love life over the years. This makes it difficult to figure out who he is dating now or who he has dated before.
One confirmed relationship that Eriq La Salle has been in was a long-term relationship with Angela Johnson, a corporate consultant. They dated for five years before getting engaged in the 90s. Sadly, they broke their engagement in 2000 and went their separate ways in pretty acrimonious circumstances. Salle has never publicly dated any other lady since then, and many claim that his past experience is a causal factor.
Eric La Salle was Previously in a Relationship with Angela Johnson, a Corporate Consultant
Eriq La Salle has never been married, but he did come close to doing so with a lady named Angela Johnson. Johnson is an American citizen of mixed ethnicity. She was born in the year 1969 and is quite well educated. She became a corporate/management consultant in her 20s and rose to the position of vice-president of a consulting firm. She also had a charitable spirit and taught Sunday school to little kids.
They Began Dating in 1994 and Got Engaged a Few Years Later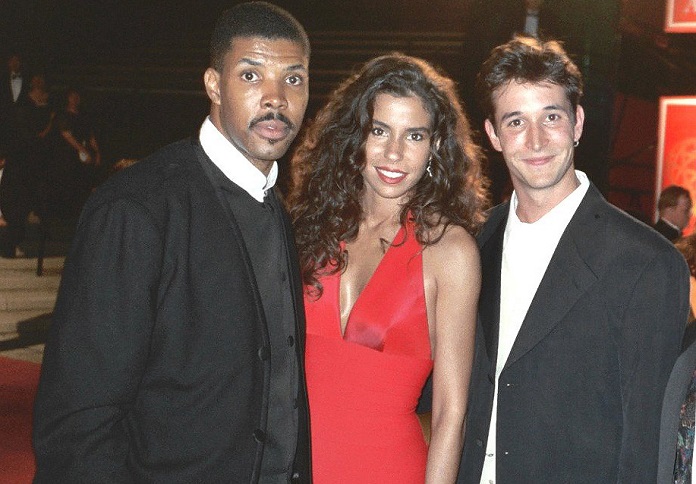 Eriq La Salle and Angela Johnson were introduced by mutual friends around 1990. It was love at first sight for the actor, and he asked Johnson out without delay. Johnson, on her own part, found La Salle quite attractive, but she was hesitant about the fact that he was an actor. She thought he lived a life that was too fast-paced for her and so turned down his overtures.
Eriq La Salle wasn't to be put off so easily. He pursued Angela Johnson for about three years and eventually wore her down. They then began dating around 1994. The couple's relationship flourished from the get-go. They supported each other's endeavors. They also lavished a lot of love on each other. Eriq La Salle and Angela Johnson also did not attempt to hide their relationship as they made joint red carpet appearances on multiple occasions.
They were pictured together at the fifth Annual Fire and Ice Ball in California in 1994. They were also pictured together at the 1995 Emmy Awards. The couple's relationship really flourished, and they later got engaged.
They Broke up in 1999 and Contested Ownership of Their House in Court
After getting engaged, Eriq la Salle and Angela Johnson started making plans on the journey on spending the rest of their life together. They purchased a vacation home together and refinanced it. They also started exploring wedding plans. The couple, unfortunately, never made it down the aisle.
Eriq La Salle and Angela Johnson broke off their engagement in late 1999. The reason is not known. It could have been infidelity on the part of either party. It could have been also due to their respective busy schedules. It may have also been that they fell out of love with each other. Whichever it was, the breakup was acrimonious as the erstwhile couple got embroiled in a court dispute over their vacation home.
La Salle sued his ex-girlfriend in court and claimed that even though the house was bought in her name, he provided the funds for the purchase. He claimed that he only put the house in Johnson's name to protect his privacy, confidentiality, safety, and security. The actor asked the court to declare that he owned the house wholly.
Johnson, on her own part, contended that she was entitled to half of the house. It seems that she got what she wanted, or at least a portion of it, as the suit was dismissed in April 2000.
Eriq La Salle Has not Been Romantically Linked With any Lady since Then
Since breaking up with Angela Johnson, Eriq La Salle has shielded his love life from public eyes. He has never publicly acknowledged dating any lady. The rumor mill has also not linked him romantically with any of his fellow Hollywood stars or the co-stars that he has worked with. A look at the actor's Instagram page also does not provide any useful clues as he has never posted a picture of himself with any special lady.
All this makes it hard to tell who Eriq La Salle is dating at the moment or has dated in the past. This, however, does not mean that the actor has suddenly become a eunuch. Common sense dictates that he may have been in one or two short-lived relationships since 2000 but chose to shield that aspect of his life from the spotlight.
The Actor's Sparse Love Life has Been Linked to his Breakup with Angela Johnson
Eriq La Salle has never been married, and that status is likely not to change anytime soon. The actor has revealed as much in past interviews, and some reports now claim that this mindset is because he still has not completely gotten over his former girlfriend, Angela Johnson.
La Salle reportedly stated that Angela means a lot to him and will always be it for him. As such, he has trouble moving on with another lady.
There are Rumors That Eriq La Salle is Gay
The fact that Eriq La Salle has apparently not been in any confirmed relationship for more than two decades has led to some rumors about his sexuality. Some have rumored that the actor is gay, but this is simply not true. If the actor were to be gay, he would have come out and said so, given that he is an individual who is vocal about issues.
For instance, back in 1999, La Salle asked that his character's interracial romance on the TV series, ER, be written out. He did this because his character's previous relationship with black women had been full of drama creating the impression that black women are not capable of having a drama-free relationship.
The Actor Lives a Fulfilled Life Despite Not Being in a Relationship
Eriq La Salle may not be in a relationship at the moment, but he is living his best life full of love. A look at the actor's Instagram page will reveal that he has a penchant for wearing T-shirts with funny captions. This always elicits many responses from his followers.
Eriq La Salle also has a great network of friends, colleagues, and pals that he hangs out with. He often wishes his former co-stars birthday wishes. He has also been spotted with fellow celebrities such as Anthony Anderson. The actor may not have romantic love in his life, but he surely has the real deal.