Eric Stonestreet is not gay. The American actor and comedian best known for playing the character of Cameron Tucker on ABC's Modern Family is currently engaged to Lindsay Schweitzer; they got engaged in 2017.
Eric and his love interest Lindsay first met in 2016 when they were both guests at a Big Slick charity event held in Kansas City. The duo hit it off immediately and started dating. Their engagement period appears to be taking so long, making fans worry that something may not be right. However, the couple came out in August 2021 to confirm that they are still engaged and looking forward to their wedding in the nearest future.
Is Eric Stonestreet Gay in Real Life?
Eric Stonestreet is not gay, as the Modern Family actor is straight. However, fans have been confused about his sexual orientation since the American actor started playing gay roles in the movies. This made viewers and fans picture him as the gay character he portrays, though, this judgment is far from valid.
Even though he has been seen dating the same sex on TV, Eric told Oprah he is heterosexual in an interview session. Moreover, he doesn't seem to be bothered about being labeled as gay. The actor lays the blame for the misconception at the doorstep of his fame.
While Eric Stonestreet has been confirmed to be straight, his Modern Family co-star, Jesse Tyler Ferguson, is actually gay. Ferguson is married to his same-sex partner, Justin Mikita, and they have been together for quite some time.
People were first curious about the chemistry Jesse and Eric displayed as a same-sex couple on set. However, this curiosity was dispelled when Jesse referred to him as a guy who would only become gay on set especially when money is involved.
Another reason fans often mistake Eric as gay is because he has some friends and acquaintances who are gay. Apart from that, Eric is also a strong supporter of the LGBTQ+ community. He even declined to take a picture with hater and protester of LGBTQ+ equality, Rick Santorum. His gender notwithstanding, Eric has no qualms about the gay community and lends them his full support.
Is Eric Stonestreet Married?
No, Eric Stonestreet isn't married and has never exchanged wedding vows with any woman in his life. However, the American actor is officially engaged. The TV star recently took to his Instagram handle to let fans know that he is engaged To Lindsay Schweitzer. The post was accompanied by some characteristically goofy shots of Eric and Lindsay showing off her beautiful ring.
Eric's Instagram post elicited a lot of congratulatory messages from fans including his Morden Family co-stars like Zachary Levi, Will Sasso, and Michael Bublé. Even renowned makeup artist Bobby Brown came in the comment section to pledge her willingness to be there on their wedding day to get both the bride and groom ready.
According to reports, the couple met back in 2016 while attending a Big Slick charity event held in Kansas City. People have since confirmed Eric and Lindsay to be a perfect match. While on Ellen DeGeneres Show in 2017, Ellen told Eric he is lucky to have found a nurse for himself since he is a hypochondriac. Even the actor acknowledged it was handy, saying he is a big baby too. A very high-strung person, Eric revealed that Lindsay calms his nerves.
Since then, Eric Stonestreet has not relented in sharing their sweet pictures and videos via his social media handles. Often, the TV star would jokingly suggest that he is the real beauty but all eyes are likely to be on Lindsay on their wedding day. Their engagement period seems to be taking too long and people started wondering. On August 2021, the couple reaffirmed they were still engaged. Eric promised to release details about their wedding in the future.
Who is Lindsay Schweitzer, Eric Stonestreet's Fiance?
Eric's fiancée Lindsay Schweitzer works and earns her living as a licensed pediatric nurse in the United States. A non-celebrity, the nurse only came to public attention thanks to her association with Eric Stonestreet. Thus, nothing is known about her early life and family background.
Lindsay Thought Eric's Proposal was a Joke
Eric Stonestreet was on the set of The Ellen DeGeneres Show during his 20th appearance on the television program when the American celebrity actor revealed how his proposal to Lindsay went. According to the Modern Family alum, his fiancée initially thought it was all a joke.
The actor said Lindsay has been pranked so many times by him and in all this, the pediatric nurse has been patient. A video clip he shared from the proposal revealed that Erick enlisted the help of Lindsay's twin sons in organizing his marriage proposal. In order to get Lindsay to do her hair and makeup, Eric told her that they had been requested to create a social media post by a production company.
While the camera was rolling Lindsay's children told her that Eric has something important to say and he went ahead to pop the big question. Even in the video clip, fans can clearly hear a flabbergasted Lindsay asking whether it is a joke.
She eventually gave him a positive answer as the romantic due embraced each other.
After the news of his engagement spread, Eric Stonestreet told People about his reasons for finally opting to get married to Lindsay. According to the American actor, they have spent several years together and he already knew it would be difficult to find a better life partner than Lindsay. Erick said after taking his sweet time, everything just makes sense and besides, it was high time.
Eric Stonestreet's Other Relationships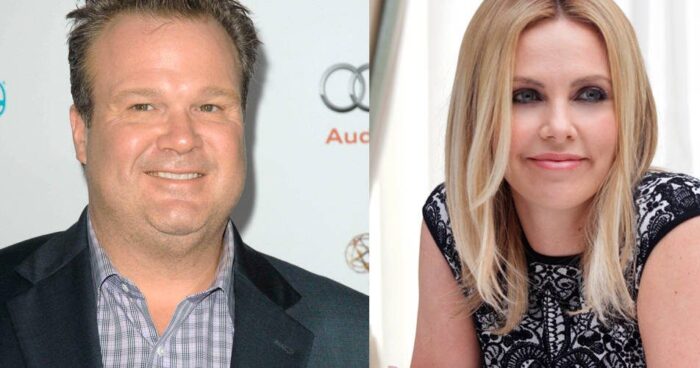 Lindsay is not the only woman that Eric has dated. The Modern Family actor was once linked to famous South African actress cum movie producer, Charlize Theron. The couple's relationship bred so much buzz while it lasted. They were severally spotted in public places but suddenly, their relationship ended.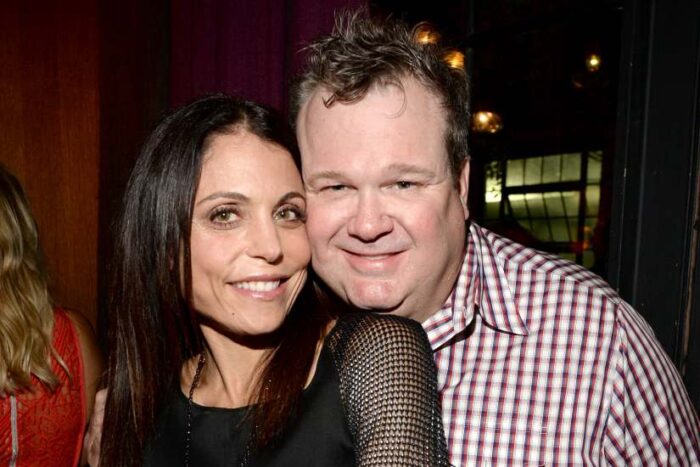 Eric did not just date Bethenny Frankel, the TV star nearly put a ring on their relationship. Stonestreet himself said he was head over heels in love with Frankel in an interview session, describing how connected both of them have become over the years. At the end of the day, the celebrity duo didn't make it to the alter; Bethenny is now the wife of Paul Bernon whom she married in 2018.