Elizabeth Olsen and the famous Olsen twins; Mary-Kate and Ashley Fuller Olsen are indeed related, she is the younger sister of Mary-Kate and Ashley Olsen, however, there is more that connects them than blood. All three ladies are household names in the highly competitive world of show biz and they have each enjoyed the spotlight of Hollywood's glitz and glamour.
Elizabeth Olsen is an American actress who began her professional acting career in 1994 when she played a small role in How The West Was Fun. She has since grown to become a household name. The actress made her film debut in 2011, playing a major role in Martha Marcy May Marlene and earning several accolades, including a Critics Choice Movie Award. However, she never gained worldwide recognition until she joined the Marvel Cinematic Universe (MCU) where she portrays the character of Wanda Maximoff / Scarlet Witch in a number of superhero films such as Avengers: Age of Ultron, Captain America: Civil War, and Avengers: Infinity War, among others.
Olsen also played the same role in the television miniseries, WandaVision. She got nominated for several awards following her outstanding performance, including her first Primetime Emmy Awards nomination. Outside of her character in the MCU franchise, Elizabeth continues to star in movies. She is also credited as an executive producer in Sorry for Your Loss, a drama series she starred in from 2018 to 2019.
But long before Elizabeth Olsen ventured into acting professionally, the Olsen twins had already made a mark in the industry as they were born into stardom, having made their screen debut as infants. However, they took a bow from the acting world in their twenties to pursue a career in fashion. Regardless of what her famous sisters achieved in the industry, Elizabeth rose to fame without really riding on their wings. She tried to make her mark on the industry all on her own even though she appeared in some of their projects.
What Is The Relationship Between Elizabeth Olsen And The Olsen Twins?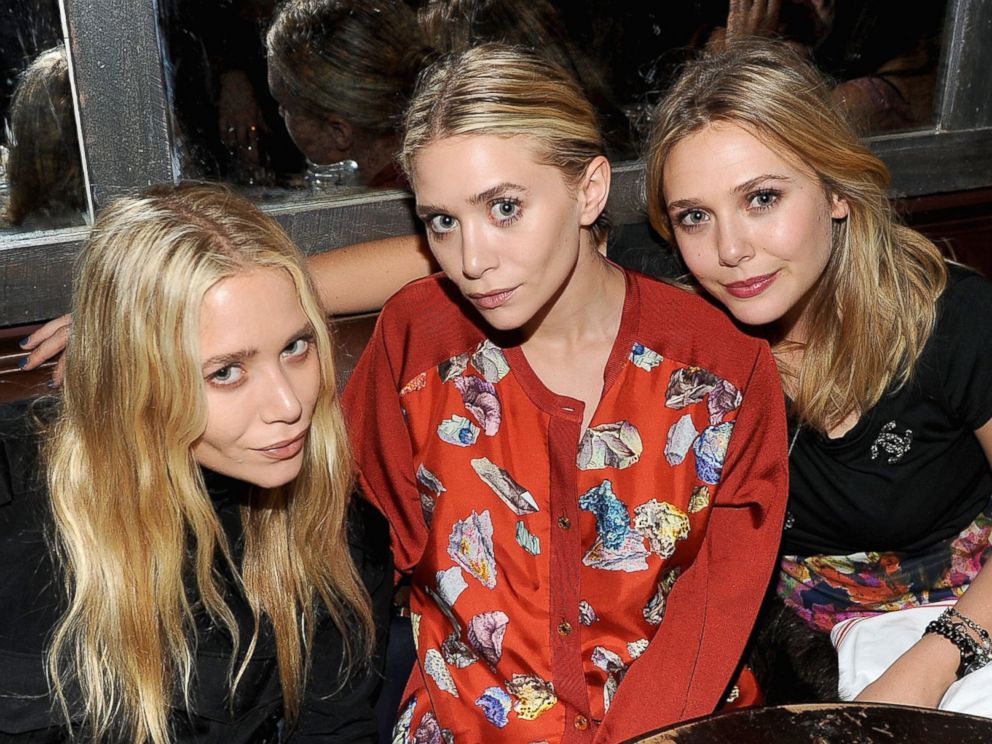 Curious about the familial relationship between the Olsen trio? Well, they are indeed blood
sisters and as such share the same parents. The Olsen sisters are the daughters of David "Dave" Brian Olsen and Jarnette "Jarnie" (née Jones). Their father, who was born on November 15, 1951, in the USA, is a real estate developer and mortgage banker, while their mother, born on February 22 1954 in Los Angeles, California, was once a ballet dancer. The couple got married sometime in the 80s but unfortunately, their marriage ended in divorce in 1995.
Born Elizabeth Chase Olsen on February 16, 1989, in Sherman Oaks, California, Elizabeth is the younger sister of the famous former television and film child actresses; Mary-Kate and Ashley Fuller. She attended Campbell Hall School in Studio City, California, and New York University's Tisch School of the Arts from where she graduated in 2013. From the time she was 13 years old, the actress has been an atheist and she believes that religion ought to be about community and having a place to go in prayer, not something that should determine the "freedoms" of women.
Mary-Kate Olsen and her twin sister, Ashley Fuller Olsen, popularly referred to as the Olsen Twins, were born on 13 June 1986 in Sherman Oaks, California. They are three years and a few months older than Elizabeth. Often described as fraternal/sororal twins, the Olsen twin sisters have grown from being very successful actresses to renowned fashion designers with an estimated net worth of $250 million dollars each.
Being among the most sought-after actresses in Hollywood, Elizabeth Olsen clinched roles in six hit films/television series within seven years and garnered a whopping $11 million fortune. But before then, she practically lived in the shadow of Mary-Kate and Ashley, who were child stars in the 90s. Describing how life was while growing up around her popular sisters, Elizabeth told The Sun during an interview in January 2021 that it was "insanity". An example of one of those insane moments was times she really freaked out when she would be in the car with her sisters and their fans would spot them.
The actress also talked about how her sisters influenced her, saying their impact on her helped her navigate how she wanted to approach her career. But initially, she said she felt a need to prove herself to everyone around that she was a hard worker. She also could not walk into any place without people having a pre-existing opinion about her. "The thing about nepotism is the fear that you don't earn or deserve the work," she added.
As a result of the "troubles" she experienced for being a sister to the famous Olsen twins, Elizabeth revealed that she nearly gave up on her dreams of becoming an actress. Not only that, but the Avengers actress also disclosed that it made her consider doing away with her family name, "Olsen," to go by Elizabeth Chase, if eventually, she became an actress. However, as soon as she started working, she realized just how much she loved her family, her name, and her sisters, and didn't see why she should be ashamed of that.
The Olsen Sisters' Entertainment Careers
Elizabeth Olsen's journey to becoming a professional actress began when she was only 4 years old with roles in her sisters' projects. Successful in her career, she has featured in both television and film and has had notable nominations and won awards. She is believed to have an estimated net worth of $11 million mostly from her acting career.
Elizabeth cemented her place in Hollywood when she played Wanda Maximoff / Scarlet Witch in the Marvel Cinematic Universe superhero films. Her debut film role was in the thriller Martha Marcy May Marlene in 2011 which garnered about 18 nominations and won 6 awards. In 2012, she was featured in Red Lights, Silent House, Peace, Love & Misunderstanding, and Liberal Arts.
Other notable appearances made by Elizabeth Olsen on TV, film, and theatre include Ingrid Goes West (2017), Kodachrome (2018), Avengers: Endgame (2019), Romeo and Juliet (2013), among others. Elizabeth has received about 36 nominations since 2011 and has won not less than 10 awards.
On the other hand, the Olsen twins began acting at the age of 6 months, playing the role of Michelle Tanner on the ABC sitcom Full House. Both sisters seem to have the Midas touch as whatever they ventured into turns out to be a huge success. They made their film debut in 1992 in the movie To Grandmother's House We Go.
The Olsens' started the Dualstar Company to take care of their productions in 1993. The California-based company produced movies, television shows, magazines, and video games for the sisters. They also had a fans club in which their fans paid subscription fees and received Mary-Kate and Ashley collectibles, shopping links, magazines, and photos
in return.
In 1995, the twins made their feature film debut in It Takes Two and appeared in an episode of All My Children in the following year. Both sisters continued to play prominent roles in films and TV shows for over two decades, meanwhile, by the time they turned 18, they were both worth an estimated £100 million.
Ashley later retired from active acting in 2004 and her sister Mary-Kate followed suit 8 years later in 2012. Subsequently, they ventured into full-time fashion designing in 2004 and have continued to blossom to date. They had a clothing line for young girls aged between toddler and early teen years in Wal-Mart stores across North America. They also had a beauty line known as "Mary-Kate and Ashley: Real fashion for real girls." Among other endeavors, the twin sisters also have fashion labels known as The Row, which deals in luxury fashion, and Elizabeth and James, which offers alternatives that are more affordable than The Row.
Do Elizabeth Olsen and The Twins Get Along?
The Olsens have a healthy sisterly relationship. The siblings keep their life as a family private and seldom make joint public appearances. However, away from the prying eyes of the paparazzi, they have a united front and support each other in their respective endeavors. Elizabeth has acknowledged receiving support and invaluable lessons from her famous sisters, which has helped her to grow in her career. She got candid about the close bond between her and her sisters during her February 2014 appearance on Watch What Happens Live.
During the program, Elizabeth was pressed to reveal her favorite twin and she said it was Ashley. Explaining why she chose Ashley, Elizabeth said it was because she remembered her birthday that year. However, she made it clear that she held no grudges against Mary-Kate for forgetting and quickly laughed off the situation. The actress went on to joke that Mary-Kate, who was on vacation in Jamaica at the time, was going to shoot her when she returns home. In a bid to save her head, Elizabeth made an excuse for her, saying that one hardly reads the dates when on a vacation.
Even though the sisters might not seem to be close in public, there are some things that prove they actually are and among them is the fact that the twins named their clothing line after Elizabeth and their brother, James. Also in 2016, Elizabeth and her sisters attended the CFDA Awards after the twins took home the awards the year before for their luxury line of clothing. All three ladies arrived together on the red carpet dressed in matching black clothes and because of the uncommon appearance, they made headlines everywhere.
Speaking of how Mary-Kate and Ashley always support her career, Elizabeth disclosed that they had given her so much advice about acting over the years and also told her the right people to work with. She said this in 2017 in the course of a press junket for her film Ingrid Goes West. Just as is the case with relationships among siblings who are not famous, the amount of time the Olsen sisters get to spend together is limited by distance. But that notwithstanding, their closeness behind the camera remains untampered with.
Meet The Other Olsen Siblings
The famous Olsen sisters have other siblings who are thriving and keeping up the burdens of coming from a famous family. These include one brother, a half-brother, and a half-sister – who are products of Elizabeth's dad's second marriage to McKenzie Olsen.
1. Trent Olsen
Date of Birth: 6th May 1984
Occupation: Ex-actor and Comic Book Writer
Born on 6th May 1984 in Sherman Oaks, California, to David Olsen and Jarnette Jones, James Trent Olsen is the elder brother of Mary-Kate, Ashley, and Elizabeth Olsen. When he was a boy, he leveraged his sisters' fame to make some money for himself by selling their autographs to other kids at school. He also made a handful of cameo appearances in some of the twins' productions such as You're Invited to Mary-Kate & Ashley's Sleepover Party and The Case of the Mystery Cruise. He has since done a good job staying away from the spotlight ever since.
Trent studied screenwriting and acting at the New York Film Academy and now works behind the scene in film productions. He is also an accomplished writer of comic books for Storm King Comics.
2. Courtney Taylor Olsen
Date of Birth: 1996
Occupation: Former Actress
Courtney Olsen was born in 1996 and is the younger half-sister of the older Olsen siblings from their father's second marriage. Like her famous half-sisters, she has tried her hands at acting but could not make a career out of it. As is recorded on her IMDB, she appeared in YOLO: The Movie and Malignant Spirits: Sense of Fiction.
3. Jake Olsen
Date of Birth: 1998
Occupation: Model
Jake Taylor Olsen is the youngest of the Olsen siblings. He has dabbled into modeling in the past but we are yet to know if he would pursue a career in that industry.
The Olsen siblings do not hide their love and support for each other on social media. Courtney once shared an image of herself admiring Elizabeth's face on a poster at a Marvel Cinematic event while Jake's favorite moments are when they have a full house with every member of his family present. The Olsens, despite being rich and famous, appear to be that one perfect family that has everything going well for them.