Chase Elliott does not have a wife and has never been married. He is single and has had two girlfriends in the past, most recently Ashley Anderson in 2021 but that relationship appears to have since come to an end.
As Chase continues to have a successful racing career, his fans and other car racing enthusiasts are becoming curious about his life outside of racing. The 2014 NASCAR Nationwide Series champion makes every effort to keep his personal life private, but the media has been relentless in its pursuit of information about him.
Is Chase Elliott Married or Single?
Chase Elliott is not married and it is not certain if he is in any relationship. Owing to the fact that he is handsome and attractive, many fans have waited for years to see who would be the lucky woman to bear the name Mrs. Elliott. However, no one has won the title yet.
This does not imply that the professional driver is not interested in women; in fact, his relationship history reveals that he is interested in very beautiful women.
Chase, who won the 2014 NASCAR Nationwide Series championship to become the first rookie to win a NASCAR national series and the series' youngest champion, has dated some of the most beautiful women. Since his professional racing career began, he has been linked to a few women but has never been married.
He came the closest to marriage when he was rumored to have proposed to Kaylie Green. Neither of them confirmed or denied the reports of their engagement and the rumors faded away. The duo has since moved on from each other and Chase appears to now be single again, as he has not been seen with a woman since May 2021.
Who Has Chase Elliott Dated Before?
Despite Chase Elliott's status and fame as a professional racer, he still manages to live a low-profile life. His personal life, including his love life, has been kept out of the public. Claims have it that the car racer has been into at least two relationships that were known to the public. He was with Kaylie Green before moving on to date Ashley Anderson.
Kaylie Green and Chase Elliott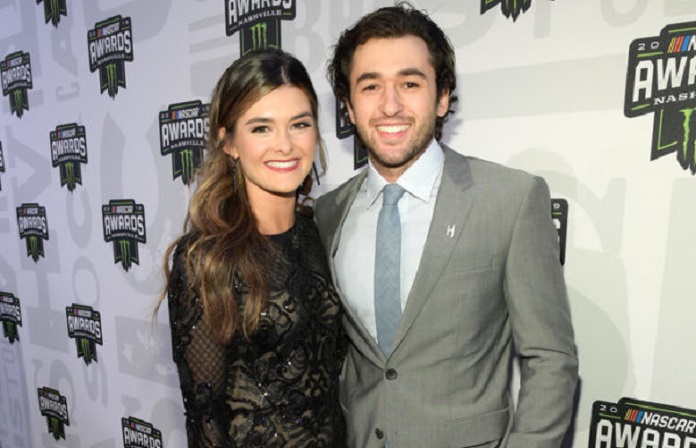 In 2017, claims had it that Chase Elliott was once in a happy relationship with Kaylie Green. She is a University of North Carolina graduate better known as the daughter of former NASCAR driver David Green.
Kaylie interned at Blue Line Technologies Inc. and Children's Healthcare of Atlanta as a marketing intern. Her job duties included managing all social media accounts, updating and editing the company website, and creating and designing handouts and flyers.
The duo was said to have met in one of the racing competitions in 2017. Their relationship was reported to have lasted for three years. The car racer and Kylie, however, have never publicly admitted or denied if they were an item or not. Despite not being confirmed, people were convinced that they were an item as they have been spotted together severally on numerous occasions.
Kylie was frequently seen in competitions cheering on the racer while they were still an item. She once took to her Twitter to cheer her boyfriend up at the Daytona 500 in February 2017. She also expressed her sadness on Twitter after her boyfriend ran out of fuel and lost out in making it to the finals. They were frequently seen flaunting each other on their social media accounts.
However, their relationship seems to have ended in 2020. The duo have not been seen together nor have they flaunted each other on their social media handles since early 2020. They appear to have severed their bond, which has piqued the interest of many of their fans. So far, neither Chase Elliott nor Kylie has confirmed or denied their alleged breakup.
Ashley Anderson and Chase Elliott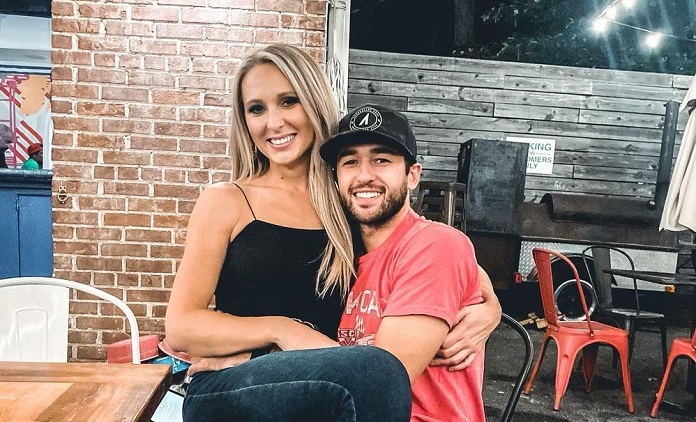 Shortly after Chase Elliott was rumored to have broken up with Kaylie Green, he was alleged to have started dating Ashley Anderson. She is a professional hairstylist and also a native of Georgia, same place as Chase Elliott.
In 2020, the car racer first flaunted Ashley on his Instagram story with a series of steamy videos. The videos showed the car racer kissing an unknown woman who later turned out to be Ashley. She was later spotted cheering on Chase Elliott at a NASCAR race in November 2020.
The rumors about her relationship with Chase Elliot intensified after the NASCAR driver uploaded some loved-up pictures with Ashley on his Instagram account. He later posted more videos of them as a couple kissing each other on his social media account.
They were spotted severally serving the couple goals and flaunting each other on their social media handles. Ashley Anderson was then rumored to not be just his girlfriend but also his wife-to-be. However, none of them has talked openly about their relationship. But we can expect that the pair is keeping it low.
In May 2021, Elliott uploaded Ashley in an Instagram post and thanked her for putting up with him in the caption with a honey pot emoji. It is unknown whether they are still together in 2022 as they were last seen together in May 2021. They have not been seen together or flaunted each other on social media since then. Since they have not made any statements about calling it quits, they could still be dating and keeping their relationship as low-key as the driver.
Does Chase Elliott Have a Girlfriend Now?
Following his last relationship, it is not certain if Chase Elliott has begun seeing anyone. Due to the fact that he maintains a low profile, he makes it difficult for anyone to determine his personal life. The racing car driver has also not publicly confirmed if he is still an item with Ashley Anderson or if he is currently single.
He has not been spotted with anyone since May 2021 nor has he been seen flaunting pictures of any lady. Chase is however living his life to the fullest as he is focused on attaining more heights in his high-profile car racing career.