Brittney Griner is not transgender and was not born a man. She is a woman whose sexual orientation is lesbian. 
Griner used to keep her sexual orientation a secret but has since 2013 openly identified as a lesbian. The announcement not only cleared the air on her gender identity but also ended arguments about whether she was transgender.
What is Brittney Griner's Gender? Is He A Man?
Brittney Griner was born a female child, making her a woman. Speculations about her gender came up as a result of her physique and voice. On February 11, 2013, she came out with her sexuality and admitted she was lesbian for the first time during an interview with SI.com.
The Basketball Player was Born in Houston
Brittney Yevette Griner was born on October 18, 1990, in the city of Houston, Texas. She is currently 33 years old. Despite being of black origin, she is an American citizen by virtue of birth. She is the youngest of the four children born by Raymond Griner and Sandra Griner.
Her father was a Marine soldier who served in Vietnam from 1968 to 1969 and later became a sheriff in Harris County, Texas. On the other hand, the career path that her mother followed is unknown. She has three older siblings and they are Shkera, Pier, and Decarlo.
Details of what her siblings do for a living are unknown, but they are always spotted cheering her up at most of her games. Brittney had a typical childhood because she grew up in a secure environment with her parents and siblings. She had countless unforgettable moments with her family, including the days she enjoyed sewing with her mother.
What was Brittney Griner as a Kid?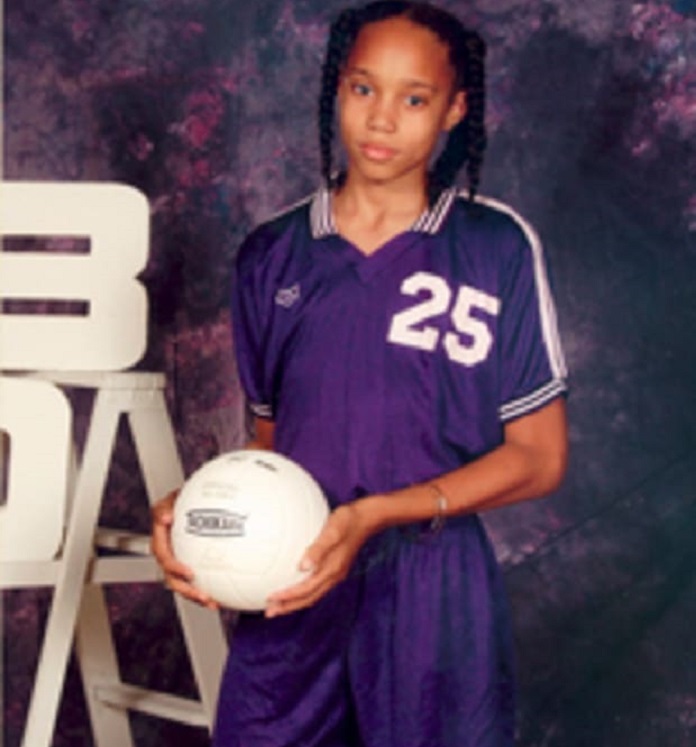 Brittany Griner's sexuality was not in question when she was a child. She was like every other girl her age before she entered middle school. It was during middle school that her body began to change, as she grew tall and developed a deep voice.
She was clearly head and shoulders above her classmates at the time. Her physique and distinctive manly voice made her the target of school teasing. Some kids said that she must be a boy and not really a girl. Her distinctive features made many call her a freak, which turned out to be her worst nightmare as she wanted everyone to see her like every other girl.
At a point, some wanted her to show them proof that she was a girl. Despite all the hate she received, she was still able to pull through because of the support she got from her mother, family, and some friends.
During her early teenage years in high school, she came out to her mother about her sexuality. Though she was a daddy's girl, she could not really bring herself to approach her father, so she kept her sexuality a secret from him until she got to her senior year.
Unfortunately, when he found out about her sexuality, he threw her out, which made her settle with her assistant coach for roughly six weeks. However, speaking of the incident, Brittney revealed that it made her a tough and determined person. She further revealed that it gave her a hard exterior shell and prepared her for life. After some time, she reconciled with her father.
Is Brittney Griner Trans?
Brittney Griner is not trans, nor was she born a man. Speculations have it that she is transgender due to several anomalies in her behavior, such as her manly voice and physique. The subject of her sexual identity left many people baffled and confused while trying to decipher it. However, in 2013, the basketball player put it all to rest.
Griner's imposing body form can be more easily likened to that of male basketball players than that of female basketball players. While female basketball players standing 6 feet tall are not common, Brittney's height of 6 feet 9 inches places her among the tallest female basketball players in America.
On the international scene, there are only three female players who surpass her in height, and they are the late Margo Dydek – 7 feet 2 inches, Bernadett Határ – 6 feet 10.5 inches, and Han Xu – 6 feet 10 inches.
With her height, she also dwarfs a decent number of male players. In addition to her outrageous height, the Women's National Basketball Association (WNBA) player also has an 88-inch wingspan, a figure that is not usually seen among females generally. In addition, she also wears men's shoe size 17.
A Look Into Brittney Griner's Relationships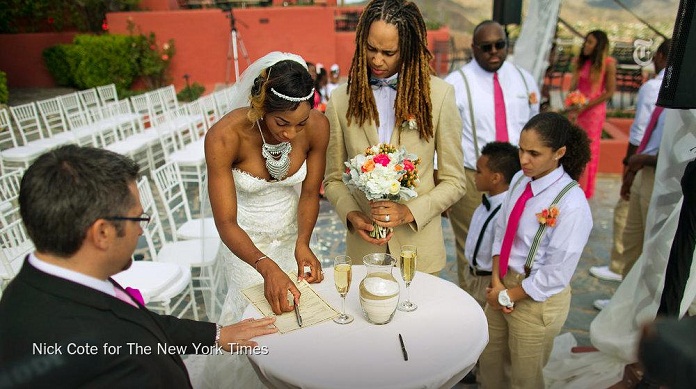 For someone whose sexuality has been much in the public eye, Brittney Griner's relationship isn't left out. She hasn't found it all rosy in relationships, as she has once met with a failed marriage. Here is all that is to be known about her relationship:
Brittney Griner's First Marriage to Glory Johnson Ended in a Divorce
Brittney Griner got engaged to Glory Johnson, a co-WNBA player, on August 14, 2014. Given that they are both NBA players, it is reasonable to presume that they met in the basketball arena since there is no information on that. Griner confirmed her engagement to Glory on August 14, 2014.
Unexpectedly, eight months after the disclosure, on April 22, 2015, both of them were involved in a physical altercation in their Phoenix suburb home. They were arrested and charged with assault and disorderly behavior by the police. Despite the event, the pair married within a space of a few weeks, on May 8, 2015, in Phoenix.
Glory became pregnant with twins, and the two took to their Instagram to announce the pregnancy on June 4, 2015. Surprisingly, Griner petitioned for a divorce the next day, claiming fraud. In June 2016, their divorce was finalized, after which Brittney was ordered to pay child support for their twin daughters.
The Basketball Player Got Hitched For The Second Time to Cherelle Griner 
Brittney Griner met her current wife, Cherelle Griner, while they were both students at Baylor University, Texas. The duo didn't kick off a relationship then as they were focused on their studies, and the basketball player was building on her profile. Shortly after her marriage to Glory Johnson ended, they reconnected.
They dated for some time before Griner proposed to her in August 2018. Barely a year later, in June 2019, they tied the knot. The marriage is seen as a dream come true for both, as they support and constantly gush over each other on their social media handles.
Cherelle is also seen showing her support and trying all her possible best to help Brittney out of her ordeal in Russia, as she is currently detained for the possession of hash oil.