Peyton Manning has been happily married to his wife, Ashley Manning nee Thompson, since the early 2000s. They welcomed a set of twins, son Marshall Williams Manning and daughter Mosley Thompson Manning around a decade after getting married.
The retired NFL star who has been married for over two decades now does not make a habit of talking about his private life, and family by extension. However, on the few occasions that he has, he has spoken about how vital they have been to his success as a professional football player and the impact they have made on his life in general. Here is what we know about his wife and children.
Peyton Manning is Married to Ashley Thompson, a Businesswoman, and Philanthropist 
Other than being a loving and supportive wife to Peyton Manning, Ashley Thompson is a smart businesswoman and philanthropist. Born to Bill and Marsha Thompson on December 2, 1974, in Memphis, Tennessee, United States, Ashley grew up with three siblings, Allison, Will, and Leigh.
Growing up with her banker and realtor dad, her homemaker mom, and siblings in her hometown of Memphis, Tennessee, ranks amongst the positives the celebrity wife has experienced in more than her four decades of existence. Not much is known about her early formal education endeavors, but it has been confirmed that she graduated from the University of Virginia in 1997.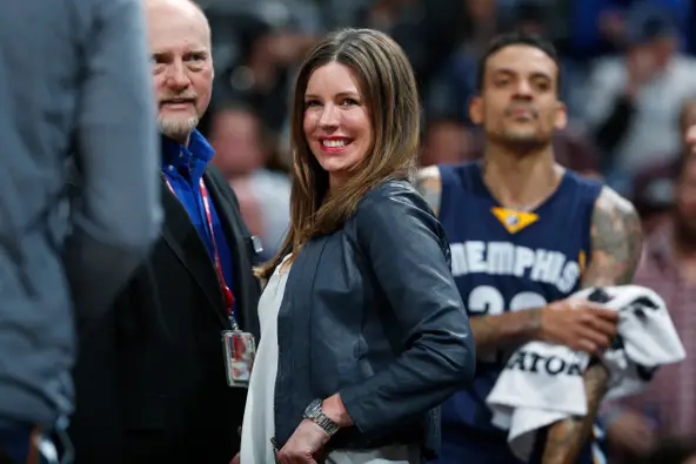 Ashley Thompson's business endeavors include being a minority owner of the Memphis Grizzlies, her hometown's NBA team after applying in 2012. It is a business venture she embarked on independently but with the full support and blessing of her husband and family.
Peyton Manning's wife has also been a strong advocate of giving back to her community, and she has partnered with him on various philanthropic endeavors including the PeyBack Foundation, a program that has provided leadership and growth opportunities for at-risk children since they founded it in 1999. They have also partnered on projects that benefit the Peyton Manning Children's Hospital at St. Vincent.
Peyton Manning Met His Wife In 1994
According to various sources including the former Denver Broncos quarterback, he and his wife met for the first time in August 1994, a few months before commencing his first year at the University of Tennessee. Ashley, two years older than the man she would later marry, was already a student at the University of Virginia.
They were introduced to each other at a fraternity party by Ashley's parents' next-door neighbor. However, they only spoke to each other for a little while as Peyton did not make a good first impression with his pastel shirt, a fact he found out about years later. On his end, he was quite impressed by Ashley as she appeared to like him for who he was and not what he was then, a highly-rated college football prospect.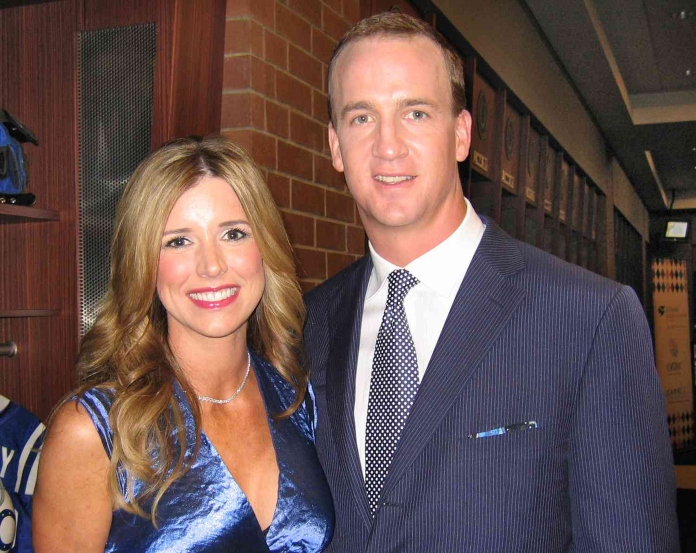 They began dating soon afterward but still had to contend with the easily surmountable challenge of her being a couple of years older, and the not-so-easily surmountable challenge of going to school on opposite sides of the country, him remaining in Tennessee, and her moving to Virginia.
Thankfully they made it work, and after both graduated in 1997, they reunited in Tennessee before moving to Indiana together after Peyton was drafted by the Indiana Colts in the 1998 NFL draft.
Peyton And Ashley Manning Exchanged Marital Vows On St. Patrick's Day 2001
As previously stated, Peyton likes to keep his personal affair from the eye of the public, and he demonstrated that by keeping the details of his engagement and subsequent wedding from the public, and the media.
The wedding nonetheless, took place on March 17, 2001, St. Patrick's Day, and despite the now-retired quarterback's attempts not to make a big deal out of it, he still managed to attract over 600 guests excluding the couple's relatives. Peyton and Ashley Manning have been married to each other now for over two decades, and their union has only gotten better with time.
Peyton Manning Has Two Children With His Wife Ashley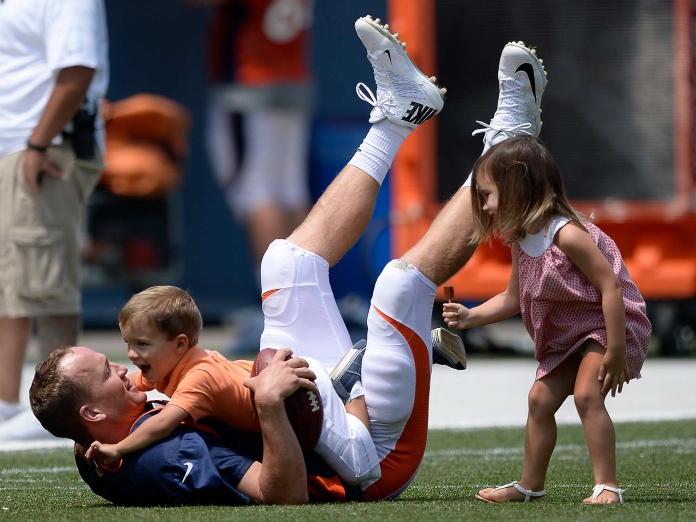 While reiterating that Peyton Manning has been a married man for over 20 years now, it must be stated that the first 10 years of that union passed with just him and his wife as the only members of the Peyton Manning family. However, they went from two to four in 2011 after the arrival of the 2x Super Bowl champion's fraternal twins.
Marshall Williams Manning and his sister, Mosley Thompson Manning, Peyton Manning's twin children, were born on March 31, 2011. The Mannings currently live in Denver, Colorado, and the former NFL star has never made a secret about how much he loves spending time with his wife and children.
Although they predominantly live their lives away from the spotlight, Peyton's twins were featured a few times in the spotlight during their father's playing days. His retirement from the game has effectively reduced the amount of face time they get with the media but we still know a few things about them.
Marshall Williams Manning is Likely the Older of the Manning Twins
Date of birth: March 31, 2011
Age: 12 years old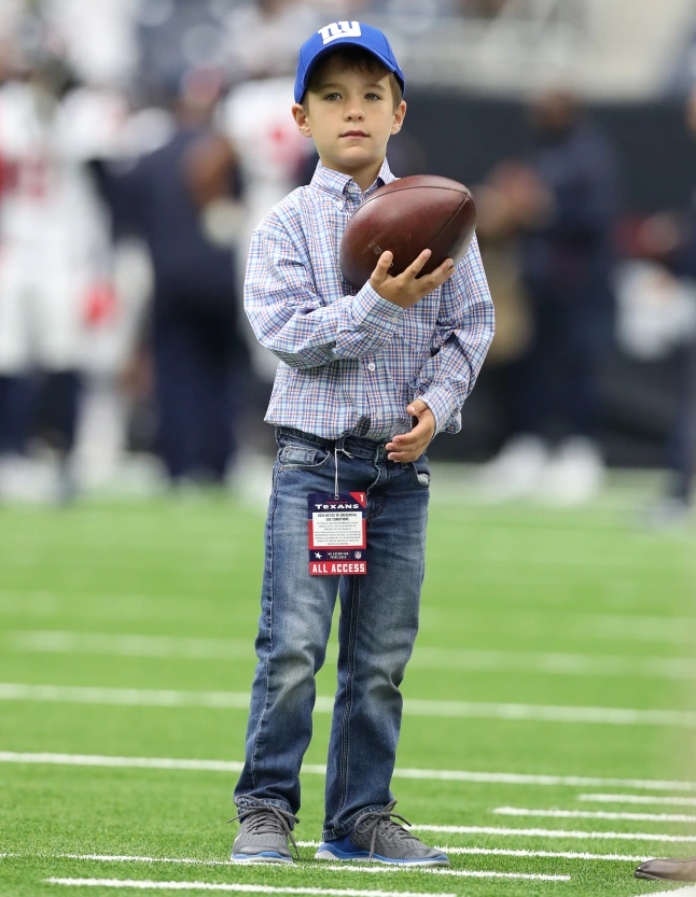 While it has not been expressly stated, it would appear that Peyton Manning's son, Marshall Williams Manning is the oldest of the twin children he had with his wife on March 31, 2011. However, to authenticate this assumption, one would have to get a hold of the kids' birth records, which is an almost impossible task given Peyton's reluctance to expose the celebrity kid and his sister to public and media scrutiny.
Although he now lives in Denver with his parents and only sibling, Marshall Williams was born in Indianapolis during his dad's last year with the Indiana Colts, the NFL franchise he represented for around 13 years from 1998 to 2011. According to People, he was born just 10 days after his cousin Ava, the first child of his dad's younger brother Eli with his wife Abby.
Marshall is 12 years old now, and while details of his formal educational background remain obscured from the public and the media at the moment, one would find it difficult to argue against the fact that he is in the process of acquiring a quality formal education.
Peyton Manning is Not His Son's Favorite NFL Player
Growing up, a then-4-year-old Marshall rocked his dad's no 18 jerseys to celebrate his achievement of winning the 2016 AFC championship with the Denver Broncos. At the time, it was a clear indication that his dad was his favorite NFL player.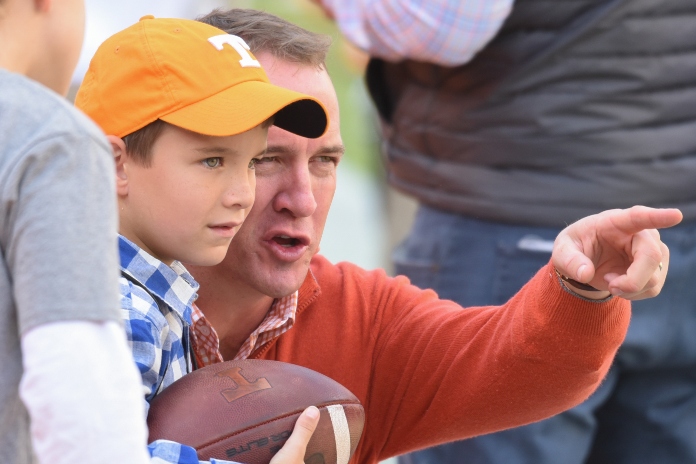 His taste has since changed as he is now a big fan of Kansas City Chiefs' Super Bowl-winning quarterback Patrick Mahomes. Marshall even considers Mahomes an idol, a decision that stung Peyton but which he admits he has had to live with because Marshall is his son.
Nevertheless, the relationship between father and son has not been affected by the latter's choice of idols. Following Peyton's retirement from professional American football, he and Marshall have strengthened their bond with fantasy football. They also enjoy father-son trips together such as the Giants-Eagles game they attended on January 21, 2023.
Mosley Thompson Manning is Payton Manning's Other Twin Child
Date of birth: March 31, 2011
Age: 12 years old
Mosley Thompson Manning shares a birthday with her brother Marshall because she is his fraternal twin. The trajectory of her life has virtually followed the same path as her brother's in several ways.
She also has a special relationship with her father which he referenced in his retirement speech after hanging up his cleats in 2016. He talked about how she had asked him if that was his last game a week before the game, and after he had replied in the affirmative, she expressed her desire to see him win the trophy (Super Bowl 50).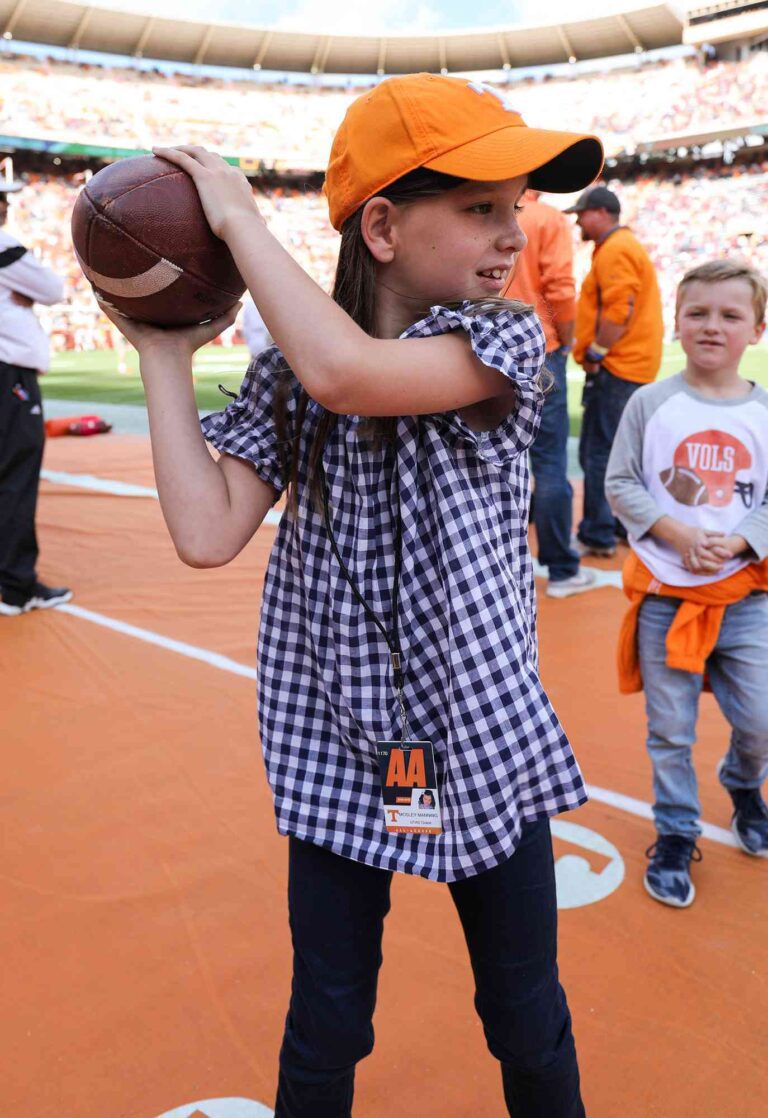 We all know how that went as the former NFL star probably won the championship for his little girl. The father-daughter relationship between Mosley and her dad was further put on display in 2015 as the celebrity child got to be her father's date to the ESPY Awards where she posed with him as he picked up the award for Best Record-Breaking Performance.
Mosley is undoubtedly a football fan for obvious reasons, but her interest in sport goes beyond the game her father became a legend at as she is also interested in softball, volleyball, and tennis.
Since retiring from the NFL, Peyton Manning's new favorite thing to do has primarily included being a hands-on father to his children and engaging in activities that include taking them to and from school regularly, and coaching their sports teams.