Jessica Gadsden is the wife of Charlamagne Tha God, the American radio host and television personality. The got married in 2014 and have remained together to date. Jessica is an American fitness coach, personal trainer, and gym instructor. 
Charlamagne Tha God has been a pop culture figure for years and the fame he has acquired thereof has rubbed off on his wife, Jessica Gadsden. The man known for airing his opinions no matter how unpopular they seem is mostly known as an American radio presenter. Beyond that, he is also an actor, author, and television personality.
Charlamagne is one of the hosts of the syndicated radio show, The Breakfast Club, for which he was inducted to the Radio Hall of Fame in 2020 alongside DJ Envy and Angela Yee. In all, his career exploits have earned him a lot of fans and critics who are curious about his family life and his relationship with Jessica.
Jessica Gadsden and Charlamagne Tha God Were Both Teenagers When They Started Dating
Jessica and her husband have known each other for a long time; since they were in their teenage years. Details of how they met might be sketchy but reports from several quarters claim they were high school sweethearts and that Charlemagne Tha God was 16 years old when they began dating.
The radio personality was born on the 29th of June 1978 while Gadsden was born on the 29th of November 1981. Based on that, one can conclude that Charlemagne's wife was only 13 years old when she began dating her husband.
Even though it is widely reported that they dated on and off, Jessica and her husband have always been a part of each other's lives since they met and started dating. In his 2017 book titled Black Privilege: Opportunity Comes to Those Who Create It, the radio host divulged that Jessica stood by him against all odds and was very supportive of his dream of having a career in radio.
The Couple Got Married In 2014 When They Were In Their 30s
Based on the foregoing, one can deduce that Jessica Gadsden and Charlamagne Tha God began dating sometime in 1994. It took them roughly twenty years of being in a relationship before they got married. The couple has been relentless about keeping their private life private. But it is known that they got married in September 2014 and were already living together before this happened.
Confirming that they are married, Tha God related in his The Brilliant Idiots podcast that he and Jessica practically grew up together. Because of that, they didn't see the need to have a prenuptial agreement before they got married.
Jessica and Charlamagne Tha God Have Three Daughters, One of Whom Was Born Before They Got Married 
Because of how secretive Jessica Gadsden and Charlamagne Tha God have been with their private life, it is hard to tell anything about their kids. Nonetheless, we can confirm that they have a total of three daughters. The two are very protective of their kids and have completely refrained from sharing anything about them on social media.
What the kids look like and even their names are not known to the public. In one of his many interviews, the radio host disclosed that he and Jessica are that protective of their girls because of the rampant, sexual objectification of women.
In another instance, Tha God vowed to never raise his kids on social media or share anything about his family on Facebook, Twitter, or Instagram. All that is known is that their daughters have righteous names with powerful meanings. His first daughter's name is Muslim, the second Greek, and the third African.
While Jessica and her husband have kept their kids away from the limelight, we can tell they had their first daughter before they got married. It was the child that inspired the two to get married as she was asking why her parents had different surnames.
The Couple Cheated On Each Other Before They Got Married
To the best of our knowledge, the couple has been happy in their marriage and enjoys every bit of their family life with their three daughters. But their relationship has not been rosy all the way. The radio host once disclosed that both he and Jessica cheated on each other before they got married.
According to him, they have been totally committed to each other and building a family together since they got married. How they got past the infidelity is best known to them but one can assume they dealt with it as part of their evolution towards becoming a better couple.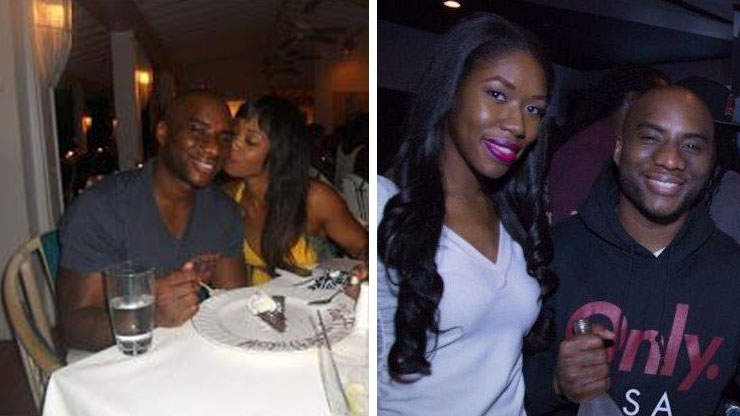 Charlamagne Tha God's Wife Is a Fitness Coach and Personal Trainer
Charlamagne Tha God was born to a Muslim father who was once a Jehova's Witness and a mother who was an English teacher. He had a rough childhood and several run-ins with the law, one of which saw him spend over 40 days behind bars. It was after this that he decided to turn his life around and began attending night school.
He would later graduate from Berkeley High School and thereafter, began pursuing a career in radio broadcasting. All of such background details are yet to be learned about his wife Jessica Gadsden.
While information about the family she hails from and the kind of upbringing she had are hard to come by, it is no secret that Charlamagne Tha God's wife is like him, an African-American raised in Charleston, South Carolina.
From what we gathered, Jessica Gadsden is college-educated. It is said that she was a student of the University of South Carolina. From the public research university in Columbia, she obtained a degree in Journalism and Mass Communication.
If the public is certain of anything about Jessica, it's the fact that she values education a great deal. In addition to the Bachelor's degree she obtained from South Carolina, she has a B.Sc. in Biology which was reportedly acquired from a public community college in Bergen, New Jersey – Bergen Community College. That's not all; she also has a Master of Business Administration degree which was obtained from Webster University.
Jessica Gadsden has channeled her robust academic pursuits towards being a personal trainer and fitness coach. Skilled in gymnastics, bodybuilding, and fitness, she now runs her own business in the field. Before this, she worked for popular establishments like Core Fire Pilates, New York Blood Service, and East Shore Athletic Club.