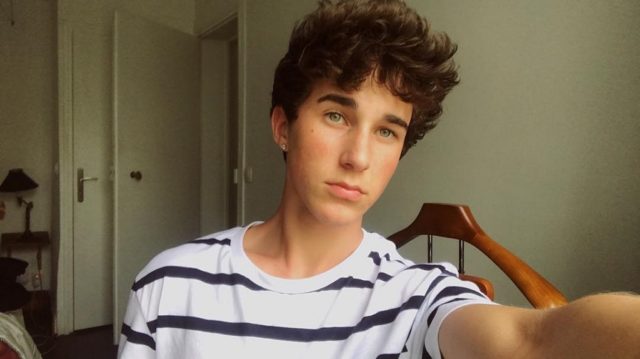 Although Hunter Rowland would readily agree that he's a full package entertainer, he is persistently striving to keep growing as a professional performer and, his goal is a clear-cut one. He is working towards establishing himself as a first-rate social media persona so that he can make people happy.
Hunter hasn't deluded himself into believing that his mission is an easy one. He has taken cognizance of the fact that the world of entertainment is flooded with a variety of talents. However, he believes he has an edge over his many rivals – the cyber star regards himself as a social media talent with the qualities and charisma of not just musicians and actors but as well, comedians, models, dancers, poets and even magicians.
Hunter Rowland Bio
Born in Florida as Hunter Bryce Rowland on the 5th day of April 2001, the little shy and insecure lad who would grow to become a social media celebrity was brought up alongside his four siblings in Arizona by a single mother who combined a career as a professional model with being a businesswoman in order to care for her kids.
Growing up, Hunter developed a passion for singing and entertainment which he has largely sustained. While we are yet to get the details of his education, it is said that the internet personality was an active member of a wrestling team in his school.
Hunter started gaining attention when he started broadcasting on YouNow. As his fan base grew on the live broadcasting platform which allows users to stream and interact with video streams in real time, he moved to the more popular platform, YouTube. Today, Mr. Hunter can brag about having a huge following on several social media platforms. Not counting YouNow and YouTube, you will find him active on Vine, Musical.ly, Instagram, and Twitter.
His Family Life
Among the vast majority of online celebrities out there, Hunter Rowland stands out for his love for family and his unrelenting efforts to promote the staying together of a family and being one's brother's keeper. In the midst of all the things the enthusiastic YouNow broadcaster has made his priority, engendering a willingness among people to accept responsibility for the welfare of their fellows tops the list. 
 It is pretty obvious that the notion of having a family that looks after its members is super-important to Hunter. Apart from the real members of his family which include his mom, Christine Rowland, and his four siblings – Tyler, Alexa, Brandon, and Ashton, Hunter regards his fans as his family and would often say – "You guys are honestly my everything." 
You must have noticed that nothing was said about the cyber star's father; practically nothing is known about the man. This is so because he left his family when Hunter was still a kid. Beyond Hunter's mission to spread a message that revolves around family matters and the need to care for one another, he makes out time to spend amazing time with members of his family.
Apart from the Rowland Tour which he started with his younger brothers, Ashton and Brandon, Hunter has made it a thing of duty to include his family on his YouNow broadcasts. From the said broadcasts, we have come to learn that his mom is an entrepreneur and a professional model. Disregarding that, we have also deduced that the internet personality is almost always hiking, playing basketball or swimming with his brothers. On several occasions, the brothers would get themselves roused from sleep early so that they can journey to a local geographical region where they would hike and spend time together.
Alexa is Hunter's only sister. She shares the same surname with Tyler, they are the cyber star's half-siblings; their surname is Gebhardt.
See Also: Is Twaimz Gay? What Happened To Him? How Old is He? Here are The Facts
Facts – Things To Know About Hunter Rowland
1. He is all about inspiring people to be true to themselves, help each other and make their families a priority.
2. His campaign for people to be true to themselves and appreciate who they are was inspired by the fact of him once being insecure about the defining traits and features of his body. His physical appearance encouraged his mates to bully him in his childhood days.
3. Hunter Rowland created his YouTube page on March 27, 2015. He started his YouNow account the previous year (2015) in late March.
4. The online celebrity is 7 inches taller than 5 feet.
5. Hunter regards himself as an entertainer with a variety of talent, he enjoys singing and dancing.
6. The internet star attended VidCon 2015 in Anaheim, he also attended the 2016 VidCon gathering.