Hugh Hefner was an American businessman, an adult magazine publisher, political, social rights activist and philanthropist. Here is everything you need to know about the playboy magazine multi-millionaire who was famous for his Casanova lifestyle.
Hugh Hefner Dead
Hefner passed away on Wednesday, 27th September 2017, leaving behind a huge legacy, from his company to his infamous Playboy mansion and of course lots of women. Confirming the news of his passing to the media was his company Playboy in a statement that read;
"Hugh M. Hefner, the American icon who in 1953 introduced the world to Playboy magazine and built the company into one of the most recognisable American global brands in history, peacefully passed away today from natural causes at his home, The Playboy Mansion, surrounded by loved ones. He was 91 years old."
After the news of his dead, the many women whom Hefner had helped launch their careers took to social media to dedicate their tributes.
According to Playboy, Hefner is survived by 31-year-old wife, Crystal, and four grown children. The New York Times reported that he would be buried in Westwood Memorial Park in Los Angeles.
Hugh Marston Hefner was born on April 9, 1926 in Chicago, Illinois to parents who were conservative Protestants from Nebraska. A World War II veteran, he served as a writer for a military newspaper in the U.S. Army from 1944 to 1946. Hefner graduated from the University of Illinois in 1949 with degrees in psychology and creative writing.
He then attended Northwestern University where he took graduate courses in sociology but never graduated. Hefner worked as a copywriter for Esquire until January 1952 when he left after his request for a $5 raise was ignored.
Read Also: Amanda Plummer Bio, Married, Partner, Kids, Body Measurements
Hugh Hefner Net Worth
After leaving Esquire, Hefner founded the Playboy magazine with $10,000 from different sources, including $600 of his own money and $1,000 loan from his religious mom.
Hefner said of his mom, that she did no support him" because she believed in the venture, but because she believed in her son."
Almost instantly, the business became a huge success. The first issue of the Playboy magazine released in December 1953 featured a nude picture of Marilyn Monroe (which Hef paid $200 for) and sold over 50,000 copies.
Playboy rapidly grew in popularity and became famed for its trademark bunny girls. In a short time, it grew into Playboy Enterprise including television, film, resorts, nightclubs, products, charities and websites. The magazine, in addition to featuring nude pics also featured short stories by notable novelists and interviews of public figures.
Playboy magazine went public in 1971 and a year later, had sold over 7 million copies. It was no doubt the peak of Hefner's fortune as he was reportedly worth about $200 million. Reports also say he was making about $12 million annually at the time.
It was during this time that Hef paid $1.1 million for the Playboy Mansion which would become infamous for its wild parties featuring nude girls clad in nothing but body paint. The mansion was graced by celebrities like John Lennon, Leonardo DiCaprio, and Cindy Crawford.
The playboy mansion was sold in August 2016 for $100 million to 33-year-old Daren Metroupoulos, the son of billionaire investor C. Dean Metropoulos. However, the purchase had a condition that Metroupoulos won't be able to move into the 21,987-square-foot Playboy mansion until Hef who lived in it passed away.
The mansion which was designed 1927 by Arthur R. Kelly sits on about 5 acres and includes 12 bedrooms, 21 bathrooms, a theater, gym, and tennis court.
Read Also: Linda Hogan Bio, Net Worth, Hot Pics, Dating, Boyfriend, Wiki
Hefner's wealth suffered a blow in the 1980s as the internet became awash with free porn. A couple of his clubs including one in the UK was shut down as a result of irregularities.
He suffered yet another blow, this time to his health when he suffered a stroke in 1985. As a result, Hef handed over the running of his company to his daughter, Christie.
Then came the new millennium and Hufner's wealth declined yet again when Playboy's stock price fell by about 80%. This forced Hefner to privatize the company. In recent years, the company makes more than half of its revenue from its licensing arm rather than its media arm.
In 2009 when he filed for divorce from Kimberley Conrad, Hefner revealed his wealth to be $43 million. At the time of his death, Hef owned about 35% of the Playboy brand and had a 100 percent ownership of the magazine. In recent years, Hefner's net worth was estimated to be $50 million but that didn't include the $100 million sale of the playboy mansion.
Hugh Hefner Partners/Wife
A revered Casanova, Hefner, throughout his lifetime bedded more women than he can remember. When asked by Esquire how many women he'd slept with, he said;
"How could I possibly know? Over a thousand, I'm sure."
"There were chunks of my life when I was married, and when I was married I never cheated. But I made up for it when I wasn't married. You have to keep your hand in," he added.
Hefner married his first wife Millie Williams in 1949 and divorced a few years after he became wealthy in 1959.
Mildred Williams and Hugh Hefner married in 1949 pic.twitter.com/aYLAgSIhXH

— GirlsFromPlayboy (@ClassyLadys_) December 29, 2013
During an episode of E! True Hollywood story, Hefner revealed shocking details about his first marriage to Millie Williams. He said that Williams confessed her infidelity to her before they got married. She had cheated on him while he was away in the army. Hef called the moment "the most devastating moment of my life." As a result, she allowed him sleep with other women while they were married.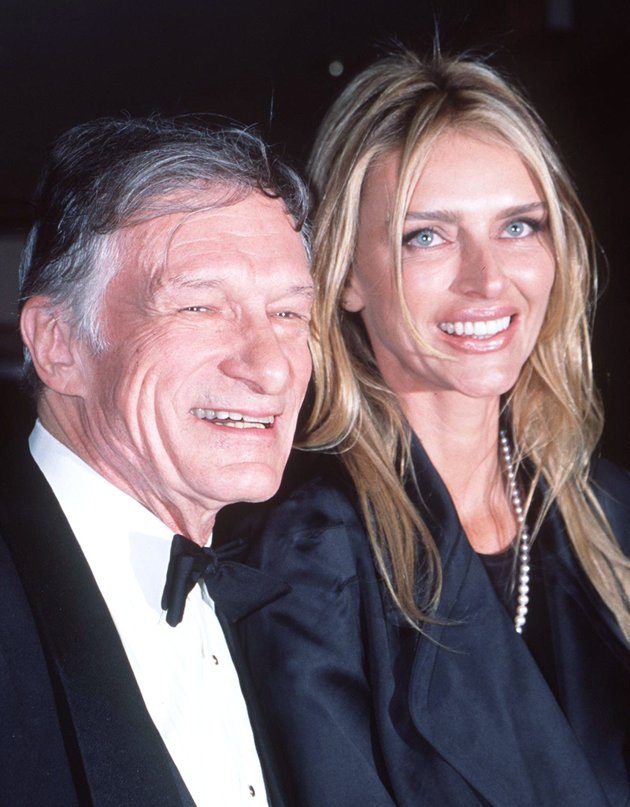 After their divorce, Hef's next marriage came 30 years later. He married his former playmate Kimberley Conrad in 1989 and divorced in 2010.
Read Also: Suzy Kolber Married, Husband, Salary, Net Worth, Body Measurements
His third marriage and perhaps the most talked-about was to yet another of his former playmates, Crystal Harris. Hef was 86 at the time and Crystal was 26.
Speaking of his marriage to Crystal, Hef said;
'All our friends think it's made in heaven. "It's only people who don't know us, who simply see us as stereotypes in terms of age and beauty."
He added;
"I just feel very, very fortunate to have found her at this stage in my life. I saved the best till last. I want the rest of my life to be very much like it is now. I want it to be like this."
When Crystal was asked why she chose to marry an aged Hef, she said;
"Well for me it meant more security, knowing that I am the one for him. Like we were talking about, there are always girls in and out and always the feeling of maybe being replaced… And he made sure I didn't feel that way anymore and that was what the wedding was all about."
Hef remained married to Crystal until his death. Crystal lives with Lyme disease. She revealed this to her fans via Instagram in 2016 saying; "I was diagnosed a few days ago and have a long road ahead of me. Supposedly you get it from ticks but I have absolutely no recollection of being bit or having a rash or ANYTHING."
She later explained to her fans on Facebook that her condition was discovered to be caused by her breast implants.
Hugh Hefner Girlfriends
When it comes to the topic of Hef's girlfriends, he had them many. As televised on his E! show Girls of The Playboy Mansion, Hef dated about three women at a time.
The women Hef was romantically included; Kendra Wilkinson, Holly Madison, Donna Michelle, The Shannon Twins, Bridget Marquardt, Marilyn Cole, Joni Mattis, Dasha Astafieva, Brande Roderick, Heather Kozar, Caroline Imhof, Marina Baker, Jenna Bentley, Sandee Westgate, Izabella St. James, Lillian Muller
Patti McGuire, Dalene Kurtis, Cathi O'Malley, Christi Shake, Charis Boyle, Zoe Paul, Janine Habeck.Shannon Tweed, Barbi Benton, Karen Christy, Daina House, Sondra Theodore, Jessica Hahn, Sandy Bentley, Buffy Tyler, Katie Lohmann
Lana Kinnear, Stacy Burke, Amanda Bentley, Teri Harrison
Cristal Camden, Tiffany Holiday, Tina Marie Jordan, Regina Lauren
Kimberley Stanfield, Stephanie Heinrich, Sondra Theodore, Suze Randall, Sheila Levell, Terri Welles, Melissa Dawn Taylor, Candy Loving, Carrie Leigh, Anna Sophia Berglund, Gale Olson.
Hugh Hefner Children
Surprisingly, Hefner fathered just 4 children, all of which were born in wedlock. His first marriage to Millie Williams produced one daughter named Christie and a son named David.
Christie was born on November 8, 1952. She was the Chairman and Chief Executive Officer. She stepped down from the position in 2009. Christie explained that she resigned because she wanted to be more involved in charitable work. She is the founder of Hugh M. First Amendment Award. Christie is a publisher by profession and from 1995 to 2013, she was married to former Illinois state senator William A. Marovitz. They had no children.
David Hefner is Hugh's oldest son who has done an amazing job avoiding media attention. Reports say that he has a computer consulting company. Hef Tweeted a photo of himself and David in 2012, but the photo has since been taken down.
Hef's second marriage to Kimberley Conrad produced his two other children; sons Marston and Cooper Hefner.
Martson Hefner was born on 9 April 1990. He spent the first eight years of his life in the Playboy mansion, Martson often often got into trouble and was once arrested for attacking his girlfriend, playmate Claire Sinclair.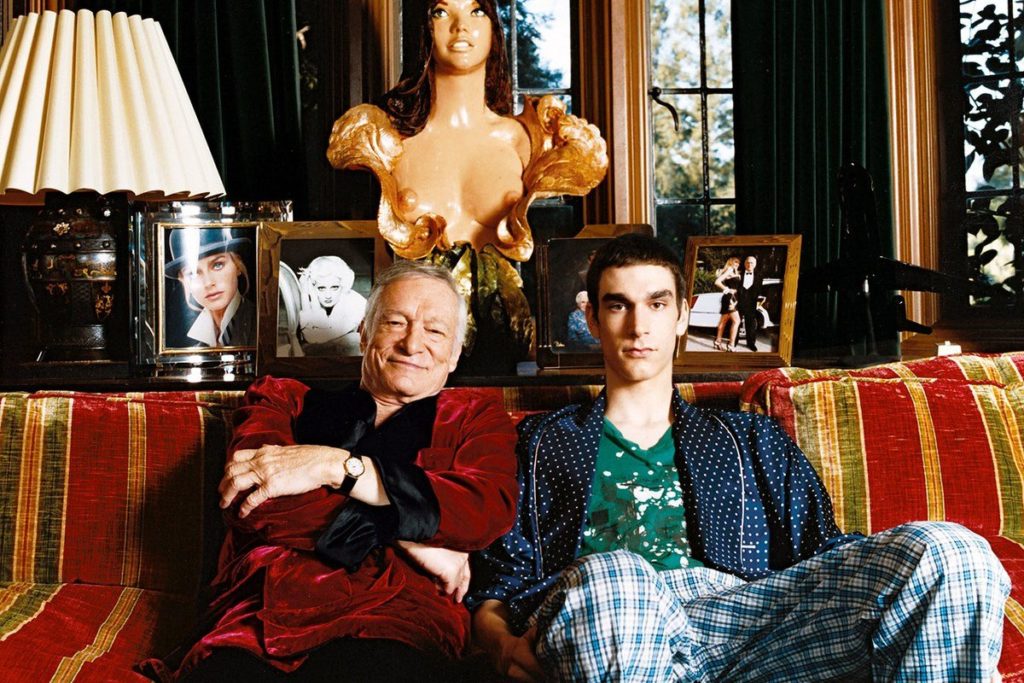 According to Martson's 2008 interview with GQ magazine, he isn't so much into luxurious lifestyle.
Read Also: David Muir Gay, Salary, Married, Wife, Chest, Girlfriend, Family, Net Worth
Cooper Hefner on the other hand, took after his father. A clear proof of this is evident on the pictures he posts on his Instagram account.
He was born on 4 September 1991. A film producer, he is the chief creative officer of Playboy Enterprises, a role he assumed in 2016. He is also the founder and former CEO of the upstart media company Hop, and a member of the California State Military Reserve.
In 2015, he engaged Harry Potter Actress Scarlett Byrne. He made her pose nude for March/April 2017 issue of the Playboy Magazine.
Hugh Hefner sure enjoyed his life to the fullest. He told Hollywood Reporter in 2011;
"Could I be in a better place and happier than I am today? I don't think so. In my wildest dreams, I could not have imagined a sweeter life."
RIP Hugh Hefner.