Howie Mandel is a family man better known to the public as a comedian, actor, and television host. Being someone who makes a living by having to come in contact with other people, whether it is to shoot a movie/commercial or host a TV program or comedy show, not many people know that he suffers from obsessive-compulsive disorder (OCD), a type of mental disorder that comes in many forms but particularly has him terrified of contaminating germs.
Mandel, who has repeatedly made fun of himself about his condition, has a crippling fear of germs that refrains him from shaking hands with anyone, even excited contestants on his game show, Deal or No Deal unless he has latex gloves on. His fear of contaminating germs does not only come when he comes in contact with strangers but also with members of his family.
To combat this, Howie Mandel operates two homes; one in California and a spotless penthouse suite at the MGM Grand, Las Vegas, where he has shows all year round. The second home seems to be a convenient arrangement due to his work but it also serves as a place where the comedian could escape to when his disorder kicks in, especially when a family member is ill. Find out more about the people in the lives of the Canadian funnyman and why he owes everything and more to them.
Who Is His Wife?
The famous television personality has been married to Terry Mandel since 1980. A fellow Canadian, Terry is an entrepreneur and talent agent who is currently at Abstract Talent Agency. Her birth name is Terry Soil and she was born in Toronto, Ontario. Despite the fame her husband garners, Terry prefers to keep her personal affairs and past life private. She is only known to have received her high school education at the William Lyon Mackenzie Collegiate Institute before later moving to the US and attending Harvard University to acquire a degree in business.
The couple first met when they were just 12 years old at their town's local YMCA. They began seeing each other when they were in high school, with their first date being a trip to the movies. They have since that time been inseparable as their relationship blossomed to new heights and they became man and wife.
Terry has been a supportive pillar of her husband right from the beginning when he began pursuing a career as an entertainer. In 2003 when he was originally offered the chance to host Deal or No Deal, Mandel rejected the proposition as he was deciding on whether to quit his showbiz career. His wife, however, convinced him to take the job even though he believed it would not work for him as there were no comedians hosting game shows at the time.
Many years later, Howie Mandel has described his work on the show as one of the best things that have happened to him. He is quoted as saying: "There is no show I've ever been part of or no project I've ever been part of, that has changed my life, that has changed my career, that is more exciting to be part of than 'Deal or No Deal.'"
Howie and Terry Have Three Children
Howie Mandel's family is made up of the man himself, his wife, and their three kids. He has two daughters; Jackie and Riley, and a son named Alex.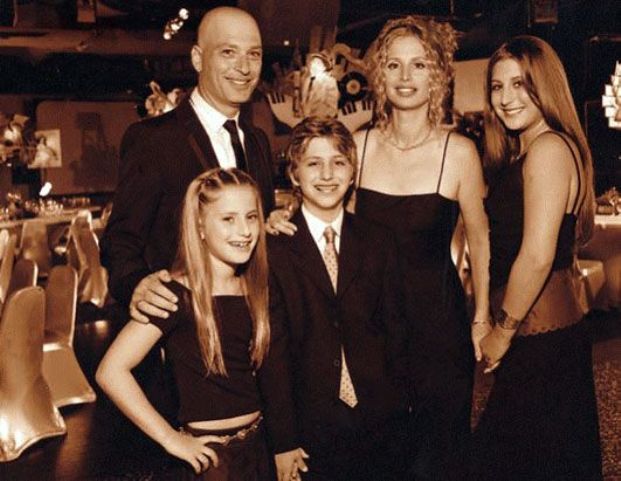 Mandel's first child was born on December 14, 1984, in Calabasas, California as Jackelyn Perry Mandel. She attended the University of California, Santa Cruz and earned a bachelor's degree in American studies. Later, she obtained her master's in education from the same university. Jackie exchanged vows with husband Alex Shultz on July 22, 2013, in a ceremony attended by Howie Mandel's family and friends at Hotel Bel-Air in Los Angeles. Jackie makes a living as an elementary school teacher and has taught kindergarten, first grade and second grade at schools around the greater Los Angeles area. She is now a mother of two and a YouTube vlogger with the series, Life with Jackie.
Mandel's only son, Alexander Seth, was born on September 30, 1989, in Calabasas, California. Alex followed his father's footsteps to have a career in showbiz and is an actor and director. Some of his notable works are the movies Odd Jobs (2014), Prank It Forward (2014), and Killer Holiday (2013).
The youngest member of Howie Mandel's family is daughter Riley who was born in 1992. She graduated as a doctor in 2018 but like her father and brother, she has dabbled into showbiz in the past. She once served as a briefcase model on her father's game show, Deal or No Deal. Riley got engaged to Cameron Ehrlich on February 27, 2016. Cameron, who is a senior iOS developer at Cie Digital Labs, popped the question in Ghirardelli Square, San Francisco.