Howie Mandel's wife is Terry Mandel, an entrepreneur and talent agent he's been married to since 1980. The couple have three children, two daughters, Jackelyn Perry Mandel and Riley Mandel, and a son, Alex Seth Mandel.
Howie Mandel is a family man better known to the public as a comedian, actor, and television host. Being someone who makes a living by having to come in contact with other people, whether it is to shoot a movie/commercial or host a TV program or comedy show, not many people know that he suffers from obsessive-compulsive disorder (OCD), a type of mental disorder that comes in many forms but particularly has him terrified of contaminating germs.
Mandel, who has repeatedly made fun of himself about his condition, has a crippling fear of germs that refrains him from shaking hands with anyone, even excited contestants on his game show, Deal or No Deal, unless he has latex gloves on. His fear of contaminating germs does not only come when he comes in contact with strangers but also with members of his family.
To combat this, Howie Mandel operates two homes; one in California and a spotless penthouse suite at the MGM Grand, Las Vegas, where he has shows all year round. The second home seems to be a convenient arrangement due to his work but it also serves as a place where the comedian could escape when his disorder kicks in, especially when a family member is ill. No doubt, the Canadian funnyman owes everything to the people closest to him, especially his wife Terry who has stuck with him through thick and thin.
Howie Met His Wife, Terry Mandel When They Were Both Just 12 Years Old
Talk about a ride or die, Howie Mandel and his wife Terry have had the eyes for each other since they were teenagers. At both just 12 years old, they met for the very first time at their local YMCA, Howie himself had revealed so in an interview with the Wall Street Journal. They would remain just friends until later in high school (they both attended the same high school – William Lyon Mackenzie Collegiate Institute in Toronto, Ontario, Canada) when they decided to start dating.
For their first date, Howie decided to take his teenage love to the movies and did so in his mother's car, a Cutlass Supreme. A day that was supposed to be a memorable one for the young couple almost turned horrific as Howie narrowly escaped being in an accident; the car hit an ice patch and teetered on one side before it finally came down on four wheels, Terry had thought it was just one of his pranks but it was not, luckily for the two love birds, they escaped unscathed. We suppose Mama Mandel would not have taken it likely with her son the scratch to her Cutlass Supreme.
Their love blossomed through high school, but when it came to taking school more seriously, Terry was ahead, while she made it to graduation, Howie did not. He was expelled from the school for impersonating a school official and hiring a construction company to build an addition to the school. He has always been that kid who loved to pull pranks, fortunately, he turned out well. Such kids always do anyway, but we digress…
Around the same time when Mandel's career began to pick up, he married Terry in 1980. Two years later, he began gaining recognition for his appearance on the medical drama St. Elsewhere. The couple has since remained inseparable and has stayed married for four decades and counting – a feat by Hollywood standards.
What does Howie Mandel's Wife Terry Mandel do?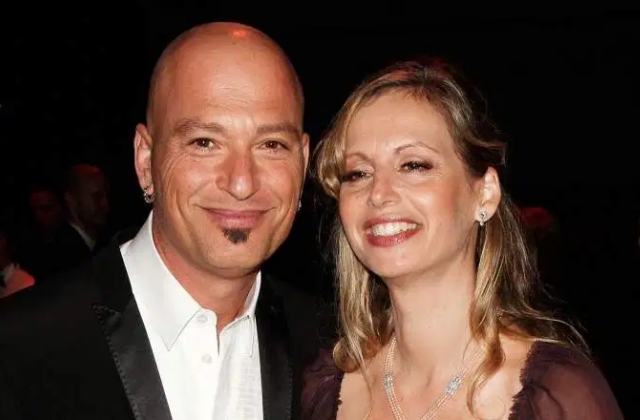 A fellow Canadian, Terry is an entrepreneur and talent agent who is currently at Abstract Talent Agency. Her birth name is Terry Soil and she was born in Toronto, Ontario. Despite the fame her husband garners, Terry prefers to keep her personal affairs and past life private. She is only known to have received her high school education at the William Lyon Mackenzie Collegiate Institute before later moving to the US and attending Harvard University to acquire a degree in business.
Terry's career as a talent agent makes her able to spot huge opportunities and this came in handy in helping her husband Howie with a major career decision. She has been a supportive pillar of her husband right from the beginning when he began pursuing a career as an entertainer. In 2003 when Howie was originally offered the chance to host Deal or No Deal, he rejected the proposition as he had thought to himself that no comedian was hosting game shows at the time and that accepting it would ultimately kill his career.
He rejected the offer a total of three times and only accepted it after his wife convinced him to take the job. Fortunately, it turned out to be one of the greatest career decisions he has ever made. Many years later, Howie Mandel has described his work on the show as one of the best things that have happened to him. He is quoted as saying: "There is no show I've ever been part of or no project I've ever been part of, that has changed my life, that has changed my career, that is more exciting to be part of than 'Deal or No Deal.'" The American version of the game show which originated from the Netherlands has since its 2005 premiere been successful. The show was on hiatus in 2009, but old episodes continued to air in syndication, however, after it did return in 2019, Howie Mandel was still chosen to reprise his role as the host. He reportedly earns $70,000 per episode of the show.
Terry Is An Animal Lover
Throughout their over 40 years of marriage, Howie and Terry have certainly had to compromise on a few things in order to live peaceably. One of her favorite things in the world is animals and this is a big problem for Howie who is a germophobe and has OCD. He often narrates his concerns with his wife's hobby during talk-show appearances, nonetheless, the couple seems to be having fun with their differences rather than let it tear them apart.
On one occasion, Howie described how his wife loves picking up stray animals. He referred to her as a "crazy animal lover" during his 2018 appearance on Conan O'Brien's show and further narrated how a stray cat that she once picked up bite her and that the bite was not only big enough that she required stitches but that she also had to take daily doses of injection on her stomach to prevent rabies just in case the cat had rabies.
Howie also said of his wife that though she is an animal rescuer, other times, she simply picks up pets that come her way, and sometimes they have turned out to be pets owned by other people and have had cases where people knocked on their door to retrieve their pet.
While it may seem like Howie hates his wife's love for animals, that does not seem to be entirely the case, for her big surprise birthday gift when she added another year in 2013, Howie told Conan O'Brien that he rented an elephant just for his wife. However, it turned out to be a bad idea, as he later told O'Brien that he did not know what he was thinking. Howie narrated that the elephant pulled out their trees, pooped all over their backyard, and broke their sprinklers. He had nothing else planned as there was no lunch, birthday cake, or even guests to mark the event. However, being the huge animal lover that she is, chances are that Terry would have been elated just seeing an elephant in their home.
The couple has over the years given us a lot of couple goals. During the peak of the coronavirus pandemic, Howie told E! how he had been spending it pulling pranks on his dear wife. Terry had decided to spend the lockdown by putting together a series of different puzzles while Howie was busy hiding pieces of the puzzle when she was not looking and would laugh at her whenever she started looking for them. Their love story could make for an interesting romantic comedy, hello, Netflix!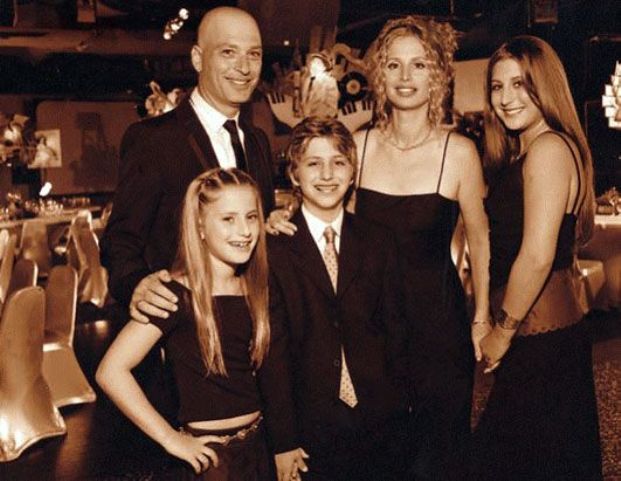 Who are Howie Mandel's Daughters?
Name: Jackelyn Perry Mandel
Born: December 14, 1984
Marital Status: Married
Occupation: Teacher
Four years after they were married, Howie Mandel and his wife Terry welcomed their first child, a daughter whom they named Jackelyn Perry Mandel. She was born on the 14th of January 1984 in Calabasas, California. She attended the University of California, Santa Cruz, and earned a bachelor's degree in American studies. Later, she obtained her master's degree in education from the same university. Jackie makes a living as an elementary school teacher and has taught kindergarten, first grade, and second grade at schools around the greater Los Angeles area.
Howie's first daughter is married. She is married to Alex Schultz also known as Lex Larson, who is a disc jockey. The couple who met during their high school years and began their relationship as just friends exchanged vows on July 22, 2013. Their marriage which was planned by Mindy Weiss was held at the Hotel Bel-Air in Los Angeles. She has also added YouTube vlogger to her repertoire and vlogs through her channel Life with Jackie. She also sells merchandise through the Instagram pages @shopjackelynshultz and @pjpartyschool.
Name: Riley Mandel
Born: 1992
Marital Status: Married
The youngest member of Howie Mandel's family is daughter Riley who was born in 1992. She is quite the book warm who in 2018 earned a doctorate degree, but like her father and brother, she has dabbled into showbiz in the past. She once served as a briefcase model on her father's game show, Deal or No Deal. Riley got engaged to Cameron Ehrlich on February 27, 2016, when he popped the question in Ghirardelli Square, San Francisco. They got married in July 2019. Cameron is a senior iOS engineer at Fair.com and previously at Cie Digital Labs. He owns Thirty Seven Inc., a mobile application development. He has also worked as the lead iOs developer for Whisper and Revo.fm. He graduated with a degree in Computer Science from the University of California, Berkeley.
Does Howie Mandel have a son?
Name: Alex Seth Mandel
Born: September 30, 1989
Known For: YouTube Personality
Yes, Howie Mandel has just one son, his name is Alexander Seth Mandel, he was born on September 30, 1989, in Calabasas, California. Alex is the only one out of Mandel's kids to strictly follow in his footsteps. He has an active career as an actor, director, and video creator. He made his first TV appearance in his father's TV series Howie Do It in 2009.
He would later appear as himself in TV shows such as Freak Encounters and Killer Holiday: A Conversation with Composer Kurt Oldman. His other self credits include Scare Tactics, Destination Fear, Larry King Now, The Tonight Show with Jay Leno, and Deal with It. As a writer, he wrote at least 6 episodes of the TV series Odd Jobs, all of which he also directed. Alex Mandel has at least 6 credits as an actor, they include TV show, What Would You Do?, Killer Holiday, and the short film, House Meeting.
Alex Mandel also runs a vlog on YouTube and per his Instagram page, he frequently posts videos on Facebook. Like his father, he is into pranks and posts a lot of prank videos, some featuring his father. Mandel's son is not yet married, as of this writing but has been in a long-term relationship with a certain Andrea Wendel whom he frequently posts on social media. Popular net worth website Celebrity Net Worth has estimated his net worth at $500,000, though it pales in comparison to his father's $60 million, it is a decent figure when compared to his level in the entertainment industry.
Howie Mandel Has At Least 2 Grandchildren
Yes, Howie Wendel is a grandfather, the comic has his first daughter Jackelyn to thank for making him a grandfather. From her marriage to her DJ husband Lex Larson, she has at least two kids, a son named Axel and a daughter named Abbey. As a stay home mom, she frequently posts about being a mother in her vlog like gender revealing her kids' videos and getting hair cuts with them. In one of her videos, she reveals that her kids call grandpa Howie, and grandma Terry, "Nona and Papa."