Howie Long's wife is Diane Addonizio to whom he's been married since 1982 and they have three grown-up sons named Chris Long, Kyle Long, and Howard Long, Jr.
One of a number of American football players to have spent the entirety of their career playing for one NFL franchise is retired defensive end, Howie Long. The Somerville, Massachusetts native spent the whole of his 13-year career in the league with the Raiders franchise in both Los Angeles and Oakland.
Following his retirement, the Pro Football Hall of Fame inductee has delved into acting and sportscasting and currently works as a studio analyst for Fox Sports. Beyond his exploits on the field and on-screen, Howie has been able to guide his children on the same path that he took to become successful and as a result, many have come to admire his family life as equally as his illustrious career.
Bio and Profile Summary
Age/Date of Birth:

63 years old (6 January 1960)
Height:

6 feet 5 inches (1.96 m)
Ethnicity/Race:

White
Nationality:
American
Wife or Girlfriend:
Diane Addonizio (m. 1982)
Parents:
Father: Howie Long Sr.
Mother:
Net Worth:
$16 million
How did Howie Long Meet his Wife?
Diane Addonizio has been Howie Log's ride or die for decades and counting, their love story dates back to the 70s, a time when they were both studying at Villanova University with just one year apart in class; Howie was a year ahead.
Howie at the time was a hunky jockey who shined for the varsity's football team. It was love at first sight for Diane as she confessed in an interview that the very first time she saw Howie she thought that he was attractive. She confessed that she had never seen anyone that big who looked equally as handsome. Howie knew he was a handsome hunk and the confidence which he comfortably exuded was one of the qualities that attracted Diane.
For their first date, Howie invited her to his dorm room so they could watch a football match on TV. It was a good date night which definitely means that Diane is one of those women who thoroughly enjoy watching sports. The two drew closer and soon began dating officially. When the moment came when Diane was sure that Howie Long was indeed the one for her, she took him to see her family at a Christmas party that her father was throwing.
They Got Married In 1982
A while after Long graduated from the university where he earned a degree in communications, he got engaged to Diane. They got married precisely on the 27th June 1982 in a private ceremony. At the time, the couple was not nearly as popular as they are now, thus details of their big day are not known to the media. Being that their wedding came a year after he was drafted by the NFL's Oakland Raiders, we can comfortably say that they had enough funds to put together their dream wedding.
The couple have since remained married for three decades now and counting, proving that it is possible to have a successful family life in addition to being popular. Diane has obviously been very supportive of her husband and his career from his NFL days into his years as a sports analyst. She has been seen hand in hand with him at several red carpet events, one of those was the NFL Hall of Fame red carpet event held on the 4th of February 2019.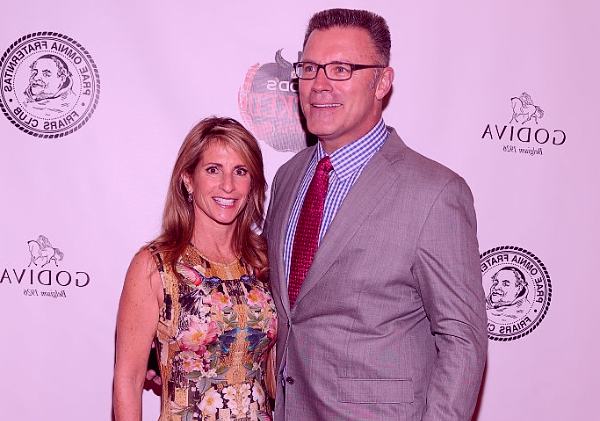 Who Is Howie Long's Wife Wife Diane Addonizio?
Being the wife of a popular sports personality has shone the lights on Diane as many have come to ask more about her own life. Though her exact birthday is not known, it is an established fact that Howie Long's wife was born in 1962.
She was born in Monmouth County town of Red Bank, New Jersey to Frank Addonizio and Maria Cecere who were both practicing Catholics (P.S: Her husband Howie Long was also raised Catholic). Her father Frank was a war veteran who once served as a Security Director, her mother, on the other hand, was a homemaker. Diane is known to have a brother named James Addonizio who is a practicing lawyer. However, it is not known if this is the only sibling that she has.
Though not many details are known about her early life and upbringing seeing that she is a very private person, it is known that she attended Villanova University which is an Augustinian Catholic University in the state of Pennsylvania. After earning a bachelor's degree in classical studies from the college, she proceeded to further her education at the University Of Southern California School Of Law where she studied to earn a law degree.
Diane Addonizio graduated with her law degree and soon began practicing the legal profession. One of the places where she served as an attorney during her early career years was Pennthe. However, Diane did not practice law for long as she quit to focus on business to afford her more time to focus on raising her family.
Family is something that is a priority for Diane, it is for this reason that she appeared on a panel discussion at the Walter Payton Center. The panel was set up as part of a free football safety clinic for over 300 mothers of football players with the aim of educating them on football safety.
Like most wives of current and former NFL players, Diane has been hugely involved in charitable projects. She was once associated with the NFL Head UP Football Advisory Committee the committee focuses on supporting the development of youth and high school football initiatives. The couple once donated a million dollars to advance the athletics at their alma mater, Villanova University.
ICYMI: @VillanovaU receives $1 mil commitment from @Villanova_Alum Diane & Howie Long #NovaFB |http://t.co/5Yc7T9RlA0 pic.twitter.com/PkaL5yiMeV

— Villanova Athletics (@NovaAthletics) June 10, 2015
Fans of Long would definitely want to know about his wife of over three decades but she prefers to liver her life away from the media's radar. She is not known to operate any social media accounts.
Quick Profile of The Former NFL Player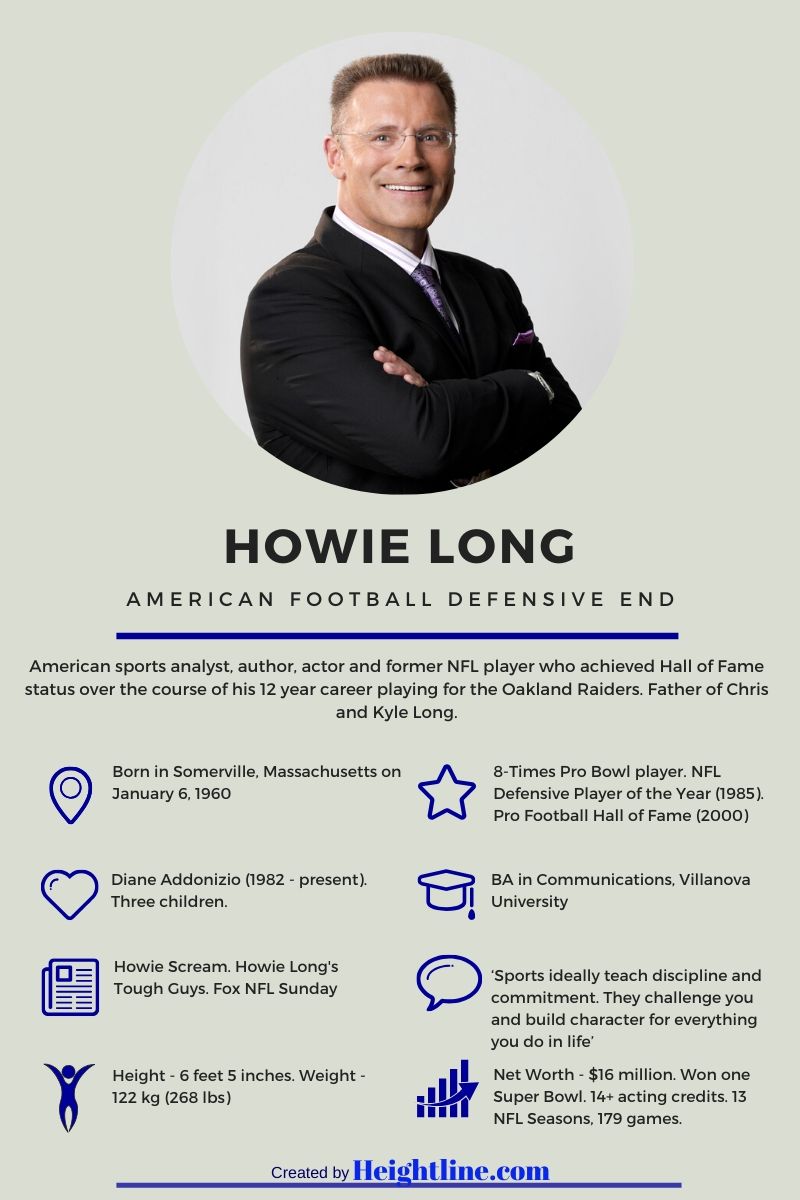 Meet Howie Long's Sons
Howie Long and his wife Diane Addonizio are proud parents to three sons who are not only successful but famous, we bet Diane can give herself a pat on the back whenever she sees their accomplishments, her decision to quit her career and become a homemaker is definitely not one that she has regrets over. All her sons have followed in their father's footsteps to build sports-related careers. Here is a detailed look at each one of the Long sons.
Name: Chris Long
Born: March 28, 1985
Known For: NFL Defensive End
Spouse: Megan O'Malley (m. June 22, 2013)
Children: 2
Chris Long is the first out of three sons of Howie Long and Diane Addonizio. He was born on March 28, 1985, in Santa Monica, California. As a kid, his mother Diane would often take him to watch his father play but his father was worried as he thought that the stadium was not a good place to bring his young boy to due to safety reasons. Howie would later ask police officers to keep a closer watch over his son and wife.
Chris would grow to chose the same career path as his father but he arguably was better at the game of football than his dad. He played high school football at St. Anne's-Belfield School in Charlottesville, Virginia starting from the 7th grade. In addition to football, he also played basketball and baseball, and lacrosse. His father Howie would later join the school to serve as a coach. Football seemed to have won over Chris' heart among the sport he played. He committed to the University of Virginia and after college was drafted by the St. Louis Rams in 2008, he was the second overall pick.
Chris Long would go on to have a very successful football career. In addition to the Rams, he also played for the New England Patriots (2016), and the Philadelphia Eagles from 2017 to 2018. He retired with the Eagles, making his career 10 years long.
Some of his accolades include NFL Alumni Lineman of the Year in 2011, Walter Payton NFL Man of the Year 2018 for his charitable deeds (most notably giving away all of his 2017 salary for charitable causes), and two Super Bowl championships, (one more than his father Howie Long) including the Super Bowl LI with the Patriots and the Super Bowl LII with the Eagles.
At the time, he became one of only 6 NFL players to win consecutive Super Bowls with different teams. After retirement, Chris Long focused on becoming a podcaster and started Green Light Podcast which been so far more than averagely successful.
Like his father, Chris Long met Megan, the woman who would become his wife in college. Like his mother, Chris Long's wife is a huge sports fan and even played sports in school, she was active in her varsity lacrosse team. She was named to the US National Developmental Team in 2006.
Chris Long's wife hails from a family of sportspeople, her own father Joseph L. O'Malley played professional baseball. Megan is a fan of the Eagles and could have in some way influenced Chris's decision to sign for the side in 2017. The couple who got married in June 2013 are parents to two children, a son named Waylon James Long who was born in March 2016, their second child, another son named Luke Redding Long, was born on November 26, 2018.
Name: Kyle Long
Born: December 5, 1988
Known For: NFL guard
Spouse: Unmarried
Howie and Diane's second son Kyle Long was born on December 5, 1988, in Ivy, Virginia. Like his big brother Chris, Kyle attended St. Anne's-Belfield School in Charlottesville, Virginia where he excelled equally in baseball and football. Kyle was so good in both sports that he almost struggled with which one to settle for. His father encouraged him to go for baseball but he chose football instead.
He was so good at baseball that the Chicago White Sox drafted him in the 2008 draft when he was in high school, Kyle declined the offer and instead opted to attend Florida State University where he had committed.
Unfortunately, his time in Florida did not go quite smoothly. He left Florida due to academic reasons and after he was arrested for DWI. Kyle Long in 2010 got accepted into Saddleback College, a community college, he played baseball there and later for the University of Oregon from where he graduated.
Kyle was able to wriggle through the difficulties of his college years and became eligible for the 2013 NFL Draft where he was selected in the first round by the Chicago Bears, he became the first guard to be selected in the first round by the franchise in over 40 years.
Kyle Long's start with the Bears was very promising and led to him receiving a $40 million contract extension from the side in 2016, the contract was structured to last through 2021, but a series of injuries soon marred his performance and playtime. The injuries forced him into early retirement in 2019 after the Bears declined to activate his contract option for 2020 thus making him a free agent.
The Bears had named him in their 100 greatest Bears of All-Time. In 2021 after attaining full recovery, Kyle Long returned to the game he loves after being signed by the Kansas City Chiefs. Some of his achievements so far include being named thrice to the Pro Bowl (2013–2015), and once to the Second-team All-Pro (2014).
Kyle Long could go on to stage the greatest comeback in the history of the NFL, however, if that does not happen and things don't work out, Long would have other things to fall back on. Everyone in the Long family seems to share an affinity for a career in the media business and Kyle is no different.
Alongside Paul Swan, he is the co-host of a weekly talk show on NASCAR.com's YouTube channel. CBS Sports Network hired him in 2020 as a studio analyst for their program, That Other Pregame Show. Kyle also has interests in eSports and is a co-owner of Mode Motorsports in the eNASCAR Coca-Cola iRacing Series.
 Name: Howie Long Jr. 
Born: 1990
Occupation: Player Personel
Spouse: Not Married
Out of the three Long sons, the youngest of the three, Howie Jr., is the only one who has not had a professional playing career. He, however, played varsity football at the University of Virginia but decided not to pursue football as a profession. Howie Jr. did choose a career in the sports industry.
After graduating from Virginia in 2013 with a bachelor's degree in Anthropology, Howie Jr worked as a personal assistant at the Oakland Raider, a position he served until 2019. He then became a Premium Sales Consultant for the franchise in December 2019. For about two years from January 2018 to December 2019, Long served as the Premium Sales Consultant at Legends, Las Vegas Stadium.
Profile Summary
First Name:
Howard
Last Name:
Long
Also Known As:

Howie Long
Sex/Gender:

Male
Profession:

Former American football defensive end, Actor, and Sports analyst
Famous For:
Raiders franchise
Colleges/Universities Attended:

Villanova University
Educational Qualifications:

Degree in communications
Religion:

Christianity
Birthday & Zodiac

Age/Date of Birth:

63 years old (6 January 1960)
Zodiac Sign:
Capricorn
Birth Place:

Somerville, Massachusetts, United States
Nationality:
American
Ethnicity/Race:

White
Country of Residence:

United States of America (USA)
Physical Attributes

Height:

6 feet 5 inches (1.96 m)
Weight:

112 kg (269 lbs)
Eye Colour:

Green
Hair Color:

Dark Brown
Other Body Measurements:

N/A
Relationships

Marital Status:

Married
Spouse/Partner:

Diane Addonizio (m. 1982)
Family and Relatives

Father:

Howie Long Sr.
Mother:
Margaret Kirk
Children:

3 Sons - Chris, Kyle, and Howie Long Jr.

Siblings:
Ann Marie Long- Sister
Other Relatives:

Elizabeth Mullen- Grandmother
Net Worth
Estimated Net Worth:

$16 million
Salary:
$4 Million
Source of Wealth:

Various Career Endeavor