One of a number of American football players to have spent the entirety of their career playing for one NFL franchise is retired defensive end, Howie Long. The Somerville, Massachusetts native spent the whole of his 13-year career in the league with the Raiders franchise in both Los Angeles and Oakland.
Following his retirement, the Pro Football Hall of Fame inductee has delved into acting and sportscasting and currently works as a studio analyst for Fox Sports. Beyond his exploits on the field and on-screen, Howie has been able to guide his children on the same path that he took to become successful. Find out more about his kids and family.
Who is Howie Long?

Howie Long was born Howard Matthew Moses Long on January 6, 1960, in Somerville, Massachusetts. He, however, spent the best part of his childhood in Charlestown, Boston where he was raised by his parents; Howard and Margaret Long.
Long was later left to be raised by just his mother following his parents' divorce when he was only a boy. Things turned out to be really hard for him as his mom could hardly care for him due to her struggle with epilepsy. He was then left with no option but to stay with his grandmother and maternal uncles.
Howie Long went on to attend Milford High School where he played basketball, football, and participated in field events such as shot put, discus and javelin. Following his graduation, he proceeded to attend Villanova University where he studied for a Bachelors degree in communications. While there, he boxed and also played college football. Long was notably the Northern Collegiate Heavyweight Boxing Champion and in 1980, earned a selection to play in the Blue-Gray Football Classic where he was named the Most Valuable Player.
Quick Profile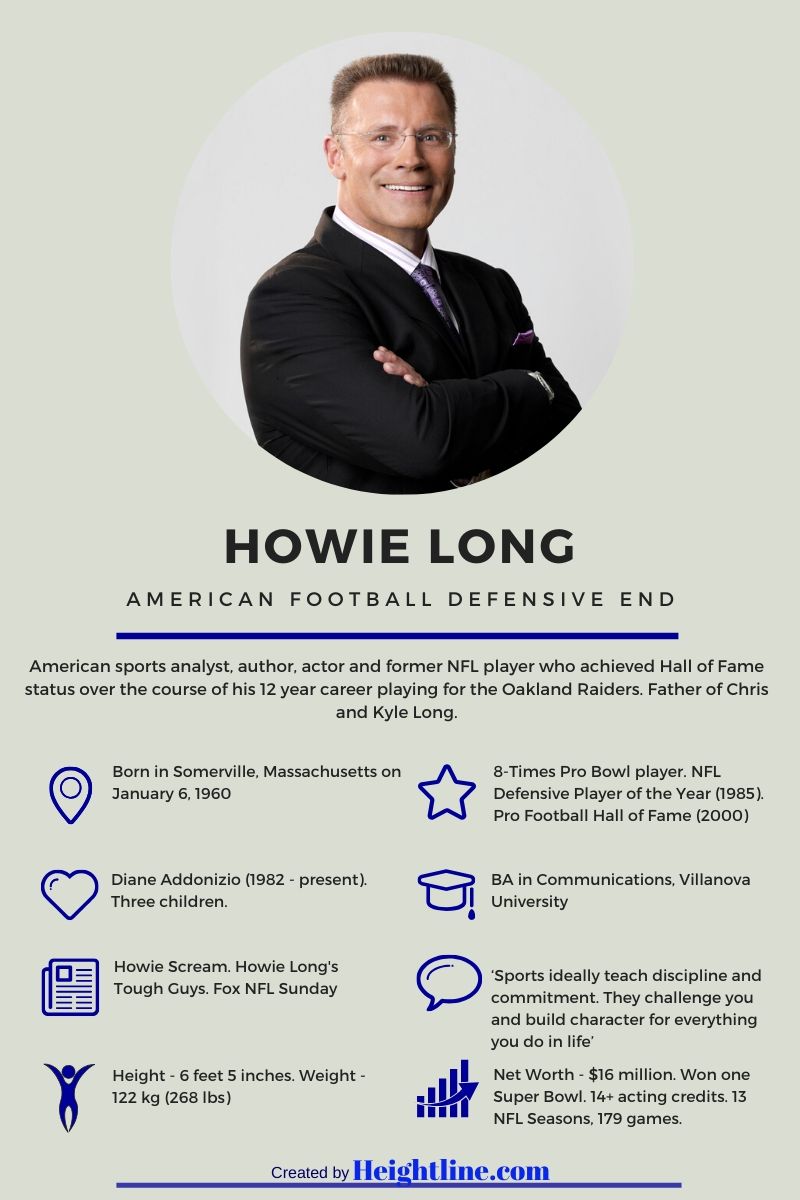 What He Achieved In His Football Career
Although Howie Long is professionally known as a defensive end, he did not start out that way. Throughout his college career, he played as a tight end before later getting reassigned to the defensive line where he played the nose guard position. He achieved success here and chose to remain in the defensive line moving into his professional career as he was selected by the Oakland Raiders in the second round of the 1981 NFL Draft.
Over the next thirteen seasons in the NFL, Long set himself apart from every other player by always leaving it all out there when he played. He was famous for his signature move called "the rip" where he employed a quick, uppercut-like movement intended to shatter an opposing blocker's grip.
In his career where he was part of the team that won Super Bowl XVIII, Howie Long earned eight Pro Bowl selections, three first-team All-Pro selections, and two-second team All-Pro selections. He was further named the NFL Defensive Player of the Year in 1985 and was named to the NFL 1980s All-Decade Team.
Howie Long's Subsequent Foray into Acting and Sportscasting
After hanging up his cleats in 1993, Howie Long moved to launch a career as a movie star. The only experience he had gotten in front of the camera before that time was an appearance in In'N Out (1984). Some of the movies he went on to land roles in include Broken Arrow (1996), director John Woo's Firestorm (1998), Dollar for The Dead (1998), and 3000 Miles to Graceland (2001) which featured other actors like Kevin Costner and Kurt Russell. He went on to make other cameo appearances in numerous other TV shows.
Asides from acting, Long has also pursued a broadcasting career. His first gig here was as a studio analyst for the Fox Network's NFL coverage. He also writes a column for Foxsports.com. In 1997, the former athlete won a Sports Emmy Award for Outstanding Sports Personality/Analyst for his role as the host of the annual award show, Howie Long's Tough Guys, which honors NFL players he deems to be the toughest. Long also authored the book, Football for Dummies – a guide book for average football fans.
What We Know About His Wife and Children
Howie Long has been married to Diane Addonizo since 1982, a year after he was drafted by the Oakland Raiders. The couple has three sons; Chris, Kyle and Howie Jr. who have all followed in their father's footsteps to have sports-related careers.
Like his father, Chris, who retired in May 2019, played as a defensive end for teams like the St. Louis Rams, New England Patriots, and Philadelphia Eagles. He, however, did one better than his old man by winning two Super Bowls (Super Bowl LI with the Patriots and Super Bowl LII with the Eagles). He was also named the recipient of the 2018 Walter Payton NFL Man of the Year award for his charity work.
Kyle, who is also retired, played in the NFL as a guard in his seven-year-long career with the Chicago Bears. While he did not manage to win a Super Bowl, he earned three Pro Bowl selections and a second-team All-Pro selection.
The youngest of the three, Howie Jr., has not had a playing career, however, he has taken up a job as player personnel with the Oakland Raiders. He serves as a scouting assistant and personnel assistant.