How tall is MrBeast? 6 feet 2 ½ inches (1.89 m). MrBeast is taller than the average American male. He is an American YouTuber who has over 100 million subscribers on the platform. He claimed to be 6'4″. in 2022.
When it comes to his physical height, MrBeast towers over most of his peers with a size that can crack the NBA. When it comes to his career accomplishments, he is equally a giant, having figured out the YouTube algorithm so perfectly that he now boasts one of the most subscribed channels in the world.
Originally focusing on a variety of content, including let's play videos, MrBeast only gained a handful of followers when he first set up his channel in the early 2010s. He later switched track to outrageous and expensive stunts and charitable gestures, and the results have been fantastic. Most of his videos now have upwards of 20 million views each, and he now ranks among the highest-paid and most popular YouTubers in the world.
How Tall is MrBeast?
MrBeast (real name Jimmy Donaldson) is 6 feet 2 ½ inches tall (1.89 m). While this is not giant proportions, he is certainly above average, a fact that is confirmed by available statistics. Data from the Center for Disease Control has it that the average American male is 5 feet 9 inches (1.75 m) tall while the average American female is 5 feet 4 inches (1.62 m) tall. It, therefore, means that MrBeast is five and a half inches taller than most American men. For the ladies, the gap increases to as much as ten and a half inches. There is no gainsaying the fact that being tall can be a confidence booster and in the case of MrBeast, it seems to be working.
As earlier stated, he started out by doing gaming and YouTube commentary videos. This garnered him a modest following but he blew up after deciding to do things on a large scale, literally speaking. MrBeast is now the progenitor of a new genre of YouTube content in which people splash out big bucks to carry out outrageous stunts and also perform philanthropic acts. For instance, he once bought all the cars in a dealership and gave them out to people. Also, during the July 4th celebrations of 2020, he spent $600k on an elaborate firework show which saw him blow up a car, 100 rockets tied to a mannequin, and a 400lbs firework worth $160K.
MrBeast Height Compared to PewDiePie
MrBeast is three and a half inches taller than the famous PewDiePie who is 5 feet 11 inches or 1.8 m tall. PewDiePie became YouTube royalty when the likes of MrBeast were still coming up. He still retains his exalted status to date but that has not stopped him from becoming good pals with emerging upstarts, including the likes of MrBeast. Such humility means that the two are now quite chummy with MrBeast playing a pivotal part during PewDiePie's iconic feud with the Indian YouTube channel, T-Series.
Back in 2019, PewDiePie was locked in a battle with T-series to see who would emerge as the owner of the highest subscribed channel on YouTube. MrBeast supported him by purchasing billboards, radio, and TV advertisements. He (MrBeast) also reportedly rigged office fax lines and purchased multiple seats at Super Bowl LIII, which cost a small fortune. All this effort would eventually not achieve much as T-series would ultimately take over as the most subscribed YouTube channel in the world.
Mr. Beast Height Compared to Markiplier
While there are no controversies over PewDiePie's height, it is a different ballgame when it comes to Markiplier. Some sources have it that the YouTuber, whose real name is Mark Edward Fischbach, is 5 feet 8 inches tall which will mean that MrBeast is about six and a half inches taller than him. Other sources have it that Markiplier is 5 feet 9 inches tall which will make MrBeast only five and a half inches taller than him. Yet a third school of thought believes that Markiplier is 5 feet 10 inches which will then make him four and a half inches shorter than MrBeast. Whichever one is true, one thing that is certain is that MrBeast is equally taller than Markiplier.
Me and Mark Rober did something.. go watch 🙂 pic.twitter.com/ktyvVDGa25

— MrBeast (@MrBeast) October 10, 2020
MrBeast Height Compared to Mark Rober
We have heard of people dropping out of college to become YouTubers but have you ever heard of someone leaving NASA and Apple Inc. to become a full-time YouTuber? Well, one person that has done exactly this is Mark Rober. An engineer by training, Rober spent nine years at NASA during which he worked on their Curiosity Rover for exploring parts of Mars. He later left for Apple where he made inventions related to virtual reality in self-driving cars.
Rober now spends his time specializing in popular science facts and DIY gadgets on YouTube. He has also collaborated with fellow YouTubers including MrBeast. In 2019, the duo collaborated on an ambitious project to raise $20 million for the Arbor Day Foundation. In turn, the tree-planting non-profit will plant 20 million trees in every part of the world, excluding Antarctica. The project was a huge success for both men involved, attracting the attention of Tesla's Elon Musk who donated $1 million. When it comes to the issue of their height, MrBeast is only two and a half inches taller than Mark Rober who is 6 feet or 1.83 m tall.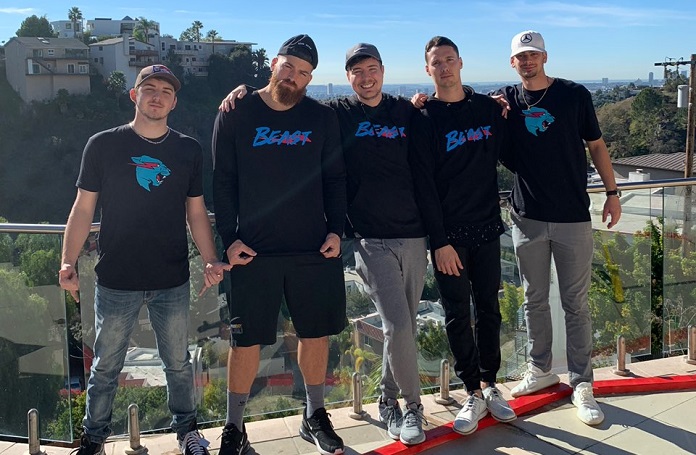 Who Is The Tallest Person In The MrBeast Crew?
Anybody who has witnessed MrBeast's outrageous content will know that the American digital celebrity cannot pull off such content alone. It takes lots of brain work and manual labor and for this, he employs about 50 people. They specialize in logistics and production and help him pull off videos, some of which take months to prep. Another set of people who have proved indispensable to MrBeast are his pals namely Chris, Chandler, Garrett, and Jake.
The quartet are a recurring theme in his videos and are often willing to take part in his outlandish competitions like eating the world's largest bowl of cereals, building the tallest lego tower block in the world, or eating the world's largest pizza. When it comes to their respective heights, Chandler Hallow is 6 feet 2 inches (1.87 m) tall while Chris Tyson is 5 feet 11 (1.80 m). Garrett Rogers's height is presently not available while that of Jake Franklin is 6 feet 4 ½ inches or 1.97 m. It, therefore, means that the tallest person in MrBeast's crew is Jake Franklin who is also fondly known as Jake the Viking.