Barron Trump stands at a height of 6 feet 7 inches, this makes him over a foot taller than most 15-year-olds. Barron Trump is 17 years old. He was born on March 20, 2006 in Manhattan, New York, NY
Barron Trump may probably have been like every ordinary American boy of his age if his father, Donald Trump, was not elected the President of the United States in 2017. The youngest of Trump's children, Barron is the first boy to reside in the White House since John F. Kennedy's son. But while his family lived at the White House, the 17-year-old nicknamed Little Donald was rarely seen as his mother shielded him from the political spotlight.
However, being the son of a one-time president of the world's strongest nation, it is only natural that many people will be interested in knowing details about him, especially his height. The particular interest in Barron's height stems from the fact that there is no record of it available for public consumption and that when he is pictured walking with his father, there isn't so much difference between the pair.
What Is Barron Trump's Exact Height?
One of the first things anyone notices on seeing Barron Trump is his height and at his age, he is definitely still growing. As mentioned earlier, his mother Melania ensured he was kept as far away as possible from the public eye all through his father's presidency. Because of this, sightings of Little Donald were infrequent and for this reason, it looked like whenever he was not seen for a while, he becomes undeniably taller than the last time he made a public appearance.
During his dad's inauguration in January 2017, Barron stood with him and as observed by many, he was quite tall for his age (he was 10 years and two months at the time). He was already taller than Vice President Mike Pence, who is 5 feet 10 inches tall, but still not close to his father's height.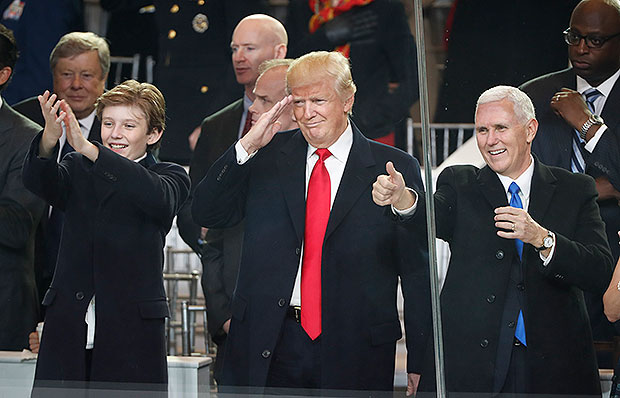 In November 2019, Barron and his parents were pictured as they began their Thanksgiving holiday. They were taken away in a helicopter from Pennsylvania Avenue to Andrew's Air Force Base where they boarded Air Force One and continued their journey to Trump's Mar-a-Lago estate in Palm Beach, Florida.
Considering his height at the time his father became America's president, it was obvious that the then 13-year-old Barron had experienced a growth spurt. He appeared to be nothing less than 6 feet 4 inches as he walked next to his father who is also above 6 feet tall.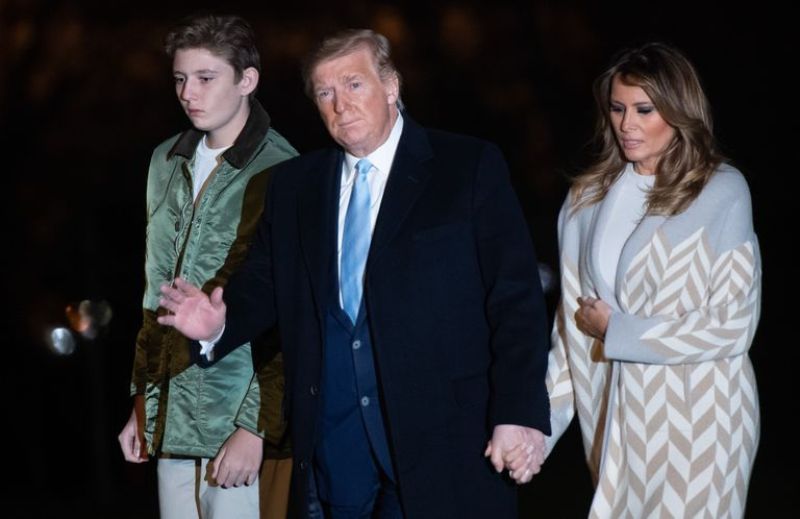 A few years later, in February 2020, when the Kansas City Chiefs were playing the San Francisco 49ers at Super Bowl LIV, the Trump family, like most Americans, watched the game. After taking the weekend off to watch the Super Bowl and relax at the Mar-a-Lago estate, Barron got back to Washington D.C. with his parents looking like he had added a few more inches to his last speculated 6 feet 4 inches height as he was a bit taller than his father as seen in the picture below.
Six months later, precisely on August 16, 2020, the young man increased so much in height that he seemed to be almost a head taller than his parents while boarding Air Force One in Morristown, New Jersey, en route to the White House.
Barron Trump's height eventually sparked a bigger debate following the events of August 27, 2020. On the said date, Trump introduced Mike Pence to the audience at the closing night of the Republican National Convention and everyone stood to give him applause. Barron was seated on Pence's left-hand side and on standing next to each other, the difference in their height was very surprising as the former Vice President did not even come up to Barron's shoulder level.
Because of this, among other examples listed above, many have speculated that Barron Trump may be 6 feet 6 inches tall or even more, although it is not exactly known for sure what he measures in height.
How Tall Is He Compared To The Average American His Age?
According to the Healthline website, half of all boys will be below 4 feet 5 inches (54.5 inches) at the age of 10. Barron is clearly not in that half as he was already over 5 feet tall at that age as seen in the 2017 inauguration photo above. The United States Centers for Disease Control and Prevention (CDC) also listed the average height of boys from 2 to 20 years in a chart released in the year 2000 and going by that, the average height of an American boy aged 15 is 5 feet 5 inches.
However, on calculating Barron Trump's height percentile, it was discovered that he is way above average (50th percentile). As a matter of fact, his 6′ 7" assumed height puts him at the 99.9th percentile, which means that out of 100 normal boys his age, he is taller than more than 99 or almost all of them.
The CDC also reports that the average age-adjusted height for American men 20 years old and up is 5 feet 9 inches. Judging by this, it is obvious that Barron is not only very much taller than most boys his age in America, but he is also taller than most young American men with about one foot and some inches, going by his speculated height.
Meanwhile, boys appear to grow at an extraordinary rate, which may make anyone wonder when they actually stop growing. As reported by the National Health Service (NHS), a large percentage of boys stop growing at around 16 years, but some may add a few more inches in their later teen years. If this report is anything to go by, then, it is safe to say that Barron has about a year and a few months or more to complete his growth and by then, he might be 6′ 8" or more.
Barron Trump's Height Compared To His Parents
An apple, they say, does not fall far from the tree. Barron Trump, no doubt, inherited his height from both of his parents so the young boy's towering frame should not really be startling. Going by his assumed height of 6 feet 6 inches, Barron is already 3 inches taller than his father, who is quoted as saying in The New York Times, "Hey, I'm 6 foot 3".
In 2013, someone called Donald Trump a "Small man. Large ego" and in response, he tweeted, "No, large man 6'3″. Large ego!" In his medical files in 2016, his doctor also claimed his height was 6 feet 3 inches. However, when Donald took a picture with an athlete who was 6 feet 2 inches tall in 2018, that claim seemed to be untrue. Contrary to the former President's 6′ 3" claim, his height is recorded as 6′ 2" in his driving license. Whatever the case though, Barron is taller than his father.
When compared to Melania, Barron is also not less than 7 inches taller than his mother who is said to be 5 feet 11 inches tall. The former model is often seen wearing high-heeled shoes which make her seem to be closer to 6 feet 1 or 2 inches but even at that, Barron is still taller.
How Tall Are The Trumps?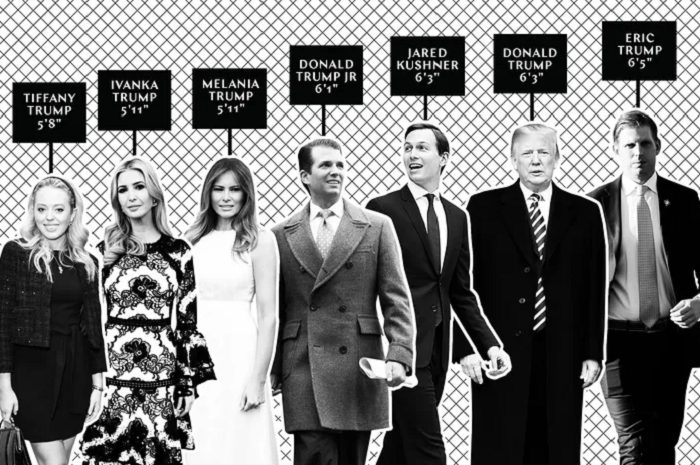 Aside from Barron and his parents, there are other members of the Trump family who are tall although the young man is the tallest of all his older siblings. A 2018 report by The Cut revealed the height of Donald Trump's three children with his first wife, Ivana, and they all have varying measurements.
The eldest, Donald Trump Jr., stands at 6 feet 1 inch while Ivanka is just as tall as her father's current wife, Melania, standing at 5 feet 11 inches. Eric was initially the tallest in his family at 6 feet 5 inches, but that has changed since Barron knocked him off and took the title.
Tiffany Trump, a product of Donald Trump's marriage to Maples, is the shortest member of the family as she stands at 5 feet 8 inches. Jared Corey Kushner, Ivanka Trump's husband, is another member of the Trump clan who is prominently tall. He is 6 feet 3 inches.
Social Media Reaction To Barron's Height
After many people noticed how tall Barron Trump was when he attended the Republican National Convention in 2020, his height became a topic for discussion on social media platforms.
I can't get past the fact that Barron Trump is like 6'6" at 14 years old. he doesn't even fit in the picture when he stands up https://t.co/ysBXmKrGh0

— johnny trash (@theMATThatter__) August 28, 2020
When you google "how t" and it autocompletes "how tall is Barron Trump" pic.twitter.com/Raij2A8v3F

— Jennie Wade (@hippiechickgrrl) August 17, 2020
Some were of the opinion that his height varied from one picture to another, with him appearing to be very much taller than Donald Trump in some and just about the same height as him in others. However, noting that he is still a growing child, the difference is not unusual.
Barron trump trends like every 3 weeks and its almost exclusively about how tall he is lol

— Curtis (@Curtis4UL) August 28, 2020
I never realized how tall Barron Trump is…. kid is 14 years old and has to be 6'6" pic.twitter.com/jjCSebxb0C

— Allen Waddell (@AllenGWaddell) August 28, 2020
Unsurprisingly, there were a lot of jokes about how it would be ideal for the teenager to become an NBA player since he is nothing short of 6 feet 6 inches and still growing.
Barron Trump needs to get the fuck out of that family and get up in the gym start putting up some shots

— Nicholas (@CAAARRLL89) August 28, 2020
Some other Twitter users argued that the boy is taller than 6 feet 6 inches.
Barron Trump is 6'11. You can't tell us otherwise.

— ForAmerica (@ForAmerica) August 28, 2020
Some of the commentators went on to allege that Donald Trump was not the father of Barron. One wrote, "Is Barron even Trump's son? Zero resemblance and has inherited height. A basketball player's son maybe? #BarronNotATrump."
Another added, "Are we sure that Barron Trump is Donald's son because he is taller than Donald. He might be taller than the other Trump son." In another comment, it was written that "Donald Trump is listed as 6 feet 3 inches and both Eric and Donald Jr. are listed as 6 feet 1 inch. I wonder how tall Barron's dad is?"
Unfortunately, this is not the first time Barron's paternity had been called to question. In June 2020, John Henson, the then Halloween Baking Championship host on Food Network, made a joke on Father's Day that questioned the paternity of Barron Trump writing, "I hope Barron gets to spend today with whoever his dad is."
First Lady Melania Trump responded to the insensitive joke in a statement issued to Daily Caller through her spokeswoman, Stephanie Grisham. "Sadly we continue to see inappropriate and insensitive comments about the President's son [Barron Trump]. As with every other Administration, a minor child should be off-limits and allowed to grow up with no judgment or hate from strangers and the media," she said in the statement.
Reacting to the statement, Henson deleted the tweet, explaining that he never intended to take a dig at the young boy. "With respect, I think you dissecting it is the issue. The joke was aimed at Trump and the mere mention of Barron's name doesn't mean it's at his expense. Although I respect your right to take issue with it," he wrote in another tweet.
What Does 'Little Donald' Do For A Living?
Barron Trump was born on 20 March 2006 and is currently 17 years old. As such, he is still in high school. He was initially studying at the Columbia Grammar and Preparatory School located on the Upper West Side of Manhattan but months after his father became America's President, he moved to St. Andrew's Episcopal, a prep school in Potomac, Maryland. This made him the first president's child to attend the school as all other president's children for over 35 years before then attended Sidwell Friends School.
Although he is taking his academics seriously, Barron is also interested in other things. His mother revealed that he was "all into sports" when she spoke at a forum at Liberty University in November 2018. In line with that, his father, while speaking with CBS's Margaret Brennan on February 3, 2019, ahead of the 2019 Super Bowl, said football was associated with a lot of dangers and that he would find it difficult to let Barron play considering the risk of head injuries involved.
According to Mr. Trump, "If he wanted to? Yes. Would I steer him that way? No, I wouldn't…I just don't like the reports that I see coming out having to do with football – I mean, it's a dangerous sport and I think it's – I – it's – really tough, I thought the equipment would get better, and it has. The helmets have gotten far better but it hasn't solved the problem," Trump added.
It was further disclosed that Barron was more interested in soccer than football. In addition to sports, Melania also told Parenting that Barron enjoys building cities and airports using Legos and Magna Tiles. "He builds big projects. He has a big imagination and it's very impressive. He loves to build something and tear it down and build something else. He is very detailed at drawing…"