Three things come to mind immediately where it concerns Heidi Przybyla. Her career, her incredibly well guarded personal life, and where she stands on President Donald Trump. This American journalist has been in the world of news and reporting for over twenty years.
A career that kicked off in 1997 has seen her do pretty well for herself. However, it is arguable that she was still relatively unknown until her comments about Donald Trump that polarised opinions across the nation and boosted her visibility.
Heidi Przybyla before her journalism days, Bio (Age)
Heidi is a Virginia gal. Born in the city of Alexandria on November 18, 1973. There is no source online that clarifies her childhood, or post-university education. Her family information is also something that is skillfully kept under wraps. There is no information online about her father, mother or siblings (that is if she has any).
However, Heidi Przybyla attended the Michigan State Unversity, where she bagged a Bachelor of Arts (B.A.) Degree in International Relations and German. She also had a one year stint at Albert-Ludwigs-Universitat Freiburg in Breisgau, Germany, from sometime between 1993 and 1994.
Heidi Przybyla's Journalism Career
Heidi's first shot came a few years after, in 1997, in the State of her birth – Virginia. She was brought on as a reporter for Washington Business Journal, a role she filled for two years, culminating in 1999.
See Also: Nischelle Turner's Bio, Married, Relationships, CNN
Her next challenge was with Bloomberg News. In 1999, she became the media giant's White House Reporter. Heidi has spent the significant majority of her journalism career with Bloomberg. Moving on from White House Reporter after five years, she was promoted to Senior Political Reporter in 2005. She served in this capacity until October 2010, when she was promoted again to the position of Congressional Reporter. She finally left Bloomberg News in 2015, having given sixteen years of her career to the news company. In August of 2015, she joined USA Today as a Senior Political Correspondent.
Heidi has been known to make some serious remarks concerning some elite players in Washington's political circle. Most notably was when she talked about Trump's remarks about anti-semitism in the wake of then-recent threats and vandalism. In 2015, she also joined with then-fellow Bloomberg Correspondent Mark Halperin to break down Hillary Clinton's interview with CNN concerning her political aspirations, campaign and opponents. This was during one of Bloomberg's most-watched television series titled With All Due Respect.
Is Heidi Przybyla Married? Husband

As stated earlier, the journalist's personal life has managed to stay away from public access and ultimately, any kind of scandal. It is not clear if she is in a casual or committed relationship or if she is married. There have been no indications to this effect.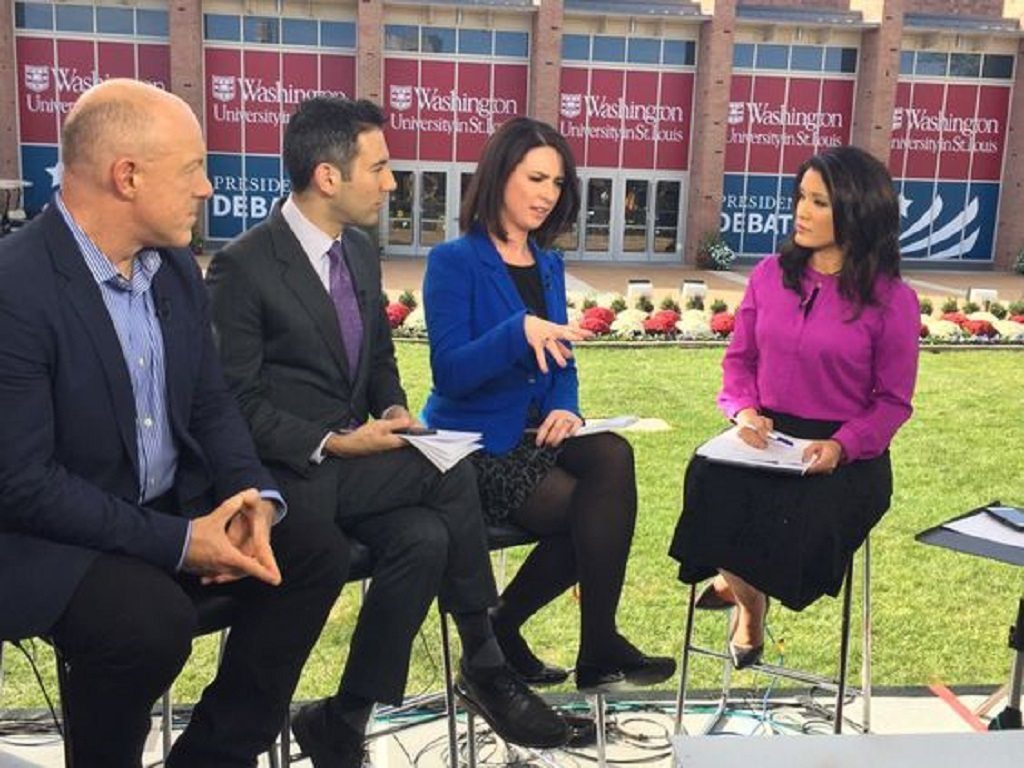 Perhaps the only thing that people have to point to is a cryptic tweet she made on October 8, 2016. This was during the time of the Clinton-Trump presidential campaigns. The tweet had to do with Donald Trump but it was the ending sentence that would have caught the attention of most of her fans. The ending of the tweet carried a vague suggestion that she filled the three most important male positions in her life: Dad, brother – and most importantly, husband. But then again, it might just have been a tweet and nothing more. No one knows for sure. Even her activities on all her social media accounts have not helped to endorse or refute claims for or against her relationship status.
See Also: Sandra Smith Facts, Bio, Married, Husband, Net Worth, Measurements
How much is Heidi Przybyla Worth? Salary and Net Worth
Factoring in her more than twenty years in the world of journalism, it is safe to assume that Heidi Przybyla has done pretty well for herself. Especially, given the fact that a great majority of her career so far has been spent at media giants like Bloomberg News and USA Today.
According to Glassdoor, a Reporter at USA Today earns an average of $79,982, while a Journalist earns $83,894 on average. Add this to her collective earnings during her time with Bloomberg News and Washington Business Journal and it will not be far-fetched to estimate Heidi's net worth to be running into millions of dollars.
Heidi Przybyla's Height and Body Measurements
The best anybody can tell of Heidi's body measurement is at best, an estimation from watching her on television. All that can be said with certainty is that Heidi, in terms of height, is an American woman of average height. Her weight is also an unknown factor, however, it is known that she has beautiful brown eyes and a light shade of brown hair.