Heidi Klum separated from Seal, her second husband, in 2012, after seven years of marriage. While the two stayed relatively quiet about what caused their split, the divorce was eventually finalized in 2014.
After about five years and a couple of failed relationships, Klum got married for the third time in 2019. She wedded Tom Kaulitz, the guitarist for the German rock band Tokio Hotel who is 16 younger than her.
How Did Heidi Klum and Seal Meet?
Heidi Klum and Seal met for the first time at a GQ Awards event held in the Big Apple. At this event, they were not formally introduced, however, later at a hotel lobby in New York, the couple finally met again. Heidi was sitting at the lobby with a friend who also happened to be a friend of Seal. Heidi, who had just come out of a relationship felt it was too soon and did not think anything will come from the chance encounter.
Seal on his part was struck by the exceptional beauty of the German model. Heidi was also impressed by the physique of the R&B singer. After their coincidental meeting, they decided to see each other again. Soon they began dating, although the precise date their relationship began is uncertain.
After a month of dating, Heidi who was pregnant with her ex-boyfriend's child revealed her pregnancy to Seal. The musician didn't mind and in May 2004, Leni was born. Seal took her as his own and treated her like his daughter.
Seal met Heidi when she was in dire need of care. She had just broken up with her ex-boyfriend Flavio Briatore whose baby she was pregnant with. So, Seal filled in the position of a husband to take care of her until she gave birth to her daughter Leni some five months later on. Afterward, Heidi severally expressed glowing gratitude towards Seal for his kindness.
Given this background, the two lived like the ideal couple. They got to the point of Seal adopting Heidi's daughter from her previous relationship and Heidi taking up Seal's surname legally. They also had three kids of their own together. Then, on January 22, 2012, the couple gave their fans a rude shock by informing them that they were going their separate ways.
Why Did Heidi Klum and Seal Split After 10 Years?
Arguably, Heidi Klum and Seal had one of the strongest marriages in Hollywood which was envied by many. As is often said, there can be so much hidden behind a smile; this was true in the marriage between the couple. In January 2012, the news of the split of this seemingly perfect union broke out.
According to Heidi, she filed for a divorce because she could no longer put up with Seal's wild ways and hard-partying. Also, she complained that he had a volcanic temper and she was afraid of the effect his inability to control his temper would have on their children. The divorce process played out amicably and was finalized in 2014.
What was Their Marriage Like?
Heidi Klum and Seal got engaged a year after they met. The British singer whisked Heidi away in a helicopter to Whistler, BC in Canada where he had an igloo specially built for the occasion. He picked his guitar, played her a song and proposed to her with a beautiful yellow diamond ring.
A year later in 2005, Heidi Klum and Seal tied the knot on a beach in Mexico. It was more of a private ceremony that had only 40 people in attendance. The gorgeous model stunned the guests with her lace Vera Wang gown.
At the time of the wedding, she was already pregnant with their first child and on September 12, 2005, the couple welcomed Henry Gunther Ademola Dashtu Samuel. The couple added another member to their family on November 26, 2006, when they had another son named Johan. After Johan came Lou, their first and only daughter together. Lou was born on the 9th of October, 2009.
Heidi Klum and Seal Made Several Attempts to Remain Together After Their Split
When the split between Heidi Klum and Seal happened, many insinuations were expressed in the media. One of them was that Heidi Klum only used and dumped Seal. But, looking at the effort both of them made to keep the relationship going, we have to disagree with this point of view.
A few months after Heidi Klum put to bed, Seal proposed to her in an igloo which he had constructed on a glacier just for the occasion; that was in British Columbia, Canada. The following year, they got married in yet another country: their wedding held at a beach in Mexico. As a tribute to her king, Heidi Klum soon took up Seal's surname legally.
Then, to further help them in placing a premium on the relationship, the couple started an unprecedented practice of a yearly ceremony for the renewal of their nuptial vows. The ceremony held before friends and family members on their wedding anniversary each year. It was like getting married every year.
Heidi and Klum were so much into each other that their union produced a kid every year in its first two years. They were never seen in the public one without the other. As earlier mentioned, Seal adopted Leni who also took up Seal's surname. They related so well that, virtually every couple in the world wanted to be like them. They ended up having three kids together: two sons named Henry Günther Ademola Dashtu Samuel (born in 2005) and Johan Riley Fyodor Taiwo Samuel (born in 2006), and a daughter named Lou Sulola Samuel (born in 2009).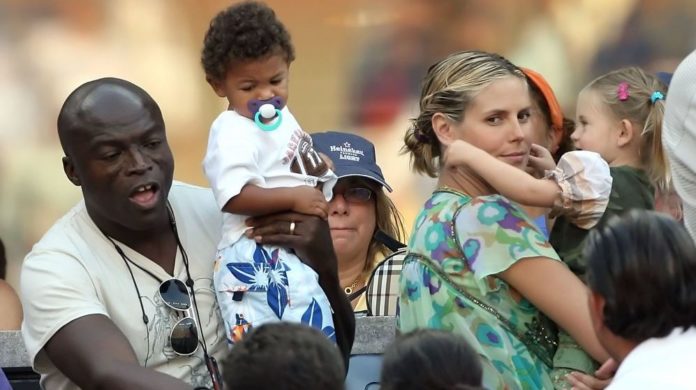 Why Such a Beautiful Relationship Ended in Divorce
The first sign that all was not well with the relationship emerged during the Summer holiday of 2011. Heidi Klum and Seal were holidaying on the island of Ibiza in Spain with their children. But later on, Heidi would complain of how Seal would abandon her and the children in their accommodation and go on partying for hours.
After that, people hardly saw Heidi Klum and Seal together, except once during the Yuletide Season of 2011 (precisely on December 26). They were seen at a holiday picnic in Colorado. The following month (January), Heidi Klum was sighted at the Golden Globe Award ceremony in California without Seal. Also, Seal was seen at the Los Angeles International Airport without Heidi that same January, a few days before the announcement of their split.
Did Heidi Klum Cheat on Seal?
The question then is, "what really happened?". Was it just the Ibiza event that broke the couple or was there more to it? Some have speculated that Seal probably suspected Heidi of cheating – after all, the Ibiza story was told by Heidi Klum and was never confirmed by Seal. The view claiming that Heidi probably cheated on Seal was supported by the fact that it was not long after the couple announced their split before Heidi and her bodyguard Martin Kirsten began to be seen in romantic poses. So, it is thought that the two had been hitting it out in secret all the while. Also, Heidi was the first to file for divorce in April. Even Seal would later complain that he was disappointed in Heidi for being out of touch with her class by dating her bodyguard.
Heidi Klum later complained that Seal's bad temper was also an issue. In an interview she granted to TMZ, she was concerned that Seal's "anger issues" would be affecting their children.
Another reason we found for the breakdown of the relationship between Heidi Klum and Seal is their career involvement which stole much of the time they would have shared as a couple. While Heidi Klum was often traveling overseas to her home country of Germany and elsewhere to promote her business interests, Seal was often on tour to promote his music. We think that this is the remote cause that may have engineered the other causes. Indeed, those who are close to the couple bear witness to how the couple gradually grew apart because of such career commitment.
Since Their Divorce, Heidi Klum Has Moved On To Marry A New Husband
Yes, it is quite public that Heidi Klum had her third wedding in life in August 2019. Before her marriage with Seal as accounted for above, she had been married to the hairstylist Ric Pipino between 1997 and 2002; that was before her fling with Flavio Briatore that produced her first daughter Leni. Her new husband's name is Tom Kaulitz and is one of the founders of the German pop-rock band, Tokio Hotel.
Their wedding held during the summer of 2019 at the island of Capri in Italy. On the day of the wedding, Kaulitz was 30 while Heidi was 46. They had dated for a year and three months before the wedding. And Heidi Klum has been showing she is very happy with it. Here is a video she posted in memory of the wedding on December 24, 2019.
While this is Heidi Klum's third marriage, it is Kaulitz's second. The musician was previously married to the German model Ria Sommerfeld. They were together between 2011 and 2016.
Who is Heidi Klum Currently Married to?
Heidi Klum is married to musician Tom Kaulitz. The couple wedded in 2019 after dating for about a year.
Who is Heidi Klum's Husband Tom Kaulitz?
Klum's husband, Tom Kaulitz, is a German musician. Since 2001, he has served as the guitarist of the German rock band, Tokio Hotel. Tom is also a songwriter and composer.
How Old is Heidi Klum's Husband?
Tom Kaulitz was born on 1 September 1989, making him 34 years old. He is evidently younger than his wife who is 50 years old.
Who are Seal and Heidi Klum's Kids?
Seal and Heidi Klum have three biological children. The musician, however, adopted his wife's child from a previous marriage which makes takes the total number of their kids to four. The first is daughter Leni who was born in May 2004. Son Henry was born in September 2005 while Johan, their second son, was born a year later in November 2006. The youngest child in the family is daughter Lou Sulola who was born in October 2009.
Who was Heidi Klum Married to before Seal?
Before Heidi Klum walked down the aisle with Seal, she was married to stylist Ric Pipino. The union lasted for about five years before ending.
How Many Times Has Heidi Klum been Married?
Heidi Klum is now in her third marriage. Her first marriage to Ric Pipino lasted from 1997 to 2002 while her second one to Seal lasted from 2005 to 2014. Her third union with Tom Kaulitz happened in 2019.