Harolyn Suzanne Nicholas is the only daughter of dancer Harold Nicholas and his wife, actress Dorothy Dandridge. She was born in Los Angeles, California USA, and is best known as the only daughter of the super-successful African-American couple.
Hardly will you find anyone who remembers that Harolyn Suzanne Nicholas is the love child of Dorothy Jean Dandridge and Harold Nicholas. Her parents were African-American entertainers who excelled in their respective fields of the show business industry.
Her mother (Dorothy) was a renowned singer, dancer, and actress. She enjoyed a successful career in Hollywood at a time when racism and segregation were very much rampant, becoming the first black woman in history to be nominated for the Academy Award for Best Actress; this was for her dazzling performance in Carmen Jones (1954).
Harolyn's father was also a game-changer. He is considered one of the best dancers who have ever lived, and he belonged to one of the most famous two-man dance duos in the world, along with his brother Fayard.
The brothers were veritable celebrities best known for their electrifying tap dancing abilities. They practically paved the way for other colored performers to come including Dellie Allen and the moonwalking superstar, Michael Jackson. Below are things to know about Harold Nicholas' daughter.
The Early Life of Harolyn Suzanne Nicholas
Harolyn was born in Los Angeles, California, on the 2nd day of September 1943 to a famous actress and a superstar dancer. She was born brain-damaged and suffered from a condition known as cerebral anoxia which affected her cognitive abilities and other functions.
Harolyn Suzanne Nicholas was unable to speak until she was four years old, and she wasn't able to communicate or recognize people, not even her parents.
Her mother blamed herself for Harolyn's condition because she delayed giving birth so as to allow Harold to get to the hospital in time for the delivery. Nonetheless, it was later discovered that the condition was a result of the surgical instruments used for the birth; it cut off the supply of oxygen to a part of her brain.
Harolyn Suzanne Nicholas' Fact Sheet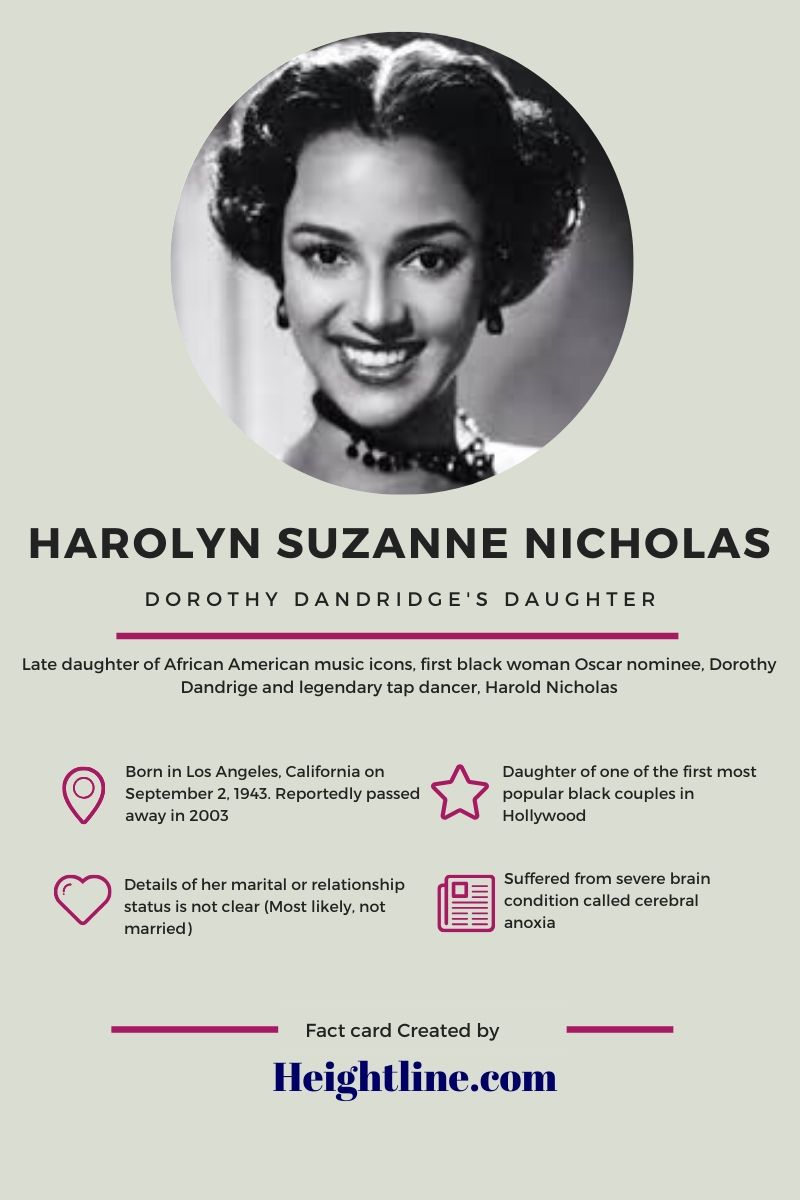 Her Parents' Union and How They Died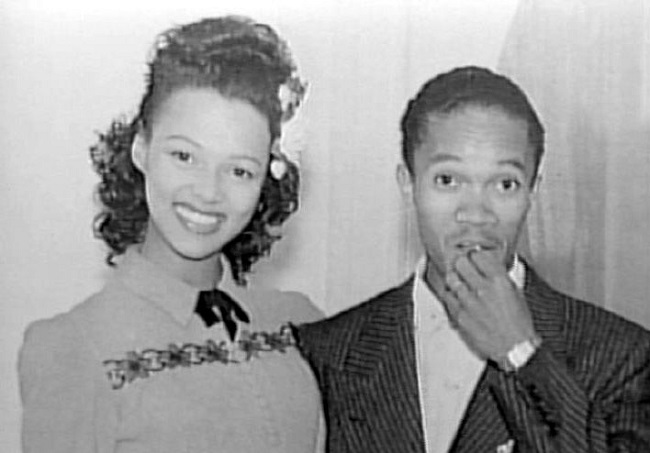 Dorothy Dandridge and Harold Nicholas met in 1938 in Harlem, while they were both hanging out at the Cotton Club. The couple got married on September 6, 1942, and shortly after, they welcomed their first and only child together, Harolyn Suzanne Nicholas.
As fate would have it, their marriage only lasted for nine years before Harold completely abdicated his responsibilities to his family and divorced his wife. The challenge of raising a child like Harolyn complicated their marriage, among other things.
In September 1965, Harolyn Suzanne Nicholas' mother was found naked and dead in her apartment by her manager. Autopsy reports later revealed that Dorothy died from an accidental drug overdose, complicated by a fat embolism. Her father died several decades later; he passed on July 3, 2000, from heart failure.
Where Is Harold Nicholas' Daughter Now?
At the moment, it is unclear whether Harolyn Suzanne Nicholas is alive or dead. She was admitted into a private care institution because taking care of her became too difficult for her mom; it took too much time away from her career and other endeavors. However, if she is still living, she would be a septuagenarian.
No one has provided any concrete information about the whereabouts of Harolyn. While it is believed in some quarters that she passed away in 2003, there are reports that suggest she is still alive and living in a mental health facility in the state of California. Neither of the claims has been substantiated.
Other Things To Know About Harolyn Suzanne Nicholas
1. Her father was a deadbeat dad, he took no interest in her life or in caring for her.
2. Despite her condition, Harolyn still tried to find some joy in life. She was a happy and fun child. Her mother tried to do everything she could to make her daughter better and give her a more comfortable life. She spent thousands of dollars on doctors and specialists, but all her efforts proved abortive.
3. Harolyn Suzanne Nicholas had to become a ward of the State of California after her mother went bankrupt and could no longer take care of her, so she relinquished all parental rights.
4. Harolyn had a stepbrother called Melih Nicholas; he was the son of her father's second wife, Elyanne Patronne.
5. In 2001, her father and his brother Fayard were inducted into the National Museum of Dance C.V. Whitney Hall of Fame.
6. Her grandmother (Ruby Dandridge) was a singer who also made waves in the entertainment industry. In addition to other things, she created the dance act called The Wonder Children. It was mainly made up of Dorothy Dandridge and her sister Vivian.
7. Harolyn Suzanne Nicholas' mother entered a second marriage with Jack Denison in June 1959. The marriage packed up three years later following accusations of domestic violence. Her father married his third wife, Rigmor A. Newman, in 1977.