If you've ever heard of the Dolan Twins, then you're definitely aware that Grayson Dolan is the other half of the duo. Together with his brother Ethan, Grayson rose to fame in 2013 thanks to their Vine account where they shared funny video clips and immediately amassed a huge fan following.
Before Vine was shut down in 2017, they garnered over 6.4 million followers. On YouTube, their subscribers are over 5 million. In 2016/207, Grayson alongside his brother received three Teen Choice Awards including Choice Web Star: Male, Choice YouTuber, and Choice Comedian.
It is difficult to talk about one of the brothers without including the other, but in this article, we'll try to tilt more towards Grayson who is younger than Ethan by about 20 minutes.
Grayson Dolan Biography (Age, Family Life And Other Background Information)
Grayson Bailey Dolan was born as a twin on December 16, 1999, in Long Valley, New Jersey to parents Lisa a hair stylist and Sean Dolan, a school superintendent.
He has an older sister named Cameron (born in 1997) who introduced him and his twin to Vine after finding some level of fame with the video-sharing platform herself.
Before their Vine fame, Grayson and his brother were athletic in high school, playing on the football team and wrestling competitively. Grayson has won a tournament that was held at the Madison Square Garden.
Grayson posted his first Vine video in May 2013. It was a video of some kid stealing mayonnaise. This was after Ethan had posted a clip of himself in a trash bag and a vacuum cleaner sucking out all the air from the bag.
Read Also: Elizabeth Ruiz – Biography, Dating Relationships, Facts
They were in 2015 signed by Brian Robbins' AwesomenessTV. By October 2015 they had earned enough money to begin living on their own and relocated to Los Angeles where they live in a large two bedroom house.
Girlfriend
Cute, tall, hunky, funny, rich, are among the top qualities that females look out for in a guy and Grayson Dolan has it all. Having made it so early in life, Grayson is the dream of many girls out there.
However, when it comes to his romantic life, the younger Dolan brother reveals little or nothing to the media. This makes it incredibly difficult to tell per time whether or not he is in a relationship.
Grayson was once in a relationship with a certain Chloe Alison, a fellow social media star. Like Grayson, she started out on Vine posting under the moniker Cash Money Chloe.
A good singer, she posts clips of herself covering hit songs on her SoundCloud account. Before Vine was shut down she garnered about 200,000 followers and on Instagram, she has at least 10,000 followers.
It remains a mystery to the media why they split up. Since the split, Grayson hasn't been linked with anyone yet.
He did reveal on MTV's TRL that he is open to dating one of his fans. "I mean I don't think you can control who you fall in love with so if it happens…yeah, it's a possibility," he said.
Read Also: Chris Evans Girlfriend, Wife, And Brother: All You Need to Know
Fingers crossed in hopes that Grayson becomes more open about his love life sooner rather than later…
Tattoo
If you're a fan of the Dolan Twins, then you know that they love tattoos and sport a number of them. They even get fake ones from time to time. As of this writing, Grayson Dolan has at least 6 tattoos on his body.
The first tattoo he ever got was the writing "MATTERS with a line drawn across it" located above his right ankle.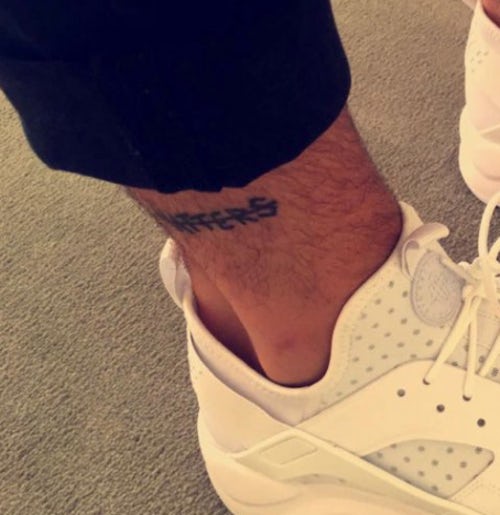 The Dolan brother said the tatt reminds him not to worry about insignificant things.
In one of his YouTube videos, he explained the meaning saying;
"I got that tattoo because it means nothing matters – not in a negative way. To me, the meaning of 'nothing matters' is to not get caught up in the small, stupid things that you stress about in life – that aren't going to matter in years to come."
Grayson's second tattoo is the word GRIND written on the inside of his lips. He has confessed that the tattoo doesn't really have a deep meaning to him.
There's a tattoo of his brother Ethan's name written in an arrow heart. The tattoo was as a result of a dare the brothers signed up to, called "Where Am I?" challenge.
He has the word COMMIT! written across the side of his foot. His older sister was the artist of this one and it was made in their home. Grayson says the tattoo reminds him to stay committed in other to accomplish his goals in life.
There is a tattoo of an angel wing above his ankle but Grayson has refrained from speaking about it.
In July 2017, Grayson got his biggest tattoo yet. He took to Instagram to unveil it accompanied by a caption that read "This one is really special to me."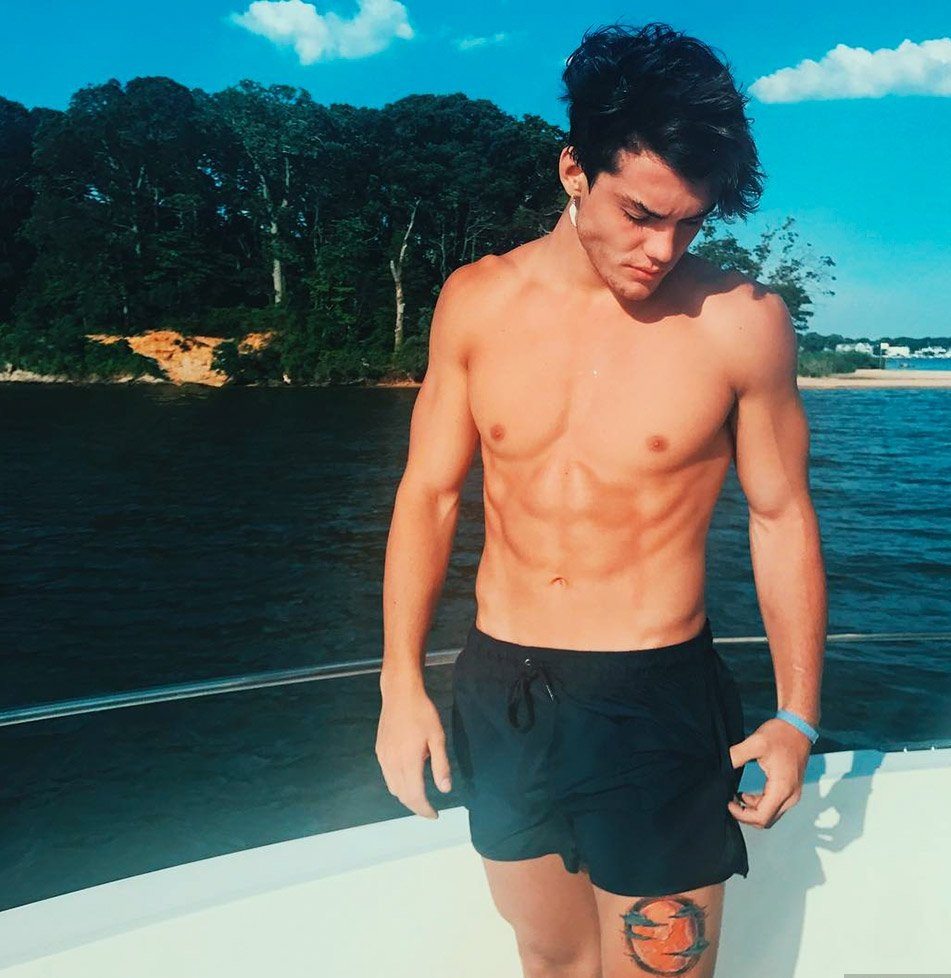 Grayson later revealed that the tattoo was inspired by Kid Cudi's "Man on the Moon" album. He credited the message from the album for helping him overcome a "wierd dark time" in his life.
Height: 5 feet 11 inches (1.8 m)