There are rumors that Grayson is currently dating a model and social media influencer known as Tyson. Before her it was rumored that he was involved with several other women, including Elizabeth Seward, Chloe Alison, and Sofia Olivera but because he prefers to keep his love life private, the relationships were never confirmed.
If you have ever heard of the Dolan Twins, then you are definitely aware that Grayson Dolan is one-half of the duo. Together with his brother Ethan, Grayson rose to fame in 2013 thanks to their Vine account where they shared funny video clips and immediately amassed a huge fan following.
Before Vine was shut down in 2017, the twins garnered over 6.4 million followers. On their YouTube channel, they have amassed over 10.6 million. Among other accomplishments, the Dolan brothers have won three Teen Choice Awards for Choice Web Star: Male, Choice YouTuber, and Choice Comedian.
It is difficult to talk about one of the brothers without including the other, but we'll try to tilt more towards Grayson, exploring an aspect of his life that his fans take a keen interest in, which is his love life.
The Truth About Grayson Dolan's Relationships
Having made it so early in life coupled with his attractive appearance, it is not farfetched to assume that Grayson Dolan has become the dream of many girls out there. However, when it comes to his romantic life, the younger brother of the comedic duo reveals little to nothing to the media. This makes it incredibly difficult to tell a thing or two about his love life.
That notwithstanding, we know for sure that he has been in a relationship with several women since he started dating. This belief is based on the fact that he has been linked to some ladies at different times and also on some revelations that Grayson and his twin brother made in a YouTube video posted on March 5, 2019.
In the video, the brothers decided to get a psychic reading, and in the process, a few secrets about their love life came to light, confirming that they have actually been dating.
For instance, when the psychics, twins Linda and Terry Jamison, told the brothers that they were yet to meet their future wives, Grayson admitted thinking he already found his wife-to-be saying, "I thought I knew my wife, but I guess I don't. Life's interesting."
Ethan disclosed that Grayson believed everyone he has dated was his soul mate. "Grayson thinks he's found his soul mate about seven times now," Ethan joked, implying that Grayson had dated seven women as of the time they met with the psychics.
The duo also spilled that each time they had girlfriends in the past (confirming that they have had multiple girlfriends in the past) the other twin felt somewhat left behind. According to Ethan, "When we've had girlfriends in the past, if Grayson has a girlfriend I'll feel like she's kind of taking him away from me…"
Who Is Grayson Dolan's Girlfriend?
While we are not sure if it's true, it is rumored that Grayson is involved with a young woman known as Tyson. Towards the end of 2020, a photo of the YouTube star walking with a new girl in Los Angeles began circulating on social media.
Social media detectives and fans of Grayson swung into action to discover the mystery girl's identity and it did not take long before it was revealed that it was a model and social media influencer known as Tyson, who boasts of more than 85,000 followers on Instagram.
Tyson also posts videos of her and her sister singing on her Instagram page and is popular on Tiktok for pretending to be a baby.
Love Triangle Drama
After the identity of Grayson's supposed new girlfriend was uncovered, his fans searched further for details about her and made a shocking discovery. It was found out that Tyson was not only involved with, but had already gone as far as getting engaged to a Los Angeles-based photographer and director named Austin William Simkins.
According to reports, Tyson and Austin were a couple for three years, and Grayson was even friends with the photographer.
As of August 2020, Tyson and her would-have-been husband were still together and a photo of them shared by the photographer on August 13, 2020, is proof. In the caption of the picture Austin posted on Instagram, he referred to Tyson as his girlfriend more than once.
Unfortunately, their relationship eventually went south and social media reports alleged that Grayson and Tyson were hooking up for months before she ended things with her fiance.
Reports from different sources also claimed that Tyson had a fling with Grayson's twin brother, Ethan. Amidst all the messy claims, Grayson, Tyson, and, Ethan decided to let the speculations keep flying without making any attempt to clears things up.
However, Austin Simkins opened up on the issue, establishing the correctness of most of the rumors when asked by a Tea Page on Instagram.
In September 2020, Savannah Simkins, Austin Simkins's sister, also made a comment on Austin's Instagram post which hinted that there was a problem. In her comment, Savannah indirectly accused Tyson of publicizing the issue in a bid to gain more popularity on social media.
Many other people commented on some of Tyson's Instagram posts at the time, accusing her of using Grayson to get her singing career off the ground.
As a result of the controversy, many of Grayson's fans were upset with him as they felt disappointed that he got entangled with Tyson despite being friends with her fiance.
Grayson Dolan's Dating History and Other Relationships
Despite his natural liking for sharing his life on the internet, Grayson prefers keeping his love life away from the media, so reports about all the women he has been said to have a romantic link with remain nothing but rumors as they are unconfirmed. Find out who these ladies are below.
Grayson Dolan and Sofia Olivera
It was once believed that Grayson dated Sofia Olivera. Just like him, Sofia is also a social media personality (with over 30,000 Instagram followers) who rose to fame via Vine. It is said that the two became buddies and eventually started dating in 2014 after they worked together to make a video for the platform.
Grayson even posted a picture of himself, his brother Ethan, and Sofia, on his ask.fm profile and gave it a caption that suggested he was in a relationship with Sofia. The caption read, "Brother and babe." Additionally, the duo also kept sending each other tweets on April 14, 2014. It began with Ethan asking Sofia if she wanted to go out with him.
Wanna go out @sofiaoliveraaa

— Grayson Dolan (@GraysonDolan) April 14, 2014
They continued their back and forth tweeting, sending each other replies that came off as flirty.
The conversation eventually ended with Grayson telling Sofia that he loved her.
Again, on the 5th of May 2014, Grayson asked his fans on Twitter to follow his "g-f" (girlfriend) Sofia. He, nevertheless, added that they were not dating, jokingly though.
After then, nothing was ever heard again about their supposed relationship.
Grayson Dolan and Chloe Alison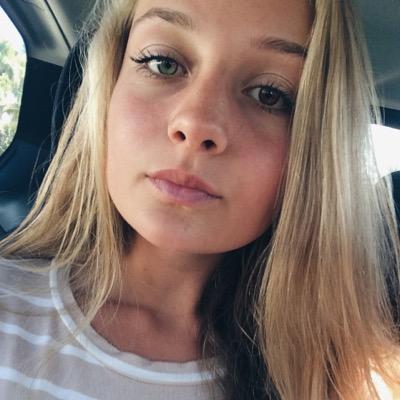 Apart from Sofia Olivera, there are reasons to believe that Grayson Dolan might have also dated Chloe Alison, a New Jersey native and sister of internet personality Stephen NJ. Like Grayson and his supposed ex, Sofia, Chloe is a social media star.
She also started on Vine, posting under the moniker Cash Money Chloe. She posted her first video on the social networking short video hosting platform in July of 2013 but did not start posting consistently until September of the same year. Before Vine was shut down, she garnered about 200,000 followers.
Also a good singer, Chloe regularly posts her cover versions of hit songs on her SoundCloud account. On May 30, 2014, she also started her YouTube channel named "Chloe Colaluca" where she posts videos of herself singing covers of different popular songs.
At the moment, the channel has more than 8.73k subscribers while there are 15.1k followers on her SoundCloud account. Chloe is also famous on Twitter where she goes by @chlxealison and has 14.8K followers (and counting).
Grayson and Chloe reportedly had something between them around May 2014, the same time we last heard of him and Sofia. The twin even appeared in some of Chloe's videos on Vine. It remains a mystery to the media why they split if ever they had truly dated.
Grayson Dolan and Elizabeth Seward
Before Tyson came into the picture, there were reports that Grayson was dating a model named Elizabeth Seward.
Rumors of their supposed relationship started making the rounds in June 2019 after the blonde-haired model reportedly liked and later unliked a comment written by a fan on one of her posts on Instagram. The comment read, "OK, we got it, Grayson's girlfriend."
Another reason the two were believed to be a couple was that they were both in Paris at a time which coincided with Paris Men's Fashion Week. And it appeared they had traveled to the European city together owning to the fact that they shared photos they had taken under the Eiffel Tower at about the same time.
In Elizabeth's photo, she had some roses that she said were given to her by her "bae", and fans immediately began assuming that she was making reference to Grayson. As is typical of the YouTube star, he kept mum about the matter, so it was never confirmed whether the news of him and Elizabeth being a pair was true.
Even though he has never made any of his relationships a public affair, it appears Grayson actually had someone special while he was a high school student. We have no idea what her name is, but there is an old video of them available on the web. See for yourself.
Other popular names that the YouTube star has been speculated to be romantically linked to include singers Olivia O'Brien and Madison Beer.
Profile Summary
First Name:
Grayson
Last Name:
Dolan
Also Known As:

Grayson
Sex/Gender:

Male
Profession:

Comedian
Famous For:
The Dolan Twins
Colleges/Universities Attended:

N/A
Educational Qualifications:

N/A
Religion:

Christianity
Birthday & Zodiac

Age/Date of Birth:

23 years old (16 December 1999)
Zodiac Sign:
Sagittarius
Birth Place:

Long Valley, New Jersey, United States
Nationality:
American
Ethnicity/Race:

White
Country of Residence:

United States of America (USA)
Physical Attributes

Height:

5 feet 11 inches(1.8m)
Weight:

78 kg(172m)
Eye Colour:

Dark Brown
Hair Color:

Black
Other Body Measurements:

Chest: 43inches
Waist: 32inches
Arm/Bicep: 15.5 inches

Relationships

Marital Status:

Not Married
Spouse/Partner:

N/A
Family and Relatives

Father:

Sean Dolan
Mother:
Lisa Dolan
Children:

N/A
Siblings:
Cameron Dolan - sister
Ethan Dolan- Twin brother
Other Relatives:

N/A
Net Worth
Estimated Net Worth:

Under Review
Salary:
N/A
Source of Wealth:

Videos, brand endorsements, Personal appearances