Do not let your toddler see Grace Jones in her "full glory", or else you may have an inconsolable child on your hands. We feel your pulse but wait for it because you will get all your questions answered if you read through. Grace Jones is one model who wouldn't fit into your everyday description of a model, however, she ticks all the boxes which makes it right for her.
She is also a singer and actress of Jamaican origin who has several hot and popular singles to her name and has landed some major movie roles in Hollywood. Her charisma and persona stand out from the pool and she is one entity the American showbiz industry will not forget in a hurry. We would have a look at what makes her thick and what gave her career the lift it got to where it is today.
Grace Jones' Biography
Grace Jones is the third child of Robert W. Jones and Marjorie Williams and she was born into the family on May 19, 1948, in Spanish Town, Jamaica. Among her siblings (who were six altogether), Bishop Noel Joel and Chris Jones are the most popular. Her father, Robert, participated in local politics and was also a preacher who identified with the Apostolic denomination. Her mother, on the other hand, was an athlete who was stopped from participating in an Olympic event on the basis of her faith.
The couple left Jamaica and moved to the United States (without their children) in search of better opportunities. Meanwhile, Grace and her siblings stayed with their maternal grandmother and her husband, who was a strict disciplinarian. Being of the Pentecostal faith, Jones started attending the Pentecostal All Saints School but not long after, she was withdrawn and sent to a public school closer to home. She picked up from where her mother dropped off in sports and excelled as an athlete, even though she was bullied because of her skinny frame at the time.
She (and her siblings) moved over to the US to join their parents when she was 13 and she continued her education at Onondaga Community College. When she eventually got into college, Grace Jones took classes in drama and theater, At this point, she had become a rebel at home and did as she pleased, including moving out of the house to live in another city – Philadelphia – where she got involved with drugs.
Career
She was signed on as a model by New York-based talent agency, Wilhelmina Models. Her selling point seemed alien to the US modeling arena and so in 1970, Grace Jones moved over to Paris, France where she felt more at home with the modeling industry. Her first jobs on the runway were with high-end clients such as Claude Montana and Yves St. Laurent. She also worked with Guy Bourdin, Hans Feurer, and Helmut Newton while appearing on the cover pages of top magazines such as En Vogue, Stern, and Elle.
She picked up on her musical talents in 1974 and was signed on to Island Records. Her first album was released by the label three years later in 1977 and was titled "Portfolio". That was followed up with "Fame" which became a massive hit. However, the album that made her famous was the platinum and gold certified "Nightclubbing" released in 1981. And even though other albums followed such as "Living My Life", "Slave To The Rhythm", "Inside Story", etc, the Nightclubbing album is still considered her best studio effort.
Not one to shy away from any adventure, she took up some acting roles which turned out well. Jones made her debut with the 1973 movie Gordon's War where she played the role of Mary. She appeared in Conan the Destroyer (1984) as Zula the Amazonian and as the henchman of Max Zorin in the Agent 007 James Bond series A View to a Kill (1985). Her other screen efforts include Straight to Hell (1987), Cyber Bandits (1995), Wolf Girl (2001), No Place Like Home (2006), Gutterdämmerung (2016), etc.
Grace Jones' Net Worth
Grace Jones has graced every aspect of showbiz and has been successful in all of them. From modeling to music to on-screen acting, she has never let her background be an inhibition in her aim to be the best in all her endeavors. Her versatility in the entertainment industry brought with it financial rewards as well. Her net worth is estimated at $7 million which enables her super luxurious lifestyle.
Family: Son, Husband and Children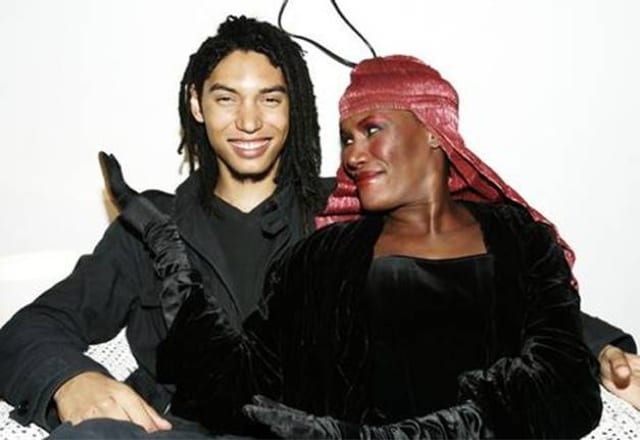 This controversial diva has been through wedlock two times, both of which ended in separations (even though she claims she was only married once). Her first known relationship was with the French photographer, Jean-Paul Goude, who she met in 1977. The relationship moved from professional to romantic and then there was a child in November 1979. Next was with Swedish actor, Dolph Lundgren, who was her bodyguard at the time they were dating. They dated for three years (1983-1986) before they went their separate ways.
Read Also: Keith Richards Bio, Net Worth, Wife, Age, Children and Other Facts
There was also actor Chris Makepeace in 1986 and the film producer, Chris Stanley, who she denies ever getting married to even though record says otherwise. The marriage she recognizes is the one with Atila Altaunbay, a Muslim from Turkey who was her bodyguard. Then after he held a knife to her throat in as a result of jealousy, that was the end of the union even though they were never divorced officially (because she never believed in it). Her other known affairs include Danish actor, Sven-Ole Thorsen; music producer, Ivor Guest; renowned director, Quentin Tarantino' and so on.
Paulo Goude is the only son of the legendary singer and actress who she had with her French ex-partner, Jean-Paul Goude. Paulo has taken after his mother and is a musician and singer. He belongs with the band Trybez and has performed on his mother's tours. He is a father and shares his lovely daughter with his girlfriend, Azella, who happens to be a member of this band.
Quick Facts About Grace Jones
Name: Grace Jones
Occupation: Model, actor, singer
Birthdate: May 19, 1948
Birth: Spanish Town, Jamaica
Nationality: Jamaican
Marital Status: Divorcee
Zodiac Sign: Gemini
Height: 5 feet 8 inches (173 cm)
Weight: 121 lb (55 kg)
Hair Color: Black
Eye Color: Dark brown
Net Worth: $7 million