How tall is Gordon Ramsay? Gordon Ramsay is 6 feet 2 inches (1.88 m) tall. The British Celebrity Chef once stated "I was six foot, fast, strong, 19 years of age. So the last thing I expected was to be kicked out Rangers". In 2000 he also said "I'm 6ft 2ins, thick-set and rugged" 
Gordon Ramsay is one fellow who is imposing in every sense of the word. Physically, the celebrity chef stands above most of the average Joes out there. When it comes to his career accomplishments, he towers heads and shoulders above most of his peers out there thanks to an illustrious career that has seen him become one of the most heralded chefs in the world. Overcoming a home life that has been described as abusive and hopelessly itinerant, Ramsay briefly toyed with the idea of becoming a pro footballer before a knee injury ended that nascent dream.
The alternative was a career in the hospitality industry and he soon took to cooking for various eating houses. Some years of intensive training would follow under some fiery chefs but all the hard work paid off as Ramsay soon founded various Michelin-starred restaurants (including his flagship – Restaurant Gordon Ramsay). The British chef now holds sway as one of the most popular in the world and has several bestselling books to his name. He is also renowned for TV shows such as Hell's Kitchen thanks to his fiery temper and bluntness.
How Tall is Gordon Ramsay?
Gordon Ramsay's height is listed at 6 feet 2 inches (1.88 m). The Hell's Kitchen star originally hails from Scotland but actually grew up and made his name in London, England. Wherever he is though, he will come out on top as far as the issue of height is compared. Data from the U.K.'s Office of National Statistics show that the average Englishman is 5 feet 9 inches (1.75 m) tall while the average Englishwoman is 5 feet 3 inches (1.61 m) tall. It, therefore, means that Gordon Ramsay is five inches taller than most Englishmen and then almost a foot taller than most Englishwomen.
Over in Scotland where he was born, the situation is no different. The average Scotsman is 5 feet 8 inches (1.72 m) tall while the average Scotswoman out there is 5 feet 4 inches (1.62 m) tall, meaning that Gordon Ramsay still towers over most people in his motherland. The celebrity chef also maintains such a formidable presence in the U.S. where he runs several restaurants and TV shows. Data has it that the average American man is 5 feet 9 inches (1.75 m) tall while the average American woman is 5 feet 4 inches (1.62 m) tall, meaning that Ramsay is once again taller than most Americans out there.
Gordon Ramsay's Height Compared to Other Famous Chefs
Gordon Ramsay and Jamie Oliver
Just like Gordon Ramsay, Jamie Oliver is another British personality who has gone on to become a celebrity chef. One would expect both men to be chummy but they don't see eye to eye and were famously involved in a feud. The feud dates back to the 2000s when Oliver publicly berated Ramsay for making fun of the appearance of a TV host. Ramsay responded in kind and it got to a point that Oliver declared that Ramsay's wife, Tana, was a better cook than him. Both men have sheathed their proverbial swords but if the battle were to be on the matter of height, Ramsay will come out on top as he is four inches tall than Jamie Oliver who is 5 feet 10 inches.
Gordon Ramsay and Guy Fieri
Another chef that Gordon Ramsay is also four inches taller than is Guy Fieri who is 5 feet 10 inches (1.78 m) tall. In terms of their career achievements though, both men can be fairly said to be equals. Just like Ramsay, Fieri owns several popular restaurants in the U.S. He also has books to his name and has become one of the highest-rated chefs on TV thanks to shows such as Diners, Drive-Ins, and Dives. The popularity of the show saw him land a three-year contract worth $80 million which made him dethrone the likes of Ramsay to become the highest-paid chef in the world.
Gordon Ramsay and Bobby Flay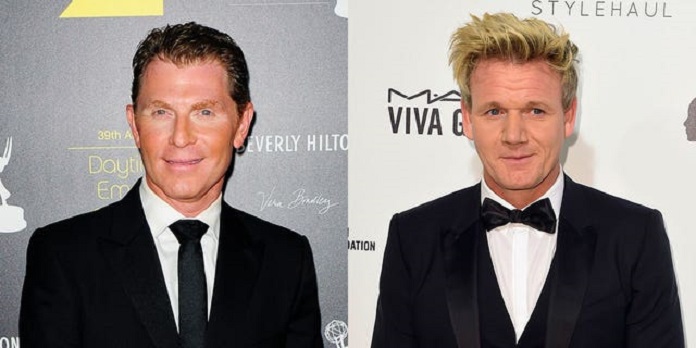 If there is one cook-off that culinary enthusiasts are yearning for, it is one between Gordon Ramsay and Bobby Flay. While Ramsay is one of the biggest chefs out of the U.K., Flay has built up a similar reputation across the pond in the U.S. His signature restaurants include Mesa Grill and Bobby's Burger Palace. He has also served as a judge on several cooking competition shows and famously hosts the Throwdown! With Bobby Flay show in which he challenges chefs to a cook-off on a particular dish. As earlier stated, fans are hoping that he will go up against Ramsay but there is no telling who will win. One area where Ramsay will definitely win is their height as he is three inches taller than Flay who is 5 feet 11 inches (1.79 m) tall.
Gordon Ramsay and Marco Pierre White
Ramsay honed his cooking skills under the tutelage of several chefs but the one person that influenced him most is Marco Pierre White. White is the first British chef to be awarded three Michelin stars. He is also regarded as one of the pioneer celebrity chefs in the world, building up an empire of thriving restaurants, bestselling books, and TV shows before the likes of Ramsay came long. White is famously temperamental and reportedly made Ramsay cry while training him. Both men retain a mutual admiration for each other to date. When it comes to their height, White slightly edges out Ramsay as he is 6 feet 3 inches or 1.9 m tall.
Gordon Ramsay's Height Compared To Wife Tana Ramsay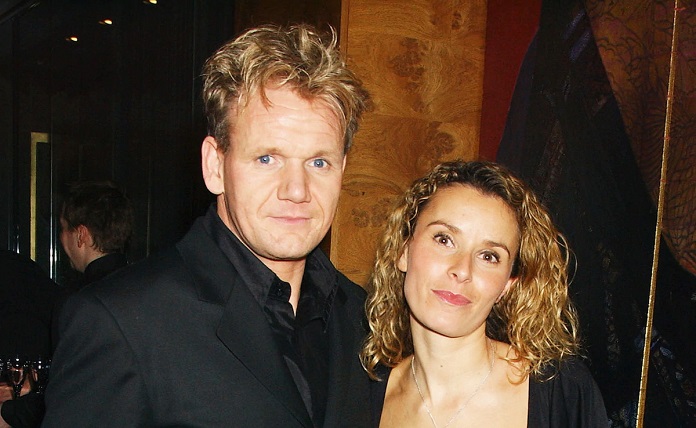 Gordon Ramsay is eight inches taller than his wife, Tana Ramsay, who is 5 feet 6 inches (1.67 m) tall. The couple first met and began dating in 1992. They tied the knot in 1996 and have remained together since then, welcoming five kids. Tana previously trained as a Montessori teacher and educated young minds for years. She later veered into the culinary world and has written several cookbooks filled with recipes for families. She has some TV shows under her belt as well.
How Tall is Gordon Ramsay's Son?
Gordon Ramsay's son, Jack Scott Ramsay, is 5 feet 8 inches (1.79 m) tall which will make his superstar dad about six inches taller than him. Jack is said to be quite athletic and played both water polo and rugby in school. He also studied jiu-jitsu as well and attended schools such as Dulwich College and Exeter University. The young man is set for a military career after joining the Marines and his father is over the moon about it. Meanwhile, asides from Jack, Ramsay also has another son, Oscar James, who was born in April 2019.